Exploring The Capital Of Finland, Helsinki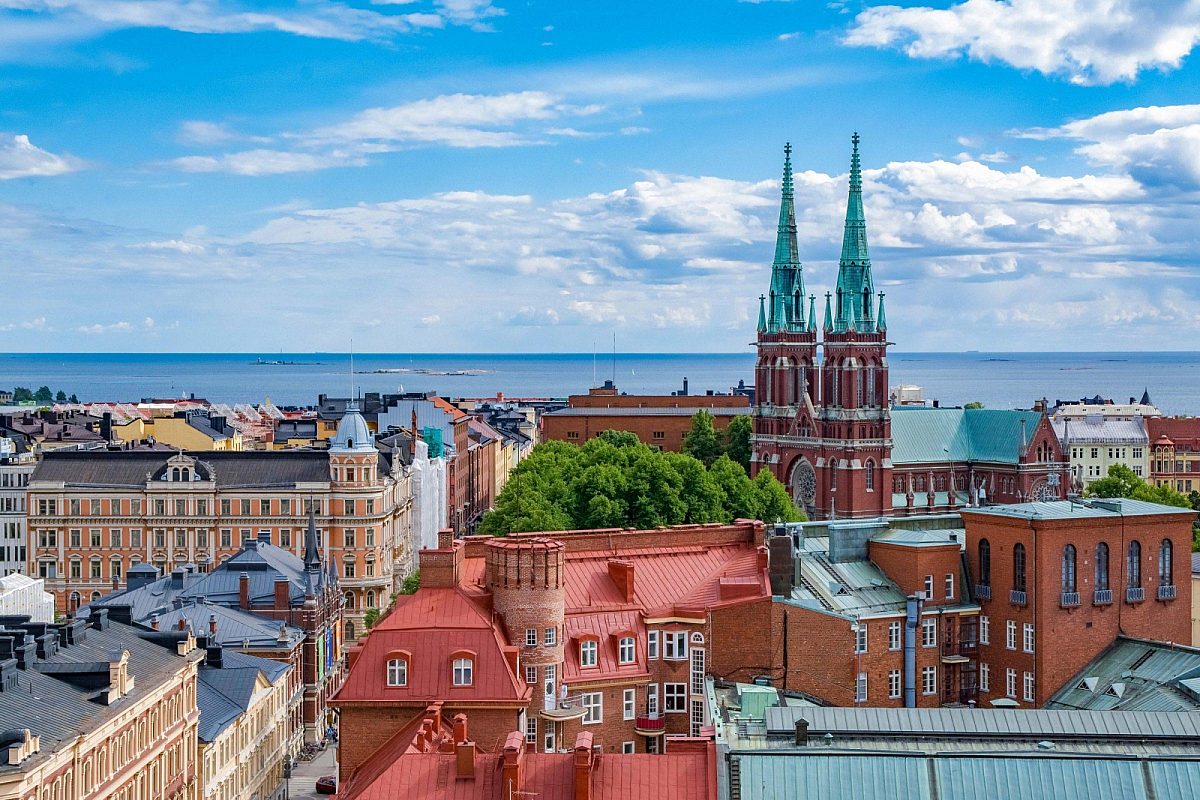 Introduction
Welcome to Helsinki, the vibrant capital city of Finland. Located on the southern coast of the country, Helsinki is a culturally rich and bustling metropolis that seamlessly combines modernity with a deep sense of history. With a population of over 600,000 people, Helsinki is the largest city in Finland, and it serves as the political, economic, and cultural center of the country.
Historically, Helsinki has been influenced by a diverse range of cultures, including Swedish, Russian, and Finnish. This unique blend of influences is reflected in the city's architecture, cuisine, and way of life. Helsinki is a city of contrasts, where sleek modern buildings stand side by side with grand neoclassical structures, and tranquil parks provide a peaceful retreat from the bustling streets.
As you explore Helsinki, you'll discover a city that offers something for everyone. Whether you're interested in history, art, nature, or simply enjoying the vibrant city life, Helsinki has it all. From the remarkable landmarks and stunning architecture to the world-class museums and beautiful parks, there's no shortage of attractions to explore.
Helsinki is known for its high quality of life and its commitment to sustainability. The city boasts an abundance of green spaces and a well-designed public transportation system, making it easy to navigate and enjoy all that Helsinki has to offer. In fact, Helsinki has been named the European Green Capital in 2022, further solidifying its reputation as an environmentally friendly and forward-thinking city.
Whether you're a history buff, an art enthusiast, a nature lover, or simply looking to immerse yourself in a vibrant and welcoming culture, Helsinki is the perfect destination. So pack your bags and get ready to embark on a journey through the capital of Finland, where adventure awaits at every corner.
History of Helsinki
The history of Helsinki dates back to the 16th century when Sweden established a trading post in the area. However, it wasn't until 1812 that Helsinki became the capital of Finland, after being chosen by Russian Emperor Alexander I.
Under Swedish rule, Helsinki grew in importance as a strategic coastal town and gradually developed into a vibrant trading hub. However, it was the Russian Empire's influence that shaped the city into what it is today. In the early 19th century, Helsinki underwent a significant transformation under Russian architectural and urban planning influences, resulting in remarkable neoclassical buildings that still grace the city's streets.
One of the most iconic landmarks in Helsinki is the Helsinki Cathedral, originally known as St. Nicholas' Church. Built in the early 19th century, the cathedral's distinctive white exterior and magnificent dome make it a must-visit attraction in the city.
Throughout the 19th and early 20th centuries, Helsinki continued to develop and modernize rapidly. The city played a vital role in Finland's struggle for independence from Russia, which was achieved in 1917. Since then, Helsinki has remained the capital of Finland and has flourished as a center for politics, commerce, and culture.
During World War II, Helsinki was a key battleground, and the city sustained significant damage during the war. However, extensive reconstruction efforts post-war restored the city to its former glory and allowed Helsinki to emerge as a modern and thriving metropolis.
Today, Helsinki stands as a testament to its rich history and the resilience of its people. The city has preserved its historical landmarks and heritage while embracing modern architectural marvels that add to Helsinki's charm.
Exploring the streets of Helsinki reveals a harmonious blend of old and new. Historic buildings such as the Presidential Palace and the House of the Estates stand alongside contemporary structures like the Kiasma Museum of Contemporary Art and the Kamppi Chapel of Silence.
As you wander through the streets, you can't help but be immersed in the fascinating stories of Helsinki's past and appreciate the city's journey of evolution and growth.
Landmarks and Architecture
Helsinki is renowned for its stunning architecture and iconic landmarks that showcase its rich history and cultural heritage. From majestic neoclassical buildings to cutting-edge modern designs, the city offers a diverse array of architectural gems.
One of the most recognizable landmarks in Helsinki is the breathtaking Helsinki Cathedral. Situated in Senate Square, this striking white cathedral with its green domes dominates the cityscape. Designed by Carl Ludvig Engel in the neoclassical style, the cathedral is a symbol of Finnish national identity and a must-visit attraction for its magnificent interiors and panoramic views from its rooftop.
Another architectural gem in Helsinki is the Temppeliaukio Church, also known as the Rock Church. Carved into solid rock, this unique church offers a mesmerizing blend of natural and man-made elements. Its unparalleled acoustics make it a sought-after venue for concerts and events.
For admirers of modern architecture, a visit to the Finlandia Hall is a must. Designed by renowned Finnish architect Alvar Aalto, this iconic building showcases Aalto's signature style, with its sweeping curves, harmonious lines, and exquisite attention to detail. The Finlandia Hall is not only a venue for concerts and conferences but also a work of art in itself.
The contemporary design of the Kamppi Chapel of Silence is another architectural marvel in Helsinki. This serene and minimalist structure provides a peaceful retreat in the heart of the city, inviting visitors to find solace and contemplation.
As you explore Helsinki's streets, you'll also come across impressive architectural ensembles such as the Presidential Palace, the House of the Estates, and the Old Market Hall. These grand buildings exemplify the city's cultural and historical significance.
Beyond individual landmarks, Helsinki boasts beautifully designed neighborhoods, such as Katajanokka and its Jugendstil (Art Nouveau) buildings, and the Design District with its contemporary and experimental architecture. The city's commitment to urban planning and architectural excellence is evident in every corner.
Whether you're a fan of classical or modern architecture, Helsinki offers a wealth of architectural wonders to discover. Take a leisurely stroll through the city's streets and marvel at the harmonious coexistence of historical and contemporary designs that make Helsinki a truly captivating and visually stimulating destination.
Museums and Art Galleries
Helsinki is a city that celebrates art and culture, offering a wide range of museums and art galleries that showcase both Finnish and international works. Whether you're interested in historical artifacts, contemporary art, or immersive cultural experiences, Helsinki has it all.
One of the most notable museums in Helsinki is the Ateneum Art Museum. Located in the city center, this renowned institution houses an extensive collection of Finnish art from the 18th century to the modern era. Visitors can admire masterpieces by renowned Finnish artists such as Akseli Gallen-Kallela and Helene Schjerfbeck.
The Kiasma Museum of Contemporary Art is another must-visit for art enthusiasts. Designed by architect Steven Holl, the museum is as visually captivating as the art it houses. With a focus on contemporary Finnish and international art, Kiasma presents thought-provoking exhibitions and hosts various cultural events throughout the year.
If you're interested in history and culture, the National Museum of Finland is a treasure trove of Finnish heritage. From prehistoric artifacts to medieval relics, the museum offers a comprehensive overview of Finnish history. Exhibits range from archaeological finds to cultural artifacts, providing insight into the traditions and way of life of the Finnish people throughout the centuries.
Helsinki is also home to the unique Design Museum, which showcases the best of Finnish design. From iconic furniture pieces to functional objects, the Design Museum highlights the importance of design in Finnish society and its impact on everyday life.
For a more interactive and immersive experience, the Museum of Finnish Architecture is a must-visit. Located in a beautiful Art Nouveau building, the museum explores the history and development of Finnish architecture through interactive exhibits, models, and multimedia presentations.
In addition to these major institutions, Helsinki is dotted with smaller art galleries and exhibition spaces that showcase a variety of art forms. The city's vibrant art scene often extends beyond the walls of formal galleries, with street art adorning buildings and public spaces, adding a touch of creativity to the urban landscape.
Whether you're a fan of classical art, contemporary masterpieces, or avant-garde installations, Helsinki's museums and art galleries offer a captivating journey through the world of art and culture. With a rich and diverse selection of exhibitions and collections, the art scene in Helsinki is a testament to the city's vibrant and thriving creative community.
Parks and Green Spaces
Helsinki takes great pride in its abundance of parks and green spaces, making it a haven for nature lovers and those seeking tranquility in the heart of the city. From expansive parks to charming waterfront promenades, Helsinki offers a variety of outdoor spaces for relaxation, recreation, and enjoying the beauty of nature.
One of the most beloved green spaces in Helsinki is the iconic Central Park. Stretching over 10 square kilometers, it offers a peaceful retreat from the bustling city. Central Park is adorned with lush forests, picturesque lakes, and winding trails, making it perfect for hiking, jogging, cycling, or simply enjoying a leisurely picnic surrounded by nature.
Another notable park in Helsinki is Kaivopuisto, located on the southern tip of the city peninsula. With stunning views of the Baltic Sea, Kaivopuisto boasts well-manicured lawns, colorful flowerbeds, and charming walking paths. It's an ideal spot for a relaxing stroll, sunbathing, or enjoying a picnic while taking in the beautiful coastal scenery.
Kaisaniemi Park, located near the city center, is another popular green space in Helsinki. This park is known for its magnificent botanical garden, showcasing a wide variety of plant species from around the world. Visitors can explore the vibrant floral displays and enjoy the tranquil atmosphere of this urban oasis.
Helsinki's waterfront is also a captivating green space, with the city's many islands and coastlines providing ample opportunities for outdoor activities. The UNESCO World Heritage site of Suomenlinna, a fortress island located just a short ferry ride from the city center, offers a combination of history and nature with its picturesque walking trails and fortifications.
For those seeking a more curated garden experience, Helsinki is home to several beautiful gardens. The Helsinki Winter Garden, located in Töölö district, features a variety of exotic plants and flowers, making it a delightful destination any time of the year. The nearby Sibelius Park is dedicated to the renowned Finnish composer Jean Sibelius and is adorned with unique sculptures and beautiful landscapes.
The commitment to green spaces in Helsinki extends beyond parks and gardens. The city is known for its sustainable initiatives, including the urban farming project known as "City Jättömaa," where unused city spaces are transformed into thriving vegetable gardens, promoting local food production and community engagement.
Whether you're looking for an escape into nature, a peaceful place to unwind, or a venue for outdoor activities, Helsinki's parks and green spaces provide the perfect setting for all. Immerse yourself in the beauty of nature and discover the serenity that can be found within the heart of Finland's capital.
Food and Drink
Helsinki's food scene is a delightful fusion of traditional Finnish cuisine and international influences, offering a wide range of culinary experiences to satisfy every palate. From Michelin-starred restaurants to bustling food markets and trendy coffee shops, Helsinki has something to tantalize your taste buds.
One iconic Finnish dish that should not be missed is "salmiakki," a salty licorice candy that is a taste sensation unique to Finland. Adventurous food lovers can also try "mämmi," a traditional Easter dessert made from rye flour, malt, and water, served with cream or milk.
For a taste of Finnish comfort food, try "karjalanpiirakka," a savory pastry filled with rice or potato and topped with a generous dollop of butter. Another local favorite is "poronkäristys," a dish made with sautéed reindeer meat, often served with mashed potatoes and lingonberry jam.
Helsinki's food markets offer an exciting array of fresh produce, local delicacies, and traditional Finnish treats. The Old Market Hall ("Vanha Kauppahalli") is a vibrant hub of activity, with vendors selling everything from fresh fish and meats to cheeses, spices, and handcrafted chocolates.
The city's culinary scene is also influenced by international flavors and global cuisines. Helsinki is home to a wide range of international restaurants offering diverse options, from Japanese sushi and Korean barbecue to Italian pizzas and Middle Eastern kebabs.
Coffee is deeply ingrained in Finnish culture, and Helsinki boasts numerous cozy coffee shops and trendy cafes. Finns are known for their love of coffee, and the city's coffee culture is thriving. Be sure to try a cup of "kaffe" and pair it with a delicious Finnish pastry, such as "korvapuusti" (cinnamon roll) or "pulla" (sweet cardamom bread).
Helsinki is also gaining recognition in the world of fine dining, with several acclaimed restaurants earning Michelin stars. This includes Olo, which offers innovative Nordic cuisine using local and seasonal ingredients, and Grön, known for its creative plant-based dishes.
To experience Finnish gastronomy in a unique way, consider participating in a "pop-up" restaurant or food event. These temporary dining experiences showcase the creativity and innovation of Helsinki's culinary scene, often held in unusual locations with immersive themes and menus that push the boundaries of traditional cuisine.
Whether you're craving traditional Finnish fare or exploring the global culinary offerings, Helsinki's food and drink scene is sure to delight your taste buds and leave you wanting more.
Shopping in Helsinki
Helsinki is a shopper's paradise, offering a wide range of shopping experiences to suit every style and budget. From high-end fashion boutiques to local markets and design districts, the city is brimming with opportunities to indulge in retail therapy.
One of the most popular shopping destinations in Helsinki is the iconic Stockmann department store. Situated in the city center, Stockmann offers a vast selection of clothing, accessories, cosmetics, and homeware from renowned international brands. It is a must-visit for those seeking luxury and high-quality products.
For a more unique and local shopping experience, head to the Design District. Located in the heart of Helsinki, this vibrant neighborhood is home to a myriad of boutiques, galleries, and design studios. Here, you'll find a wide array of Finnish design, from clothing and accessories to home decor and furniture. Discover well-known brands like Marimekko and Iittala, as well as emerging designers showcasing their innovative creations.
The Market Square, or Kauppatori, is another must-visit shopping destination. Located by the waterfront, this bustling market offers an array of stalls selling fresh produce, local delicacies, handicrafts, and souvenirs. Sample traditional Finnish foods, browse through handmade crafts, and soak in the lively atmosphere.
The Hakaniemi Market Hall is another popular shopping spot. This historic indoor market is filled with vendors selling fresh produce, meats, fish, baked goods, and specialty products. It's a fantastic place to experience the local food culture and pick up some ingredients for a picnic or cooking at home.
Helsinki is also renowned for its independent boutiques and concept stores, showcasing unique and avant-garde fashion, accessories, and homeware. Explore the trendy streets of Kruununhaka, Punavuori, and Kallio to discover local designers and emerging fashion brands.
If you're looking for a shopping mall experience, head to the Kamppi Center. This modern mall houses a wide range of shops, including fashion retailers, electronics stores, and beauty salons. It's also a transportation hub, making it easily accessible from various parts of the city.
For those seeking vintage finds and second-hand treasures, Helsinki has a thriving vintage and flea market scene. Places like UFF Second Hand, Fida, and Frida Marina offer a diverse range of pre-loved clothing, accessories, and homeware.
Whether you're looking for high-end fashion, local designs, fresh produce, or unique souvenirs, Helsinki has plenty to offer for avid shoppers. Embrace the city's vibrant shopping culture and indulge in a diverse range of shopping experiences that cater to every taste and style.
Nightlife and Entertainment
Helsinki comes alive after dark, offering a vibrant and diverse nightlife scene that caters to all tastes. From trendy bars and nightclubs to live music venues and cultural performances, the city offers a plethora of entertainment options to keep you entertained well into the night.
The city's nightlife district, Kallio, is a hub of activity, featuring a mix of trendy bars, cozy pubs, and underground clubs. Here, you'll find a laid-back atmosphere and a wide range of live music events, from rock and indie to jazz and electronic. Kallio is known for its alternative and bohemian vibe, attracting locals and visitors seeking a unique and authentic nightlife experience.
If you're a fan of live music, Helsinki has you covered. The city boasts numerous concert venues that host both local and international acts. The iconic Helsinki Music Centre is home to the Finnish Radio Symphony Orchestra and offers a diverse selection of classical, jazz, and contemporary performances.
For a more intimate live music experience, check out legendary venues like Tavastia and Nosturi, which have been hosting rock and alternative music acts for decades. These venues provide an up-close and personal atmosphere, allowing you to fully immerse yourself in the energy of the live music scene.
Besides music, Helsinki also offers a range of cultural performances and shows. The Finnish National Theatre showcases a variety of theatrical productions, from classic plays to contemporary works. The Finnish National Opera and Ballet is another cultural gem, presenting world-class opera, ballet, and musical productions.
Helsinki's entertainment options extend beyond music and theater. The city is also home to numerous cinemas, showcasing both international and Finnish films. The Finnish film industry has gained global recognition in recent years, making it a great opportunity to explore the country's cinematic offerings.
If you're in the mood for some gaming, Helsinki has a thriving gaming and esports scene. Visit an esports bar to watch competitive gaming events or gather with friends for some friendly competition at one of the city's gaming cafes.
Helsinki offers a wide range of dining options to complement your evening of entertainment. From trendy cocktail bars and craft beer pubs to fine dining restaurants, you can explore a variety of flavors and cuisines before or after enjoying the city's nightlife offerings.
With its lively nightlife and diverse entertainment options, Helsinki ensures that there's always something happening after the sun goes down. Embrace the city's vibrant energy, immerse yourself in live performances, and create unforgettable memories as you experience the dynamic nightlife and entertainment scene Helsinki has to offer.
Public Transportation
Helsinki boasts a well-designed and efficient public transportation system that makes it easy to navigate the city and explore its various attractions. From buses and trams to the metro and ferries, Helsinki offers a range of options for getting around.
The Helsinki Regional Transport Authority (HSL) operates the city's public transportation network, ensuring reliable and convenient services. The network is extensive and covers not only the city center but also the surrounding suburbs and neighboring cities.
Buses are a popular mode of transportation in Helsinki. They serve both the city center and the outskirts, providing access to areas not covered by other forms of public transport. Buses in Helsinki are known for their punctuality and extensive routes, making it easy to reach even the most remote corners of the city.
Trams are an iconic part of Helsinki's transportation system. The tram network covers the city center and nearby neighborhoods, providing a convenient way to travel between different districts. Trams are not only a practical way to get around but also offer a scenic experience as they traverse the streets of Helsinki.
The metro is another efficient and fast mode of transportation in the city. The Helsinki metro consists of two lines, with stops at key locations throughout the city and beyond. It provides quick and convenient access to popular destinations, including the Helsinki Central Railway Station and the cultural hub of Kallio.
One unique aspect of Helsinki's public transportation system is the availability of ferry services. Helsinki is surrounded by the Baltic Sea, and ferries connect the city to its archipelago and neighboring islands. These ferries not only serve as a means of transportation but also offer scenic views and the opportunity to explore the beautiful coastal areas around Helsinki.
Purchasing tickets for public transportation in Helsinki is straightforward. The easiest way is to use the HSL mobile app, which allows you to buy and validate tickets directly on your mobile device. Alternatively, you can use ticket machines located at metro stations, bus stops, and tram stops.
Helsinki also offers convenient travel passes, such as the Helsinki Card, which provides unlimited travel on public transportation as well as free admission to many attractions and discounts on various services.
Overall, Helsinki's public transportation system is reliable, efficient, and user-friendly. Whether you're traveling within the city center or venturing further afield, the various modes of public transport allow you to explore Helsinki and its surroundings with ease.
Day Trips from Helsinki
Helsinki's prime location offers the perfect opportunity to explore the surrounding regions on enjoyable day trips. From charming coastal towns to scenic national parks and historical landmarks, there are plenty of destinations that can be easily reached from Helsinki and provide a refreshing change of scenery.
One popular day trip destination is the historic city of Porvoo. Located about 50 kilometers east of Helsinki, Porvoo is famous for its well-preserved wooden houses, picturesque riverfront, and cobblestone streets. Stroll along the charming Old Town, visit the iconic Porvoo Cathedral, and explore the local boutiques and artisan workshops.
Another option is to venture to Suomenlinna, a UNESCO World Heritage-listed sea fortress located on a group of islands just off the coast of Helsinki. Reachable by a short ferry ride, Suomenlinna offers a captivating blend of history, nature, and stunning views of the Baltic Sea. Explore the fortifications, visit the museums, and enjoy a picnic in the beautiful surroundings.
For nature enthusiasts, Nuuksio National Park is a perfect day trip destination. Situated about 40 kilometers northwest of Helsinki, Nuuksio offers a tranquil escape into Finland's wilderness. Hike through serene forests, discover shimmering lakes, and spot native wildlife. The park is also equipped with barbecue areas and cozy cabins for overnight stays.
If you're interested in Finnish architecture and design, a visit to the city of Lahti is highly recommended. Located about an hour's drive from Helsinki, Lahti showcases modern Finnish design in its most impressive form. Explore the Lahti City Hall, designed by renowned Finnish architect Eliel Saarinen, or visit the award-winning Sibelius Hall, a masterpiece of contemporary Nordic architecture.
Raseborg, also known as Tammisaari, is another charming coastal town that is easily accessible from Helsinki. With its colorful wooden houses, idyllic harbor, and beautiful parks, Raseborg offers a peaceful and relaxing atmosphere. Take a leisurely stroll along the waterfront, explore the historical sites, and enjoy a meal at one of the local seafood restaurants.
These are just a few examples of the many day trip options from Helsinki. Whether you're seeking history, nature, culture, or simply a change of scenery, there is a destination within reach to fulfill your interests and provide a memorable day out.
It's worth noting that public transportation, such as trains or buses, can be utilized for most day trips, giving you the convenience of exploring without the need for a car. Plan your day trip in advance, check the schedules, and embark on an adventure to discover the wonders that lie beyond Helsinki's borders.
Conclusion
Helsinki, the vibrant capital of Finland, offers a captivating blend of history, culture, and natural beauty. From its rich architectural heritage to its thriving art scene, the city presents a wealth of attractions and experiences for visitors to enjoy. Helsinki's commitment to sustainability and green spaces further enhances its allure, providing a harmonious balance between urban ambiance and nature's tranquility.
Exploring Helsinki means immersing yourself in a city that seamlessly combines tradition and modernity. The neoclassical buildings stand as a testament to its historical significance, while contemporary designs and innovative initiatives showcase its progressive spirit. The city's museums, art galleries, and theaters offer glimpses into the Finnish culture and its thriving arts scene.
Helsinki's culinary delights are a treat for food enthusiasts. From traditional Finnish cuisine to international flavors, the city's restaurants, cafes, and markets cater to every palate. Whether indulging in local dishes or savoring gourmet creations, Helsinki offers a delightful gastronomic journey.
Getting around Helsinki is a breeze, thanks to its efficient public transportation system. Buses, trams, and the metro make it easy to navigate the city and explore its diverse neighborhoods. Day trips from Helsinki allow visitors to venture into the surrounding regions, offering opportunities to discover charming towns, beautiful national parks, and historical landmarks.
Helsinki's appeal extends beyond the daytime hours. The city comes alive at night, offering a vibrant and eclectic nightlife scene, with live music venues, bars, and entertainment options to suit different tastes. Whether you prefer a night of cultural performances, exploring the energetic music scene, or simply enjoying the city lights, Helsinki has something for everyone.
In conclusion, Helsinki is a city that captivates with its blend of history, culture, and natural beauty. From its stunning architecture to its vibrant arts scene, from its delicious cuisine to its efficient transportation system, Helsinki offers an enriching and enjoyable experience for visitors. Immerse yourself in the heart of Finland's capital and uncover the treasures that await in this dynamic and welcoming city.