Rochester Castle: All You Need To Know In 5 Minutes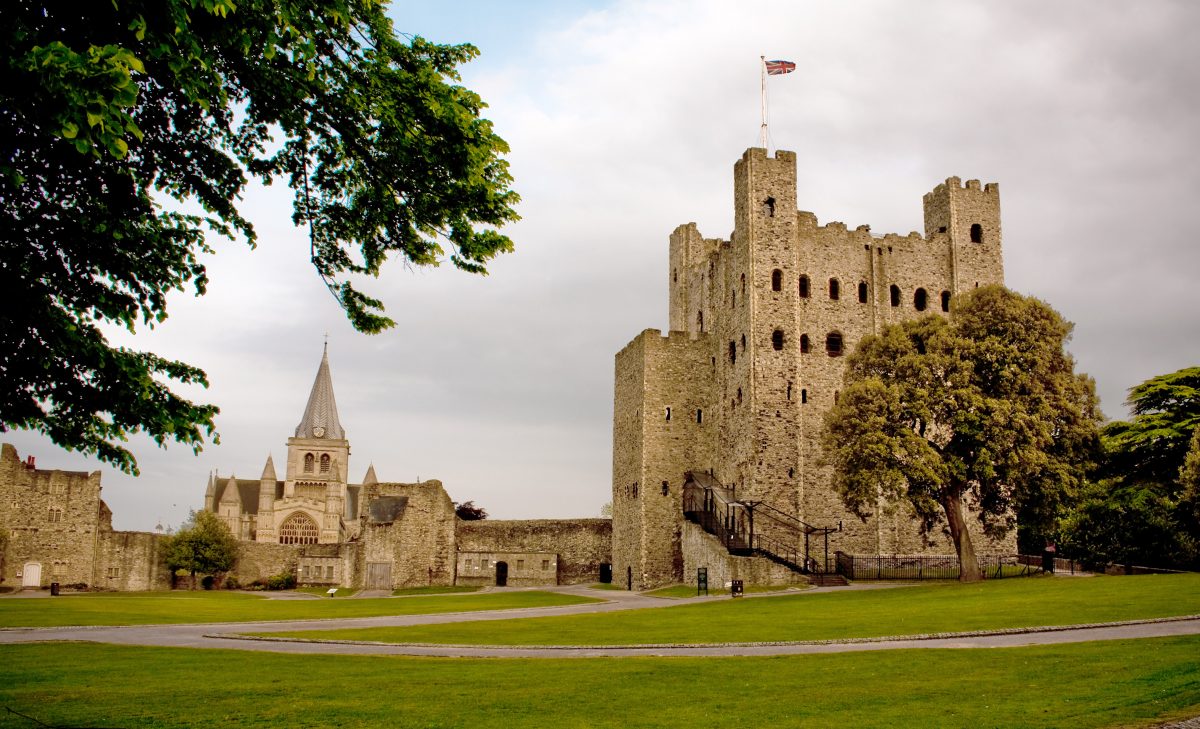 Rochester Castle, located in Kent, is also referred to as "The Garden of England." Rochester Castle is a representation of the ancient brains. It is certainly a fine reflection of Norman architecture found in England. Aside from that, this castle is one of the well-preserved ones for that matter. Look out for the keep inside the castle. It is the sundae. You will shortly know why.
Firstly, the castle was built in the 1080s. It was made as a mark of the crossing of River Medway, where it lies. Thereafter, the keep came up in 1127, following orders from King Henry I. At a time when the castle was under an Archbishop of Canterbury, William de Corbeil. Since their birth, these two have experienced history worth learning. But as a result of unique design and rich history, it has since become an attraction to reckon with.
The Main Attractions Of Rochester Castle
The Castle Ruins
The square-shaped castle was later turned into ruins by a huge fire around the 1660s. Otherwise, it enjoys protection by a curtain wall which surrounds it. Currently, the space found on the wall hosts festivals and fairs.
It contained 3 floors and a basement. Sadly though, the floors aren't in their original state. For instance, the pillar woods which were used during construction has somewhat decayed. Rest assured of appreciating its irresistible beauty. Windows overlooking all directions and delicately arched. It has very thick walls and high ceilings.
The Rochester Castle Keep
It is the tallest keep in England. Standing 113 feet high. It was built in the 12th century. It was done with Kentish Ragstone. Hence it is still strong up to now.
This keeps faced huge distraction in 1215. It was attacked by King John. In his attempts to bring it down, he fired a mine under the keep using fat from 40 pigs. In return, only the southern corner of the tower tumbled down. Funnily though, this never moved those who were inside. The keep was made with 2 sides. So, they simply shifted to the northern end and held on for 2 more months. In a turn of events, they were thrown under the bus by starvation. It is only then that they surrendered.
Rochester Gardens
These gardens were first opened for public use around the 1870s. This was after the Rochester Corporation purchased the castle. The English Heritage took over in 1984. But currently, they are managed by the City Of Rochester Council. Among other lovely activities, serious concerts are likewise held here.
How To Get Here
This monolithic castle lies in on the banks of River Medway, on the eastern side.
How To Get To Rochester Castle From London
The distance between the two is around 30 miles.
Via Train
You may board a Southeastern train to Rochester train station. Direct train ride consumes about 49 minutes and roughly costs $25.
The station is approximately 350 meters from the castle. Thus, there are 3 options. You can hire a taxi. The ride will take only 4 minutes. Next, settling for a bus ride which lasts 12 minutes. Alternatively, just walk for about 12 minutes to get to the castle.
Via Taxi
As a matter of fact, it is equally the fastest. Although a bit costly. You will pay around $100 and take close to 40 minutes. If however, you opt to drive yourself, you spend the same time. It is the cheapest mode. You will use fuel worth about $10 only.
By Bus
This takes almost 120 minutes and costs around $20.
Tickets, Packages, And Opening Hours
Normally, Rochester Castle is open daily. From 10:00 AM to 18:00 PM. Save for the month of July. It is characterized by luscious concerts. Because of this, the castle might be closed earlier on some days. Charges are as indicated below.
| | |
| --- | --- |
| Category | Standard Charges |
| Child | $4.00 |
| Adult | $6.40 |
| Family( Maximum of 3 kids & 2 adults) | $16.80 |
Members of English Heritage and holders of its Overseas Visitors Pass have free access. The final entry into the castle happens 45 minutes before its closing time.
F&B Outlets Near Rochester Castle.
There are a couple of them at your disposal. The best 5 outlets are however enclosed herein. This will help in making decisions. Once you are done touring the castle.
Brettington`s Steak And Lobster House
Popular Tourist Destinations Near Rochester Castle
If you're looking for other sights to see and things to do nearby Rochester castle, here are some suggestions for you:
Rochester Cathedral
This is the second oldest cathedral in England. It came to being in 604AD. In other words, its walls are engulfed in years of prayers. It further houses a library. The library has a collection of historic books, some dating way back to the 12th century. It also has a manifestation of ancient photographs, lantern slides, and manuscripts.
Guildhall Museum
A breather from the pockets. It is absolutely free. Superstructure which was constructed in the 17th century, in 1687. It has displays of several artifacts from Darenth Roman villa. Furthermore, it is home to an axe which is 200,000 years old. Revelers are allowed to touch and feel it.
Huguenot Museum
Once again, the first museum of Huguenot to be opened. Rochester is a place of the firsts. It bears their history. This encompasses how they were persecuted in France then escaped to Britain. It is quite an amazing place to learn their old skills, crafts and way of trade. And consequently how all these added up to the modern lifestyle in Britain.
Final Thoughts
If only we could roll back the hands of time. Probably the Queen of England would be calling it home right now. With the outstanding views of the region. Picture perfect set up at the cross of a river. A strategically placed tower-keep, it seems like the people from the old ages built the castle to last for generations to come. Oh, the Rochester Castle.
So what are you waiting for? Book a flight, pack your bags, and go see this wonderful piece of architecture and history! Let us know about your experience in the comments!