A Day In Prague: A Travel Guide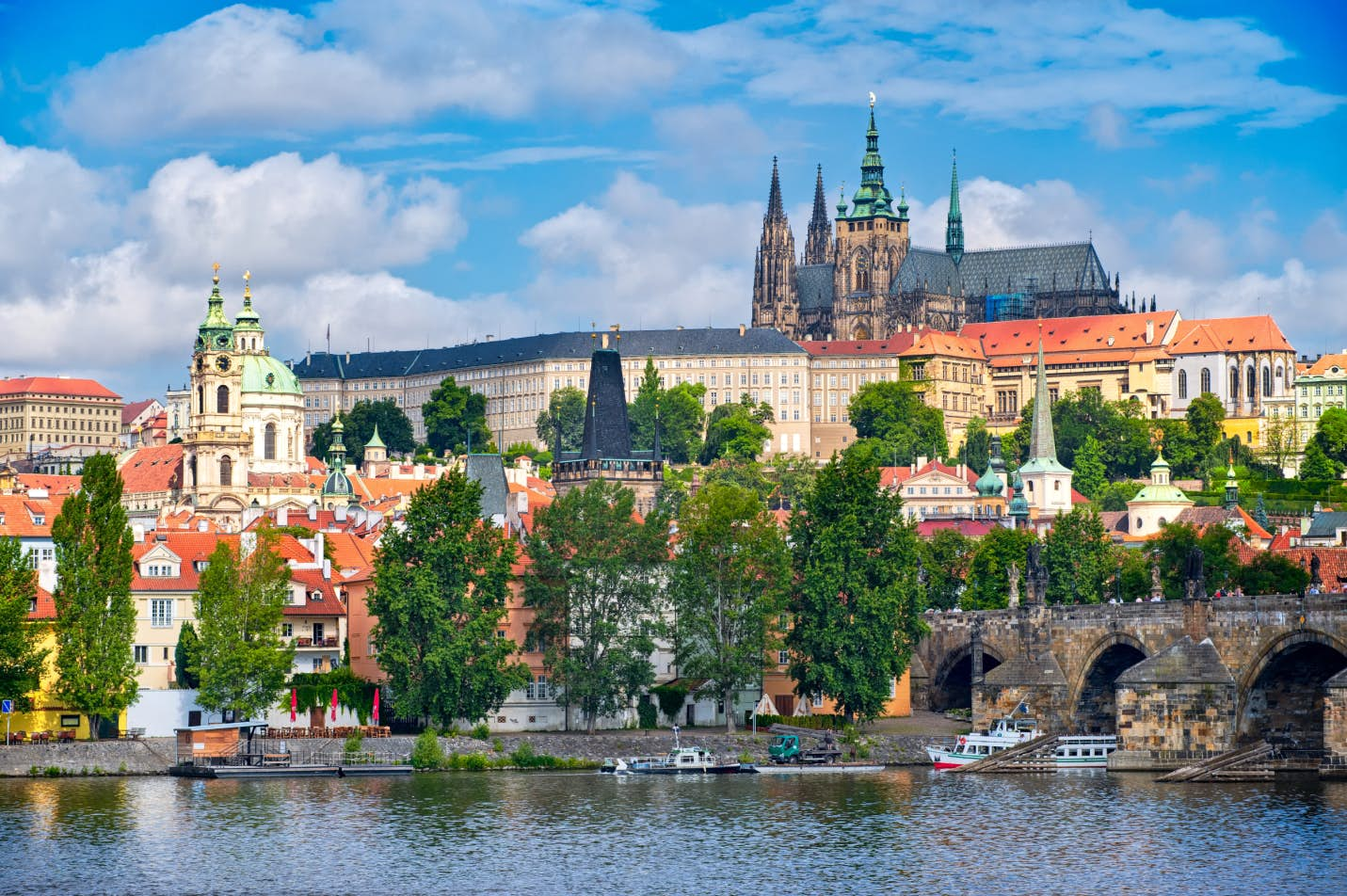 Introduction
Welcome to Prague, the capital city of the Czech Republic. With its rich history, breathtaking architecture, and vibrant cultural scene, Prague is a must-visit destination for travelers from all around the world. This enchanting city, often referred to as the "City of a Hundred Spires," offers a unique blend of medieval charm and modern sophistication.
Steeped in centuries of history, Prague is a treasure trove of architectural marvels, from Gothic cathedrals and Baroque palaces to Art Nouveau buildings. The city's cobblestone streets, lined with pastel-colored buildings and adorned with ornate facades, create an atmosphere that seems to transport you back in time.
But Prague is not just a city frozen in the past. It is a thriving metropolis that pulsates with energy and a vibrant cultural scene. From world-class museums and art galleries to bustling markets and trendy cafes, there is always something to see and do in this dynamic city.
Getting lost in the winding streets of Prague is a delightful experience in itself. Each corner reveals a hidden gem, whether it's a picturesque square, a charming courtyard, or a cozy cafe where you can savor a cup of traditional Czech coffee.
Prague is also known for its lively nightlife, with a wide range of bars, clubs, and music venues to explore. Whether you prefer a relaxed evening sipping cocktails by the river or dancing the night away in a trendy club, Prague has something to offer for every taste.
In this travel guide, we will take you on a journey through the enchanting streets of Prague, providing you with insider tips and recommendations to make the most of your visit. From iconic landmarks and cultural highlights to culinary delights and off-the-beaten-path experiences, we will help you create memories that will last a lifetime.
So, get ready to immerse yourself in the magic of Prague as we uncover the best things to see, do, and explore in this captivating city.
Getting to Prague
Getting to Prague is relatively easy, as the city is well-connected to major European capitals and cities. Whether you prefer traveling by air, train, or bus, there are multiple options available to reach this enchanting Czech destination.
If you're traveling from abroad, the most convenient way to reach Prague is by flying to Václav Havel Airport Prague (PRG), which is located just outside the city. This international airport serves numerous airlines and offers direct flights from major cities around the world. From the airport, you can easily reach the city center by public transportation, such as the Airport Express bus or the Airport Express train.
Alternatively, you can also reach Prague by train. The city is well-connected to other European cities, with frequent train services operated by Czech Railways and other international rail companies. Prague's main train station, Praha hlavní nádraží, is a major hub for both domestic and international train travel.
For those looking for a more budget-friendly option, buses are also a popular mode of transportation to Prague. There are several bus companies that offer direct routes to the city from various European cities. The main bus station in Prague is Florenc, which is conveniently located near the city center.
Once you arrive in Prague, getting around the city is easy thanks to its efficient and well-connected public transportation system. The Prague Metro, trams, and buses provide a convenient way to navigate the city and reach its different neighborhoods and attractions. You can purchase tickets at individual stations or use a contactless payment card for seamless travel.
If you prefer exploring on foot, Prague's compact size makes it a walkable city. Many of the main attractions, such as Prague Castle and Charles Bridge, are within walking distance of each other, allowing you to soak in the city's beauty as you stroll through its charming streets.
Overall, getting to Prague is a breeze, thanks to its excellent transportation infrastructure. With multiple options for reaching the city, you can choose the one that suits your travel preferences and budget, ensuring a smooth and enjoyable journey to this captivating destination.
Accommodation in Prague
When it comes to accommodation in Prague, you'll be spoiled for choice. The city offers a wide range of options to suit every budget and preference, from luxurious hotels to cozy guesthouses and budget-friendly hostels.
If you're looking for a touch of luxury and world-class amenities, Prague has a number of upscale hotels that cater to discerning travelers. Many of these hotels are housed in historic buildings, offering a unique blend of luxurious comfort and stunning architectural features. From boutique hotels in the heart of the city to grand properties near Prague Castle, you're sure to find the perfect option for a truly indulgent stay.
For those who prefer a more intimate and personalized experience, Prague also offers a variety of charming guesthouses and bed and breakfasts. These accommodations often provide warm and friendly service, along with cozy rooms and a home-like atmosphere. Staying in a guesthouse allows you to immerse yourself in the local culture and get a taste of authentic Czech hospitality.
If you're traveling on a budget or prefer a more social atmosphere, Prague's hostels are an excellent choice. The city boasts numerous hostels that offer affordable dormitory-style accommodation, as well as private rooms. These hostels often have communal areas where you can meet fellow travelers, making them a great option for solo adventurers or those seeking a lively social scene.
In recent years, alternative accommodation options such as vacation rentals and serviced apartments have also become popular in Prague. These options offer the comforts of home, with the added bonus of having your own space and flexibility. Whether you're traveling with family or prefer the convenience of cooking your own meals, renting an apartment can be a great choice.
When choosing your accommodation in Prague, it's a good idea to consider the location. The city is divided into several districts, each with its own unique character and attractions. Staying in the historic center, such as Prague 1, will allow you to be within walking distance of major landmarks, while other districts offer a more local and residential experience.
It's advisable to book your accommodation in advance, especially during peak travel seasons. Prague is a popular destination year-round, so securing your preferred accommodation early will ensure the best availability and rates.
With its diverse range of accommodation options, finding the perfect place to stay in Prague is easy. Whether you're looking for luxury, charm, affordability, or a social experience, you're sure to find a comfortable and convenient base for your exploration of this beautiful city.
Exploring the Historic District
One of the highlights of visiting Prague is exploring its historic district. Prague's Old Town and Lesser Town (Mala Strana) are UNESCO World Heritage Sites and are home to some of the city's most iconic landmarks and architectural treasures.
Begin your exploration in the heart of the historic district, at the Old Town Square. This bustling square is surrounded by beautiful buildings, including the famous Gothic-style Old Town Hall with its magnificent Astronomical Clock. Take a moment to admire the intricate details of the clock and wait for the hourly show, where the figures come to life in a delightful display.
From the square, wander through the charming narrow streets of the Old Town, known as Staré Město. Admire the colorful facades of the buildings, explore hidden courtyards, and discover small shops selling traditional Czech crafts and souvenirs.
As you meander through the historic district, be sure not to miss the Charles Bridge. This iconic 14th-century stone bridge stretches across the Vltava River and connects the Old Town with the Lesser Town. Adorned with statues and offering breathtaking views of the city, the bridge is a must-see attraction. Visit early in the morning or late in the evening to avoid the crowds and enjoy the bridge in a more peaceful setting.
Continue your exploration of the historic district by heading to Prague Castle, one of the largest castle complexes in the world. Perched on a hilltop overlooking the city, the castle boasts stunning architecture and is home to several important landmarks, including St. Vitus Cathedral, the Old Royal Palace, and the Golden Lane.
Inside the castle complex, be sure to visit St. Vitus Cathedral, an impressive Gothic masterpiece with intricate stained glass windows and ornate details. Explore the Old Royal Palace, where Czech kings and queens once resided, and stroll along the charming Golden Lane, which is lined with small historic houses that once housed castle servants and artisans.
Throughout the historic district, you'll also find numerous historic churches, such as the Church of Our Lady before Týn with its distinctive towers, and the Baroque-style St. Nicholas Church in Lesser Town. Take the time to step inside these magnificent buildings and admire their stunning interiors.
Exploring the historic district of Prague is like stepping back in time. With its rich history and architectural wonders, this area offers endless opportunities for discovery and awe. Soak in the beauty of the old-world charm as you wander through its streets, and don't forget to stop and take in the breathtaking views of the city from various viewpoints along the way.
Visiting Prague Castle
Perched high on a hilltop overlooking the city, Prague Castle is a must-visit attraction and one of the most iconic landmarks in Prague. This expansive castle complex, spanning over 70,000 square meters, is not just a single castle but a collection of stunning buildings, palaces, churches, and gardens that showcase centuries of architectural styles and Czech history.
Start your visit at the main entrance of Prague Castle, known as the Royal Route. This historic pathway leads you through the beautiful Castle District, offering panoramic views of the city as you make your way to the castle gates. Along the route, you'll pass by picturesque buildings and charming courtyards, each with its own stories to tell.
Once inside the castle complex, one of the main highlights is St. Vitus Cathedral. This breathtaking Gothic cathedral dominates the skyline and is a symbol of Czech national pride. Step inside to marvel at its grandeur, from the intricate stained glass windows to the beautiful chapel of St. Wenceslas and the towering vaulted ceilings. Don't forget to climb to the top of the cathedral's bell tower for panoramic views of Prague.
Next, explore the Old Royal Palace, which was once the residence of Czech kings and queens. Wander through the grand halls and admire the stunning Vladislav Hall, where important events and coronations took place. Don't miss the enchanting Story of Prague Castle exhibit, which provides a fascinating insight into the history and legends surrounding the castle.
Another intriguing attraction within Prague Castle is the Golden Lane. This charming street is lined with small, colorful houses that were once home to the castle's servants and artisans. Today, the houses have been transformed into shops and exhibits that showcase medieval crafts and period artifacts. It's a delightful place to wander and imagine life within the castle walls centuries ago.
Take the time to explore the Lesser Town or Mala Strana side of Prague Castle, where you'll find the beautiful St. Nicholas Church, with its stunning Baroque interior. Walk through the picturesque gardens and enjoy the tranquility and beauty of the royal residences in this part of the complex.
Visiting Prague Castle wouldn't be complete without a stroll along the castle walls. From the ramparts, you can enjoy breathtaking views of Prague's skyline and the Vltava River. This vantage point offers a unique perspective on the city's architecture and allows you to fully appreciate the castle's commanding position over the city.
With its rich history, stunning architecture, and captivating views, Prague Castle is a must-see attraction in the Czech capital. Take your time to explore the different buildings and soak in the grandeur of this historic landmark. Capture the essence of Prague's past as you wander through its halls and courtyards, marveling at the legacy of the Czech Republic's royal history.
Strolling through Charles Bridge
One of the most iconic landmarks in Prague, the Charles Bridge is a must-visit attraction that holds a special place in the hearts of locals and visitors alike. This 14th-century stone bridge stretches across the Vltava River, connecting the Old Town with the Lesser Town, and is a masterpiece of Gothic architecture.
Start your walk on the Old Town side of the bridge, where you'll find the Old Town Bridge Tower. Climb to the top of this tower for panoramic views of the city and the bridge itself. As you step onto the bridge, be prepared to be mesmerized by its beauty and the charm it exudes.
The Charles Bridge is not just a bridge; it's also an open-air gallery. Along the bridge, you'll find a series of 30 statues of saints, each with its own story and significance. These statues add an air of mystique and history to the bridge, and they have become one of its defining features. Don't forget to take a moment to admire and photograph these fascinating works of art.
As you stroll along the bridge, you'll also encounter street performers, musicians, and artists showcasing their talents. The lively atmosphere adds to the bridge's enchantment, creating a vibrant and dynamic experience for visitors. It's the perfect place to stop and enjoy a street performance or have your portrait sketched.
Whether you visit during the day or at night, the views from the Charles Bridge are simply spectacular. From the bridge, you can admire the panoramic vista of Prague's historic skyline, with Prague Castle perched atop the hill and the spires of churches dotting the cityscape. The bridge also offers stunning views of the Vltava River, with its picturesque riverbanks and charming boat cruises.
To fully appreciate the beauty of the Charles Bridge, it's recommended to visit in the early morning or late evening when the crowds are smaller. This allows you to enjoy a more tranquil experience and take in the bridge's magic in a peaceful setting.
As you reach the end of the bridge, continue your exploration of the Lesser Town or Mala Strana, an area known for its quaint cobblestone streets and picturesque squares. This charming neighborhood offers a variety of cafes, restaurants, and shops where you can rest and relax after your bridge adventure.
Strolling through the Charles Bridge is a magical experience that transports you back in time. It's a place where history, art, and architecture seamlessly merge, creating a truly unforgettable journey. So, take your time, soak in the views, and let the enchantment of the Charles Bridge captivate your soul.
Discovering Old Town Square
Nestled in the heart of Prague's historic district, Old Town Square is a vibrant and picturesque square that is a must-visit destination for any traveler. Steeped in history and surrounded by stunning architecture, this square is a hub of activity and a focal point for both locals and tourists.
One of the main highlights of Old Town Square is the magnificent Old Town Hall. Dating back to the 14th century, this Gothic-style building is home to the famous Astronomical Clock, which draws crowds of onlookers every hour to witness its intricate display. Take the time to appreciate the beauty of the clock and watch as the mechanical figures come to life.
The square itself is a feast for the eyes. Surrounded by pastel-colored buildings with architectural styles ranging from Gothic to Baroque, the square exudes a sense of old-world charm. Walk along the cobblestone streets and admire the intricate facades, each one telling a story of Prague's rich history.
Be sure to visit the Church of Our Lady before Týn, a Gothic masterpiece that dominates the skyline of Old Town Square. Its twin spires are an iconic symbol of Prague, and stepping inside reveals a stunning interior with vaulted ceilings and ornate details.
As you explore Old Town Square, you'll also come across a number of charming cafes and restaurants where you can take a break and soak up the atmosphere. Indulge in traditional Czech cuisine, sample delicious pastries, or enjoy a cup of coffee while watching the hustle and bustle of the square.
Old Town Square is not just a feast for the eyes, but also a focal point for various cultural events and festivals throughout the year. From Christmas markets with their twinkling lights and festive atmosphere to live music performances and art exhibitions, there is always something happening in this vibrant square.
Don't miss the opportunity to climb the tower of the Old Town Hall for breathtaking views of the square and the surrounding cityscape. From this vantage point, you'll have a panoramic view of the red rooftops, domed churches, and the majestic spires of Prague Castle in the distance.
Whether you visit Old Town Square during the day or at night, you will be captivated by its beauty and charm. The square exudes a timeless aura that transports you back in time and allows you to feel the pulse of Prague's rich history. Soak up the atmosphere, take in the sights, and let the enchantment of Old Town Square unfold before your eyes.
Exploring the Astronomical Clock
One of the most iconic and captivating attractions in Prague is the Astronomical Clock, located in the heart of the city's historic district. This astronomical marvel is a masterpiece of medieval engineering and is a must-see for any visitor to Prague.
The Astronomical Clock, known as Orloj in Czech, is housed on the southern wall of the Old Town Hall in Old Town Square. Dating back to the early 15th century, it is the third-oldest astronomical clock in the world and the oldest one still in operation.
The clock consists of several intricate mechanisms, each serving a different purpose. The main feature of the clock is the astronomical dial, which displays various astronomical details such as the positions of the sun, moon, and stars. It also shows the zodiac signs and the phases of the moon.
What makes the Astronomical Clock truly fascinating is the hourly show that takes place when the clock strikes the hour. This show is an enchanting display of moving figures and animation, with the twelve apostles appearing through the two windows above the clock. The Apostles' Walk is eagerly awaited by visitors, who gather in the square to witness this unique spectacle.
In addition to the show, the Astronomical Clock also features an intricate calendar dial and a beautiful moving procession of the Twelve Apostles, which occurs daily at noon. This procession, accompanied by the sound of a trumpet, delights onlookers as the figures come to life and pass before an audience.
Visiting the Astronomical Clock allows you to appreciate not only the technical and artistic craftsmanship of the clock itself but also the historical significance it holds. The clock has witnessed centuries of Prague's history and is a symbol of the city's cultural heritage.
While exploring the Astronomical Clock, take the opportunity to climb to the top of the Old Town Hall tower. From here, you'll have an exceptional view of Old Town Square and the surrounding cityscape. Marvel at the red rooftops, the spires of Prague's churches, and the majestic Prague Castle in the distance.
Whether you're a history enthusiast, an admirer of medieval art, or simply a curious traveler, the Astronomical Clock is sure to captivate your imagination. Take your time to soak in the intricate details, marvel at its complexity, and let the magic of this ancient timepiece transport you to another era.
Enjoying Czech Cuisine
Exploring the flavors of Czech cuisine is an essential part of any visit to Prague. The city boasts a rich culinary heritage, with hearty and flavorful dishes that reflect the country's history and traditions. From traditional comfort foods to unique delicacies, there are plenty of delicious experiences to savor in Czech cuisine.
One iconic dish that you must try is goulash, a savory meat stew often made with beef, onions, and paprika. This hearty dish is typically served with bread dumplings or steamed potatoes, perfect for soaking up the rich and flavorful sauce. Goulash is a true Czech comfort food, especially enjoyable during colder months.
Another beloved Czech specialty is Svíčková, a marinated beef sirloin served with a creamy sauce made from root vegetables and topped with cranberry sauce. This dish is typically accompanied by bread dumplings and a sprinkle of fresh parsley. Svíčková is a delicious and satisfying choice for those looking to experience the full flavors of Czech cuisine.
For a taste of Czech street food, be sure to try trdelník, a sweet pastry made from rolled dough, grilled over an open flame, and coated with sugar and cinnamon. This warm and crispy treat is often filled with Nutella, ice cream, or whipped cream, creating the perfect indulgent snack while exploring the city.
No visit to Prague is complete without trying the famous Czech beer. The Czech Republic is renowned for its beer culture, and there are numerous local breweries producing a wide variety of flavorful beers. Pilsner, a pale lager, is the most well-known style, but you'll also find dark lagers, wheat beers, and specialty craft brews to suit every taste.
When it comes to desserts, be sure to sample some traditional Czech pastries. One popular choice is the koláč, a sweet yeast-based pastry filled with fruit jam or poppy seeds. You can also find štrúdl, a delicious layered pastry typically filled with apples, nuts, or poppy seeds. Pair these treats with a cup of Czech coffee or a refreshing glass of herbal tea for a delightful end to your meal.
To fully immerse yourself in Czech cuisine, consider joining a local food tour where you can sample a variety of traditional dishes and get insights into their cultural significance. Alternatively, venture off the beaten path and visit small, family-run restaurants and taverns to experience the authentic flavors of Czech home cooking.
Whether you're indulging in hearty classics or exploring the sweet side of Czech cuisine, the diverse flavors and rich culinary traditions of Prague will surely leave a lasting impression on your taste buds. So, don't miss the opportunity to embark on a mouthwatering gastronomic journey through the streets and eateries of this captivating city.
Trying Traditional Czech Beer
When it comes to beer, the Czech Republic is renowned worldwide for its rich brewing tradition and exceptional brews. Prague, in particular, offers a vibrant beer culture with a wide array of local breweries and traditional taverns where you can savor the flavors of authentic Czech beer.
The most famous style of Czech beer is the Pilsner, named after the city of Pilsen, which is located just a short distance from Prague. Pilsner is a pale lager known for its crisp and refreshing taste. It is characterized by its golden color, smooth maltiness, and the perfect balance of hops, resulting in a clean and satisfying flavor profile.
Another popular style of Czech beer is the dark lager, known as tmavé pivo. This beer has a rich and malty flavor, with notes of caramel and chocolate. It is a darker and fuller-bodied brew, offering a delightful contrast to the lighter Pilsner.
Wheat beer, or pšeničné pivo, is also well-loved in the Czech Republic. With its hazy appearance and fruity aroma, wheat beer offers a unique flavor profile that is both refreshing and full-bodied. It is a popular choice during the summer months, perfect for enjoying on a sunny day at a beer garden or outdoor terrace.
When visiting Prague, make it a point to visit traditional Czech beer taverns, known as pivnice or hospoda, where you can immerse yourself in the local beer culture. These establishments often have a cozy and rustic atmosphere, making them an ideal setting to enjoy a pint of beer alongside traditional Czech pub fare.
Ordering beer in Czech taverns usually involves choosing the size of your glass, with common options being a "půl litru" (half-liter) or a "dec" (tenth of a liter). Feel free to ask the waitstaff for recommendations, as they are often knowledgeable about different beer styles and can guide you in finding the perfect brew to suit your taste.
To enhance your beer-tasting experience, consider joining a beer tour where you can learn about the history and brewing process of Czech beer, as well as taste a variety of different styles. These tours often provide a behind-the-scenes look at local breweries, allowing you to see firsthand how Czech beer is crafted.
Whether you're a beer connoisseur or simply looking to immerse yourself in Czech culture, trying traditional Czech beer in Prague is a must-do. Raise your glass, savor the flavors, and toast to the centuries-old brewing traditions that have made Czech beer renowned around the world.
Experiencing Prague's Nightlife
Prague is not only a city of stunning architecture and rich history but also a vibrant nightlife destination that offers a diverse range of entertainment options. When the sun sets, the city comes to life with a buzzing energy, making it the perfect time to explore Prague's nightlife scene.
For those seeking a lively and energetic atmosphere, the neighborhoods of Žižkov and Vinohrady are worth a visit. Here, you'll find trendy bars, clubs, and music venues that cater to a younger crowd. Enjoy live music performances, DJ sets, and themed parties that keep the dance floors packed until the early hours of the morning.
Prague is also known for its unique underground bar scene, with hidden gems tucked away in basements and courtyards. These bars often have a cozy and intimate atmosphere, perfect for enjoying a wide selection of local beers, craft cocktails, or traditional Czech spirits like absinthe or Becherovka.
Beer lovers shouldn't miss the opportunity to experience a Czech beer garden. These outdoor spaces, often set in picturesque locations, offer a relaxed and social atmosphere. Grab a pint of refreshing Pilsner or wheat beer and enjoy the company of friends or make new ones as you soak up the lively ambiance.
If you're a fan of the performing arts, Prague has plenty to offer. The city has a thriving theater scene with numerous stages showcasing a wide range of performances, from classical ballet and opera to modern experimental theater. Check the event listings to catch a show and immerse yourself in the world of Czech performing arts.
For a more laid-back evening, explore the charming streets of Prague's Old Town and Lesser Town. Here, you'll find cozy wine bars, jazz clubs, and rooftop lounges where you can unwind and enjoy live music in a relaxed setting. Sip on a glass of Czech wine or a signature cocktail and let the soothing tunes transport you to a different time.
Prague's nightlife is not limited to just music and drinks. The city also offers a variety of late-night activities, such as night tours, boat cruises along the Vltava River, and even ghost tours that reveal the city's spooky legends and haunted places.
When experiencing Prague's nightlife, it's important to stay safe and be mindful of your surroundings. Always keep an eye on your belongings and be cautious when accepting drinks from strangers. Stick to well-established venues and reputable tour operators to ensure a memorable and enjoyable experience.
From vibrant clubs to cozy bars and cultural performances, Prague's nightlife has something for everyone. So, as the sun sets and the city transforms, embrace the enchanting atmosphere and let Prague's nightlife be a memorable part of your visit to this remarkable city.
Day Trips from Prague
While Prague offers an abundance of attractions and experiences, it's also a perfect hub for exploring the surrounding regions. Taking a day trip from Prague allows you to venture beyond the city limits and discover even more of the Czech Republic's beauty and charm.
One popular day trip destination is Kutná Hora, a UNESCO World Heritage Site located approximately one hour from Prague. This historic town is known for its stunning Gothic architecture, including the iconic Sedlec Ossuary, also known as the Bone Church. Explore the impressive St. Barbara's Church and visit the Italian Court, a former royal residence. Kutná Hora offers a fascinating glimpse into the country's medieval past.
Cesky Krumlov is another gem worth visiting. This fairy-tale town, situated about two hours south of Prague, is a picturesque UNESCO-listed site. With its narrow cobblestone streets, charming Renaissance-style buildings, and a stunning castle overlooking the Vltava River, Cesky Krumlov feels like walking into a storybook. Take a leisurely stroll through the town, visit the castle, and enjoy the vibrant arts and cultural scene.
For nature enthusiasts, a trip to Bohemian Switzerland National Park is a must. Located just a few hours north of Prague, this park features breathtaking sandstone formations, lush forests, and picturesque hiking trails. Be sure to visit the iconic Pravčická brána, the largest natural sandstone arch in Europe, and take in the stunning views from the top.
If you're interested in history, consider visiting Terezín. This former military fortress turned concentration camp during World War II serves as a poignant reminder of the country's dark past. Explore the Terezín Memorial, which includes the Small Fortress and the Ghetto Museum, and learn about the stories of those who lived and perished here.
Beer enthusiasts will appreciate a visit to Pilsen, the birthplace of the famous Pilsner beer. Located about an hour west of Prague, Pilsen is home to the Pilsner Urquell Brewery, where you can learn about the beer-making process and enjoy a tasting. Don't miss the chance to explore the historic city center and visit the Gothic St. Bartholomew's Cathedral.
If you're seeking relaxation, head to Karlovy Vary, a renowned spa town in the western part of the country. Famous for its hot springs and elegant neo-Renaissance architecture, Karlovy Vary offers a range of wellness and spa treatments. Take a leisurely stroll along the colonnades, taste the mineral-rich waters, and immerse yourself in the laid-back atmosphere.
These are just a few of the many day trips you can take from Prague. Whether you're seeking history, natural beauty, cultural exploration, or gastronomic delights, there is a day trip option that will cater to your interests and allow you to discover more of the Czech Republic's treasures beyond its capital city.
Conclusion
Prague, with its rich history, stunning architecture, and vibrant cultural scene, is undoubtedly a remarkable destination to explore. From the enchanting streets of the historic district to the grandeur of Prague Castle and the lively atmosphere of Old Town Square, the city offers a wealth of experiences that will leave a lasting impression on any visitor.
Throughout your journey in Prague, you will have the opportunity to immerse yourself in the local culture and indulge in the delights of Czech cuisine and beer. From traditional dishes like goulash and Svíčková to experiencing the flavors of Czech beer at local taverns and beer gardens, your culinary exploration will be a journey in itself.
Beyond Prague, the Czech Republic's beauty extends to nearby destinations that can be easily reached on day trips. Explore the historical town of Kutná Hora, marvel at the fairy-tale charm of Cesky Krumlov, venture into the natural wonders of Bohemian Switzerland National Park, or delve into history with a visit to Terezín.
As you navigate through the city's streets and attractions, the warmth of Czech hospitality and the city's undeniable charm will accompany you every step of the way. Whether you're captivated by Prague's medieval architecture, enchanted by its vibrant nightlife, or touched by its rich historical significance, the city offers a plethora of experiences that will leave you with cherished memories.
So, pack your bags, embrace the magic of Prague, and let this captivating city weave its spell on you. From its cobblestone streets to its majestic castles, from its bustling marketplaces to its lively beer gardens, Prague is waiting to be discovered and savored. Start your adventure and unlock the timeless beauty and cultural treasures of the Czech Republic's capital.