Your Complete Guide To Royal National Park, Australia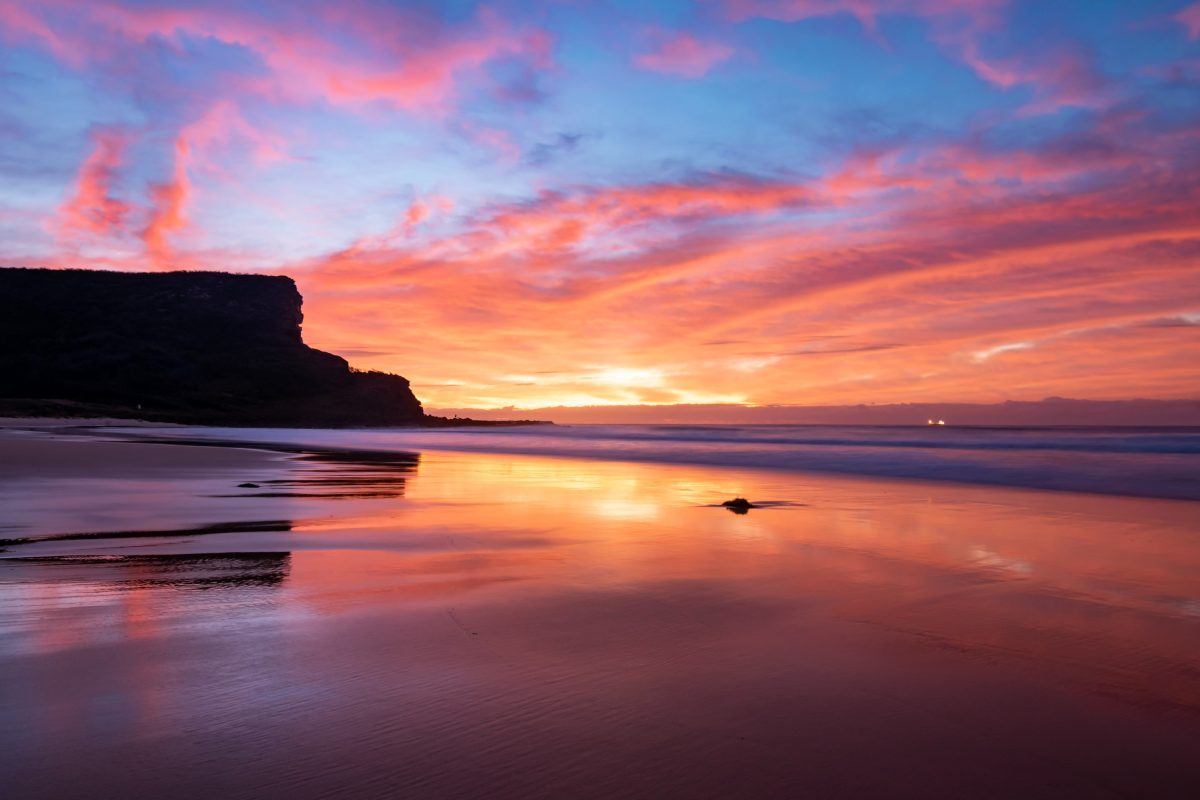 The Australian outback has been made famous in lots of movies, TV shows, and documentaries. It's one of the biggest draws for tourists from all over the world, and fortunately it's easy to access as well. Located just south of busy Sydney, the Royal National Park offers incredible animal experiences, lots of outdoor activities, and miles of harsh but beautiful land. It's the ideal place to visit if you're ready to discover for yourself all the beauty of this ancient land.
What Is The Royal National Park?
The Royal National Park is the world's second oldest national park and was opened in 1879. It includes 16,000 hectares or 40,000 acres of incredibly diverse landscape. The park contains everything from beaches to rainforest and grassland. It's also home to a variety of unique Australian animals including bats, possums, wallabies, reptiles, and more than 300 different bird species.
If you like the outdoors, you'll enjoy lots of activities at the Royal National Park. It contains everything from camping grounds, to hiking and cycling trails, picnic areas, beaches, and places to go kayaking and canoeing. There are also some Aboriginal sites in the park, so you can learn more about the history of this ancient land while you're there.
Getting To The Royal National Park
The Royal National Park is about an hour's drive from Sydney along the Princes Highway. You can hire a car and make the drive on your own fairly easily. Just keep going along the highway and turn off at Farnell Avenue or at McKell Avenue at Waterfall. Just be aware that the highway can be busy at peak times like weekends and public holidays. So, try to visit the park at other times, or leave yourself a little extra time to get there.
You can also travel to the park by train. Take the train to Cronulla and then transfer to the ferry to Bundeena. From there, it's only a 500-meter walk to the park. You can also take the train to Engadine, Heathcote, Loftus, or Waterfall.
When To Visit The Royal National Park
The park is open year-round except for Christmas Day. The incredible variety of landscapes in the park means that there's always something to do and see, no matter what time of year you choose to visit. Temperatures vary from the low 40s Fahrenheit in winter to the upper 80s Fahrenheit in summer. The area also gets a lot of rainfall, which is why it's so lush, but the wettest month is March.
The weather shouldn't be the only consideration when you visit the Royal National Park. There are lots of things to see and do there, with seasonal events that are a must-see.
Summer
This is the best time to visit one of the many beaches in the park. So, bring your swimming clothes and head to Garie Beach, Bundeena's Bonnie Vale, Little Marley, or Wattamolla Beach. You can also go swimming at Karloo Pool, Curracurrang, or Deer Pool if you prefer fresh water.
Winter
If you enjoy hiking, then winter is the best time to hike the Coast Track from Bundeena to Otford. The weather is cool enough in winter to make the 26-kilometre hike more comfortable. You'll also be able to take in the amazing coast scenery with the possibility of seeing whales swimming by.
Autumn
In autumn, the weather is cooler and more comfortable for outdoor activities. So, there's less chance of you boiling under the sun as you explore. And the changing colours of the leaves and trees makes for some truly spectacular photographs.
Spring
This is the best time to see the heathland wildflowers on the Coast Track, The Curra Moors Loop Track, or the Wises Track.
When you visit the Royal National Park, make sure that you're dressed for the weather. Bring sunscreen, a hat, and plenty of water no matter what season it is. The Australian sun can be bright and hot in every season, and you don't want to end your day with a serious sunburn. You should also bring rain protection, because the weather can be a bit unpredictable at times. Nothing will spoil your visit like getting caught in a rainstorm and ending up cold and wet.
Tickets and Opening Hours
The Royal National Park is open from 7am to 8.30pm every day but Christmas day. However, it can close at times because of the weather or because of fire danger.
To get into the park, you will need to pay $12 per vehicle for a day pass. You can pay by cash or by card, but make sure that you bring exact change if you pay by cash. There's also a coin and card machine where you can buy your day passes.
So, if you're ready to explore the Royal National Park, here are just some of the things you should see and do.
Garie Beach is the most popular in the Royal National Park. It's great for swimmers and surfers and there are lifeguards present who can help you if you get into trouble. The beach is 900 metres long, so it isn't the largest in Australia, but the sand is clean and white and perfect for sunbathing. There's also a picnic area and some good whale watching opportunities in the area.
When you go swimming at the beach in Australia, you need to be aware that the ocean can be unpredictable. Many tourists get into trouble at Australian beaches because they're not strong swimmers. Australian waters tend to have big waves and strong rips, which can easily overwhelm people who aren't used to them. So, if you've only ever swum in a pool before, stay close to the shore and ask for help if you're having trouble.
If you're not the walking kind, then you can also explore the Royal National Park on your bike. There are several trails through the park including the Lady Carrington Drive. This is a 10-milometre cycle track that goes along the Hasting River. It follows a historic carriage route and goes through 15 creeks and parts of the rainforest.
Another popular bike track is the Loftus Loop Trail. It's ten kilometres of heart pounding trail that ranges from steep, single file to flat, wide areas. This trail is definitely only for very fit cyclists, and it's a great way to get your cardio in while enjoying the scenery at the same time.
Wattamolla is a peaceful lagoon that's perfect for a quiet swim. It's also become one of the most popular attractions in the Royal National Park in recent years. Bring a picnic, go swimming, or float around in an inflatable raft.
Unfortunately, this popularity has its downside too. Recently, Wattamolla has become a dumping ground for visitors who can't be bothered to clean up their rubbish. This threatens to spoil this once pristine lagoon. So, make sure that you take your rubbish with you when you go.
If you don't like the salt, then this freshwater pool is the best place to swim in the Royal National Park. It's a 60-metre-long freshwater pool that's relatively untouched by the influx of tourists. The waters are pristine and look amazing because of the abalone shells on the bottom, which make the water sparkle.
You can access the Olympic Pool via a mostly ignored track near the Karloo Pool in Heathcote. The area is incredibly pristine, so make sure that you take your belongings and your rubbish with you when you leave.
The Royal National Park is famous for its hiking trails, and the Coast Walk is the best of the best. It's a Grade 5 walk, which means that it's incredibly challenging, and stretches over 26 kilometres of open bushland. The walk will take you around 2 days to complete and offers incredibly beautiful scenery along the coast as well as a mix of terrains.
You'll be walking through scrubby bushland, over soaring sandstone cliffs, and on Australia's characteristic red soil. And if you decide to do the walk during winter, you may even get to see whales coasting by the cliffs in their annual migration.
If you don't have two days spare to walk, then you can always explore smaller portions. The section between Bundeena and Little Marley Beach is a popular option. It's an easy section, which means it's suitable for all levels, and the scenery is still fantastic.
6.
Dharawal Aboriginal Engravings Site
Australia has a long and proud history, and signs of this history can be seen everywhere. One of the best examples at the Royal National Park is the Dharawal Aboriginal Engravings Site. It contains artwork that dates back around 1000 years and can be accessed from Jibbon Beach via trails.
This area is the perfect place for a relaxing picnic, surrounded by the history of this ancient land. So, grab the family or your friends and a picnic basket and find a quiet spot.
Whale watching is one of the most incredible experiences you can have in the Royal National Park. Between May and November, humpback whales pass close to the Australian coast on what's known as the 'Humpback Highway'. The whales migrate every year along this 'Highway' between their feeding and breeding grounds. And if you're lucky, you can see them from the shore at the Royal National Park.
The best place to see the whales is on the coastal track between Bundeena and Otford. Bring a pair of binoculars with you if you want to see these giant animals more closely.
These pools are one of the most popular attractions at the Royal National Park. They're naturally formed pools that are only visible at low tide. If you get there at the right time, you can explore these eight-shaped pools.
However, you need to be very careful when you visit these pools. The tide comes in fast, and more than 50 people have been injured trying to get close to the pools at the wrong time. So, check the low tide schedule carefully and don't approach the pools too close if there's any risk. Wear sturdy walking shoes, not flip-flops, and always keep an eye on the ocean while you're there.
9.
Paddle the Hacking River
Water activities are incredibly popular at the Royal National Park and they're also a great way to explore areas that are not as accessible on foot. You can hire a canoe, kayak, or rowboat by the hour or for a day from the Audley Boatshed. This in itself is a historic building, first established in 1893. It's open every day except Christmas day and you can walk to it from the park visitors' centre.
Once you have your boat, head upstream on the Hacking River to explore. There are popular picnic spots at Ironbark Flat or Wattle Forest, or you can just keep going until you find your own secluded spot to have a snack.
Wedding Cake Rock is all over Instagram. It's a white rock with an angled edge that looks just like its name. It's located on the Coast Track about an hour's walk from Bundeena. So, if you're hiking through the area, make sure that you stop and take a look.
This dramatic spot is perfect for photographs, but don't climb or stand on it. The rock is slowly eroding and is too unstable to take the weight, so you could end up dying for a photograph. The landmark is now fenced off, but you can stand near it and get some great photographs.
11.
Spend the Night At The Royal National Park
Camping in the bush is one of the most popular and rewarding activities you can do in the Royal National Park. There's nothing quite like bedding down with the sounds of the bush around you and waking up to birdsong. And it will give you more time to explore everything this park has to offer as well.
There are a few different options available if you want to stay the night. If you want to rough it, then the Bonnie Vale campground in Bundeena town is your best option. But if you prefer cabins and indoor plumbing, then try the Hilltop Cottage, Weemalah Cottage, or the Reids Flat Cottage.
If you need a break from the city while you're visiting Sydney, then head to the Royal National Park. It's the perfect place to explore the legendary Australian outback and enjoy some animal encounters without traveling far from the safety of the city.