How To Spend A Day On Idyllic Taboga Island, Panama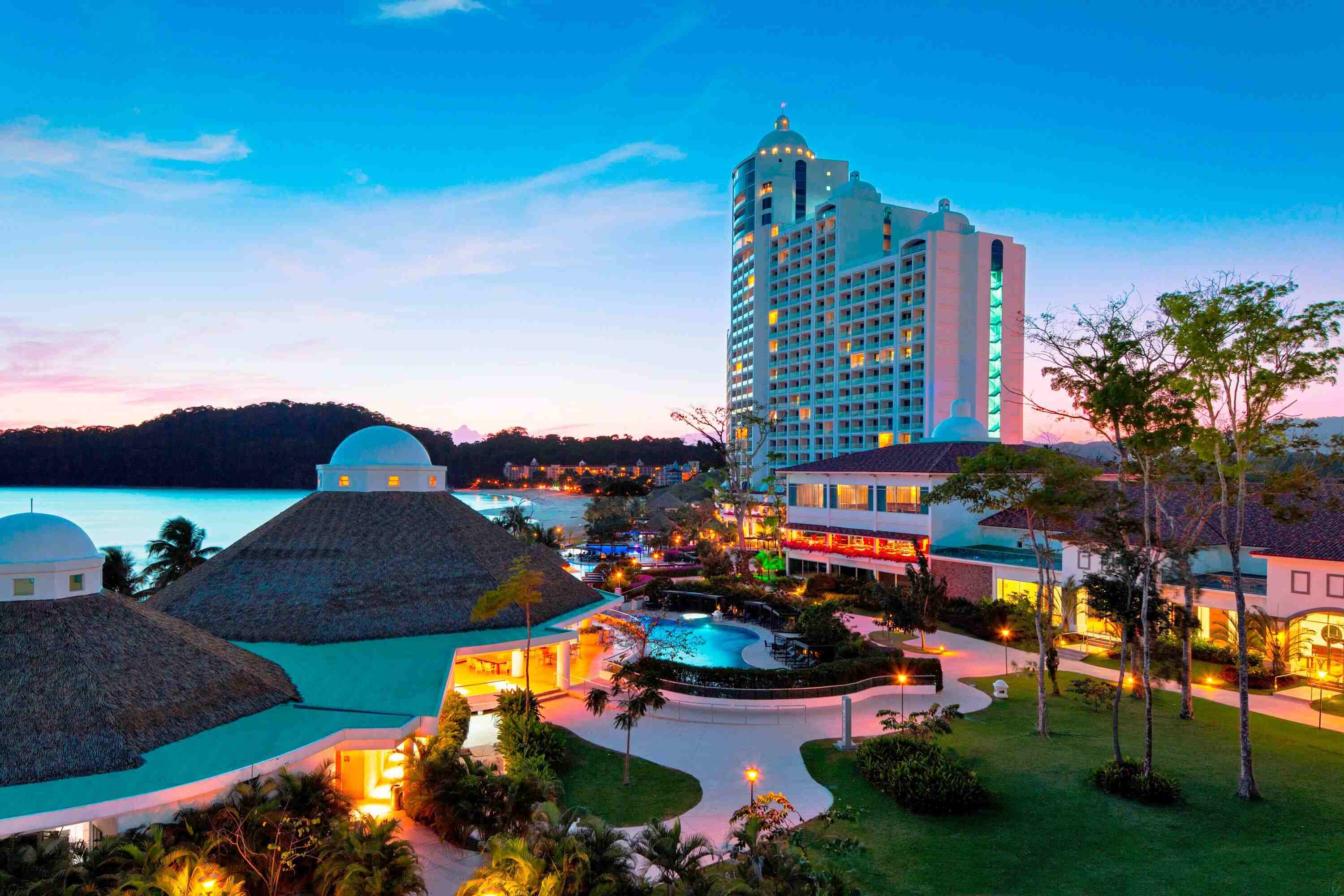 Introduction
Welcome to Taboga Island, a hidden gem nestled in the Gulf of Panama. With its pristine beaches, lush vegetation, and rich history, this idyllic island is the perfect destination for a rejuvenating day trip. Taboga Island, also known as the "Island of Flowers," is located just 20 kilometers southwest of Panama City, making it easily accessible for both locals and tourists.
Stepping foot on Taboga Island feels like entering a different world. The island's serene atmosphere and charm instantly transport visitors away from the bustling city and into a tranquil paradise. Whether you're seeking a day of relaxation or an adventure-filled exploration, Taboga Island has something to offer for everyone.
This article will guide you through a memorable day on Taboga Island, showcasing its natural beauty, cultural landmarks, and delicious seafood cuisine. From sun-soaked beaches to panoramic hiking trails, you'll discover why Taboga Island is a must-visit destination. So grab your sunscreen, immerse yourself in the beauty of this tropical oasis, and let the adventure begin.
Getting to Taboga Island
Getting to Taboga Island is a breeze. From Panama City, you can take a ferry from the Amador Causeway or the Balboa Yacht Club. The ferry ride takes approximately 30 minutes, offering stunning views of the Panama City skyline and the sparkling ocean along the way.
The ferry schedule varies, so it's advisable to check the departure times in advance. Ferries typically run several times a day, ensuring flexibility for travelers. Remember to arrive at the ferry terminal a bit early to secure your spot and enjoy a smooth boarding process.
If you prefer a more private experience or have a larger group, you can also arrange for a water taxi or charter a boat to take you directly to Taboga Island. This option allows you to customize your departure time and enjoy a more personalized journey.
Once you arrive on Taboga Island, you'll be greeted by the warm smiles of the locals and the inviting island atmosphere. The main village, also called Taboga, is easily navigable on foot, with charming cobblestone streets and colorful houses.
It's important to note that there are no cars or paved roads on the island, contributing to its peaceful ambiance and slower pace of life. This means you'll be able to fully immerse yourself in the island's natural beauty and explore its hidden treasures on foot.
So whether you choose to take a ferry, water taxi, or charter a boat, rest assured that your journey to Taboga Island will be a seamless and enjoyable one. Get ready to disconnect from the bustling city life and embrace the tranquility of this captivating island.
Exploring the Beaches
One of the highlights of a day trip to Taboga Island is exploring its picturesque beaches. The island boasts a variety of stunning sandy shores, each with its own unique charm and character.
The most popular beach on Taboga Island is Playa Restinga. This pristine stretch of white sand is ideal for sunbathing, swimming, and relaxing under the shade of palm trees. The calm, crystal-clear waters make it safe for families with children to enjoy a day by the sea.
For those seeking a more secluded beach experience, Playa Honda is a hidden gem. With its tranquil atmosphere and stunning views, this beach is perfect for those who want to escape the crowds and bask in the island's natural beauty.
If you're up for some adventure, head to Playa de la Aguada. This beach offers excellent snorkeling opportunities, with vibrant coral reefs teeming with marine life just a short distance from the shore. Grab your snorkeling gear and dive into the clear waters for an underwater exploration like no other.
For the adventurous souls, a visit to Isla Taboguilla is a must. This smaller neighboring island is accessible by kayak or boat, and its secluded beaches provide a sense of tranquility and seclusion. Embark on an unforgettable kayaking adventure and discover hidden coves and caves along the way.
Wherever you choose to spend your time on the beaches of Taboga Island, make sure to take in the pristine beauty that surrounds you. Relax, unwind, and let the gentle ocean breeze wash away your worries as you immerse yourself in the island's natural wonders.
Hiking to the Top of Cerro de la Cruz
If you're craving some adventure and breathtaking views, a hike to the top of Cerro de la Cruz is a must-do activity on Taboga Island. This scenic trail takes you through lush tropical forests and rewards you with panoramic vistas of the island and the surrounding ocean.
The trailhead for Cerro de la Cruz is located near the main village of Taboga. The hike is moderate in difficulty, suitable for both experienced hikers and beginners. As you ascend, you'll be surrounded by the sights and sounds of nature, with exotic birds chirping and the rustling of leaves under your feet.
On your way up, take your time to appreciate the diverse flora and fauna that adorn the trail. Marvel at the colorful orchids, towering palm trees, and the occasional sighting of a playful monkey or two. Along the hike, you'll also come across small waterfalls, adding to the enchantment of the journey.
As you reach the summit of Cerro de la Cruz, the sweeping panoramic views will take your breath away. The azure waters of the Pacific Ocean stretch out as far as the eye can see, and you'll have a bird's-eye view of Taboga Island's coastline and neighboring islands.
Don't forget to bring your camera to capture the mesmerizing vistas and create lasting memories of your hike. You can also pack a picnic to enjoy at one of the scenic viewpoints, soaking up the beauty of Taboga Island while savoring a delicious meal amidst nature.
After taking in the splendor of the surroundings, make your descent back to the village, feeling accomplished and rejuvenated. The hike to Cerro de la Cruz is not only a rewarding physical activity but also an opportunity to connect with nature and appreciate the untouched beauty of Taboga Island.
Visiting the Church of San Pedro
A visit to the Church of San Pedro is a must for history enthusiasts and those interested in the cultural heritage of Taboga Island. Located in the heart of the main village, this charming church holds significant historical and architectural importance.
The Church of San Pedro, also known as the San Pedro Apostol Parish, dates back to the early 16th century, making it one of the oldest churches in the Americas. Its intricate architecture showcases a blend of Spanish Colonial and Moorish influences, with ornate details and a distinct red and white facade.
Step inside the church, and you'll be greeted by a tranquil atmosphere and beautiful religious icons. Admire the exquisite altars adorned with gold leaf, intricately carved wooden statues, and stunning stained glass windows that cast a kaleidoscope of colors onto the interior.
The Church of San Pedro is not only a place of worship but also a testament to the island's rich cultural heritage. It has played a significant role in the lives of generations of Taboga residents, serving as a focal point for religious ceremonies, weddings, and community gatherings.
During your visit, if you're lucky, you may have the chance to witness a traditional Catholic Mass or be part of a local celebration. The church often hosts special events and religious festivities, showcasing the vibrant culture and deep-rooted traditions of the island.
After exploring the church, take a stroll through the adjacent San Pedro Plaza, a charming square adorned with benches, colorful flowers, and shady trees. Sit for a while, soak in the peaceful ambiance, and reflect on the historical significance of the Church of San Pedro.
Visiting the Church of San Pedro allows you to delve into the fascinating history of Taboga Island and appreciate its cultural and architectural heritage. It is a place of beauty, spirituality, and reflection that shouldn't be missed during your day trip to the island.
Enjoying Fresh Seafood at Local Restaurants
No visit to Taboga Island is complete without indulging in the mouthwatering fresh seafood that the island is famous for. With its prime location in the Gulf of Panama, Taboga Island offers a wide array of delicious seafood dishes that will delight every palate.
Head to the waterfront or stroll through the village, and you'll find a selection of charming restaurants and eateries offering an abundance of seafood options. From succulent grilled fish and flavorful ceviche to plump shrimp and juicy lobster, there is something to satisfy every seafood lover's cravings.
One of the highlights of dining on Taboga Island is the opportunity to enjoy your meal with an ocean view. Many restaurants overlook the sparkling waters of the Gulf of Panama, providing a serene and picturesque backdrop as you savor your meal.
Be sure to try the local specialties, such as the Tabogan-style ceviche. This refreshing dish features fresh fish marinated in lime juice and mixed with onions, tomatoes, cilantro, and a touch of spicy pepper. It's the perfect appetizer to kick-start a delightful seafood feast.
If you're in the mood for something hot off the grill, opt for a seafood platter or whole fish, marinated and seasoned to perfection. Accompanied by a side of coconut rice and plantains, it's a mouthwatering meal that captures the essence of the island's culinary delights.
Pair your seafood feast with a cold beverage, such as a local beer or a refreshing tropical fruit cocktail, to complement the flavors and enhance your dining experience.
What sets the dining experience on Taboga Island apart is not only the delicious food but also the warm hospitality of the locals. The island's restaurants are known for their friendly service and welcoming atmosphere, creating a memorable and enjoyable dining experience.
So, whether you're a seafood enthusiast or simply want to taste the freshest flavors of the sea, be sure to indulge in the delectable seafood offerings at the local restaurants on Taboga Island. You're in for a culinary treat that will leave you craving for more.
Relaxing at Taboga Island Inn
When it's time for some relaxation and rejuvenation on Taboga Island, look no further than the Taboga Island Inn. This charming inn offers a tranquil and welcoming retreat, allowing you to unwind and soak in the island's serene atmosphere.
Taboga Island Inn is ideally situated near the beach, providing easy access to the sun, sand, and surf. The inn's lush tropical gardens create a serene oasis, allowing you to escape from the hustle and bustle of everyday life and immerse yourself in nature's beauty.
The inn offers a range of comfortable and well-appointed rooms, each thoughtfully designed to ensure a restful stay. Wake up to the gentle sounds of birds chirping and the soothing ocean breeze that wafts through your window.
After a peaceful night's sleep, start your day with a delicious breakfast served on the inn's outdoor terrace. Feast on fresh fruits, pastries, and a selection of traditional Panamanian dishes that will energize you for a day of island exploration.
For ultimate relaxation, take advantage of the inn's amenities, such as its inviting swimming pool or the serene garden area. Lounge under the shade of a palm tree, dive into the refreshing pool, or simply soak up the sun while sipping on a tropical drink.
If you're in need of some pampering, the Taboga Island Inn offers various spa services, including massages and facials, to help you unwind and rejuvenate. Let the skilled therapists melt away your stress and tension, leaving you feeling relaxed and revitalized.
When it's time to satisfy your hunger, the inn's on-site restaurant serves up delectable dishes featuring local and international flavors. Indulge in a romantic candlelit dinner under the stars or enjoy a casual meal with friends and family, all within the tranquil setting of the inn.
As the day draws to a close, retreat to your comfortable room at the Taboga Island Inn. Take a soothing bath, wrap yourself in a cozy robe, and let the gentle sounds of the ocean lull you into a peaceful slumber.
Whether you're seeking a romantic getaway, a family vacation, or a solo retreat, the Taboga Island Inn provides a serene and inviting home away from home. Relax, unwind, and let the natural beauty and warm hospitality of Taboga Island embrace you.
Taking a Boat Tour Around the Island
One of the best ways to fully experience the beauty and charm of Taboga Island is by taking a boat tour around its picturesque coastline. This exciting adventure allows you to explore hidden coves, remote beaches, and stunning landmarks that can only be accessed by boat.
There are various boat tour options available on Taboga Island, ranging from private charters to group excursions. Depending on your preference, you can choose a leisurely cruise or an exhilarating speedboat ride, each offering a unique perspective of the island.
The boat tour will take you along the crystal-clear waters of the Gulf of Panama, where you'll have the opportunity to admire the breathtaking shoreline and soak in the panoramic views. The knowledgeable local guides will share interesting facts and stories about the island's history, culture, and diverse ecosystems.
As you navigate along the coast, keep an eye out for marine life such as dolphins, sea turtles, and even the occasional humpback whale during the migration season. Your boat may also make stops for snorkeling or swimming in secluded areas with vibrant coral reefs teeming with tropical fish.
One of the highlights of the boat tour is a visit to El Morro, a rugged and rocky peninsula that juts out into the ocean. Explore the ancient ruins of the Spanish fort, which dates back to the 16th century, and learn about its historical significance in protecting Panama City from pirates and naval attacks.
Another notable stop is at Los Cocos Beach, located on the eastern side of Taboga Island. This secluded beach offers a tranquil and untouched setting, perfect for a picnic or some quiet time to connect with nature.
Throughout the boat tour, you'll have plenty of opportunities to capture stunning photos of the island's scenic landscapes. The vibrant blue hues of the ocean, the lush greenery of the coastal jungle, and the dramatic cliffs that line the shore create picture-perfect moments at every turn.
Whether you're an adventure seeker or a nature lover, a boat tour around Taboga Island will leave you with unforgettable memories. Immerse yourself in the island's natural splendor, learn about its fascinating history, and create a deeper connection with this tropical paradise.
Conclusion
Taboga Island is a true tropical paradise, offering a range of experiences for visitors seeking beauty, relaxation, and adventure. From its pristine beaches and hiking trails to its rich history and mouthwatering seafood, this idyllic island has something to offer for everyone.
Whether you spend a day exploring the beaches, hiking to the top of Cerro de la Cruz, or visiting the historic Church of San Pedro, you'll be captivated by the island's natural beauty and cultural richness. The warm hospitality of the locals and the tranquil atmosphere will make you feel right at home.
Indulge in the island's fresh seafood delicacies at local restaurants, enjoying the flavors of the sea while taking in the breathtaking ocean views. Relaxation awaits at the Taboga Island Inn, where you can unwind in comfort and immerse yourself in the island's peaceful surroundings.
For the adventurous souls, a boat tour around the island is a must-do activity. Discover hidden coves, secluded beaches, and historic landmarks that can only be reached by water, all while enjoying the stunning coastal landscapes and abundant marine life.
Taboga Island is a true gem, an oasis of tranquility just a short distance from the bustling city of Panama City. Whether you're seeking a day trip or a longer escape, this little slice of paradise will leave you with cherished memories and a longing to return.
So pack your sunscreen, embrace the island spirit, and embark on a journey to Taboga Island. Immerse yourself in its natural beauty, soak in the warm hospitality of the locals, and let the wonders of this tropical haven ignite your sense of adventure and rejuvenation.