Best Things To Do In Zhangjiajie, China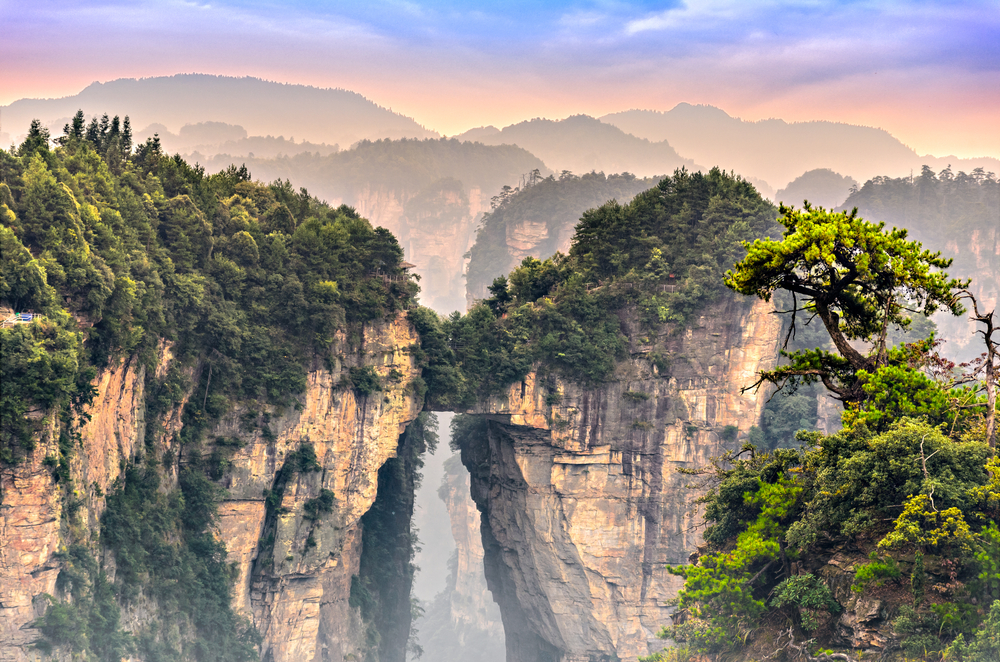 Located northwest of Hunan Province and over 1,000 kilometres from both Shanghai and Beijing, lies the city of Zhangjiajie. Made famous by the movie Avatar, the city is home to mountains, springs, forests and caves.
A true nature lover's paradise, here is everything you need to know for a trip to Zhangjiajie.
Getting To Zhangjiajie From Shanghai and Beijing
By Air
There are direct flights to and from Shanghai Pudong International Airport, Shanghai Hongqiao International Airport, and Beijing Capital International Airport. Other important cities in China also offer flights to Zhangjiajie Hehua Airport.
The airport is about four kilometres from the city centre and offers shuttle and bus services to the downtown area.
By Train
If you would like a slower mode of transportation, a journey by train would take around 10 hours. Shanghai, Beijing, Guangzhou and other important cities are all linked to Zhangjiajie by rail.
There are even high-speed trains that can be taken from major cities to Changsha, the capital city of Hunan Province. From there, a regular train can be taken to Zhangjiajie, cutting travelling time by around half.
The Zhangjiajie Railway Station is about 2 kilometres from the city centre, and 1 kilometre from the cableway station to get to Tianmen Mountain.
Weather
Zhangjiajie has a subtropical climate, giving it higher humidity levels. There is also a clear distinction between the four seasons.
Spring: April To May
Temperatures are cool, ranging between 15 to 25 °C. The scenery is beautiful as flora come back to life and cool mist surround the landscape.
Summer: June To August
During this period, daytime temperatures are higher (28 to 33 °C) while things cool down at night. Summer is also peak season for Zhangjiajie due to the school summer holidays.
Autumn: September To November
This is the best time to see fall foliage and enjoy lesser rainfall. Temperatures are at a comfortable 18 to 28 °C and the landscape is stunning.
Winter: December To March
Temperatures drop during this season and range between 3 to 10 °C. You can experience snow between mid-January to late February but do note that access to certain attractions may be restricted due to the weather. Other than that, winter is definitely an off-peak season.
Highlights Of Zhangjiajie
1.
Zhangjiajie National Forest Park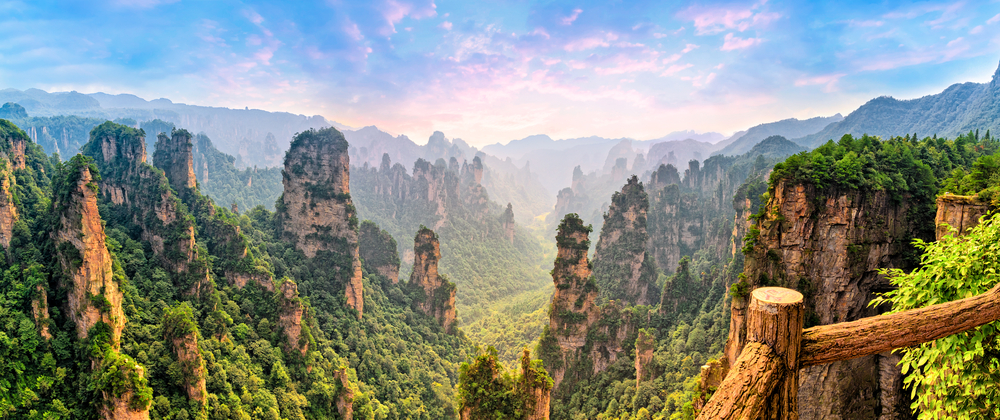 Home to the Avatar Mountains, this is China's first national forest park as well as UNESCO World Heritage site. The large park is divided into four main areas; Yuanjiajie, Tianzi Mountain, Yangjiajie, and Gold Whip Stream.
Here, giant sandstone pillars rise high up above the clouds, creating a forest in the sky that millions of visitors clamour to see. Deep valleys, limestone caves, and exquisite flora and fauna are also features of this national park. It's no wonder that words like ethereal, magical, and otherworldly have been used to describe this place.
An entrance fee here covers three days for you to explore, and includes free use of buses that operate within the park. For visitors who are tired of trekking, these buses shuttle visitors between the various places of interest.
Do note that even with the shuttles, lots of trekking and climbing are to be expected around the trails, so visitors should be in good health condition.
Many of the other highlights of Zhangjiajie are found here, making it an icon of the city.
You might be thinking about how an elevator got on to a list of must-sees, but this is not your ordinary elevator. This one (three of them, in fact) sits along the side of a cliff in Zhangjiajie National Forest Park, with its sides made of steel and glass.
It's the world's tallest outdoor lift and using it gets you to the top of Yuanjiajie, the northern part of the park. If you wish to skip the ticket fees, there are stairs leading to the top, but be warned – it's going to take some effort. Besides getting you to the top in about a minute and a half, the views are unbeatable too.
A newly developed area of the national park, Yuanjiajie is one of the highest viewpoints in Zhangjiajie National Forest Park. Besides using the Bailong Elevator to get to the top, a longer scenic route by following the Golden Whip Stream trail is also possible. The journey will roughly take an hour and a half.
The views, however, are worth the effort and will take your breath away. The naturally formed platform mountain is surrounded by higher peaks with drops in between, caused by deep valleys. You will also notice a freshness in the air, no thanks to the lush forestation.
Popular sights here include the Avatar Hallelujah Mountain, the First Bridge under Heaven, Back Garden and the Lost Soul Platform. Not to worry, there are signboards along the way to guide you to these viewpoints, making sure you know exactly what you are looking at!
This trail offers a relatively scenic trail about 500 meters from the main entrance of Zhangjiajie National Forest Park. The path winds between sandstone pillars and follows the stream till it breaks off to other routes and viewpoints.
Crowds are sparse here, making it a peaceful and serene walk. Hear the sounds of birds above while soaking your feet in the crystal clear waters. This is the perfect spot to get away from the other busy viewpoint areas in the park.
A 400-meter tall cliff called the Golden Whip Cliff can also found by the stream. At sunset, the angular shapes of the cliff resemble a huge golden whip, giving the area its name.
5.
Zhangjiajie Grand Canyon & Glass Bridge
Recently opened in 2016, the Zhangjiajie Glass Bridge is the world's highest and longest glass-bottomed bridge. Before you can walk on the skywalk, tickets have to be purchased in advance from travel agencies.
As 600 people are allowed on the bridge at a given time, there are timings to adhere to. Visitors then don shoe covers to ensure the bridge stays clean and the excitement begins! Enjoy panoramic views all around, with mountains and greenery surrounding you.
If walking on a see-through bridge doesn't give you enough of an adrenaline rush, why not try bungee jumping to get your heart racing?
To get down to the valley below, there is a two to three-hour walk that you can go on. However, the trek is tiring and requires some effort, as you will have to navigate down steep stairs before hiking along a river. Though in the end, you will be treated to a boat ride, where you can snap pictures of overhanging cliffs, waterfalls, and dense forests.
For an easier and fun route, sliding down a 600-meter long slide will get you to the bottom of the canyon as well.
With a celestial name meaning "Heaven's Gate", this mountain is located within Tianmen Mountain National Park and is the highest peak in all of Zhangjiajie. Tianmen Mountain is considered a symbol of Zhangjiajie to the locals and its natural beauty will take your breath away.
The world's longest cableway, the Tianmen Mountain Cableway, can be found here. A 30-minute ride on a cable car will give you access to some of the best views of the surroundings.
While enjoying the ride, look out for the "99 Bends to Heaven" – a famous road known for its many twists and turns. Another way to get to the top of the mountain is by this road; there is a bus that shuttles visitors by this route. However, be warned that it may not be suitable for people who get motion sickness!
Known as the gateway to heaven, this naturally eroded cave is a popular site at Tianmen Mountain. Surrounded by mist and clouds, there is an ethereal feeling to be soaked up. Gazing up at the cave in the middle of towering mountains, you will definitely feel tiny!
To get to the cave, there are 999 narrow and steep steps you have to conquer first. Although it requires a bit of effort, the view from the top makes it all worthwhile. If that sounds like too much, do not worry as the views from below are equally as breathtaking.
Fun fact: The World Wingsuit League held its first and second World Wingsuit Championships here. One can only imagine the skills needed to pilot the planes through the opening of Tianmen Cave!
One of the largest caves in China, this karst cave is a natural wonder. Illuminated in colorful light, be awed by the towering stalactites and stalagmites.
In an area called the 'Dragon Palace', there are more than 2000 stalagmites and stone columns in various poses. It is also home to a 200,000-year-old stalagmite with a height of 19.2 meters!
As you venture deeper into Yellow Dragon Cave, you will come across an underground river – Xiangshui River, that is about 12 meters deep. The entrance fee into the cave covers a 10-minute boat ride on the river. If you are lucky, you may even get to spot a rare giant salamander.
The cave even has the largest group of stone waterfalls in China as well as an actual waterfall. Because of this, temperatures are low in the cave, so remember to bring a jacket! Do note that as there are many stairs and slippery inclinations, it is advisable to wear comfortable, covered shoes.
For a change of scenery (that's closer to the ground), Baofeng Lake in Suoxi Valley Nature Reserve is the perfect spot. It is quite rare to find such a large body of water amongst the mountainous area of Zhangjiajie, making this a popular site.
To enjoy the views it has to offer, climb aboard the Baofeng Lake cruise. For 30 minutes, relax and gaze upon mountains, waterfalls, and greenery that's all around. Sometimes, you may even catch locals on their own boats singing traditional folk songs.
Fun fact: Due to its pristine beauty, Baofeng Lake is a favorite filming spot for many television shows!
10.
Fenghuang Ancient Town
Also known as the Phoenix Ancient Town, this town has been standing since 1704. With hundreds of years behind it, there is a deep culture and history to be learned and enjoyed here.
The town is divided into two areas – the Old Town and the New Town. The Old Town makes up the area that faces the Tuojiang River which flows through the city. This is where most visitors spend their time. The New Town, however, makes up the locals' residential area.
Stepping into the town feels as though you have been transported back in time; there is a slower pace to life and there is a sense of peacefulness in the air. The bright green foliage along with the colorful buildings make everywhere you look a perfect photo opportunity.
Look out for a type of building called 'Diaojiaolou'. They are wooden houses that are built on stilts that sit along the river. They are unique to the area as they prevent the houses from getting swept away by floods.
Move inland and navigate around narrow stone-paved alleys and streets. Buy handmade souvenirs and try local snacks as you walk around to take in the sights.
The town has plenty of cultural and historical sites such as Huang Si Qiao Castle, the Xiangxi Border Wall, Hong Bridge, and the Wanming Pagoda. Do note that there is an entrance fee for these places.
The Natural Wonder Of Zhangjiajie
With so much to see and experience in the untouched nature of Zhangjiajie, it is no surprise that this province is a favorite for all things of that nature. Take your pick from mountain peaks to cooling caves, or scenic lakes and cultural towns. A few days is definitely not enough to explore everything the province has to offer!