Hunan: Everything About This Beautiful Province In China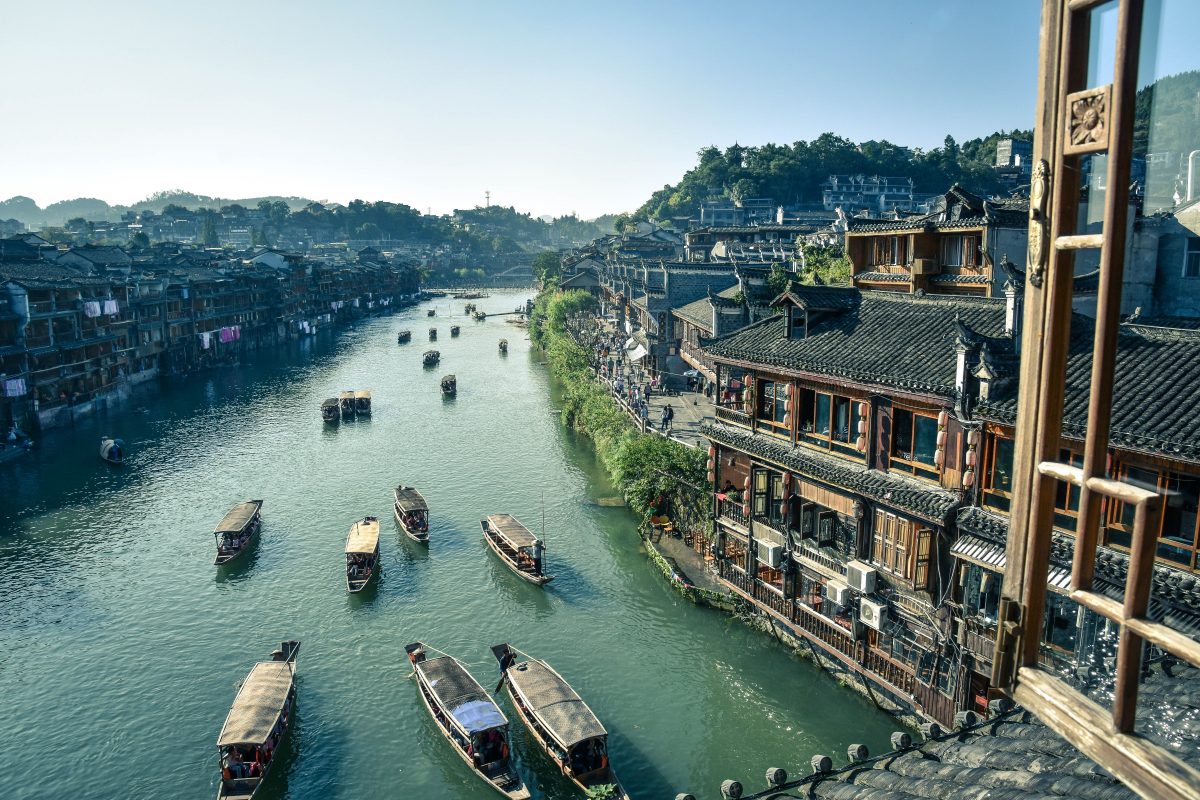 Hunan is a landlocked province located in southern central China, south of the Yangtze River. It derives its name from being a land that is south of Dongting Lake; "hu" means "lake" and "nan" means "south".
Surrounded by mountainous terrains, Hunan is renowned for its beautiful nature and landforms, as well as its rich cultural sites and architecture. Its capital is Changsha, a populous city that connects to the other major cities in Hunan as well as in China.
Getting To Hunan From Shanghai
You can get to Hunan from Shanghai via a direct 2 hours flight from Shanghai Pudong or Hongqiao Airport to Changsha Airport in Hunan.
Alternatively, you can take the High Speed Train from Shanghai Hongqiao Railway Station to Changsha South Railway Station. Tickets go from RMB 478 – RMB 1,555.50 (USD 67.57 – USD 219.89), depending on your seat class; it takes around 5 to 7 hours to reach Changsha.
Normal trains are also available from Shanghai South Railway Station to Changsha Railway Station, although it takes 10.5 to 16 hours. Ticket cost vary from RMB 148.50 – RMB 443.50 (USD 20.99 – 62.69). It is also possible to travel to Zhangjiajie (another city in Hunan) from Shanghai. However, only normal trains are available and it takes 20 to 22.5 hours.
Getting To Hunan From Beijing
Direct flights from Beijing to Changsha take around 2.5 hours. High Speed Train runs from Beijing West Railway Station to Changsha South Railway Station, taking around 6 to 7 hours. Tickets cost from RMB 649 – RMB 2,050 (USD 91.74 – USD 289.79).
Normal train from Beijing West Railway Station or Beijing Railway Station to Changsha Railway Station takes around 14 to 22 hours, costing RMB 189.50 – RMB 975.50 (USD 26.79 – USD 137.90).
Hunan is home to many striking sceneries and ethereal-like sights. If you're thinking about visiting this province, here are 11 attractions you must not miss!
1.
Explore The Wulingyuan Scenic Area
Your trip to Hunan isn't over until you visit this stunning scenic landscape. Located in the north of Zhangjiajie city, Wulingyuan is classified as a UNESCO World Heritage Site in 1992, and is a must-see site for anyone in the Hunan province.
The landscape is dotted with numerous tall and distinctive sandstone pillars, as well as many breathtaking rivers, waterfalls, gorges, and caves. The dense fog and clouds floating across the mountain peaks cause them to be partly hidden, which adds to the mysterious and awe-inspiring beauty of the scenic area.
There are a few national parks in Wulingyuan, of which the most famous one is Zhangjiajie National Forest Park. The nature reserves and parks are also home to a variety of endangered flora and fauna species. An embodiment of a paradise, the Wulingyuan Scenic Area is definitely worth your time when you're in Hunan!
2.
Visit Fenghuang Ancient Town (Phoenix Ancient Town)
Ever wondered how a town in the Ming and Qing dynasty looked like? Or have you ever wanted to experience the olden days in China? The Fenghuang Ancient Town in Hunan is the place to go. Situated in the Fenghuang county near Jishou City, this town's appearance and layout has been preserved for over 300 years. It is also one of the most beautiful towns in China.
You can see wooden houses and bridges along the river banks, as well as dozens of alleys through the narrow cracks of the streets. The Fenghuang Ancient Town also prides itself with its scenic and historical sites, and its ancient architectural buildings.
3.
Spend Some Time At Orange Isle
Orange Isle, famous for its orange trees and being the place where Mao Zedong wrote one of his poems on, is located in Changsha, Hunan. It is a long and narrow island that resembles a naval vessel in the Xiangjiang River, and is also a park that attracts many visitors.
There are many spots of relaxation in the park and at the head of the island also lies a humongous statue of Mao Zedong (Chairman Mao) in his prime. The Orange Isle is a great place to stop by in Changsha – you can take a long and quiet stroll in the park or chill at the plaza after walking around. During certain festivals or holidays, you can also enjoy the splendid fireworks show sparkling up the night sky.
4.
Hike At Mount Yuelu (Yuelu Mountain)
Rich in Chinese history and highlighted by its natural scenery, Mount Yuelu is one of the most popular parks in the west of the capital. It's not hard to get to the peak, and along the way you can visit Lushan Temple and take a rest at the Aiwan Pavilion while appreciating the greenery before you. It was said that Mao Zedong used to visit this particular pavilion.
Mount Yuelu is also home to Yuelu Academy, which was one of the most famous academic institutions in ancient China. You can explore the campus and its museum for a better understanding of the Chinese history.
Dongting Lake is the second largest freshwater lake in China, located in the north of Hunan, where Yueyang is. It's a natural habitat for some species of birds, fishes, and plants. Additionally, the lake is vital in its functions for irrigation, water supply and collection, shipping, and climate regulation. The lake also faces historical spots and, in the lake, also stands Junshan Island with equally beautiful scenic spots.
As you gaze upon the clear waters of the vast and shallow lake, you can also enjoy the serene and tranquil atmosphere. Watching the sunset as the gentle breeze laps over the calm body of water, the lake is unmistakably a sight to behold.
6.
Check Out Yueyang Tower
At the shore of Dongting Lake, the majestic ancient Chinese Tower of Yueyang Tower is one of the three great towers of the Yangtze River. With its distinctive red building and yellow roof tiles, the Yueyang Tower upholds its imposing image as it overlooks the lake. The main tower is around 20m tall and it also features exhibits of various historical artefacts, letters, and poems.
When making a trip to Yueyang while you're in Hunan, you should check out this tower that has deep literary links after stopping by the nearby Dongting Lake. Either to learn more about China's culture, or just to take a peek and be awed by the ancient architecture.
7.
Visit Dehang Miao Village
If you find yourself amazed by sights from Wulingyuan and enjoyed the rich culture from the other attractions, you will love Dehang Miao Village in Jishou as well. It is at this village in Hunan you can learn about the Miao culture. On some days, there are even performances that adds onto the immersive cultural experience. You can hike around the mountains near the village, the surrounding scenery and waterfalls making the effort worthwhile. At the top – Tianwen Platform, you will be rewarded with a gorgeous view of mother nature.
8.
Walk Through Boyue Cave
Boyue Cave is a limestone cave north of Lengshuijiang City in Hunan and it is located at the foot of Mount Dacheng. There is a tour route in the cave that stretches for over 1.8km, and the cave is dotted with many stalactites. There are plenty of scenic spots along the way. The cave covers a large area with three stories, and there is also a park above the cave. Popular among cavers and outdoor activity groups, Boyue Cave has attracted many local and overseas visitors and is a beautiful cave in Hunan that is hard to pass up.
Fun Fact: Boyue cave was one of shooting locations for the 1986 television series "Journey to the West"
9.
Escape Reality At Taohuayuan Scenic Area (Peach Blossom Land)
The Taohuayuan Scenic Area has been dubbed and described as a fairyland in the poet, Tao Yuanming's famous prose during Eastern Jin Dynasty. Located near Changde City in Hunan, Taohuayuan is an extraordinary rural landscape filled with hills, streams, pavilions and more. The annual Peach Blossom Watching Festival is also held at Taohuayuan at the end of March to April when the peach trees start to bloom.
Taohuayuan offers a peaceful escape from the fast-paced city life while catching a glimpse of the poetic past.
10.
Learn About Chairman Mao At Mao Zedong Memorial Museum

Located in Shaoshan where Mao Zedong used to reside in, the memorial hall includes several attractions. The museum depicts Mao Zedong's life and displays related items. It also provides information about the man himself and about the revolution. Outside, there are sites such as Mao's old residence that you can visit too. It's a place to know and learn about Chairman Mao, especially for history buffs.
11.
Check Out Hengshan (Mount Heng) Nanyue Temple
Hengshan is situated in Hengyang, a city in Hunan. Zhurong Peak is the highest point on Hengshan. There's a Taoist temple at the peak, along with a great mountainous view. However, you can also choose to stay at the base of Hengshan, where the Nayue Damiao (Nanyue Temple) is. Also known as the Grand Temple of Mount Heng, this huge temple complex is the biggest temple on Hengshan. Temple fairs are also held there annually.
Visiting Hunan
Hunan has one of the most beautiful sceneries and landscapes in China so on your next trip to China, add these places to your itinerary! There are also more places of interest in Changsha and Zhangjiajie that could make your itinerary more vibrant. So, if you're planning on visiting these cities, do check out our guides for them!