Unforgettable Things To Do In Delhi – India Travel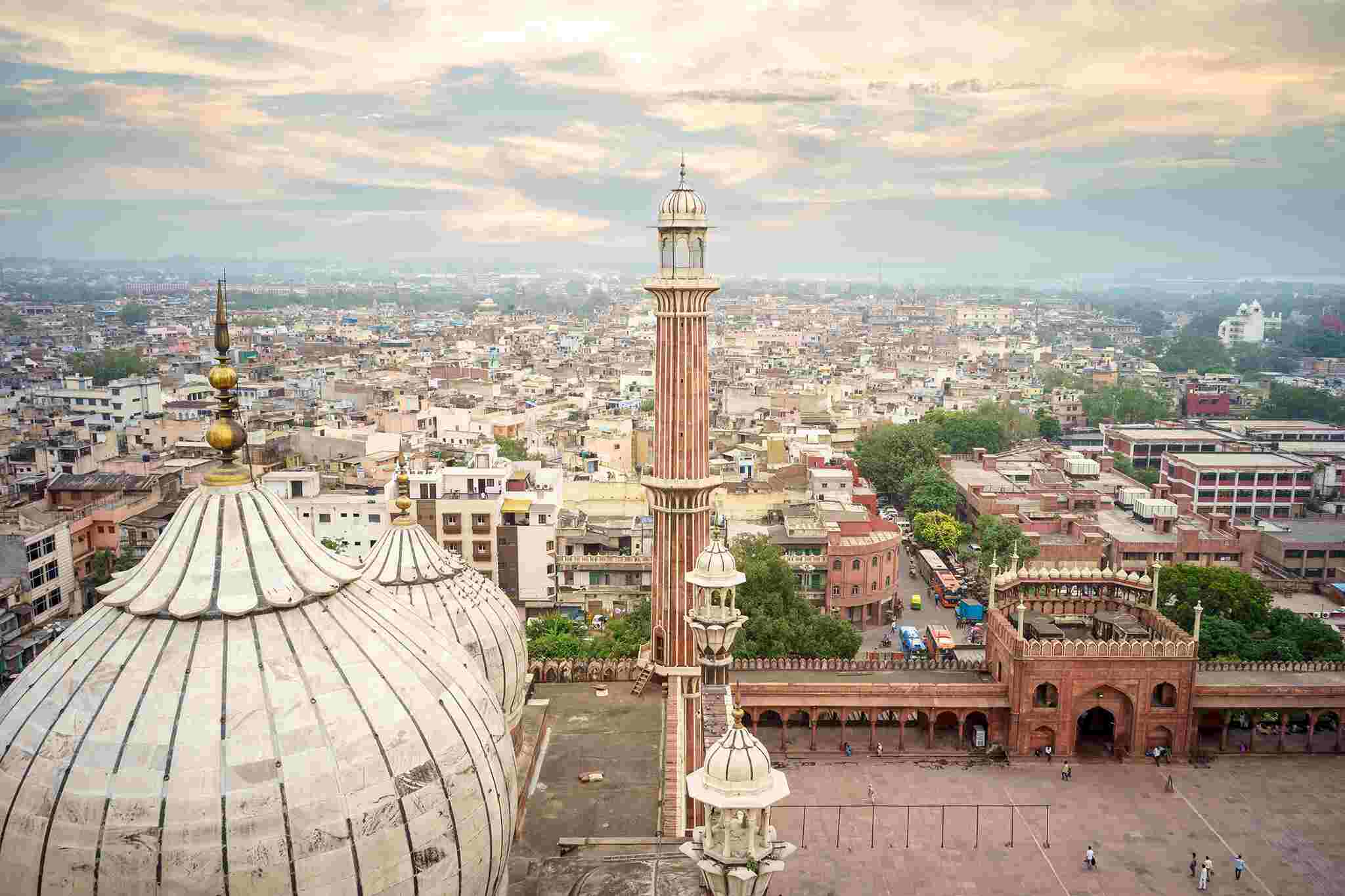 Introduction
Welcome to Delhi, the vibrant and enchanting capital city of India. With a rich history dating back thousands of years, Delhi offers a plethora of unforgettable experiences for travelers. Whether you are a history lover, a food enthusiast, a shopaholic, or an adventure seeker, Delhi has something for everyone.
As one of the oldest inhabited cities in the world, Delhi is a treasure trove of historical attractions. From magnificent forts to majestic palaces, you can immerse yourself in the grandeur of the Mughal and British eras. Discover the iconic Red Fort, a UNESCO World Heritage site, which once served as the residence of Mughal emperors. Explore the regal Humayun's Tomb, a masterpiece of Persian architecture. Marvel at the grandeur of the Qutub Minar, the tallest brick minaret in the world.
Delhi is also a city of spirituality, with numerous religious sites that are revered by millions. Visit the Akshardham Temple, a modern architectural marvel that showcases the rich cultural heritage of India. Seek blessings at the serene Gurudwara Bangla Sahib, one of the most prominent Sikh shrines. Experience the tranquility of the Lotus Temple, known for its distinctive lotus-shaped architecture and welcoming atmosphere.
Delhi is a melting pot of cultures, and you can experience this diversity through its art, music, and dance forms. Attend a captivating Kathak performance, a classical dance form that originated in northern India. Explore the bustling streets of Chandni Chowk, the heart of Old Delhi, and savor the aromas and flavors of its famous street food. Get lost in the vibrant colors and intricate designs of traditional Indian handicrafts at the Dilli Haat market.
No trip to Delhi is complete without indulging in its delectable cuisine. From savory street snacks like chaat and samosas to mouthwatering Mughlai delicacies like butter chicken and biryani, Delhi is a paradise for food lovers. Don't miss the chance to savor the famous street food of Paranthe Wali Gali, known for its variety of stuffed parathas.
For those who love to shop, Delhi is a shopaholic's paradise. From bustling markets like Sarojini Nagar and Janpath to upscale shopping malls like Select Citywalk and DLF Emporio, Delhi offers a wide range of shopping experiences. Discover traditional textiles, ethnic clothing, handmade jewelry, and intricate handicrafts that reflect India's rich heritage.
If you're an outdoor enthusiast, Delhi has plenty to offer. Take a leisurely boat ride on the picturesque Old Fort lake or explore the lush greenery of Lodhi Gardens. Embark on a cycling tour of the city's historic landmarks or go for a thrilling hot air balloon ride to get a bird's-eye view of the city.
As the sun sets, Delhi comes alive with its vibrant nightlife scene. Explore the trendy bars and clubs in Hauz Khas Village or indulge in a rooftop dining experience overlooking the iconic India Gate. Dance the night away to the beats of Bollywood music or enjoy a serene evening stroll along the banks of the Yamuna River.
If you have more time, venture beyond the city and take day trips to nearby destinations. Visit the magnificent Taj Mahal in Agra, the spiritual city of Varanasi, or the beautiful hill station of Shimla.
With its rich history, diverse culture, mouthwatering cuisine, and plethora of activities, Delhi promises an unforgettable travel experience. So pack your bags and get ready to explore the vibrant streets and hidden gems of this incredible city.
Historical attractions in Delhi
Delhi is a treasure trove of historical attractions, offering a glimpse into its glorious past. From ancient forts to majestic tombs, here are some must-visit historical sites in Delhi:
Red Fort: Built in the 17th century by Mughal emperor Shah Jahan, the Red Fort is a UNESCO World Heritage site and a symbol of India's rich history. Explore its magnificent architecture and marvel at the intricate details of marble inlays and delicate carvings.
Humayun's Tomb: Considered a masterpiece of Persian architecture, Humayun's Tomb is the final resting place of Mughal emperor Humayun. Admire the intricate white marble facade and beautifully manicured gardens that surround this architectural marvel.
Qutub Minar: Standing at a height of 73 meters, the Qutub Minar is the tallest brick minaret in the world. Built in the 12th century, it is a prime example of Indo-Islamic architecture. Explore the complex and marvel at the detailing on the red sandstone walls.
Jama Masjid: Known as India's largest mosque, Jama Masjid is a symbol of religious harmony. Constructed in the 17th century, this grand mosque boasts stunning architecture, with intricate carvings and a vast courtyard that can accommodate thousands of worshippers.
Purana Qila: Also known as the Old Fort, Purana Qila dates back to the 16th century and is believed to stand on the site of the ancient city of Indraprastha. Explore the massive walls, gates, and well-preserved structures within the fort, including the beautiful Sher Mandal.
These historical attractions offer a fascinating journey into Delhi's past. Immerse yourself in the grandeur of these architectural marvels and learn about the rich history and cultural heritage that shaped the city.
Religious sites in Delhi
Delhi is a city renowned for its religious diversity, and it is home to a plethora of sacred sites that hold great importance for people of various faiths. Here are some of the must-visit religious sites in Delhi:
Akshardham Temple: One of the most stunning modern architectural marvels in India, the Akshardham Temple is a testament to the beauty and grandeur of Indian craftsmanship. Explore the intricately carved stone facades, breathtaking gardens, and captivating boat ride that takes you through the history of Indian culture and spirituality
Gurudwara Bangla Sahib: A prominent Sikh shrine, Gurudwara Bangla Sahib is known for its serene atmosphere and spiritual ambience. Explore its sprawling complex, take part in the langar (community kitchen) where free meals are served to all, and experience the soul-stirring recitation of religious hymns.
Lotus Temple: Renowned for its unique lotus-shaped architecture, the Lotus Temple is a Bahá'í House of Worship that welcomes people of all religions. Step inside this tranquil place of worship and experience the peaceful atmosphere and the beauty of its intricate marble structure.
Hanuman Mandir: Dedicated to Lord Hanuman, the monkey god, Hanuman Mandir is one of the oldest and most revered Hindu temples in Delhi. Pay homage to the deity and witness the devotion of the worshippers as they perform rituals and offer prayers.
Nizamuddin Dargah: Located in the bustling Nizamuddin area, the Nizamuddin Dargah is the mausoleum of the revered Sufi saint Hazrat Nizamuddin Auliya. Experience the captivating Qawwali performances and immerse yourself in the spiritual energy of this sacred place.
Visiting these religious sites in Delhi offers a glimpse into the spiritual fabric of the city. Whether you seek peace, divine blessings, or a deeper cultural understanding, these sites will leave a lasting impression on your journey.
Cultural experiences in Delhi
Delhi is a city that pulsates with culture, art, and traditions. From captivating dance performances to vibrant festivals, here are some cultural experiences that you shouldn't miss in Delhi:
Kathak Dance Performances: Delhi is renowned for its rich classical dance traditions, and Kathak is one of the prominent forms. Witness a captivating Kathak performance that tells stories through graceful movements, footwork, and expressions.
Chandni Chowk: Explore the bustling streets of Chandni Chowk, the heart of Old Delhi, and immerse yourself in the vibrant culture of the city. Indulge in delicious street food, shop for traditional textiles and jewelry, and experience the hustle and bustle of the local bazaars.
Dilli Haat: Discover the diverse handicrafts and cuisine of India at Dilli Haat, a vibrant open-air market. Browse through stalls selling traditional textiles, pottery, jewelry, and enjoy mouthwatering Indian street food from different regions of the country.
Delhi Literature Festival: If you're a book lover, the Delhi Literature Festival is a must-visit. Immerse yourself in the world of literature as renowned authors, poets, and intellectuals come together to discuss their works and engage in thought-provoking debates.
Indian Music Concerts: Experience the magic of Indian classical music by attending a live concert. From soulful Sufi music to mesmerizing Hindustani classical performances, you'll be captivated by the melodic tunes and the skilled musicians.
Delhi is also known for its vibrant festivals that showcase the cultural diversity of India. Celebrate Diwali, the festival of lights, by witnessing the magnificent fireworks display and enjoying traditional sweets. Immerse yourself in the colorful festivities of Holi, the festival of colors, by participating in joyous water and powder fights.
These cultural experiences allow you to delve deep into the artistic and traditional heritage of Delhi. Immerse yourself in the vibrant culture of the city and create unforgettable memories of your visit.
Food and drink in Delhi
Delhi is a food lover's paradise, offering a wide range of culinary delights that will tantalize your taste buds. From street food to fine dining, here are some must-try food and drink experiences in Delhi:
Chaat: Delhi is famous for its savory street snacks, and chaat is a must-try. Indulge in plates of tangy and spicy chaat, which includes crispy samosas, pani puri (hollow crispy shells filled with tangy flavored water), and aloo tikki (potato patties topped with chutneys and yogurt).
Parathas: Head to Paranthe Wali Gali in Old Delhi and savor the delicious stuffed parathas. From potato and paneer (cottage cheese) to keema (minced meat) and banana, there are numerous mouthwatering options to choose from.
Mughlai Cuisine: Delhi has a rich Mughlai culinary heritage, and you must try iconic dishes like butter chicken, biryani, kebabs, and nihari. Indulge in the flavorful spices and rich gravies that will leave you craving for more.
Street Kebabs: Explore the street food stalls and savor mouthwatering kebabs like seekh kebab (minced meat grilled on skewers), reshmi kebab (flame-grilled chicken marinated in creamy spices), and tandoori tikka (pieces of marinated meat cooked in a clay oven).
Sweets: Delhi is renowned for its delectable sweets. Try iconic desserts like gulab jamun (deep-fried dumplings soaked in sugar syrup), jalebi (crispy sweet pretzel-like swirls), and rabri falooda (a refreshing milk-based dessert with vermicelli and flavored with rose syrup).
Street Drinks (Lassi and Sugarcane Juice): Quench your thirst with a refreshing glass of lassi, a yogurt-based drink, or indulge in a glass of sugarcane juice, freshly pressed from the cane and served chilled.
For those seeking a more refined dining experience, Delhi also boasts a vibrant fine dining scene. Sample authentic regional cuisines, savor international flavors, and enjoy an array of fusion dishes created by renowned chefs.
Don't forget to pair your meals with traditional Indian beverages like masala chai (spiced tea), lassi, or a refreshing glass of nimbu pani (lemonade).
Exploring the culinary delights of Delhi is a gastronomic adventure that will leave you with unforgettable flavors and a deeper appreciation for the diverse cuisine of India.
Shopping in Delhi
Delhi offers a vibrant and diverse shopping experience, catering to all tastes and budgets. From bustling markets to upscale malls, here are some shopping destinations you shouldn't miss:
Chandni Chowk: Located in Old Delhi, Chandni Chowk is a bustling market known for its narrow lanes and vibrant atmosphere. Explore the maze-like alleys filled with shops selling everything from textiles and jewelry to spices and street food. Don't forget to visit the iconic Dariba Kalan, the oldest jewelry market in Delhi.
Sarojini Nagar: A haven for bargain hunters, Sarojini Nagar is famous for its trendy clothes, shoes, and accessories. Shop for fashionable clothing at affordable prices and put your bargaining skills to the test.
Janpath Market: Located near Connaught Place, Janpath Market is a favorite among tourists. It offers a wide range of handicrafts, textiles, and accessories. Find unique items like traditional artifacts, embroidered fabrics, and funky jewelry.
Select Citywalk: For a modern shopping experience, head to Select Citywalk in Saket. This upscale mall houses a variety of national and international brands, designer boutiques, and entertainment options. Shop for fashion, accessories, electronics, and indulge in a culinary delight at the food court.
DLF Emporio: If luxury shopping is on your list, visit DLF Emporio in Vasant Kunj. This high-end mall is home to renowned international luxury brands and designer labels. Explore the opulent stores and indulge in a world-class shopping experience.
Delhi is also renowned for its eclectic markets, offering unique shopping experiences. Visit Dilli Haat, a vibrant open-air market that showcases traditional arts, crafts, and cuisine from different states of India. Here, you can find handcrafted textiles, pottery, jewelry, and enjoy regional delicacies.
Another notable shopping destination is Khan Market, known for its upscale boutiques, bookstores, and quaint cafes. Browse through the trendy fashion boutiques, bookshops, and home decor stores. Enjoy a leisurely meal at one of the many popular restaurants in the area.
Exploring the markets of Delhi is not just about shopping but also about immersing yourself in the vibrant atmosphere and diverse culture of the city. From traditional souvenirs to high-end fashion, Delhi has something to offer for every shopper.
Outdoor activities in Delhi
While Delhi is known for its bustling city life, it also offers a range of outdoor activities that allow you to connect with nature and enjoy the pleasant weather. Here are some outdoor activities to experience in Delhi:
Lodhi Gardens: Spend a leisurely day at Lodhi Gardens, a lush green oasis in the heart of the city. Take a peaceful stroll along the beautiful pathways, admire the ancient tombs and architectural ruins, or enjoy a picnic amidst the serene surroundings.
Boat Ride at Old Fort Lake: Enjoy a boat ride at the enchanting lake located within the premises of the historic Old Fort (Purana Qila). Glide through the calm waters, take in the view of the fort, and enjoy a serene and picturesque experience.
Cycling Tour of Delhi: Explore the city on two wheels by taking a cycling tour of Delhi. Join a guided tour that takes you through the historic landmarks, bustling markets, and hidden gems of Delhi, while enjoying the fresh air and the thrill of cycling.
Hot Air Balloon Ride: Experience the breathtaking views of Delhi from high above with a thrilling hot air balloon ride. Soar above the cityscape, taking in panoramic views of iconic landmarks and the sprawling urban landscape below.
Nehru Park: Escape the hustle and bustle of the city and relax at Nehru Park, named after India's first Prime Minister, Jawaharlal Nehru. Enjoy a peaceful stroll through the well-manicured gardens, unwind by the musical fountain, or join a yoga session amidst the tranquility.
Delhi also offers several opportunities for sports enthusiasts. Play a game of cricket at the iconic Feroz Shah Kotla Stadium, or tee off at one of the golf courses in the city.
Additionally, Delhi is surrounded by beautiful nature reserves and bird sanctuaries. Take a day trip to Okhla Bird Sanctuary or Sultanpur National Park, where you can observe a variety of bird species in their natural habitat.
These outdoor activities not only provide a refreshing change from the cityscape but also allow you to experience the beauty of nature and enjoy the outdoors while in Delhi.
Nightlife in Delhi
Delhi truly comes alive at night with its vibrant nightlife scene. From trendy bars and clubs to cultural performances and late-night food joints, here are some of the best ways to experience the nightlife in Delhi:
Hauz Khas Village: Known for its eclectic mix of trendy bars, live music venues, and international cuisine, Hauz Khas Village is a hotspot for Delhi's nightlife. Explore its narrow lanes lined with hip cafes, rooftop lounges, and energetic bars where you can enjoy a night of music, dancing, and socializing.
Connaught Place: The heart of Delhi, Connaught Place, offers a mix of traditional and modern nightlife experiences. Enjoy a drink at a rooftop bar while enjoying stunning views of the city, or visit popular nightclubs and lounges that host DJs and live music performances.
Indian Music and Dance Performances: Immerse yourself in the rich cultural heritage of India by attending live music and dance performances. Experience the soulful melodies of Indian classical music and witness captivating dance forms like Kathak, Bharatanatyam, and Odissi.
Rajpath and India Gate: Take a leisurely stroll along Rajpath at night, where you can witness the illuminated India Gate. Enjoy the cool evening breeze and take in the beautifully lit surroundings while savoring the lively atmosphere.
Night Bazaars: Experience the unique charm of Delhi's night bazaars, such as the bustling Karim's in Old Delhi. Savor delicious street food, shop for affordable clothing and accessories, and soak in the vibrant ambiance of these lively markets.
Delhi also offers a variety of late-night food joints that cater to every craving. From mouthwatering street food stalls that stay open until the early morning hours to late-night diners serving delicious food from around the world, Delhi has something to satisfy every palate.
Lastly, do not miss the chance to visit the intriguing 24×7 market, Palika Bazaar, located in Connaught Place. Whether you want to shop for clothing, electronics, or unique souvenirs, this underground market is always bustling with activity.
Delhi's nightlife offers a mix of pulsating energy, cultural experiences, and culinary delights that will keep you entertained well into the late hours of the night.
Day trips from Delhi
While Delhi offers an abundance of attractions and activities, there are also several fascinating destinations nearby that make for great day trips. Here are some popular day trips from Delhi:
Agra: Just a few hours away from Delhi, Agra is home to one of the world's most iconic architectural wonders – the Taj Mahal. Marvel at the breathtaking beauty of this marble mausoleum, explore the grandeur of the Agra Fort, and immerse yourself in the rich history and culture of the Mughal dynasty.
Jaipur: Known as the Pink City, Jaipur is a vibrant and historic city in Rajasthan. Visit the magnificent Amer Fort, stroll through the colorful bazaars of the Old City, and explore the opulent City Palace. Experience the rich heritage and royal charm of Rajasthan in this culturally rich destination.
Mathura and Vrindavan: Embark on a spiritual journey to the birthplace of Lord Krishna. Mathura and Vrindavan are two sacred cities with numerous temples and religious sites dedicated to Lord Krishna. Visit the famous Banke Bihari Temple, the Krishna Janmabhoomi Temple, and immerse yourself in the vibrant celebrations and festivities.
Neemrana Fort: Step back in time by visiting the magnificent Neemrana Fort, located in Rajasthan. This heritage hotel is perched on a hill and offers breathtaking views of the surrounding landscape. Explore the fort's grand architecture, enjoy a traditional Rajasthani meal, and experience the royal hospitality.
Sultanpur Bird Sanctuary: Nature lovers can head to Sultanpur Bird Sanctuary, located on the outskirts of Delhi. This haven for birdwatching is home to over 250 species of resident and migratory birds. Take a leisurely walk along the well-marked trails and spot colorful birds in their natural habitat.
These day trips from Delhi offer a perfect blend of history, spirituality, nature, and cultural experiences. If you have the time, venture beyond the city and explore the beauty and diversity that surrounds Delhi.
Conclusion
Delhi, the captivating capital city of India, offers a wealth of experiences that cater to every traveler's interests. From its historical attractions and religious sites to its vibrant culture, food scene, and outdoor activities, Delhi has something to offer everyone.
Immerse yourself in the rich history of Delhi by exploring iconic landmarks such as the Red Fort, Humayun's Tomb, and Qutub Minar. Experience the city's spiritual side by visiting the Akshardham Temple, Gurudwara Bangla Sahib, and Lotus Temple.
Delhi's culture comes to life through its vibrant dance performances, traditional markets like Chandni Chowk and Dilli Haat, and the city's literary and music festivals. Indulge in the delectable cuisine of Delhi, from mouthwatering street food to exquisite Mughlai dishes.
For outdoor enthusiasts, Delhi offers opportunities to enjoy nature in parks like Lodhi Gardens and Nehru Park, as well as exciting activities like cycling tours and hot air balloon rides. When the sun sets, Delhi's nightlife scene comes alive with trendy bars, live music venues, and cultural performances.
If you have additional time, venture on day trips from Delhi to explore nearby destinations like the iconic Taj Mahal in Agra, the vibrant city of Jaipur, or the spiritual towns of Mathura and Vrindavan.
In conclusion, Delhi is a city that seamlessly blends its rich historical heritage with a modern and cosmopolitan lifestyle. Whether you're a history buff, a food lover, a culture seeker, or an adventure enthusiast, Delhi promises an unforgettable travel experience.
So pack your bags, embrace the spirit of Delhi, and embark on an incredible journey through the city's fascinating history, diverse culture, culinary delights, and captivating outdoor experiences.