15 Best Things to Do in the Australian Outback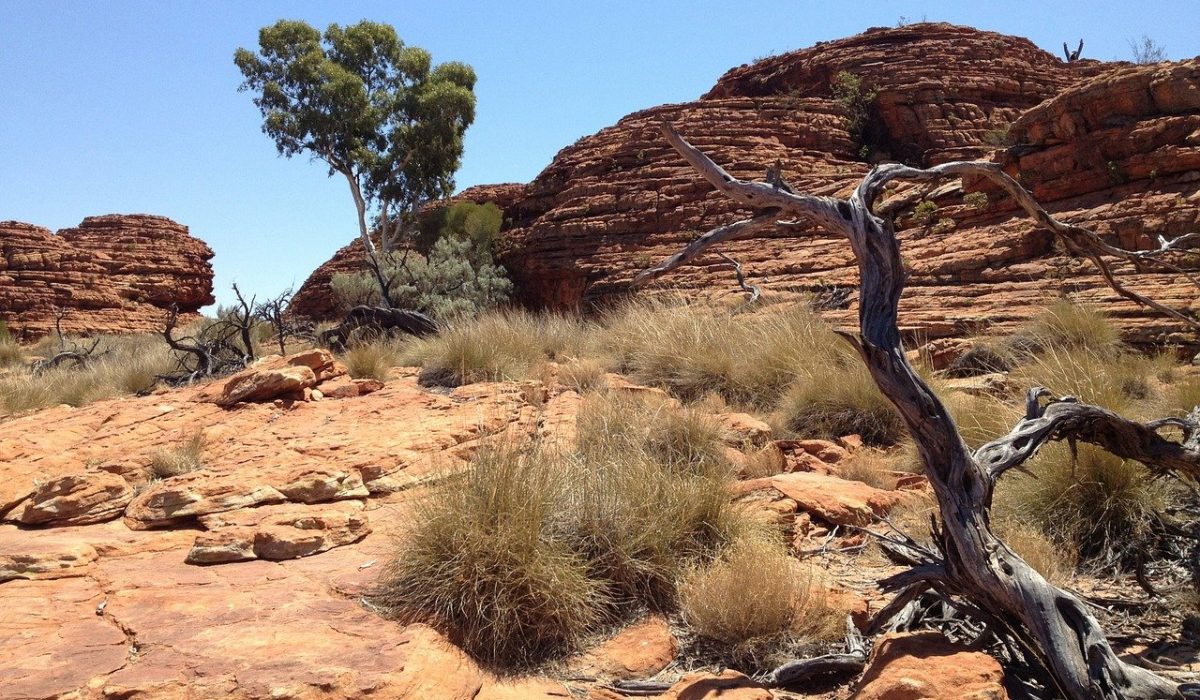 Australia prides itself on its dramatic landscapes and sweeping coastlines. Although traveling to any of the best beaches in Australia can be rewarding, the Australian Outback is also one of the must-see places in the Down Under. With its postcard-perfect vistas, it's really a must to include the Outback in the Australian tourist spots you should visit.
But what is the Australian Outback? Where can you find it?

Where is the Australian Outback?
A term coined in the 19th century, the word "outback" was used to talk about places that you can find at the back of a certain place. Or simply, it refers to the inland areas behind the coastal areas.
With the climate in Australia, you will find diverse types of lands across the country. Most of the things that you will find in the inland areas are arid deserts and barren lands. With this, there was a notion that Australian Outbacks are automatically deserts. While most of the outbacks experience torrid weather, wherein they only receive 300 millimeters of rain falls annually, they are studded with distinct plants like Mulga trees, Desert Oak Trees, and River Red Gums. You can also find animals like various types of lizards, dingo, snakes, and kangaroos.
In some literary pieces in the 19th and 20th century, poets and artists painted Australian Outback as a place that arouses creativity. With its unobstructed spaces and silence, it allows the free flow of ideas that turn into masterpieces. So, people started imagining them as a place of isolation and extinction. But actually, there are lush rainforests, pristine beaches, and thundering waterfalls that are part of the Australian Outback.
Most people agree that the Australian Outback lies on the belt of Northern Territory, South Australia, Queensland, New South Wales, and Western Australia. The most famous Australian Outback is Alice Springs, which is also dubbed as the Australian Outback capital.
How to get There
By Plane
Alice Springs doesn't have an international airport, only a domestic one. So, from the U.S., you will have to book a ticket to Sydney (SYD), Melbourne (MEL), or Adelaide (ADL). Then, book another one to Alice Spring (ASP). Operated by Qantas Airlines, a three-hour flight from Sydney is as expensive as US$182 (one way only). From the airport, you will take a 20-minute drive to Alice Springs Desert Park.
By Bus
If you're coming from the airports of Adelaide (ADL) or Darwin (DRW), you can book a Greyhound Bus to Alice Springs. From Adelaide, the fare starts at AU$218 or around US$166 and it will take you around 20 hours. While from Darwin, the fare starts at AU$222 or around US$169 and it will take you around 22 hours. The Greyhound buses are equipped with reclining leather seats, WIFI, and USB chargers on every seat. Also, they have toilets and huge windows. Although the travel time will take you a while, it will surely be comfortable.
Where to Stay
Room Rate: AU$72 or around US$55 per night for a double room
Located less than 15 minutes away from Alice Springs Desert Park, you will find the modest hostel of Alice Lodge Backpackers. The hostel offers dorms and rooms for single to triple guests. Contrary to most hostels, the rooms here are like independent bungalow houses. Also, most of the common areas are just scattered across the property which makes it have a friendlier atmosphere. When you book a bed or a room here, you will also be able to access the swimming pool, a shared kitchen and barbeque area, a TV lounge room, and a shared laundry room. Also, you won't have to worry about breakfast because it's already included.
Room Rate: AU$490 or around US$372 for a King Premier Suite with Mountain View
One of the hotels that appeal to the upscale market, DoubleTree by Hilton gives you an exceptional view of the town of Alice Springs. The arid mountains, the cascading Todd River, and the extensive Alice Springs Golf Course behind the hotel are only some of the things that you will see here. Although it's not a high rise hotel, it's complete with elegant facilities like a dining hall, fitness center, and conference halls. Apart from this, they also have an outdoor pool and outdoor events place. So, if you're looking for luxurious accommodation, check out DoubleTree by Hilton and you will not regret it!
Best Things to do in the Australian Outback
1. See the Wildlife in Alice Springs Desert Park
Open hours: 7:30 AM to 6 PM
Admission Fees: AU$37 or around US$28 per adult
Sand country, desert rivers, and woodland are the habitats you will see when you visit Alice Springs Desert Park. With these three habitats, displays, and storytelling, you will get a grasp of what the Australian Outback is all about. When you visit this park, you will need around three to four hours to significantly explore the area. Since Alice Springs is dubbed as the capital of the Australian Outback, this is a good starting point.
The park is well-developed, and you can find toilets, gift shops, drinking facilities, and WIFI. You can also find a restaurant and cafe inside to quench your thirst. Latitude 23 Art and Food Co's Menu includes salads, sandwiches, and chicken that range between AU$7.5 and AU$19.9 (US$6 to US$15). They also have coffee, tea, and milkshakes to freshen you up against the scorching heat.
2. Ride a Camel at MacDonnell Ranges
A trip to the Australian Outback's deserts will never be complete without riding a camel. With their gentle nature, you will get up close and personal to the wildlife in Alice Springs Desert Park. Riding the camel will also allow you to marvel at the different trees and plants in the desert without strenuous walking. When you reach the Temple Gap, you will also take a moment to sit on the ground and mingle with your group, which would definitely make you feel taken back to the ancient days of traveling.
You will find a lot of tour operators around the town of Alice Springs. But one of the recommended camel tour operators is Pyndan Camel Tracks. The owner has more than 30 years of experience as a camel man in the Australian Outbacks. So, for sure you will enjoy a well-planned itinerary that is safe and memorable.
3. Swim at Ellery Creek Big Hole
With the torrid desert at the Australian Outback, tourists will surely look for an oasis to appease the heat. Also located in West MacDonnell National Park, the Ellery Creek Big Hole is a nature's masterpiece. The big hole was created due to the numerous intense flooding that the area experienced. But today, it's one of the most popular postcard-perfect sites to swim at. With its refreshing water and surrounding massive sandstone, this is definitely a must-visit in the Australian Outback!
4. Hike at Kings Canyon
One of the most rewarding ways of seeing the Kings Canyon is through hiking. You can hike at Kings Canyon by following the gratifying trail of Rim Walk. Although you will have to take an arduous six-kilometer walk that spans three to four hours. Once you reach the iconic Priscilla's Crack or the sandstone domes of the Lost City, it will all be worth it.
But if you think this is too much for you, there is still another way on how you can see the Kings Canyon's alluring beauty. There is a Kings Creek trail that only stretches to less than three kilometers. But when you reach the lookout point, it will also show you the steep cliff on the other side of the canyon. Whichever of the two you want to try, make sure to do this activity during sunrise and bring lots of water.
5. Marvel at the Ancient Site of Mount Borradaile
Registered as an aboriginal sacred site, Mount Borradaile gives you another version of Australian Outback. Apart from the colossal mountain, you will also find a large collection of ancient rock art and a vast safari. Here, you will marvel at the impressive and numerous ancient rock arts of the aborigines. There is also a safari where you can learn about the diverse wildlife.
6. Sightsee Kakadu National Park through a helicopter
Cost: starts at AU$130 or around US$99 per person from the Scenic Flight Company
Being the largest national park in Australia, Kakadu National Park stretches to over 20,000 square kilometers. With its immense size, it will take so much effort to see its full glory. Good thing there are scenic flights that will show you around the national park from the comfort of your seat.
You can find various tour companies that offer a helicopter ride to see the endless rivers, enormous escarpments, and gushing waterfalls. The Scenic Flight Company offers a 30 minutes scenic flight from Jabiru Airport for only AU$130 (around US$99) per person.
7. Visit the Litchfield National Park
Another unique Australian Outback, Litchfield National Park displays varied oases. When you visit this park, you will see a myriad of gushing waterfalls of Florence Falls, Tolmer Falls, and Wangi Falls. If you can't decide which to visit first, head to Wangi Falls. It is the largest and the most accessible waterfalls among the three. But don't miss out on the Buley Rockhole which displays multiple natural pools and whirlpools. As you hike towards these falls and pools, you will surely find yourself gaping at the park's landscape. Some of the highlights you'll see here are the two meters termite mound and the peculiar rock formations of the Lost City.
This park is usually a day trip away from Darwin or Katherine. You can even book a guided tour through AAT Kings for a full day tour to explore the park. But if you want to maximize your visit, go ahead and book a campsite.
8. Explore El Questro Station
Room rate: starts at AU$395 or US$302 per night for a Gardenview Room
Sitting on top of the rugged gorges, El Questro Station gives you unmatched nature-carved vista. Unlike most of the arid Australian Outback, you will find sprawling accommodation to the lush gardens and the river. Whether you're on honeymoon or traveling with kids, you will surely have a great time here. You can wade at the river or dine in a nearby steak restaurant. El Questro Station also offers guided full-day hiking tours with lunch on Emma Gorge or El Questro Gorges. But if you don't like hiking, there are also scenic flights (starts at AU$250 or US$191) that will allow you to see the nature-carved vistas effortlessly.
9. Dine under the stars at Uluru
Apart from the enormous sandstone monolith that makes Uluru a tourist hotspot, it also offers a unique gastro tour. The Sounds of Silence is a popular gastro tour that offers three-course bush tucker-inspired dishes. Bush tucker dishes date back to the native cuisines of indigenous Australians. In this tour, you will dine under the stars and the enormous sandstone on your backdrop. You will also listen to the star talker who will trace the Southern Cross, zodiac signs, milky way, and other planets and galaxies that you can see in the clear skies. This tour usually takes around four hours and it costs AU$229 or US$175 including transfers, performances, dinner, and sky seeing tours.
However, if you're looking for a cheaper option, you can try the Under a Desert Moon gastro tour exclusively operated by Kings Canyon Resort. The price starts at AU$185 or US$141, including a six-course dinner with wine pairing.
10. Cycle around Uluru
Another way to explore the Australian Outback is to cycle around its terrains. There is an array of choices as to which Australian Outback you'd like to cycle around. But one of the recommended cycling trails is the one in Uluru. Here, you will be given three hours to explore the terrains of Uluru and its surrounding vistas. There are no health restrictions since you will be going at your own pace, which makes it leaning towards family travelers. If you have ongoing medication, just bring them with you. But if you're pregnant or can't do the activity, do not do it.
The Uluru bike ride starts at AU$50 (around US$38) for riders 11 and above. This includes a helmet and it will take you three hours to complete the base ride. But if you also need a transfer from a specific location like Ayers Rock Resort, it becomes AU$99 (around US$76) for riders 11 and above.
11. Trek at Carnarvon Gorge
With sweeping sandstone cliffs, vast gorges covered with infinite trees, and astonishing aboriginal rock art, the Carnarvon Gorge is another magnificent Australian Outback. Since it is in a semi-arid environment, you can also see substantial rainforest of ancient cycads, ferns, and shrubs. It's also home to diverse wildlife. In fact, you will see more than 200 species of birds here.
If you have been to the Grand Canyon, you will surely feel its similar vibes at Carnarvon Gorge. To prove this, there are various trails that you can follow. For beginners, try Mickey Creek Gorge. This only spans to one kilometer and a half per way and you will explore a narrow creek between the mossy gorges. But if you want more challenge, hike Boolimba Bluff. You will need to endure a three-kilometer per way hike towards the Boolimba Bluff. But the lookout at 200 meters above the Carnarvon Creek will surely be breathtaking. Here, you will be on top of the sharp cliffs and you will see the extensive rainforest below you.
12. Explore Faye's Underground Home in Coober Pedy
Open hours: Monday to Saturday (8:30 AM to 5 PM) and Sunday (2 PM to 5 PM)
Coober Pedy is one of the quirky towns you will find in Australia. If you've been to Ho Chi Minh, Vietnam, and heard about their tunnels, Coober Pedy gives you another perspective. Since the town has sweltering heat that goes as high as 47°C, it was almost inhabitable. So, they built an underground city that allowed them to live in pleasant weather between 23°C and 25°C. In this unique Australian Outback, you can stay in underground hotels, dine in an underground cafe and pray at underground churches. When you visit this town, don't forget to visit Faye's Underground Home. One of its highlights in this residence-turned-museum is the living room with a swimming pool.
Apart from this, Coober Pedy is also known as the largest Opal-producing town in the 19th century. So, either you want to see the traditional way of digging Opal or buy an Opal, make sure to visit Old Timer's Mine.
13. Wonder at Kati Thanda-Lake Eyre
Kati Thanda-Lake Eyre is the largest salt lake and the lowest point in Australia. Being in the driest place in the country, the lake has only been entirely filled three times in almost two centuries. But this shouldn't hinder you from visiting this lake. With the lake mirroring the skies and seeing nothing as far as your eyes can reach, it will give you an incomparable solitude. Also, you will not find paved trails to hike, so you can walk anywhere. But never walk on the lake as a means of showing respect to the cultural significance to the Arabana people.
14. Snorkel at Esperance
Unlike most Australian Outback with arid deserts, Esperance has an enthralling coastline that can rival the beaches in the Caribbean. But what sets it apart is how the hundreds of islands are uninhabited, giving you the solitude that Australian Outbacks are known for. In Lucky Bay, its remoteness will allow you to see a vista with sunbathing kangaroos. Meanwhile, Lake Hillier gives you an unbelievable Fuschia pink lake that you can appreciate through a scenic flight (AU$425 or US$324 per adult). Most of all, you can experience the primitive island life at Woody Island Nature Reserve. Here, you can hike, fish, and even snorkel. Just be careful with bandicoots and wallabies, since there are many here.
15. Explore Kangaroo Island
Detached from the main island of Australia, you can find Kangaroo Island on the southwest of Adelaide. But you will not only see kangaroos on this island because it's also home to native animals such as sea lions, koalas, birds, and penguins. Moreover, it is a tourist destination studded with resorts, pristine waters, landmarks, and splendid rock formations.
You can get here by plane from Adelaide. The flights are operated by QantasLink, which will take you around 35 minutes. But you can also take a ferry operated by SeaLink. The port is at Cape Jervis and it would take you around 45 minutes. The fare starts at AU$49 (around US$37) per adult and AU$98 (around US$75) per vehicle. Since there will be no public transportation on the island, you have to bring your car to the island or pre-book your transfers and tours.
Final Thoughts
Defining the scope of the Australian Outback can be challenging. But the common thing among these outbacks is how they provide nature's solitude. With the deafening silence in the arid deserts, the distinct nature scent, and uninhabited islands, you will surely be able to take a step back and recuperate. Also, most of the outbacks are scattered across the country, so make sure to plan ahead.