15 Must-See Attractions in Salem, Oregon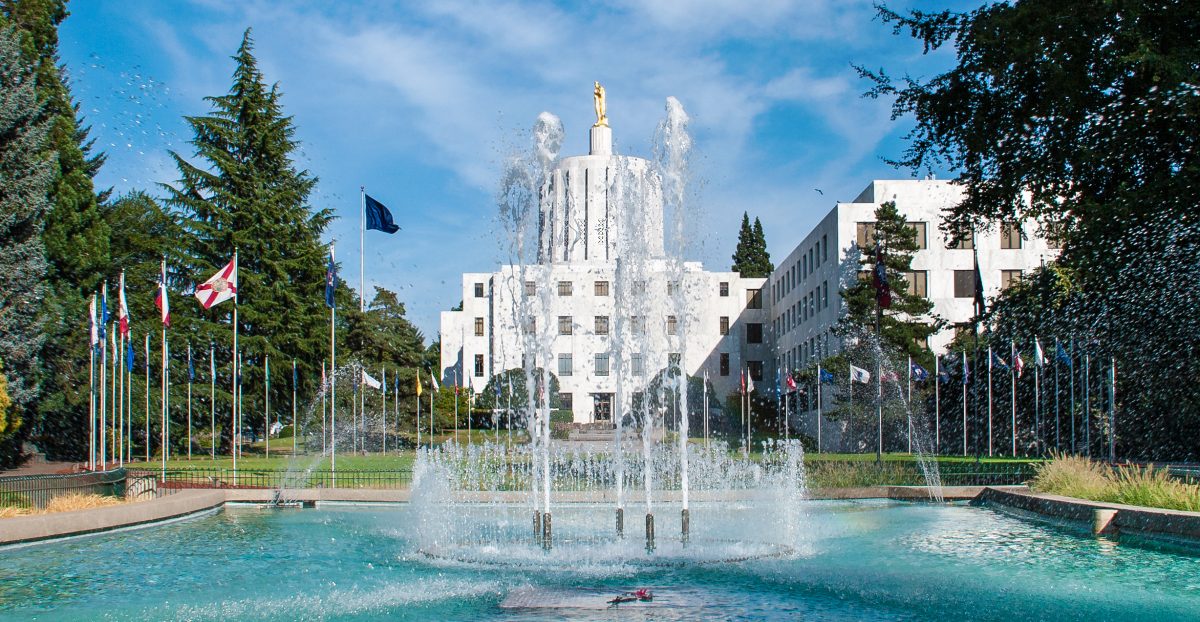 Salem comes from the Hebrew word, shalom which means peace. It is the perfect name for Oregon's capital. Full of beauty, greenery, open spaces and hospitality, this really is a city of peace. Here you can hike or stroll through the many parks.
Also, Salem is located in the lush Willamette Valley, which means that you must visit one of the many wineries in the area. Other than the peaceful surroundings, there are also educational museums and historical attractions to visit. Between the historical downtown, the beautiful countryside dotted with wineries and the peaceful landscape, Salem, Oregon is a great escape. Below are 15 great destinations that you should not miss when you are in Salem, Oregon.
1.
Willamette Valley Cheese Company
Get ready cheese lovers, this cheese paradise in Willamette Valley will delight your taste buds. Situated in beautiful lush green Willamette Valley, the Willamette Valley Cheese Company is the perfect place to taste the many products of this award-winning cheese brand.
In the tasting room, your cheese tour guide will introduce you to an abundance of homemade cheeses. Do you prefer Gouda, Jack, Havarti, Brie, Fontina, Mozzarella or Cheddar? You'll definitely find what you're looking for here. You probably won't be going home empty-handed.
You can visit Willamette Valley Cheese Company any day from Tuesdays to Sundays, from 10 am to 5 pm. The address is 8105 Wallace Rd NW Salem, OR 97304.
2.
Willamette Valley Pie Company
Belonging to the Willamette Valley Fruit Company (WVFC) this family-owned operation has been feeding the people of Salem, Oregon for decades. In addition to producing delicious pies, Willamette Valley Pie Company also produce high-quality wholesale berry products.
Make sure you take the time to stop by and taste one of their amazing pies. When you try a piece of their marionberry pie you'll be tasting a piece of Salem heritage. The retail store is located at 2994 82nd Ave NE Salem, OR 97305. It opens from Mondays to Fridays from 8 am to 7 pm, on Saturdays from 9 am to 6 pm and on Sundays from 12 pm to 5 pm.
3.
Prewitt-Allen Archaeological Museum
For history buffs, this small but beautiful gem in the library of Corban University is definitely worth a visit. Two men, Robert S. Allen and J. Franklin Prewitt, spent hundreds of hours to establish the Prewitt-Allen Archaeological Museum. Their focus was on Middle Eastern and Biblical studies.
Established in 1950, many fascinating and important artefacts and replicas are housed here. There are no group tours provided at the moment, but you will find yourself unable to peel away from the exhibits. Authentic original complete Torah scrolls, Grecian and ancient Middle Eastern pottery, as well as ancient Egyptian artefacts, will keep you busy.
Make sure you plan for at least an hour to spend browsing through the interesting items. The museum is in the university library, located on Corban University campus. It is open Mondays to Thursdays from 8 am to 5 pm and closed on Saturdays and Sundays. The museum is free and accepts donations.
The historical building was built between 1869 to 1870 by Cyrus Adams Reed. An important part of Salem's history, it is the state's oldest surviving theatre. It was recently renovated and now is an artistic retail mall. You will find lots of locally own stores, shops, restaurants, bars and of course bakeries offering unique items.
Here, you will find treasures not found elsewhere. On the top floor, there is a gorgeous ballroom that can be rented out for events. Many of the items that can be found in the stores were locally handcrafted. In addition, this charming historical mall also sells high-quality original merchandise.
The Reed Opera House is open from Mondays to Thursdays from 9 am to 9 pm. On Fridays and Saturdays, it is open from 9 am to 10 pm, and on Sundays from 9 am to 5 pm. Also, do take note that it is closed on major holidays. It is located at 189 Liberty St. NE. Salem, Oregon 97301.
5.
Willamette Heritage Center
The Willamette Heritage Center is an education centre on Oregon history that covers 5 acres of land. The legacy of Oregon is really well preserved here. There are 14 historic structures on-site that feature changing exhibits, a research library and a textile learning centre. When you visit the textile factory, you'll get to see how wool is made into cloth.
Additionally, take a tour of the pioneer home to understand the impact of industrialisation by a docent dressed in pioneer clothing. You can also visit the shops, galleries, artist studios on the campus.
The admission fee for adults is $8, youths aged 6 to 17 are $4 and children under 5 can enter for free. The museum is open from Mondays to Saturdays from 10 am to 5 pm. The research library and archives are open from Tuesdays to Fridays from 12 pm to 4 pm. The Willamette Heritage Center is located at 1313 Mill Street SE, Suite 200, Salem, Oregon 97301.
The Radtke brothers and their father turned their hobby into a 2.5-acre operation. Gilgamesh Brewing is state of the art. Their restaurant, The Campus, features a large variety of foods catering to all kinds of people. It also creates a casual and enjoyable atmosphere and the beer is great as well.
At Gilgamesh Brewing, you can try beer-battered green beans, pretzels, beer cheese and guacamole bacon burgers. It is open every day at 11 am. On Mondays to Thursdays, closing time is 10 pm. On Fridays and Saturdays it closes at 12 am and on Sundays, it closes at 9 pm. The address is 2065 Madrona Ave SE, Salem, Oregon 97302.
7.
Gilbert House Children's Museum (formerly known as A.C. Gilbert's Discovery Village)
If you're looking to inspire your little one, this private children's museum will definitely do that. The Gilbert House Children's Museum encourages a stimulating educational experience. Their mission is "inspiring children to learn through creative play."
Exhibits that teaches science, technology, engineering, art and math through creative play are featured. It's the perfect place to bring your young children as they will have fun imagining and creating in a beautiful setting. General admission is $8 and children under 1 year of age can enter for free. The museum is open every day from 10 am to 5 pm. The address is 116 Marion St. NE Salem, OR 97301.
8.
Minto Brown Island Park
Minto Brown Island Park is the largest, lushest and greenest park in Salem. Adding to the peace of Salem, this park is spread out over 1200 acres of nature and is definitely worth a visit.
The park has beautiful wide paths, benches along the river, gorgeous green meadows, variety of birds and plenty of open space. You can come here and hike or jog on the miles of paved trails or bring your bike and explore. For a stunning getaway in nature, Minto Brown Island Park is definitely your destination.
The park is open from Mondays to Fridays from 8 am to 5 pm. The address is 555 Liberty St. SE RM 325, Salem Or 97301.
9.
Hallie Ford Museum of Art
Don't expect a typical art museum when you visit this place. The Hallie Ford Museum of Art is said to "celebrate the creativity of the human spirit as expressed in the art of different cultures, places and times." Their refreshing permanent collection includes works by Pacific Northwest and Native American artists. They also house diverse works from African, European, American and Asian cultures.
This small museum is very well curated. You will find the pieces and artefacts to be unique and different from what you usually see. General admission is $6 and youths under 17 can enter for free. On Tuesdays, admission is free for everyone. It is open every Tuesday to Saturday from 10 am to 5 pm and on Sundays from 1 pm to 5 pm. The address is 700 State Street (corner of State and Cottage Streets) Salem, OR 97301
If you happen to go at the right time, you'll have a blast at the lively Oregon State Fair. You'll have a hard time deciding what you want to do or see at this fair as the choices seem limitless. With Food, shopping, shows and competitions, the Oregon State Fair has so many activities.
For those looking for fun, there are many rides and shows to choose from. For animals lovers, they can watch racing pigs or even dogs and horse shows.
The Oregon State Fair is held every year around the last week of August. Check online for the exact dates for that year. For those who would like to know what they can find there, check ahead online and pick your favourites. Carnival wrist bands give you unlimited access to rides. The fair opens every day at 10 am and closes on most days at 11 pm.
Situated in downtown Salem is this beautiful park right on the riverfront. Riverfront Park is a lovely park to take a stroll, relax, take in nature and enjoy the peace. There are benches and picnic tables scattered throughout the park and the green grass is perfectly manicured. Riverfront Park is also connected to Mintos Brown Park so if you're done walking around there you can stop by here.
Here you can watch Bald Eagles fish in the river or ride in the park's carousel with its hand-sculpted animal rides. Additionally, if you come in the summer there will be many special events worth attending. Make sure you check online for details. The park is open daily, from sunrise to sunset. It is located at 200 Water St. NE Salem, OR
A trip to Oregon would not be complete without a visit to the Oregon State Capitol. The beautiful modernistic Greek-style building is definitely worth a visit. Tours of this unique historical building and the tower are provided where you'll learn about the treatment of slaves and the indigenous population. Alternatively, you can get a brochure and take a self-guided walk.
History exhibits are located on the first floor as well as Cafe 900 which serves breakfast and lunch. Additionally, if you come at the right time you can observe the legislative sessions. Furthermore, for those who like the outdoors, you can enjoy a picnic on the beautiful grounds.
Guided tours of the building are available from January to November and guided tours of the tower are from June 16 to September 30. Both guided tours and admission are free. The Oregan State Capitol is open from Mondays to Fridays from 8 am to 5 pm. The Oregon State Capitol is located at 900 Court St. NE Salem, OR 97301
13.
Oregon State Hospital – Museum of Mental Health
A one of a kind museum, the OSH Museum of Mental Health is a slightly solemn place. The museum is dedicated to enlightening the world about the people who have passed through Oregon's psychiatric hospital, both patients and workers. These include names and dates, diseases, reasons why patients were admitted (sometimes mistakenly) and more. Listen to their testimonials and take a step into a world many years ago.
In addition to these intimate stories, medical equipment, photos and other interesting items are on display. The award-winning film, One Flew Over the Cuckoo's Nest, was filmed on location, and there is an exhibit dedicated to it.
The museum is open from Tuesdays to Saturdays from 12 pm to 4 pm. General admission is $7 and children under 10 can enter for free. It is located in the oldest building at the Oregon State Hospital at 2600 Center St. NE Salem, OR 97301.
Oregon's oldest winery has been in production since 1933. Come here if you have a taste for sweet flavoured fruity wines such as cherry, cranberry, boysenberry, pineapple and just about any fruit you can think of. Don't forget about their dessert wines either.
You can sample these wines in the tasting room. For $5 you can taste a sample of 5 wines chosen from 40 varieties. Outside snacks can be brought to the tasting room to enjoy with your wine tasting. Be sure to stop by the gift shop and pick up a few cute souvenirs as well.
Honeywood Winery is open weekdays from 9 am to 5 pm, Saturdays from 10 am to 5 pm and Sundays from 11 am and 5 pm. It is located at 1350 Hines St. SE, Salem OR 97302.
15.
Salem Saturday Market
The lively and fun Saturday market runs in different locations on Mondays, Wednesdays and Thursdays. Visit for amazingly fresh vegetables, fruits, flowers, baked goods, pies as well as cheeses and other dairy products. Artisan crafts, food and all the handmade and handcrafted things can be found at a farmer's market. It is known for its excellent variety, comfortable location and high quality.
The main Salem Saturday Market is located at 865 Marion St. NE, Salem. It runs every Saturday from April until October from 9 am to 3 pm. For the location of the other markets please check online.