Best Ponytail Beanies For Your Winter Vacation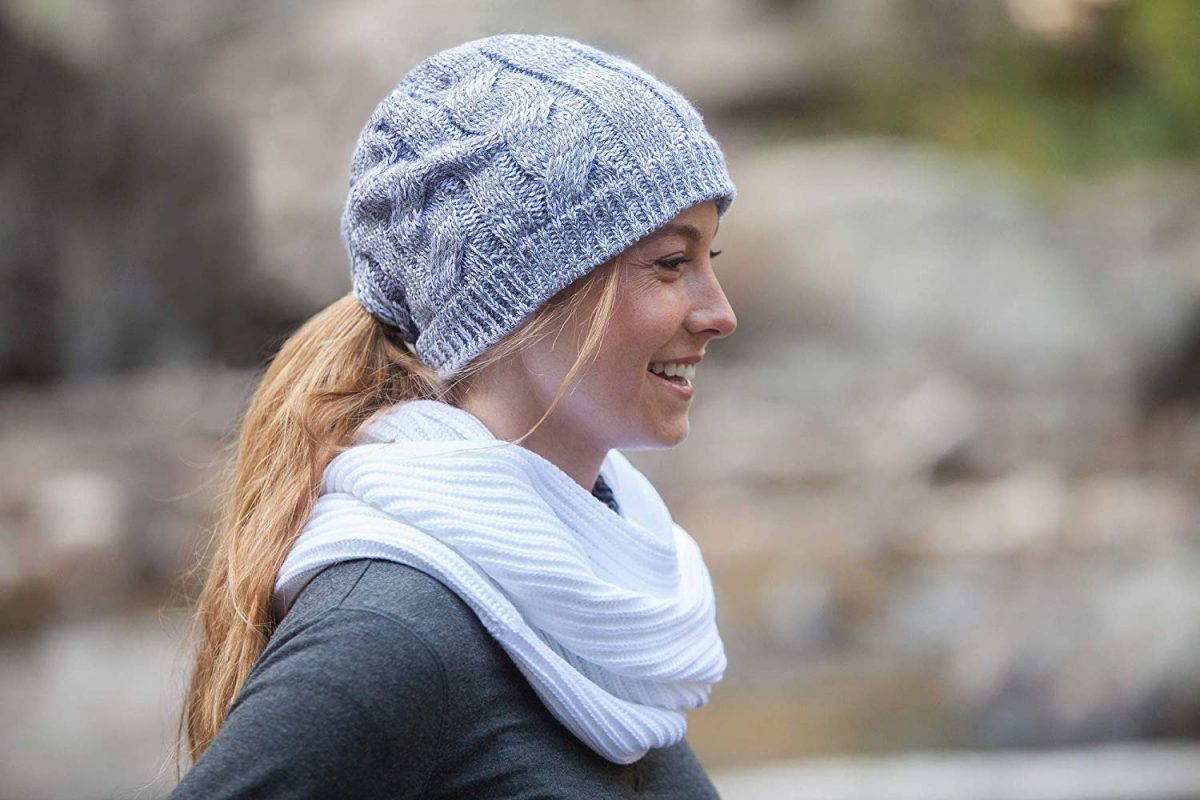 There is an unknown joy that comes from hair, hair all over the place. Straight hair, messy hair, very beautiful hair or some stranded hair. Hair is for every occasion, and who doesn't love it when Riri or Selena rock those trendy beautiful hairstyles that inspires our girlfriends.
Do you ever get enough of a ponytail hairdo? They never get old, do they? I love seeing my friends sport a messy bun ponytail. How about Ariana's iconic pony? The knitted or the high bun? The list of hairdos goes on and on, till it gets to winter. That is where the insanely cool beanies come in.
Beanies are headgears that are worn to protect the head from cold or the harsh sun, depending on how the weather turns out that day. We know we can't survive without good hair so we have to protect it always.
Add a ponytail hole to the beanie and you have yourself a ponytail beanie that protects your head and adds style.
Why Women Prefer Ponytail Beanies Even In Winter?
Winter beanies are a great way to help you beat the cold during winter, but it's always messy for a lot of women, though not for everyone. Every time you catch a game of ice hockey wearing a beanie or go skating with a loved one, you come back always trying to redo the hairstyle.
However, gone are those days of letting your hair down from the beanie, it is not fashionable or stylish anymore.
Women are all about style. Ponytail beanie comes with a sense of style, a sense of fashion and a sense of self-comfort. You can go out in winter for four or five hours, rocking in your favorite ponytail without worrying about hair damage. You wouldn't even have to think about flattop hairs too and moreover, it is very stylish.
Ponytail beanies are made of soft, stretchable knitted fabrics and they are warm when worn. They are really perfect for any ponytail do's one can think of. It is very comfortable and stylish, and what more do women want other than those two words.
Why Are Ponytail Beanies Trendy?
The term 'trend' goes hand in hand with fashion. If you are fashion conscious, you have to appear stylish enough to have all the heads turn to you when you enter a place; get that boy to notice you or even have your picture on the fashion police show.
It's not just about the clothes you wear, a lot of emphases is necessary to be given to the hair as well. Let it be any style, you have to make sure it is comfortable enough.
Add style and comfort to get something tangible to trend, and you get yourself a Ponytail beanie! Moreover, it gives you the power to stay comfortable, warm and be stylish at the same time. You never want to hide a messy or high ponytail, even at the expense of winter.
Best Stylish Ponytail Beanies Available Online
Online stores have made it easier for us to shop from the comfort of our homes, workplace or school. So, I will run down the best ponytail beanies available online and a review on why you should get them. They are cheap and quite easy to afford.
1.
CC Messy High Bun Winter Knit Beanie
The C.C company makes the best beanie around and their ponytail beanies are one of the best too. This is more affordable and has great quality. Also, it is one of the easiest to pull off.
It is perfect with messy buns. Even if it's too big, it gives you a great chic look as compared to the rest of the options in the market. The pattern is nice and it is one of the reasons it is still popular. It also comes in children's size and different colors. You will be glad you got these.
CC Messy High Bun Winter Knit Beanie is available on Amazon for $14.93.
I will rate it a 4.5/5 and advice to get a color that goes with the dress
2.
Dafunna Soft Knit High Bun Beanie
I will go with Dafunna here because they also make the best ponytail beanies after CC. This particular beanie fits different kinds of ponytails.
It is 100% stretchable and can accommodate any volume of hair with ease. It is perfect for pulling your messy bun or high ponytail on chilly days. You can actually get this for your man as well.
I will rate this one a 4.1/5.
Dafunna Soft Knit High Bun is available on Amazon for $7.
3.
Zooron Soft Warm Knitted Beanie
Another great option on the list and my personal favorite, besides the one produced by the CC brand. These are special and recommended as the best for winter outdoor sports that include running and skiing because of its very thick design. It is super soft on the face.
This ponytail beanie gives long-lasting warmth in strong windy days without causing any unease or discomfort. This beanie goes extremely well with high buns too.
Zooron Soft Warm Knitted Beanie is available on Amazon for $9.
I will rate this 5/5 for strong and cold winter days.
4.
CC High Bun Ponytail Visor Beanie
I'm back to C.C again because they are so good at making ponytail beanies. Actually made in Korea, I have this ponytail beanie in my list because of its retro look.
The beanie gives you a classy and vintage look while still allowing your hair to look good. It goes well with a high ponytail and has high and low openings. Also, it costs more than the others. If you love hats, you definitely should get this. I will rate this 4.7/5.
CC High Bun Ponytail Visor Beanie is available on Amazon for $17.
5.
CC Soft Stretch Ponytail Beanie
This is very suitable for messy buns and even lets your hair fall beautifully on your shoulders. It is one of the best beanies, C.C has to offer.
I bought this for my bestie and she loved it, she got one for her sister too. I'm going to have to rate this a complete 5/5 for its uniqueness, and for making my girlfriend happy. The pastel colors will go well with almost any dress in your closet.
CC Soft Stretch Ponytail Beanie is available on Amazon for $24.
If you love to have your ponytails beanies during winter and want to show off that gorgeous hair everyone admires, this is the time to pick your phone and shop for those ponytail beanies.
And if you're more of a summer child, here are some cool options on some fashionable sunglasses that you can get your hands on, as you prep for Summers.