Top 6 Travel Laptop Backpacks For Women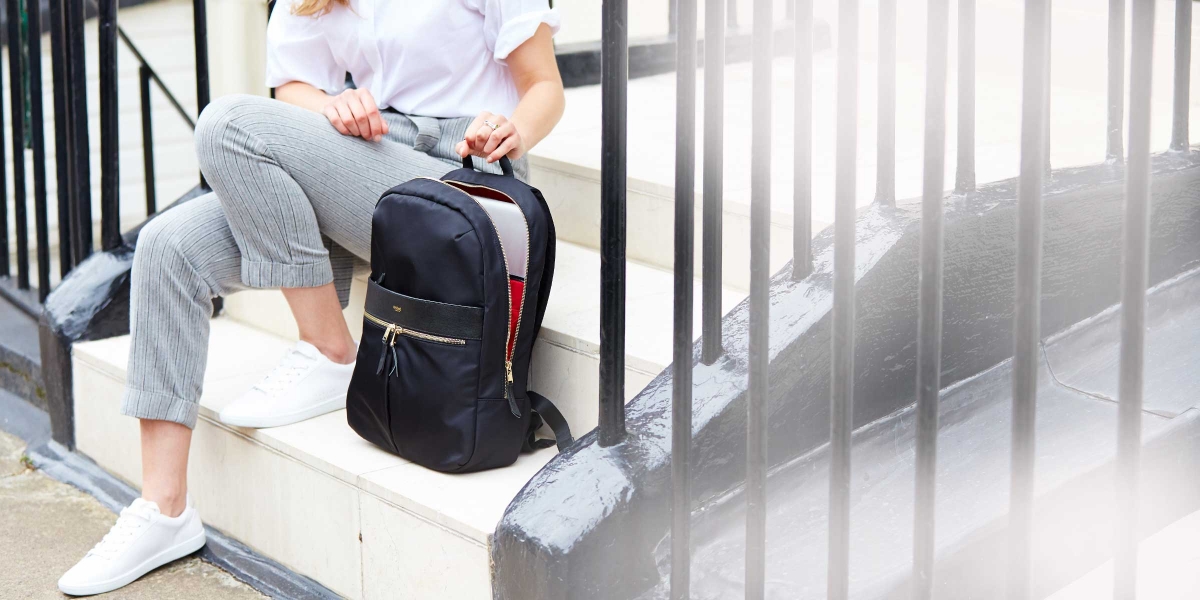 Ranging from the Swissgear to Everki Titan, brands all over the world have come up with different kinds of sleek backpacks for women.
Backpacks have solved the problem of carrying your PC in a bulky briefcase while you are on a holiday or even when you are at work. They are always built for comfort and mobility.
Laptop Backpacks also have extra rooms for so many other items that you would want to carry while you are travelling. Also, it is made with neatly layered materials(polyester) which don't go that heavy on your shoulders.
Nowadays backpacks come with a variety of unique features. They are not only used in carrying the laptops, but also in charging your laptops. Some even have separate compartments for your earphones, and secret pockets for hiding your wallets and so on.
Why Do Women Prefer Backpacks?
Most women nowadays do not prefer purses and heavy briefcases while travelling. Instead, they prefer to go for backpacks. But have you anytime wondered why they have made this decision? It's simple, they have found something better that could help them and be less of a burden.
Using laptop backpacks have made things a whole lot easier for women and they have learned to inculcate this in their daily lives. Trying to squeeze your laptop, makeup, gym clothes, phone, etc. into a classy tote could be such a pain.
Usually, most of the women just give up and leave something behind due to space constraints. But, over the years it has been discovered that laptop backpacks solve these problems.
Imagine how smooth your travel is gonna be when you have all your personal items inside one bag. Sometimes, you can carry more stuff when these laptop backpacks are really huge and have so many pockets and compartments within.
So, why not go for these laptop backpacks, when you have those coming in different sizes and shapes?
Different Laptop Backpacks
These laptop backpacks come in different sizes, shapes, and colours depending on the consumer.
Women can be really choosy regarding laptop backpacks because they want everything to look good on them. So usually, they would choose what they think suits them the best.
Some love small backpacks, some prefer colourful ones and some would rather go for bigger ones due to their space. Backpacks these days are made for women according to their tastes. There are several kinds of laptop backpacks in the market, each with unique and distinct features of its own.
Backpacks are available in different types and sizes. Almost every laptop backpack is found online. Therefore, we have managed to list down the 6 best laptop backpacks available online. All you need to do is, select the best one that suits you.
1.
The North Face Women's Recon Backpack
These North Face laptop backpacks are equipped with spaces large enough for your 17-inch laptops. It has pouches on both sides just like other regular backpacks. This makes it easier to stuff two water bottles inside the backpack.
It is also popular for its different compartments and bungee straps. Another great feature of this laptop backpack is that it has extra space for books and chargers.
This kind of backpack is perfect for hiking. It could also come in handy when you need to spend some days on official work or when you have decided to give yourself a great vacation.
North Face Laptop Backpack is available on Amazon for $94.
2.
The Ogio Women's Soho Backpack
This laptop backpack is slightly different from the first. It has a well-padded compartment for your laptop and just like the first, it has many more extra compartments.
The material used to make the backpack is pretty soft and stable. These laptop backpacks are best for women who like medium-sized bags. Its shoulder drop is about 17 inches and has a separate compartment for storing chords and an iPod. The front pocket has ample space for keeping your stationaries and other small items.
It comes in a variety of colours and looks really elegant on females. The colour used in the inside is a contrast to the one used in its exterior Hence, it looks really classy and fashionable.
Ogio Women's Sogo Backpack is available on Amazon for $99.99.
3.
Kinmac Bohemian Water Resistant Laptop Backpack
Unlike the first two laptop backpacks we have listed, this laptop can only take a 15-inch laptop. But trust us, this is the backpack you should own if you love vintage materials.
This laptop backpack unlike the other two are more stylish. But there's more to it than you can ever think of! It's almost like a shock-absorbing backpack, as it has thick foam within built to protect your laptop, just in case it falls.
This feature makes the laptop more safe and secure. What more would you want in a laptop backpack that guarantees to protect your laptop every time?
Also, the waterproof canvas of the laptop backpack doesn't let water seep inside.
It has many other pocket compartments to store smaller items, such as stationaries, lipsticks, chargers etc.
Kinmac Bohemian Backpack available on Amazon for $35.
4.
The Dakine Jewel Women's Backpack
This backpack is really popular for being "super stylish".
It has a laptop sleeve that can fit in a 15-inch laptop and is perfect for those who love to keep their lunch and their laptop in the same bag. This is because it has a separate compartment for keeping your lunch box, which is insulated.
The Dakine Jewel women's laptop backpack is an everyday laptop backpack. The front pockets of the backpack help you organise the clutter and arrange every single item, based on your ease and preference. The straps are really comfortable on the shoulders and help you carry the laptop backpack without any discomfort.
This backpack is made of polyester and if you are interested in using something fashionable you can find different colours online.
Dakine Jewel Women's Backpack is available on Amazon for $75.
5.
The S-Zone Women Leather Backpack Purse Travel Bag
The S-Zone leather backpack is way different from the others. The use of genuine leather gives it the perfect look and makes it so different and appealing.
The adjustable leather straps are so smooth on your shoulders and very comfortable even when you go for a long stroll. The exterior pocket gives it a unique look and makes it more imposing. This beautiful leather backpack goes with anything. It can be your perfect companion for your vacation or even for your daily work.
The only disadvantage of this laptop backpack is that it is really compact, unlike others (it can only accommodate a 14-inch laptop). But it's going to be perfect for someone who loves to look really good in laptop backpacks. It also has an extra cell and wallet holder.
If you are travelling for your official work, then this laptop backpack is just perfect.
S- Zone Women's Laptop backpack available on Amazon for $64.99.
6.
The Swissgear Travel Gear 1900 Scan Smart TSA
This superb backpack has sleeves for backpacks and tabs. This isn't the only striking feature of this laptop backpack. It has been specially made to withstand harsh conditions and extreme rough usage.
So in short, it becomes your ideal companion during your long hectic vacations. Especially, when you have a trek or hiking planned in extremely dense forests.
The pockets of these laptop backpacks are in abundance. You can even keep your utensils and other items required while you travel. Carrying this laptop backpack itself is a huge plus for your journey.
The adjustable shoulder straps are really comfortable on your shoulders. The padded back panel that's added in the backside of this laptop backpack helps you carry it with ease.
It's about 9 inches high and 13.5 inches wide, with a front pocket to keep small items such as stationaries and phone chargers.
It is made of ballistic polyester that can withstand all kinds of weather.
This backpack is one of the highest-rated backpacks and highly recommended for women who are all geared up for their holidays.
Get the Swissgear Travelgear backpack from Amazon for $62.99.
Also, if you're looking for a laptop bag for men, be sure to check out this article. We talk about some cool affordable options you can take advantage of.