Best Men's Laptop Backpacks For Travel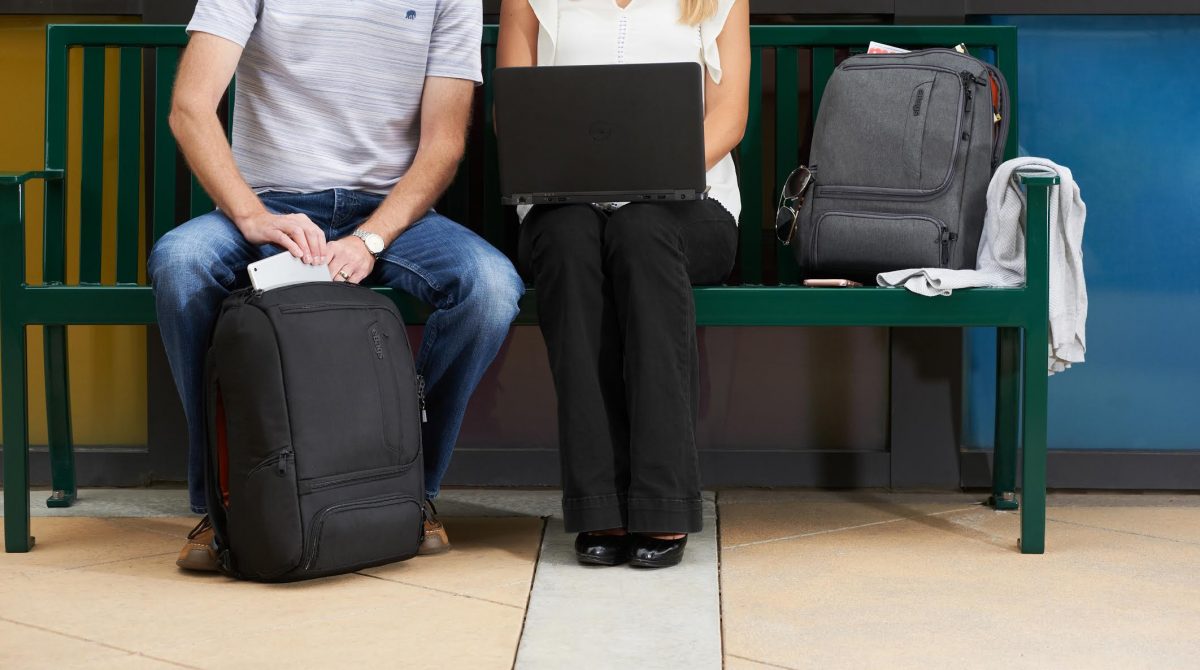 Laptop backpacks are any day trendy, sleek and comfortable. They are very meticulously designed to ensure the protection of our gadgets. Nowadays, it isn't an uncommon scene to see men carrying their laptops in different sized and shaped laptop bags.
Some laptop bags are the perfect gentleman's essential. Whereas some cater to the perfect stylish fashionista, with vibrant colours and great designs that suit their personality.
There are so many laptop backpacks in the market now. Therefore, it's pretty confusing for men to decide which one to choose from. Here, in our article, we have selected the best laptop backpacks for men available online. If it helps you in getting rid of the confusion, nothing can make us happier.
1.
Hex Aspect Laptop Backpack
Looking for a functional and convenient bag that portrays you as a professional? Then the Hex Aspect Laptop Backpack is the right choice for you. It can certainly be used for diverse occasions.
From an official meeting to your most tedious air travel, this laptop backpack from Hex can be your strong confidante. Similarly, it is specially designed to be really light on your shoulders. It doesn't have an extremely smooth texture, therefore, it makes for a perfect choice for men to use it frequently for multi-occasions.
However, this backpack has upgraded its design with a vented sneaker compartment, which makes it more convenient on a trolley handle. It is the perfect laptop backpack for those who want to enjoy their travel experience.

Likewise, with several interior and exterior pockets, this laptop backpack ensures small items are not lost in transit. In addition to all this, it also possesses water-resistant pockets where you can store your tickets and relevant documents.
Buy the Hex Aspect Laptop Backpack from Amazon for $79.95.
Dimensions: 13"L x 6"W x 18"H
Weight: 2lb 8oz
Capacity: about 23L
Overall Rating: 5/5
This backpack comes with a lifetime warranty. It possesses a durable twisted filament polyester exterior with the DuPont Teflon fabric protection. This laptop backpack has various compartments, such as a zippered water bottle pocket and crush-proof AC adapter garage.
The striking factor about this backpack is that it can accommodate a 17-inch laptop. The top handle enables users to convert it into a briefcase. Also, the air mesh back panel provides incredible support with padded straps and a detachable shock-load sternum strap to ease the heavy load.
This laptop backpack for men has premium self-repairing zippers for high abrasion durability and resistance. It also has bottle pockets that are capable of holding two tall bottles, one on each side. A luggage pass-thru channel on the backside is another striking feature of this laptop backpack.
Buy Ebags Laptop Backpacks from Amazon for $120.
Dimensions: 17.5″ x 12.75″ x 8″
Weight: 3 lbs.
Capacity: 1760 cu. in.
Overall Rating: 5/5
Source: www.ebags.com
3.
Incase Icon Laptop BackPack
The Incase Icon Pack is made of nylon and it has five external pockets and a single interior zipper pocket. The padded shoulder straps and sternum strap helps in making the Icon easy to wear, even when it is weighed down. It doesn't look very puffy after it's loaded with so many items.
This backpack is a great choice for travellers and businessmen. However, this backpack does not have a water bottle partition on the side. It is available on most major online stores such as Amazon. It is available in different vibrant colours.
Buy Incase Icon Laptop Backpack for $150 from Amazon.
Dimensions: 19″ x 13″ x 9″ (L x W x H)
Volume: 17L
Compatibility: Up to 15″ MacBook Pro, iPad
Material: Durable 840D nylon construction
Overall Rating: 4/5
4.
The North Face Wasatch Reissue Backpack
Talk of durability and you have the North Face Wasatch Reissue Backpack. You can take this laptop backpack anywhere and it will not strain your arms and shoulders at all.
This laptop backpack for men is created with a tear and rip resistant fabric. The laptop compartment is heavily padded to protect it from any damage.
This backpack is available in two different colours, mustard yellow and blue. It is the perfect choice for people who want their gadgets to be in a more organized pack. Compared to other laptop backpacks this North Face Wesatch Backpack is the most economical.
Buy North Face Wasatch Reissue Backpack from Amazon for $98.

Dimensions: 17.75″ X 13.75″ X 7″ (45 Cm X 33 Cm X 17.8 Cm)
Volume: 2135.8 In³ (35 Liters)
Overall Rating: 5/5
5.
Mancro Anti-Theft Laptop BackPack
The Mancro laptop backpack is the perfect bag for daily commuters and travellers. With an eco-friendly fabric and water repellent nylon, you are assured of comfort as it has great padded shoulder straps.
It also has durable metal zippers and a theft-proof combination lock which ensures the safety of your laptop and other items inside the backpack.
The Mancro Anti-theft laptop backpack has three main compartments, two sealed sleeves, and nine small pockets. This laptop backpack for men has a portable USB cable with a battery pack that allows you to charge your phone.
If you are looking for a perfect laptop backpack for your weekend getaways, hiking and camping, then this is the best one for you. It is also available in seven different colours.
However, it's exterior water bottle pocket cannot accommodate bigger bottles. Make sure your water bottle is not too big. The size does not give room for storing any bulky items too.
Buy Mancro Anti-Theft Laptop Backpack from Amazon for $25.99.
Weight: 1.45 lbs.
Product Dimensions: 20 x 12.2 x 5.7 in.
Type of Material: Nylon
Warranty: Limited One-Year Warranty
Overall Rating: 4.5/5
We have covered the best laptop backpacks for men in this article. Make your decision based on our specifications and reviews. These are great laptop backpacks for men; we hope you enjoy this collection. Travelling with your partner? Don't worry, we've got a whole list of best laptop bags for women too.