Your Guide To Kerala's Athirapally Waterfalls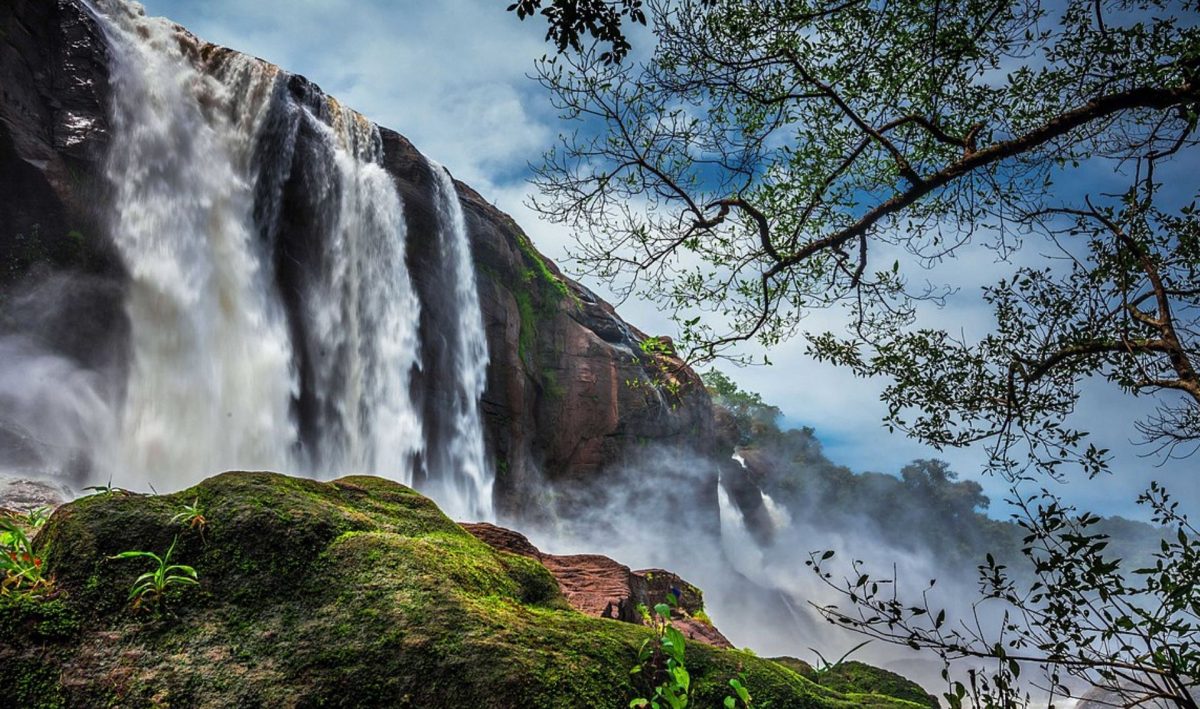 Athirapally waterfalls is a gleaming paradise in god's own country, Kerala. Dubbed as the Niagara of India, these waterfalls are located just 60 km from Kerala's Thrissur district. Falling off the height of 80 feet from the Anamudi mountains of the Western Ghats, this waterfall is a sight to behold. It might amaze you to know that these waterfalls are located about 1000 feet above sea level.
It further traverses through the forests of Vazhachal, meets the Chalakkudy river before finally mingling into the Arabian Sea. Its an amazing spot for love birds, film shoots, bird watchers, etc. All thanks to the perfect blend of a magnanimous waterfall, forest backdrop, and favourable weather.
There are many waterfalls in Kerala, but a few like the Athirapally waterfalls are a class apart from the rest.
Located on the Western Ghats, an ecological hotspot, its a safe haven for numerous flora and fauna. However, the most interesting part is that to have an amazing view of the Athirapally Waterfalls, you don't need to scale the mountain. But you'll have to climb down for over 100m stretch to see the magnanimity of this work of nature.
Besides, if you are on a trip to this Indian state, a visit to the Athirapally Waterfalls is a must. You can also explore many local villages and wildlife reserve, apart from the refreshing waterfalls.
The Downward Trekking Is Worth All The Thrill
If you are trekking enthusiast, then you'll surely fall for the route to the Athirapally Waterfalls. All the way down to the destination you will be spoiled with outstanding views of the waterfalls. Plus, there will be plenty of wildlife, from primates to colourful birds, for the wildlife lovers.
The trekking route is well maintained, and you'll come across one of the cleanest routes ever. Moreover, you'll also have access to washrooms at short intervals, so you wouldn't have to load your bladder, at all. Plus, it's only a 10 to 15 minutes trek, so it will be great for the first-time trekkers, as well.
The best part? You can also swim in its frothy waters, though caution is advised. While a gentle foam spray will be collateral for all the travellers.
Another great reason to be here are the rainbows, which are a common phenomenon, almost every other day. There's also a steep narrow passage that leads right to the bottom of the waterfalls. However, it's on your luck if you'll be allowed to access it, as it is usually guarded.
Just like every other tourist gets mesmerized by its tempting beauty, the entertainment industry has been no exception. Quite a number of Indian and International film songs have been picturized under its precinct waters, and it's still in trend.
The Flora And Fauna At The Athirapally Waterfalls
Being a wildlife hotspot, the forest surrounding the falls is a biodiversity conservation area. The forests are home to lion tailed macaque, tigers, leopards, Asiatic elephants, sambar, bison, etc. While four kinds of Great Indian hornbills are a common sight in the area. Besides, there are many other colourful birds for bird watchers delight.
Coming to the marine life, there are close to a hundred different species of fishes thriving in the river waters. With such variety, this is an amazing destination for eco tourism lovers.

Besides the forest is studded with Teak, Bamboo, and Eucalyptus. One of the highest waterfalls in Kerala, its a gold mine for nature lovers.
Nearby Attractions
The Athirapally Waterfalls, being a tourist attraction, has many more places worth visiting in the vicinity. The other waterfalls like the Vazhachal and Charpa are also must-visit locations. The nearby Sholayar dam and the Malayattur wildlife sanctuary are additional options for travellers. There are adventure activities like river rafting, trekking, etc.
The Anakkayam village will get you a good taste of the local rural culture. You can also go on a jungle safari to have closer contact with the local wildlife. Many resorts, villas, hotels, and restaurants have also come up in the area.
When To Visit Athirapally Waterfalls?
The waterfall is filled to its maximum might during rains and grows even more splendid. But since Kerala receives an overabundance of rainfall, monsoon season is the worst time to visit the area.
However, the rain-free months from September to January will welcome you with pleasant weather. So, that's the best time to witness the beauty of Athirapally Waterfalls. Otherwise, it's open almost all year round, unless the concerned authorities send out safety alerts.
How To Reach Athirapally Waterfalls?
To observe the amazing Athirapally waterfalls, you'll have to reach Chalakudy railway station, the nearest railway junction. Chalakudy is, however, located 32 km from here. Besides, Kochi and Thrissur are two other nearby railway junctions. So you must decide depending on the location from where you'll be travelling to these waterfalls in Kerala.
If you prefer air travel, Cochin Airport is another option, though it is also located some 50 km away. Anyhow, to reach the spot, you will have to hire a private vehicle or go for a bus ride. Do carry along an umbrella and sports shoe for your own convenience.
Please note that the road route has dense forests on either side, so night travel is not a good idea. Besides, it is full of some splendid views of lush greenery and small villages, so day time is best to grasp the beauty. It is locally known as the Charpa falls, so that might help you while asking for directions.
So eco-tourism or adventure, whatever brings you to the Athirapally waterfalls, you'll have the best time of your life. All thanks to the amazing views of the waterfall, the chirping of birds, and the cool and fresh breeze. Come with a partner, or a bunch of friends, or solo, there's plenty to explore, click and experience at almost every step of the trek.