Why Paris Is Dubbed as the City of Lights?
When one thinks of Paris or wondered what to do in Paris; the Eiffel Tower, romance, good food, and everything else in between. And when one hears about the City of Lights, they instantly think of Paris. This is not new to us. Most of us are familiar with this nickname. But do we really know why and how Paris is dubbed the City of Lights? Is it just because of the thousand dazzling lights that envelope Paris at night? Are there more significant reasons behind it?
Let's take a stroll along the Avenue des Champs-Élysées and get to know more about the City of Lights.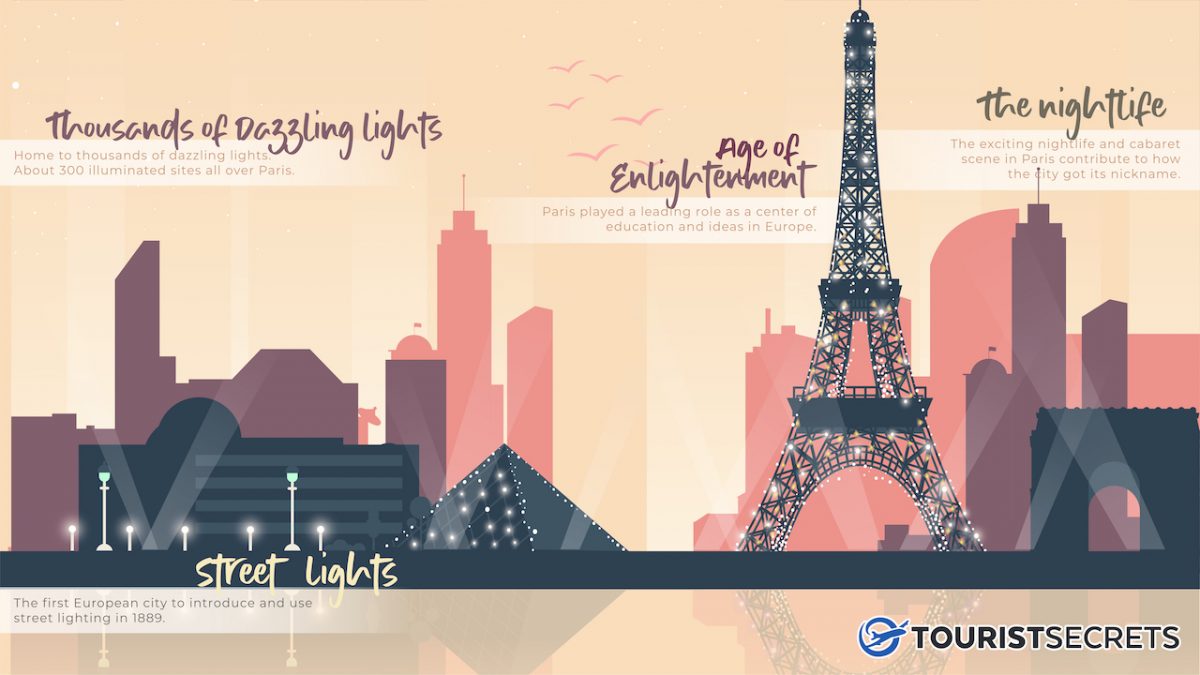 How Paris Got Its Nickname?
Here are the reasons behind the sparkling nickname that Paris is most known for.
Thousands Of Dazzling Lights
Perhaps the most obvious and popular reason why Paris is named the City of Lights is that it is home to thousands of dazzling lights. Today, there are about 300 illuminated sites all over Paris. These include churches, hotels, monuments, national buildings, and statues. Add to these the 33 major bridges in the city that light up come nighttime. They say pictures of Paris at night don't do justice to how magical the City of Lights is.
Let's not forget the famous Champs-Elysees. With over 500 decorated trees, this romantic boulevard uses one million light bulbs each year. No wonder why tourists flock here, especially during Christmastime.
But the most iconic site that makes Paris sparkle at night is the Eiffel Tower. Every night and every hour, the Eiffel Tower sparkles in golden lights for five whole minutes. While the tower lights up, a beam illuminates the city. To light up the Eiffel Tower, 20,000 led bulbs and 40 km of illuminating garlands are turned on every night.
While Paris sparkles and shines each night, it's especially well-illuminated during the holidays. The streets and surrounding trees are decorated with thousands of lights during the festive season.
Street Lighting
Another reason why Paris is called the City of Lights is that it was the first European city to introduce and use street lighting in 1889. After 100 years, Paris is still hailed as the one responsible for lighting up Europe.
During this time, there was a need to install more lights to prevent burglary and lawbreakers from dodging the police. Thus, lanterns were placed on main streets, and every home used candles and oil lamps. Since then, the city has gained its nickname "La Ville-Lumière," or the City of Light.
Age Of Enlightenment
During the 18th and 19th centuries, Paris played a leading role as a center of education and ideas in Europe. As such, Paris is known as the birthplace of the Age of Enlightenment. Also known as the Age of Reason, the Age of Enlightenment was a period that experienced a rise in the development of scientific methods, reason, and liberty. This time heavily inspired poets, philosophers, engineers, and scientists. The city's significant contribution to enlightening people's minds helped gain its nickname as the City of Lights.
The Nightlife
As if the lights on the Eiffel Tower and other sites aren't enough, the nightlife in Paris adds to the city's sparkle. The exciting nightlife and cabaret scene in Paris contribute to how the city got its nickname. The world-famous Moulin Rouge cabaret show uses more than 4,000 lights on the set. These do not even include the big lights on the entrance. Another famous theater in Paris, the Nouvelle Eve, also sparkles every time a show takes place.
The City Of Lights Or The City Of Love?
We say both, and no one's really complaining! Aside from the dazzling lights, they say that love in Paris is like no other. In fact, the city is always named the most romantic place in the world.
Here are some reasons why Paris is also named City of Love:
Romantic places: How many have proposed marriage in Paris? We've lost count! Not just proposals, but Paris is also a favorite honeymoon destination. How can it not be? The city is home to many romantic places that make it easy to fall in love in and with Paris. Among these romantic sites are the iconic Eiffel Tower, Temple of Love, Luxembourg Gardens, and River Seine, among others. Aside from that, the entire city is an absolutely gorgeous day or night. Everywhere you look is an Instagrammable spot. The streets are lined with quaint boutique shops, chic cafes, and sophisticated restaurants.
Magical nights: They say Paris is something else when nighttime falls as the whole city sparkles and shines. And as most buildings and structures are made of gold and marble, the light reflects on the surfaces. This adds more romance amid the darkness of the night. How can you not call this the City of Love?
Fine dining: French cuisine is often described as refined, sophisticated, and luxurious. Add to that the romantic set up most of the restaurants in Paris have. It's perhaps the perfect location for a dream date that most couples have in mind. From an array of hors d'oeuvre, delectable main dishes, to the famous French pastries as dessert, it's hard not to find French dining romantic.
How Are The City Of Lights In Paris Different From Las Vegas?
There's another city that fits the nickname City of Lights. Las Vegas City in Nevada, USA uses a whopping 12 million lights. This massive number explains why Las Vegas is the brightest city on Earth when viewed from space at night.
To compare the difference between the lights in Paris and those in Las Vegas, let's talk about actual light usage. The Eiffel Tower uses 22 megawatts of lights per day, which is bills around $3,500 worth of electricity per day. On the other hand, Las Vegas bills at a dizzying $1.27 million worth of electricity per day! The difference between the two City of Lights is overwhelming.
Despite the difference in light usage, the two cities are undoubtedly known to make the world brighter. Literally!
Best Things To Do In The City Of Lights
Aside from admiring the many gorgeous sites in the City of Lights, here are other best things to do in Paris.
Indulge in restaurants and cafes: You can't visit Paris without sampling its fine cuisine. Whether in a restaurant or cafe, hotel bar, or camping site, you have to try some of the city's delicious treats. If you're worried about your budget, there are cheaper yet decent options around town. Make sure to try Soupe à l'oignon, Coq au vin, and Boeuf Bourguignon, among other tasty dishes. For desserts, you shouldn't miss a bite of chocolate soufflé, crème brûlée, and of course, the famous French macarons.
Sip some wine: It's normal for a bottle of wine to sit on a French restaurant table. Take advantage of this as France produces some of the best-tasting wines in the world. Popular names include Pauillac, Hermitage, and La Grande Rue, among others.
Visit the churches: Paris is home to many beautiful churches and cathedrals. The architecture is simply breathtaking, and each is a testament to how Christianity dominates the city. If you're up for some church hopping, make sure to include the Notre-Dame Cathedral, Sainte-Chapelle, and The Saint-Denis Basilica, among others.
Camp: This may seem out of place, but it's actually a great idea to camp in Paris. This is especially perfect when visiting with a group. There are many campsites in the City of Lights that give stunning views of Paris.

Camping de Paris

is an excellent start.
The City Of Lights And Love
Understanding why and how Paris is dubbed the City of Lights just makes its thousands of lights sparkle more when you visit. If you're visiting Paris soon, try to remember how this city became a leader in the Age of Enlightenment. As you take those unforgettable photos of the Eiffel Tower, remember how this city was the first to use street lights. And if you're visiting with a loved one, you'll most likely discover how and why Paris is also the City of Love.