What's JetBlue Baggage Fees and How to Avoid Them?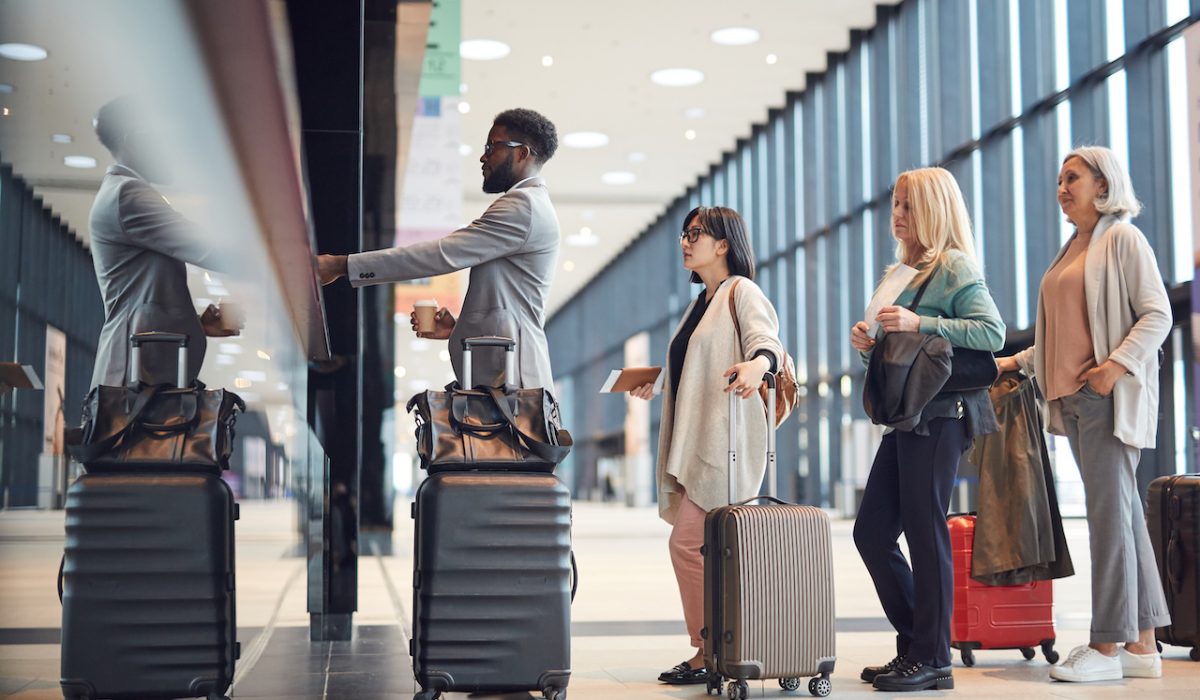 Believe it or not, the last thing you want is to fork out money to pay for your overweight baggage at the airport. What's worse is you have to use the money you saved from flying with low-cost airlines only to be used for unnecessary fees that can be avoided in the first place. So, here's what you need to know about JetBlue's Baggage fees and basically to get a good grasp of the airline's policies, here's all you need to know.
What Is JetBlue Baggage Fee?
JetBlue baggage fees are standard charges that passengers need to pay before they can board the plane, especially if they exceed the baggage allowance. This is either because the bag exceeds the weight limit or standard size allowable on the plane.
The JetBlue baggage policy for basic fares include the following:
1 personal item: Free
1 carry-on item: Free
Checked baggage/Hold luggage: If your checked bags are not included in your plane ticket fare, fees will apply. Blue Basic, Blue, and Blue Extra fares do not include the cost of checked bags. The fee will also increase depending on the number of your checked bags.
Overweight and oversize bags: Bags that exceed the weight and size limit also incur fees.
JetBlue Carry-On Allowance
Like with most airlines, each JetBlue passenger is allowed one carry-on bag. Aside from that, they're also allowed one personal item such as a travel purse, briefcase, laptop, or small backpack. However, these allowed carry-ons can still incur baggage fees if they do not adhere to the airline's restrictions on weight and size. As long as you don't exceed the JetBlue baggage allowance, then you should be fine.
Carry-On Restrictions
Here are the carry-on restrictions that Jet Blue has in place:
Size restrictions: For carry-on bags to be stowed in the overhead bings, baggage should not exceed 22″ L (55.88 cm) x 14″ W (35.56 cm) x 9″ H (22.86 cm). This limit includes wheels and handles. For carry-ons to be placed under the seat should not exceed 17″ L (43.2 cm) x 13″ W (33 cm) x 8″ H (20.32 cm).
Weight restrictions: While JetBlue doesn't have weight restrictions right now, make sure you can lift your bag into the overhead bin. So, whether it's a briefcase, backpack, or a duffle bag, as long as you can manage to carry it over your head, you should be fine.
Lap infant carry-on policy: A lap infant is allowed one 1 diaper bag.
Stroller check policy: JetBlue baggage fees do not include strollers, child carriers, booster seats, among others. There's a courtesy gate for these items, or they can be checked in for free.
Personal item policy: For those traveling on an A320 and E190 aircraft, personal items should be smaller than 18 x 15 x 8 in. For those who will use an A321 aircraft, personal items should be smaller than 17 x 13 x 11 in.
Carry-on regulations: Aside from the allowed one carry-on bag and one personal item, other items such as assistive devices, limited amounts of duty-free items, and umbrellas and blankets are allowed and do not fall under the limit.
It can be tricky to find hand luggage that will meet JetBlue's requirements. However, there are a couple of luggage for sale online that are categorized as JetBlue carry-on-appropriate luggage. Just to be sure, you should check the specs of your luggage to see if they meet the airline's requirements for carry-on bags and personal items. Here's the TSA medicine and TSA liquid guideline to help you pack your luggage better.
*Do take note that these regulations may change without notice.
JetBlue Checked Baggage Allowance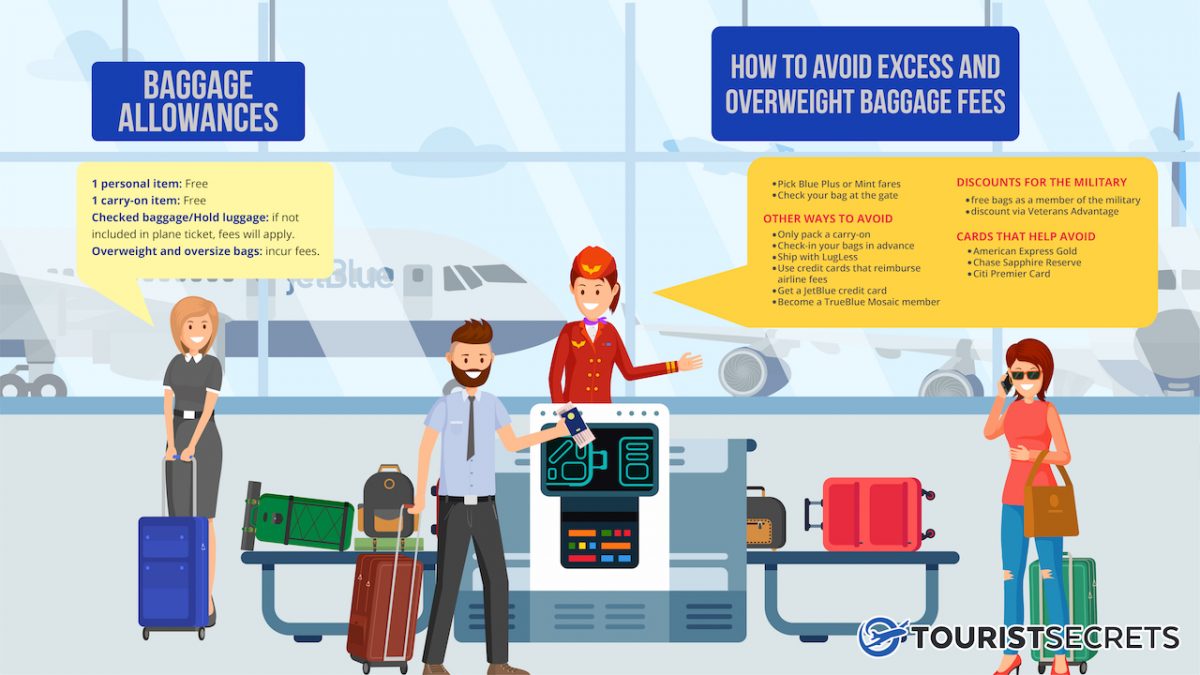 Both JetBlue domestic flight and international passengers should follow the standard policy for checked-in bags. Some tickets already include checked-in baggage fees. If not, you need to pay at the check-in counter. Fees vary depending on the fare lineup. The fare category is labeled as Blue Basic, Blue, Blue Extra, and Mint. Blue Basic is like Basic Economy, while Mint is the same as Business Class.
All checked-in bags must follow this policy:
Maximum dimensions: 62 in or 157 cm (length + width + height)
Maximum weight: 50 lbs or 23 kg
JetBlue baggage fees for checked-in luggage
First bag (Blue Basic, Blue, and Blue Extra fares): US$35.00
Second bag (Blue Basic, Blue, Blue Plus, and Blue Extra fares): US$45.00
Third bag and additional bags (Blue Basic, Blue, Blue Plus, Blue Extra, and Mint fares): US$150.00
How Much Is The Excess And Overweight Baggage Fees On JetBlue?
What happens if you exceed the bag limit at JetBlue? Well, like any other airline, JetBlue requires additional fees for excess baggage. Take note of the following so you can either prepare for or avoid them.
Excess baggage fees
If you have more than 2 bags to check-in, a US$150 fee per bag will apply.
Overweight baggage fees
There are also fees and limitations for overweight baggage in certain JetBlue flights.
Bags that weigh 51-99 pounds or 24-45 kilograms: US$150.00 extra per bag
Luggage weighing 100 pounds or 46 kilograms or greater: Not accepted as checked baggage / hold luggage
Bags more than 100 pounds or 46 kilograms: Not accepted as checked baggage / hold luggage
Bags weighing more than 50 pounds: Not accepted on flights to/from Haiti, Trinidad and Tobago, and the Dominican Republic
Luggage over 70 pounds: Not accepted on flights to/from Lima, Peru
Oversized baggage fees
No one's really stopping you from bringing huge luggage when traveling. However, take note that oversized bags also incur JetBlue excess baggage fees. These bags have a sum of length, width, and height between 62 and 80 inches. The JetBlue oversized baggage fee is $150. Meanwhile, luggage with overall sizes of more than 80 inches are not accepted. At the same time, passengers traveling to/from Haiti, Peru, the Dominican Republic, or Trinidad and Tobago are not allowed to check oversize baggage.
JetBlue Baggage Allowance International
For international flight passengers, there are different limits per destination. For instance, those traveling to/from Peru, Haiti, the Dominican Republic, or Trinidad and Tobago are limited to two checked bags. Meanwhile, those traveling to/from Cuba can only check in five bags.
Other JetBlue baggage policies for international flights are as follows:
Boxes are not accepted as checked bags on international flights. However, there are certain restrictions for flights to/from Cuba.
Non-hazardous items are allowed in checked bags, but JetBlue will not be liable for any damage.
Customs or the TSA may inspect bags on international flights at any time and randomly throughout your journey.
Humanitarian organizations will be given the same bag allowances and guidelines as other passengers.
Other JetBlue Baggage Prices And Policy
Musical instruments: You don't need to know how to carry a tune to bring a musical instrument on board. As long as the instrument fits in the overhead bins, then it should be fine as a carry-on item. If it doesn't, you can purchase an extra seat for it. Also, the instrument should not weigh more than 165 pounds and should be placed in a window seat. JetBlue also recommends that musical instruments travel in hard cases.
Sports equipment: If you're sporty, there are JetBlue policies when traveling with sports equipment. First off, items weighing more than 100 pounds are not accepted. For large sports gear, such as bikes and surfboards, they are counted as checked-in bags. These items are also subject to a per-item fee of US$100 each way. For international destinations, the restrictions vary for sports equipment. It's best to check with JetBlue before traveling.
Pets: JetBlue passengers are allowed to bring one pet onboard and a maximum of 4 pets per flight. Your furry pal needs to be in a carrier and under the seat in front. JetBlue baggage fees also cover those traveling with a pet. The pet carrier should not exceed the 17 x 12.5 x 8.5 inches size. Aside from that, the total weight of the pet and the carrier should not exceed 20 pounds. In order to bring a pet on board, you need to shell out $125 per way.
Tripods & selfie sticks: These items that can't fit in a checked or carry-on bag can count as a personal item. This is as long as it doesn't exceed the carry-on size requirements.
How To Avoid JetBlue Excess And Overweight Baggage Fees
Are JetBlue baggage fees something we just have to shell out? Or is it possible to avoid them? You don't have to be a genius to dodge the unwanted fees. Imagine the US$70 to US$160 that you can save on a free checked bag!
The following are tips on how to get discounts for JetBlue baggage — or avoid them all in all.
Pick Blue Plus or Mint fares: According to JetBlue, if you book a Blue Plus fare, you get one free checked bag. Meanwhile, a Mint fare gives you two free checked bags. Note that these bags should not exceed 50 pounds or 62 inches in overall dimensions.
Check your bag at the gate: Among the ways to enjoy a free checked-in bag on JetBlue is to check your bag at the gate. This is risky, but if you're a solo traveler, it's worth the risk. If the flight is full, airlines will offer free checked bags to anyone at the gate.
Discounts for the Military
Get free bags as a member of the military: JetBlue airlines rewards Purple Hearts! Members of the military (on active duty) and their dependents can travel with free checked bags on JetBlue. In fact, if you're traveling for duty, you and your dependents can check in 5 bags each free of charge. Meanwhile, if it's for pleasure, you and your dependents can check in two bags each for free. All you have to do is show your travel orders at the counter. JetBlue offers a military discount to active duty personnel of the military, as well as retired military veterans and dependents.
Get discount via Veterans Advantage: The military discount organization is a partner of JetBlue, thus offering a number of great deals for veterans and active military personnel. Among the many perks you can enjoy as a member of Veterans Advantage are a 5% discount on flights and free checked-in bags. Veterans Advantage members can check-in 2 bags for no additional cost.
Not a member of Veterans Advantage? You can still enjoy a military discount by calling 1-800-JETBLUE and providing the necessary details to the booking agent to receive your discount. You can also use the discount code MIL01 if you book a flight via JetBlue.com. Before checking out, just make sure you are rewarded with the 5% discount.
Other Ways To Avoid JetBlue Baggage Fees
Only pack a carry-on: This is perhaps the most obvious way to avoid JetBlue baggage fees. But there's really no harm in reminding!
Check-in your bags in advance: It's true that the early bird gets the worm. Even if you already have bags for check-in, you can still save if you check them in advance. You can add up to 2 checked bags for $5 off each more than 24 hours before departure. Take note that you can only refund the checked bag fees if you cancel the entire booking prior to the scheduled departure.
Ship with LugLess: Ever thought of shipping luggage instead of checking them in? Other travelers opt to have their luggage shipped with LugLess instead of paying for checked baggage fees. For as low as $15, LugLess ships your luggage directly to your destination anywhere in the U.S. The only downside to this are the inevitable delays.
Use credit cards that reimburse airline fees: There are credit cards that have checked bag benefits. The American Express Platinum Card and Business Platinum Card can reimburse incidental fees such as checked bags and in-flight food. They both offer an Airline Fee Credit of up to $200 per year on select airlines. Moreover, the American Express Premier Rewards Gold has a $100 Airline Fee Credit to cardmembers. Meanwhile, the Citi Prestige card offers a $250 Air Travel Credit per year. It covers baggage fees, in-flight purchases, and lounge access.
Get a JetBlue credit card: JetBlue has 3 credit cards and two of these have checked bag benefits. Using either of these cards will let you and up to 3 companions enjoy one free checked bag each.
Become a TrueBlue Mosaic member: If you become a TrueBlue Mosaic member from JetBlue's loyalty program, you can check in your first and second bags for free.
Cards That Help Avoid JetBlue Baggage Fees
American Express Gold
$100 airline fee credit that covers incidentals such as checked baggage fees
Transfer Membership Rewards points to JetBlue (ratio of 250:200)
Chase Sapphire Reserve
$300 annual travel credit that can reimburse travel purchases
Transfer Ultimate Rewards points to JetBlue (ratio of 1:1)
Citi Premier Card
Transfer ThankYou Points to JetBlue at a rate of 1:1
What Are The Luggage Shipping Alternatives?
Aside from LugLess, there are other companies that you can trust to deliver your luggage anywhere you are in the United States.
Standard delivery services
FedEx, UPS, DHL, the United States Postal Service, and other shipping companies are standard in delivery services. The cost will vary mostly depending on the size and weight of your bag. Aside from that, the distance to the destination will also matter. For example, to ship a 40-pound suitcase from NY to Chicago via FedEx may cause US$49.70. This is the rate for 2 business days shipment. If you want it overnight, prepare to pay US$311.45. Meanwhile, for heavier bags, such as 55 pounds, FedEx will charge US$61.73 for a two-day delivery.
Luggage shipping companies
Luggage Forward, Luggage Concierge, Luggage Free, and LugLess are your choices for veritable luggage shipping companies. For a small bag (25 pounds), Luggage Forward charges $99 within the U.S. in 3 business days. Meanwhile, you need to pay $139 for a standard bag (50 pounds). To ship a 25-pound bag via Luggage Free, you need to pay $74.99 for a carry-on-sized bag. Rates can escalate from the base price depending on the weight and delivery time specifics.
The LugLess has a reasonable rate for one carry-on bag (under 25 pounds) at $24.99 for three-day delivery. This is cheaper than the standard baggage US$30 rate. LugLess is among the cheapest and most popular choices when shipping domestically.
Frequently Asked Questions
Is Baggage free on JetBlue?
Baggage is not free on JetBlue for Blue fare passengers. They need to purchase this separately. It's a US$35 fee for the first bag, US$45 for the second, and US$150 for 3+ bags. However, for Blue Plus and Mint fares, there's a free baggage allowance.
What is considered a carry-on for JetBlue?
Any bag that is not bigger than 22 x 14 x 9 inches is a carry-on for JetBlue. This plus one personal item, which should not exceed 17 x 13 x 8 in. If your carry-on bag does not fit in the overhead bin, you need to check this in at the gate.
How many carry-on can you bring on JetBlue for free?
JetBlue allows each passenger to bring 1 carry-on bag and 1 personal item. These are free of charge as long as you don't exceed the size limit.
Can I bring a carry-on and a backpack on JetBlue?
A backpack that does not exceed the maximum dimensions would be considered your personal item. This means you should bring a small type of backpack.
Ready To Check-In?
Bringing an extra bag is unavoidable when traveling. And if you're familiar with JetBlue baggage fees, you know it can be a real drag to bring bags with you. It's part of flying, though. But despite their standard baggage fees, it's nice to know that there are ways to avoid it.
JetBlue baggage fees are different depending on which fare you opt to book. Sometimes, choosing a premium ticket has its perks — such as a free checked bag. While not all the ways to avoid these fees are suitable for everyone, there should be one for you. It's best to do your research and know your options. This can be exhausting, but dodging additional costs is always worth it.