The Best District in Montreal: Where To Stay When You Visit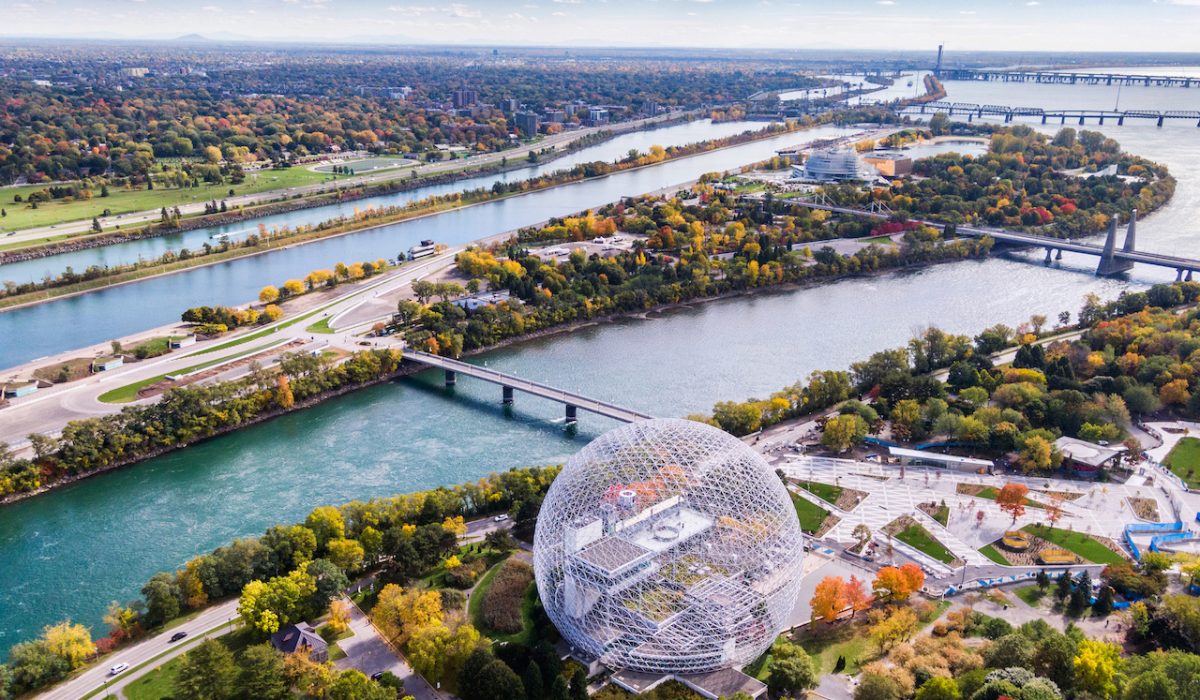 Don't know where to stay in Montreal? Known as the most popular city in Eastern Canada, Montreal is a gem for many reasons. It is famous for its stunning architecture and European personality. In fact, Montreal was even declared as a UNESCO city of design. Strolling across different Montreal districts makes for an excellent weekend getaway.
Wondering where to stay in Montreal for nightlife? Or where to stay in Montreal if you're bringing the kids? Montreal has over 20 Montreal neighborhoods. Because of this, you have plenty of options on where to stay. To help you narrow down your choices, here are the top 5 best Montreal neighborhoods that won't disappoint.
1.
For the First-Timers: Old Montreal
If it's your first time in Montreal, Old Montreal is the perfect destination. As the oldest district in the city, this neighborhood promises to take you back in time and more.
Old Montreal, or Vieux-Montreal, is the heart of the city. Boasting old-world charm, this city is filled with gorgeous historic buildings and cultural sights. This neighborhood is perfect for those interested in exploring the city on foot. It's very friendly to navigate, making it an excellent family destination.
Aside from housing Montreal's major tourist attractions, Old Montreal is also home to various elegant cafes, bars, shops, and structures. If you're wondering where to stay in Old Montreal, there are plenty of options. In fact, some of the finest upscale hotels are found in Old Montreal. With these establishments in town, Old Montreal features a great blend of antiquity and modern design.
Where To Stay at Old Montreal
Best Hotel: Hotel Épik Montréal
Housed in a historic building, Hotel Épik features an elegant yet comfortable vibe. The atmosphere is very relaxing and guests are treated to the best hotel amenities. Sitting at the heart of the city, it is walking distance to some of the top attractions. So, if you're wondering where to stay in downtown Montreal or old Montreal, put Hotel Épik on your list.
Best Hostel: Auberge Saint-Paul Hostel
Strategically located near Montreal's Old Port and other attractions, this hostel is an excellent pick in Old Montreal. From spacious and comfy rooms, up-to-date amenities to the friendly staff, there's no better hostel in the neighborhood. Auberge Saint-Paul Hostel lets you enjoy Montreal without hurting your budget.
Top Things To Do And Enjoy in Old Montreal
Explore the most spectacular church in the city, Notre-Dame Basilica. In addition to being a famous church, it is also one of the largest in North America.
Marvel at Pointe-a-Calliere Museum, a museum of archaeology and history.
Enjoy a horse-drawn carriage ride around the town. Carriage rides leave from Place d'Armes and Place Jacques Cartier.
Visit and explore the Old Port (Vieux-Port). This large waterfront park has many attractions including Cirque du Soleil and the Clock Tower.
Stroll along Place Jacques-Cartier. This pedestrian street boasts street artists, musicians, art galleries, as well as fine restaurants.
Dine at the famous Le Saint-Gabriel restaurant and have a taste of 1700s Quebec.
Explore Saint Laurent Boulevard, where you can find the main commercial and cultural streets of Montreal.
For the science and technology buffs, head to the modern Montreal Science Centre.
Turn back time when you visit the Chateau Ramezay Historic Site. A former Governor's residence, it is home to 18th-century pieces.
2.
For the Artsy: Plateau-Mont-Royal
If you're wondering where to stay in Montreal alone, Le Plateau fits the bill. Known as the coolest neighborhood in Montreal, there's little chance for solo travelers to feel alone and bored here.
Visiting Le Plateau treats you to row after row of colorful houses and brightly colored murals. Aside from that, Le Plateau is also home to the largest number of artists in Canada. This neighborhood is very much like a living gallery.
Aside from a vibrant art life, La Plateau offers various bars, cafes, restaurants, and shops. Families and solo travelers can also enjoy the bike lanes and wide sidewalks. With its cheerful and laid-back atmosphere, La Plateau makes exploring hassle-free.
Where To Stay at Plateau-Mont-Royal
Best Hotel: Hotel Kutuma
This four-star hotel offers spacious and fully-equipped suites. With just a short walk from the district center, this hotel is perfect for couples, families, and even solo travelers.
Best Hostel: Le Gite du Plateau Mont-Royal
Only 20 minutes away from the major attractions, this hotel lets you enjoy the finer side of Montreal. Indulge in comfortable rooms, a stunning rooftop terrace, and modern amenities. From dorm-type to private rooms, there are a variety of room types to choose from.
Top Things To Do And Enjoy in Plateau-Mont-Royal
Dine at Schwartz's Montreal Hebrew Delicatessen, a famous deli and one of the oldest in Canada. Signature offerings include huge sandwiches and smoked meats.
Explore the neighborhood on a bike. Don't forget to wear your trusty sunglasses while you're at it!
Visit Maison de la culture de Plateau-Mont-Royal to see local exhibits.
Taste the best poutine at La Banquise, which offers more than 25 varieties of this famous dish.
Visit one of Montreal's most iconic buildings, the Rialto Theatre.
Relax or take a leisure walk at Parc Lafontaine. One of the famous spots at Plateau-Mont-Royal, this huge green space offers bike paths and an artificial lake.
Catch a show at Theatre de Verdure. Secure a seat among its 3,000 seat capacity to watch performances, movies, and theatrical plays.
Have a good time at Bily Kun, a famous bar at the Plateau district. Here, you are treated to a fine selection of drinks, live jazz, and classical music.
3.
For Those On A Budget: Griffintown
If you're wondering where to stay in Montreal for cheap, Griffintown is a perfect choice. Once a working-class neighborhood, Griffintown today is a growing community of modern condos and business buildings. Industrial machinery and factories are now replaced by lines of modern restaurants and cafes, bike paths, and green spaces. This is among the Montreal neighborhoods that let you enjoy the perks of downtown minus the high rates.
Griffintown is one of Montreal's up-and-coming districts, where you can find great value for most things. Because of this, staying in Griffintown is great for those traveling alone or those on a budget.
Where To Stay at Griffintown
Best Hotel: L'Hotel Particulier Griffintown
Searching for Montreal hotels downtown? Make sure to check out L'Hotel Particulier. It's the perfect urban B&B in the heart of Griffintown. Sitting very close to the subway and Old Monreal, this hotel is an excellent choice to easily navigate the neighborhood.
Best Hostel: HI Montreal
This is a great choice when looking for where to stay in Montreal downtown or Old Montreal. Strategically close to Old Montreal, HI Montreal offers access to various shops, restaurants, and tourist spots. Enjoy its clean and comfortable rooms with free breakfast. HI Montreal is a great option for those traveling on a budget.
Best Airbnb: Chic living space in the center of town
For a much cheaper option, this chic Airbnb space is a modern condo conveniently located close to restaurants, shopping areas, and nightlife. Guests also have access to a gym, heated swimming pool, and saunas. Not at all bad for budget accommodation!
Top Things To Do And Enjoy in Griffintown
Learn about the history of sound at Musée des ondes Emile Berliner. This technical history museum in Montreal is home to a large collection of turntables and other radios testing equipment.
Have a bite of the best poutine in the city at Paul Patates.
Who doesn't like cheap beer, good ribs, and delicious meals? Enjoy them at Brasserie Capri, one of Montreal's oldest continuous bars.
For the art buffs, head to Parisian Laundry to see some contemporary artworks.
Enjoy a bike ride along the scenic Lachine Canal.
Have a taste of fine beers at Centre St-Ambroise. This outdoor microbrewery hosts happy hours, music shows, and film screenings.
4.
For the Nightlife: The Village
Where to stay in Montreal for the best nightlife, you ask? Gay Village, or simply called The Village, is the city's most exciting and vibrant neighborhood. The Village showcases diversity, openness, and creativity, making nightlife here worth staying up late for.
The Village is bustling with fine restaurants, trendy bars and cafes, and specialty shops. Head to the main street, Sainte-Catherine, for the best nightlife experience. The Village is also home to the lively LGBT community of Montreal. Here, everyone is bound to have a great time regardless of their sexual orientation. From food and drinks to parties and celebrations, The Village is the best spot to experience Montreal's nightlife.
Where To Stay at The Village
Best Hotel: Hotel Visitel
With just a 15-minute walk from Sainte-Catherine's Street, this boutique hotel is ideal for visitors planning to stay in The Village. Boasting cozy rooms, Hotel Visitel promises comfort without hurting your budget. This 2-star hotel is also among the Montreal hotels with parking in this neighborhood.
Best Hostel: M Montreal
Nestled in the center of The Village, M Montreal is a great mix of modern and historic taste. This 3-star hotel is a stone's throw away from the best bars, fine restaurants, and hottest clubs.
Best Airbnb: Chic Soho condo close to amazing nightlife
This cozy and spacious condo is among the top Airbnb options in The Village. With a sleek and trendy style, this condo unit can accommodate up to three people. Aside from that, it is also close to delicious dining options and trendy bars.
Top Things To Do And Enjoy in The Village
Enjoy drinks at Pub Sainte-Elisabeth, a famous Montreal pub. This European-styled pub is renowned for its unique hideaway terrace. Besides that, this pub offers a great selection of cocktails, microbrews, and casual grub.
Dance the night away at Bar Le Saint-Sulpice. This huge bar is a three-floor club, and each floor offers a unique vibe.
Sample local and international beers at Le Saint Bock.
Enjoy a good laugh at La Comedie de Montreal. This theater-cafe offers humorous plays and vaudeville comedies.
Watch a drag show at Cabaret Mado, where legendary drag queen Mado performs. Other celebrities and drag queens are also spotted here.
Visit Amherst Street and shop for antique and unique pieces.
If you're visiting in late-July/early-August, join the colorful and exciting pride celebrations and parade in Montreal.
5.
For Those With Kids: Rosemont-La Petite-Patrie
Among the Montreal neighborhoods, Rosemont-La Petite-Patrie is the best when visiting with the family. This side of the city has more than 50 parks, a series of urban villages, and beautiful gardens. These contribute to the very peaceful and friendly vibe of this neighborhood.
Home to Little Italy, expect to find an array of delicious restaurants, pizzerias, cafes, and shops. It is also home to North America's largest public and shopping district of Rue Saint-Hubert.
Where To Stay at Rosemont-La Petite-Patrie
Best Hotel: Hotel Universel Montréal
A perfect blend of comfort and urban vibe, Hotel Universel Montreal is ideal for families staying in this district. Located in Montreal's Sports, Leisure, and Garden District, this is among the best Montreal hotels downtown. The location allows you to engage in leisure, sports, and entertainment activities. Aside from that, this 4-star hotel has indoor and seasonal outdoor pools.
Best Hostel: Pied-A-Terre Mont-Royal
Close to major attractions, bars, cafes, and restaurants, this is the closest hostel to Rosemont-La Petite-Patrie. The rooms are clean and comfortable, making it a top choice among travelers and explorers.
Best Airbnb: Private and Spacious Vacation Home
You don't need to splurge on a hotel when in Rosemont-La Petite-Patrie. When traveling with your family, this charming studio apartment is perfect for families. Comfortably nestled on 4th avenue in Old-Rosemont, this Airbnb is close to trendy coffee shops, bars, and restaurants. What's best about this apartment is that it is located in a safe neighborhood.
Top Things To Do And Enjoy in Rosemont-La Petite-Patrie
Visit and shop at a year-round indoor farmers market at Jean-Talon Market.
Relax or play some outdoor games with the kids at Dante Park.
Marvel and explore at the stunning Romanesque Church of Madonna della Difesa.
Have a taste of traditional Italian fare in Little Italy.
Visit the 75 hectares of thematic gardens at Montreal Botanical Garden.
Another garden worth visiting is the 15-acre Japanese Garden. Here, you can relax and unwind with a cup of tea.
Visit the Trapezium for some trapeze lessons.
Sample some local Quebec products at Le Marché des Saveurs.
Explore and shop the more than 400 boutiques on Rue Saint-Hubert.
Best Time of Year to Visit Montreal
Where to stay in Montreal is never going to be an issue as there are various accommodations to suit your needs. However, when visiting this gem of a city should be taken into consideration. Just like in any destination, timing can make or break your trip. And of course, the best time to visit Montreal depends on the nature of your visit.
Temperatures in Montreal are mild during springtime in March to May and fall from September to November. These months are perfect to visit Montreal and enjoy a lot of outdoor activities.
Since Montreal has a continental climate, winter brings in the notorious cold. Plan for this accordingly, if you want to visit this Canadian city from December to April. During summer, which is from June to mid-September, visitors will experience warm and hot, humid weather. Summertime is also the peak season for tourists. As a result, hotel rates are higher and the crowds in public places are bigger. When visiting during this time, you should book your hotels and accommodations.
Other Quick Tips And Facts
Among the cities in Quebec province, Montréal is the largest. Over 1.7 million people call this city their home.
People in Montreal speak both French and English languages. In fact, Montreal is among the five largest French-speaking cities in the world.
Quebecoise loves festivals. Whichever month you visit, you'll probably catch a festival.
Having the highest number of restaurants per capita in North America, there's no reason to go hungry in Montreal.
Montreal is known for its best-tasting bagels. Fairmount and St-Viateur Bagel bakeries hold the top spots.
The drinking age in Montreal is 18.
Come To Montreal Where A Little Piece Of Europe Awaits You!
With its impressive architecture with European influence, Montreal makes for an interesting destination. Since it is home to many and diverse neighborhoods, choosing where to stay in Montreal won't be an issue.
So, pack your bags and plan well ahead. Montreal is ready to greet you with its historical and cultural activities, fine cuisine, and vibrant nightlife!