15 Must-Try Bubble Tea Near Me in the USA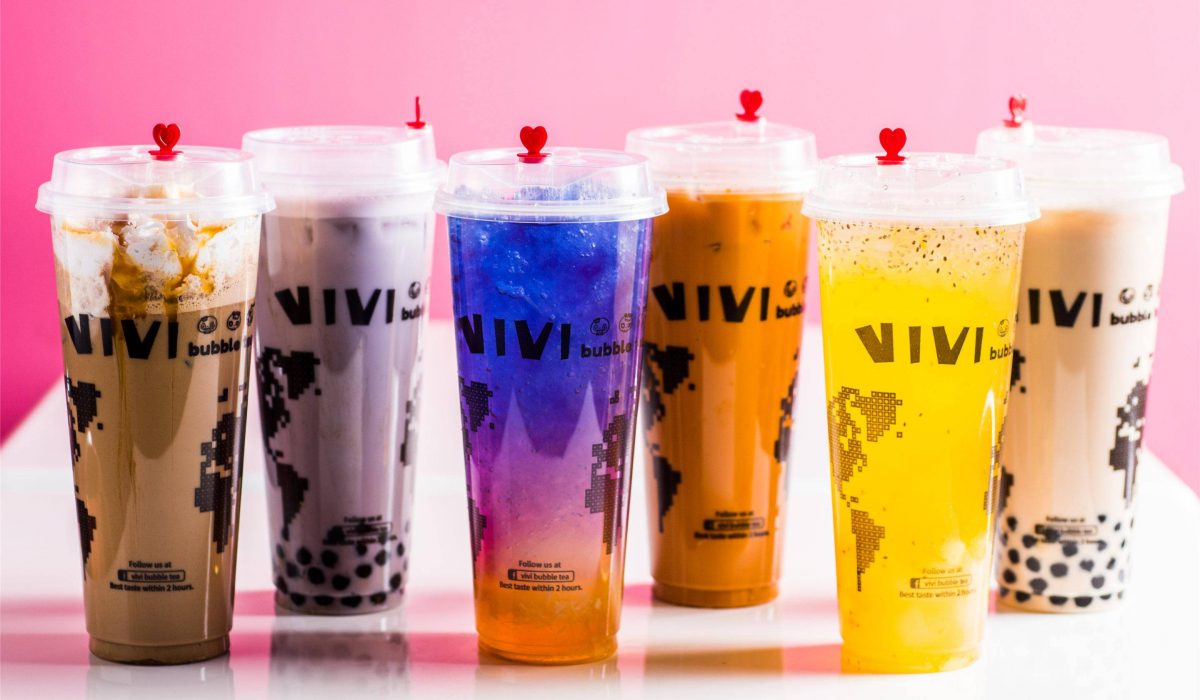 From Taiwan's favorite drink to being beloved globally, bubble tea is taking over the beverage industry– one chewy tapioca pearl at a time. Also known as boba tea, this simple yet deliciously refreshing drink has had many variations over the years. Bubble tea brands have their own take on the original recipe, adding fun bubble toppings such as popping boba or crystal boba. These drinks can be cute, fun, and colorful, which adds to their appeal.
That said, whether you're a self-proclaimed bubble tea connoisseur or looking for the best "bubble tea near me", we have the best bubble tea stores you can find in the U.S. From New York to Florida and even Louisiana, here are 15 must-try bubble tea places.
Top 15 Bubble Tea Near Me in The US
1. Kung Fu Tea – New York City
Where can you find one of the best bubble teas in New York? Hop over to Kung Fu Tea. Only a decade old, Kung Fu Tea in New York City has since become one of America's biggest bubble tea brands with over 350+ locations in the country. Almost like the equivalent of Starbucks in the world of bubble tea, if you search for "places that sell bubble tea near me", you're sure to find a branch near you!
What makes them special? Their tea is freshly brewed every three hours and their boba is cooked every two hours, guaranteeing full boba flavors each time. Give their bestsellers Kung Fu Boba Milk Tea and Kung Fu Green Tea a try!
Fun fact: Did you know that April 30 is National Boba Day? It is the same date Kung Fu Tea opened its first shop in New York City!
Where to find Kung Fu Tea bubble tea near me in New York?
Address: 234 Canal St. Ste 107. New York, NY 10013
Opening hours: Opens from 11 am to 8 pm daily


2. Gong Cha – Orlando, Florida
Brewing happiness is what the Gong Cha brand hopes to deliver in every cup. And safe to say, they have achieved that. As one of the biggest bubble tea chains in the world, Gong Cha takes pride in the quality of its ingredients, from tea leaves to its patented milk foam formula.
The Gong Cha menu is a feast for any bubble tea lover and picking just one of their drinks is a challenge in itself! They have bubble milk teas, fruit teas, coffee, and a wide selection of toppings from aloe, and pudding to cheese foam. Their Royal Milk Tea with Pearl alone is worth taking the trip to a shop near you.
Where to find Gong Cha bubble tea near me in Orlando?
Address: 2100 E Colonial Dr Unit D, Orlando, FL 32803, United States
Opening hours: Opens from 11 am to 9 pm daily
3. Sharetea – DC Chinatown
Did you know that Sharetea's founder Cheng Kai-Lung used to be a film director? After quitting his job and experiencing hardships, he found sweet success (in a cup!). As one of the pioneers in the bubble tea industry, Sharetea, has been, well, sharing tea in Taiwan since 1992 before it slowly inched its way to the global scene.
If you're looking for Thai tea near me, you have to try Thai Pearl Milk Tea. It is as authentic as they come and is also available as a bubble tea kit! They also provide catering services, which you can leverage for any party or occasion (20 cups minimum).
Where to find Sharetea bubble milk tea near me in DC Chinatown?
Address: 519 H St. NW, Washington, DC 20001
Opening hours: Opens from 11 am to 8:30 pm daily
4. Tiger Sugar – Mesa, Arizona
Responsible for the black sugar boba tea trend back in 2017, Tiger Sugar definitely proves that age is really just a number, especially in the business of bubble tea. While the tiger stripes using hand-poured syrup is one of their signatures, their knack for creating the best tapioca pearls – 8 hours of slow cooking under watchful eyes – is what puts them high on this list.
They also have a selection of other milk tea flavors, all of which use fresh milk for extra creaminess. But, they also offer lactose and dairy-free options if you prefer a healthier version.
Where to find Tiger Sugar bubble tea near me in Mesa, Arizona?
Address: 67 N Dobson Rd #110, Mesa, AZ 85201
Opening hours: Opens from 11 am to 8:30 pm daily
5. Bambu – San Jose, California
Right in the heart of San Jose, California's Vietnamese community is where Bambu was born. The four sisters behind this venture set out to provide fresh, vegetarian, and authentic desserts and drinks. If it's a healthy bubble tea you're after, Bambu is the top choice.
Among their top sellers is their Chè, a traditional Vietnamese dessert made with coconut cream, tapioca pearls, and sweet beans. They also have a variety of bubble tea flavors, alongside house-made Vietnamese coffee crepes, waffles, and Bahn Mi sandwiches. We recommend trying their signature, Avocado Coffee Blend. Strange yet exquisite, perfect for any foodie!
Where to find Bambu bubble tea near me in San Jose, California?
Address: 949 McLaughlin Ave, San Jose, CA 95122
Opening hours: Opens from 9 am to 8 pm daily
6. T4 – Los Angeles, California
Simplicity (and punny) is key and T4 knows this well. T4, which is derived from the greeting "a cup of TEA FOR you" is also their mission statement – to bring happiness to all their customers with their tea. And they weren't kidding about it, either. Their unique milk tea and bubble tea flavors, paired with classic street food you can find at Taiwan night markets will certainly put a smile on anyone's face.
Some of their highly raved bubble tea flavors include Taro Milk Tea, Jasmine Green Milk Tea, and Peach Royal Tea. But their Rose Aloe Milk Tea and Panda Milk Tea are strong bias wreckers as well.
Where to find T4 bubble tea near me in Los Angeles?
Address: 8440 Balboa Blvd Ste 103, Northridge, CA 91325, United States
Opening hours: Opens from 11 am to 8 pm daily
7. Ding Tea – Harvey, Louisiana
What are the possibili-teas when it comes to bubble tea? Ding Tea believes it's infinite. You'll find that their menu is always expanding as they add a new bubble tea recipe each time. They are also at the forefront of innovation, not just when it comes to tapioca pearls or creating chewy boba, they also have unique items such as Cactus green tea!
For a less adventurous option, you can also try their signature milk tea. It has premium Assam black tea that the shop brews fresh every two hours. Mixed with a non-dairy creamer, you get full-bodied and authentic Taiwan bubble tea.
Where to find Ding Tea bubble tea near me in Harvey?
Address: 1440 Lapalco Blvd, Harvey, LA 70058, United States
Opening hours: Opens from 11 am to 9 pm daily
8. Boba Guys – Union Square, San Francisco
Behind Boba Guys are two friends with a serious love for bubble tea. They bonded over their shared fondness for it until their go-to boba place eventually shut down. Who would have thought this would be the catalyst for their own business? From learning how to make boba themselves to allowing others to experience the same joy of building their own drinks through their boba kits, Boba Guys is certainly a labor of love.
The Boba Guys' menu is quite extensive and the best bit is that the nutrition information for each of their drinks is available on their website. What are some of our faves? Their Matcha and Hojicha bubble milk teas are creamy with just the right sweetness. You can even choose your own topping, from boba, chia seeds, or almond jelly.
Where to find Boba Guys bubble tea shop near me in Harvey?
Address: 429 Stockton St., San Francisco, CA 94108
Opening hours: Opens from 11 am to 60 pm daily
9. Vivi Bubble Tea – Hoboken, New Jersey
Ever wondered what clouds would taste like? Well, VIVI Bubble Tea in New Jersey has the answer. You can say goodbye to gloomy skies with their kawaii cotton-candy-topped milk teas that are simply too sweet to resist. Their instagrammable creations aren't just aesthetically pleasing, though. The drinks taste as good as they look!
From ombre fruit drinks to colorful boba pearls, it isn't too surprising that this bubble tea cafe has become a local favorite. Don't expect artificial flavoring from this dedicated boba cafe, though. They use the best quality bubble tea ingredients, ensuring that each serving is yummy and refreshing.
Where to find Vivi Bubble Tea near me in Hoboken?
Address: 117 Washington St, Hoboken, NJ 07030, United States
Opening hours: Opens from 11 am to 9 pm daily
10. Coco Fresh Tea and Juice – Quincy, Massachusetts
With over 20 locations in the United States, who wouldn't be familiar with the Coco bubble milk tea brand? They have a variety of boba tea options and a selection of invigorating fruit teas that everyone will enjoy. Coco also made a number of macchiato bubble tea flavors and slushies, and we must say, they are pretty good without being too jarringly sweet.
As for our favorites, we love their cloud black tea because of its bold flavor and salty cream foam. They also have a red bean drink with tapioca balls and fresh Lactaid milk– a must for any adventurous foodie. Nuff said, head on down to try them and Coco might just make you loco!
Where to find Coco bubble tea near me in Quincy?
Address: 475 Hancock St, Quincy, MA 02171
Opening hours: Opens from 10 am to 8 pm daily
11. Yifang Taiwan Fruit Tea – Miami
Victoria who? Grandma Yi Fang has all the tea. Head on over to Yifang's where you'll find Taiwanese bubble tea made following Grandma's secret recipe. Their shops only use premium natural ingredients, ensuring that each cup is bursting with refreshing sweetness and goodness you can only find here.
Aside from boba, they also have a selection of fruit and fragrant teas that can be served hot or cold. If this is your first time, give their bestsellers a try– the Yi Fang Signature Fruit Tea, Pineapple Green Tea, and Aiyu Jelly Lemon Green Tea are all winners in our book!
Where to find Yifang bubble tea near me in Miami?
Address: Dadeland Mall, 7535 N Kendall Dr, Miami, FL 33156
Opening hours: Opens from 11 am to 8 pm from Mondays to Thursdays. From 11 am to 9 pm on Fridays and Saturdays, and from 11 am to 7 pm on Sundays.
12. Tapioca Express – San Diego
Bubble tea may be a snack but here at Tapioca Express, you can make it a full meal. Weird? Hear us out. This Taiwanese-American fast food chain serves fried chicken waffles, wraps, and even rice meals that go well with their large variety of boba teas! Think waffles with milkshakes, and rice meals with refreshing fruit tea, major yums. Oh and don't leave their store if you have yet to try their Strawberry Frosti Milk with boba pearls and Pina Colada Snow Bubble.
Where to find Tapioca Express bubble tea near me in San Diego?
Address: 7770 Regents Rd. Ste 101. San Diego, CA 92122
Opening hours: Opens from 10:30 am to 9:30 pm daily.
13. Yaya Tea Garden – Chinatown, New York City
Want a customized Boyfriend? At Yaya Tea Garden you can. This bubble tea store in New York allows guests to pick their own bubble tea ingredients to add to their Boyfriend tea. Choose from toppings such as mango stars, aloe vera, or classic tapioca. To give your drink more character, why not choose popping boba? They have multiple boba flavors to pick from, including lychee and strawberry. You can even make your "boyfriend" as sweet as you want by choosing the right sugar level for your palate!
Where to find Yaya Tea bubble tea near me in New York City?
Address: 51 Chrystie St, New York, NY 10002, United States
Opening hours: Opens from 10:30 am to 8 pm daily.
14. Brew Tea Bar – Las Vegas, Nevada
Is bubble tea high in caffeine? Yes, if you have a tea specialist like Brew Tea Bar. At Brew Tea Bar in Las Vegas, their team is always ahead of the curve when creating bubble tea recipes– both caffeinated and not. From using the highest quality tea leaves and setting the right temperature they are able to handcraft the best drinks.
It isn't just the boba tea that will keep you coming back, though. Aside from kid-friendly options such as Oreo milk tea. You can even build your own crepes to pair with their crowd-favorites such as the Hong Kong, Okinawa, and Hokkaido milk teas. Make your life brewteaful and get your hands on some of these treats!
Where to find Brew Tea Bar bubble tea near me in Las Vegas?
Address: 7380 S Rainbow Blvd #101, Las Vegas, NV 89139
Opening hours: Opens from 11 am to 10 pm daily.
15. Sencha Tea Bar – Minneapolis, Minnesota
Looking for bubble tea in Minneapolis? Check out Sencha Tea Bar. They have a selection of premium teas from around the world and loose tea kits available. Choose from a variety of blends, including chocolate lovers, clean energy, and winter wellness, among others. Sencha has a tea that'll fit any mood you're in! You can also get some of their boba kits and instant boba packs to make those sweet tapioca balls at home.
Not a tea person? Then try their cold brew coffee boba instead. It's the perfect cold brew blend topped with creamy coconut and taro for a unique and satisfying caffeine fix.
Where to find Sencha bubble tea near me in Minneapolis?
Address: 2601 Hennepin Ave S, Minneapolis, MN 55408, United States
Opening hours: Opens from 9 am to 10 pm daily.
Experience a world of flavor with bubble tea!
Bubble tea places near you aren't hard to find, but getting the best boba tea flavors? You'll have to search high and low for that. From milk teas, and fruit teas, to even boba coffees, we hope this list of the best bubble tea brands in the United States has been a great boba tea guide for you to find your next indulgence.
Still craving? Here are the best coffee shops you must visit in the US!