Everything You Need To Know About Pittsburgh Zoo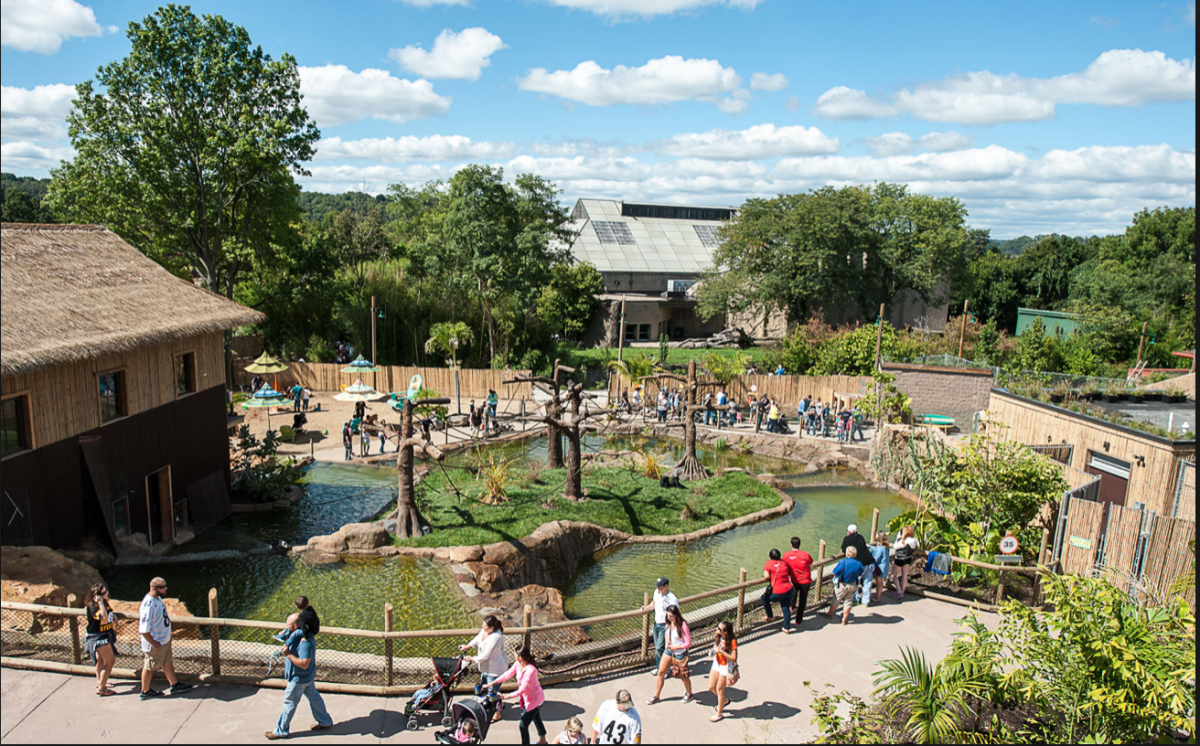 Ah, Pittsburgh. The City of Bridges. Pittsburgh Zoo is one of the top zoos in the United States and has been ranked as a 'Top Five' zoo by Parents Magazine. The zoo opens its doors to one million visitors per year and is only one of six zoo and aquarium combinations in the United States.
Pittsburgh Zoo, spanning 77 acres of parkland, exhibits more than 4,000 animals of 475 different species, including 20 endangered and threatened species. The Pittsburgh Zoo and PPG Aquarium aims to build awareness of beauty and importance of the natural world and those who live within it. Through their diverse array of exhibits, educational programmes and conservation projects, Pittsburgh Zoo educates, informs and entertains everybody, both young and old.
If you ever wanted to go visit The Steel City and admire these majestic creatures, read on to find out everything you need to know about Pittsburgh Zoo.
Main Attractions
Zipline
You don't need to be exploring the wilderness of Hawaii or the rainforests of the Amazon to soar through the skies on a zipline. Pittsburgh Zoo offer the chance to launch from the highest point in the zoo, overlooking the Allegheny River and embark on the heart-pumping, adrenaline-rushing journey of your life. Fly over lush greenery and spectate at the diverse animals below your feet. Buckle in. You're in for a bumpy ride!
Giraffe Meet and Greet
Get up close and personal with these long-necked mammals at Pittsburgh Zoo's Giraffe Meet and Greet every Mondays, Wednesdays and Fridays between 11am and noon.
Fun fact: the scientific name of giraffes, Giraffa Camelopardalis, loosely translates as a 'Camel marked like a leopard who walks swiftly'. Now that you know that, you can tell them yourselves!
Polar Bear Enrichment
You don't have to be shivering in the North Pole and bundled up in a fur jacket to watch these beautiful pure white bears. Come along to the Polar Bear Enrichment exhibition at Pittsburgh Zoo every Tuesdays and Thursdays at 11 am. Watch how polar bears survive and thrive in our ethical enclosure.
You can also catch a training session and observe how the bears are encouraged to exhibit their natural majestic beauty.
Popular Animals
Pittsburgh Zoo would not be a reputable zoo without the brilliant animal encounters visitors can make. They look after a multitude of animals from a diverse range of species. Including hippopotami to African elephants, Komodo dragons and flamingos.
However, there are a few animals which our visitors flock to the most.
African Lions
Hear the mighty roar of the kings of the jungle and listen to it resonate across Pittsburgh Zoo. Visit the African Lion enclosure to watch how jungle royalty takes their throne and rule over their kingdom of Pittsburgh Zoo.
Amur Tigers
This endangered species of exotic cats slink around the protected enclosure of Pittsburgh Zoo, with an air of majesty and grace. This threatened species is at the top of the food chain, which makes it integral that the survival of the species is maintained. Within their protection and conservation projects, Pittsburgh Zoo protects them from poachers and aims to enlarge their habitat.
Cheetahs
Catch a glimpse of these agile exotic cats if you can. With an estimate life span of 8 to 10 years in the wild, these endangered beauties literally run the risk of extinction. However, with Pittsburgh Zoo's meticulously maintained conservation projects, the cheetahs in care can live up to 17 years.
Food and Beverage Outlets
There are several food and beverage outlets on or near the premises of the zoo. The restaurants cater to all and provides delicious food and drinks in a family-friend atmosphere.
Jambo Grill
Located within the grounds of Pittsburgh Zoo, Jambo Grill offers healthy and tasty meals and snacks in a friendly-family environment. Looking over the African Savannah section, visitors can watch the animals whilst tucking into a yummy and diverse menu of burgers, sandwiches, pizzas, salads and snacks.
Eddie's Pizza Haus
If you're feeling like a slice of pizza would be the perfect accompaniment to a visit of Pittsburgh Zoo, Eddie's Pizza Haus is the place to get it. Located a few streets away from the grounds of Pittsburgh Zoo, Eddie's Pizza Haus has an esteemed 20-year history of providing fresh, authentic and tasty Italian pizza to the city of Pittsburgh.
How to Get There
The zoo is located at 7370 Baker Street, Pittsburgh, PA 15206, between the neighbourhoods of Lawrenceville and Highland Park.
Make a quick turn on Baker street to arrive at Butler Street. The main entrance of the zoo is known as the Butler Street entrance.
Free parking is available in the main parking lot at the Butler Street entrance. Public transport is also available.
Opening Hours
Pittsburgh Zoo is open all year round, however peak season is during the summer months, between Memorial Day weekend and Labor Day. Due to a number of variables i.e. weather conditions, animal needs etc, adjusted scheduling may occur during the fall, winter and spring. Indoor exhibits, The Tropical Forest Complex, PPG Aquarium and Kids Kingdom close 15-30 minutes before the Zoo closes.
| | | | |
| --- | --- | --- | --- |
| 2019 Hours | Park Opens | Gates Close | Park Closes |
| Spring (Apr 1 to May 24) | 9am | 4pm | 5pm |
| Summer (May 25-Sept 2) | 9.30am | 4.30pm | 6pm |
| Fall (Sept 3 – December 31) | 9am | 4pm | 5pm |
| Winter (Jan 2 – March 31) | 9am | 3pm | 4pm |
Tickets
Ticket prices vary between seasons due to increased popularity during the summer months and animal needs in the fall. However, ticket prices remain affordable and cost-effective whatever time of the year you decide to go, with only $1 difference!
Read the tables below for the approximate prices for tickets to the best zoo experience in the world.
Summer Rates
| | |
| --- | --- |
| Category | Prices |
| Adults | $17.95 |
| Seniors (60+) | $16.95 |
| Children (2-13) | $15.95 |
| Children (Under 24 months) | FREE |
| Parking | FREE |
Fall Rates
| | |
| --- | --- |
| Category | Prices |
| Adults | $16.95 |
| Seniors (60+) | $15.95 |
| Children (2-13) | $14.95 |
| Children (Under 24 months) | FREE |
| Parking | FREE |
All active duty, reservists and veterans of the United States military receive free general admission with proper identification in the form of standard military ID. Unfortunately. the discount does not extend to family members of US military personnel, however the deprivation of a good time at Pittsburgh Zoo would never apply to anyone ever!
Hotels
Hotel Indigo Pittsburgh East Liberty
Located only 1.8 miles away from Pittsburgh Zoo and PPG Aquarium, the boutique 3-star Hotel Indigo provides clean, elegant and spacious rooms suitable for families of all sizes. The hotel offers a wide array of cost-effective and practical amenities and facilities from a fully equipped gym to a swanky bar.
SpringHill Suites by Marriott Pittsburgh
Located near the Bakery Street shopping centre lies the stylish and laid-back 4-star hotel of SpringHill Suites by Marriott Pittsburgh. The all-suite hotel provides multitudes of space for large families, as well as a wide choice of facilities to enjoy. Enjoy the lobby bar, indoor swimming pool and complimentary Wi-Fi and breakfast.
Nearby Tourist Attractions
It is no wonder that for a region that Carnegie Mellon University calls home, Pittsburgh is a hub for learning and development. There are several museums and learning-based tourist attractions that offers not only fun, but also educational and informative experiences for all the family.
Carnegie Museum of Natural History
If the kids are tired of seeing the animals that slink around Pittsburgh Zoo, take them to the Carnergie Museum of Natural History to let them gaze at what remains of the animals that roamed the earth millions of years ago. With a fascinating dinosaur display, an indistinguishable replica of the Amazon rainforest and several other informative and captivating exhibits, the museum offers a fact-filled day of knowledge and fun all wrapped in one.
PPG Paints Arena
If you happen to be a hockey-enthusiast, take a trip to the PPG Paints Arena to visit the esteemed home of the city's NHL team, the Pittsburgh Penguins. Relax, sit back, enjoy the state-of-the-art facilities and catch the game. Happy viewing!
Final Thoughts
Pittsburgh Zoo and PPG Aquariums offers individuals from all backgrounds and ages a day of educational and interactive fun. The zoo ensures to uphold high ethical and moral standards when it comes to building and maintaining their conservation projects. The animals in the careful hands of Pittsburgh Zoo are protected and cared for, whilst still upholding their natural majesty and grace that is standard when in the wild.