Everything You Need to Know About Memphis Zoo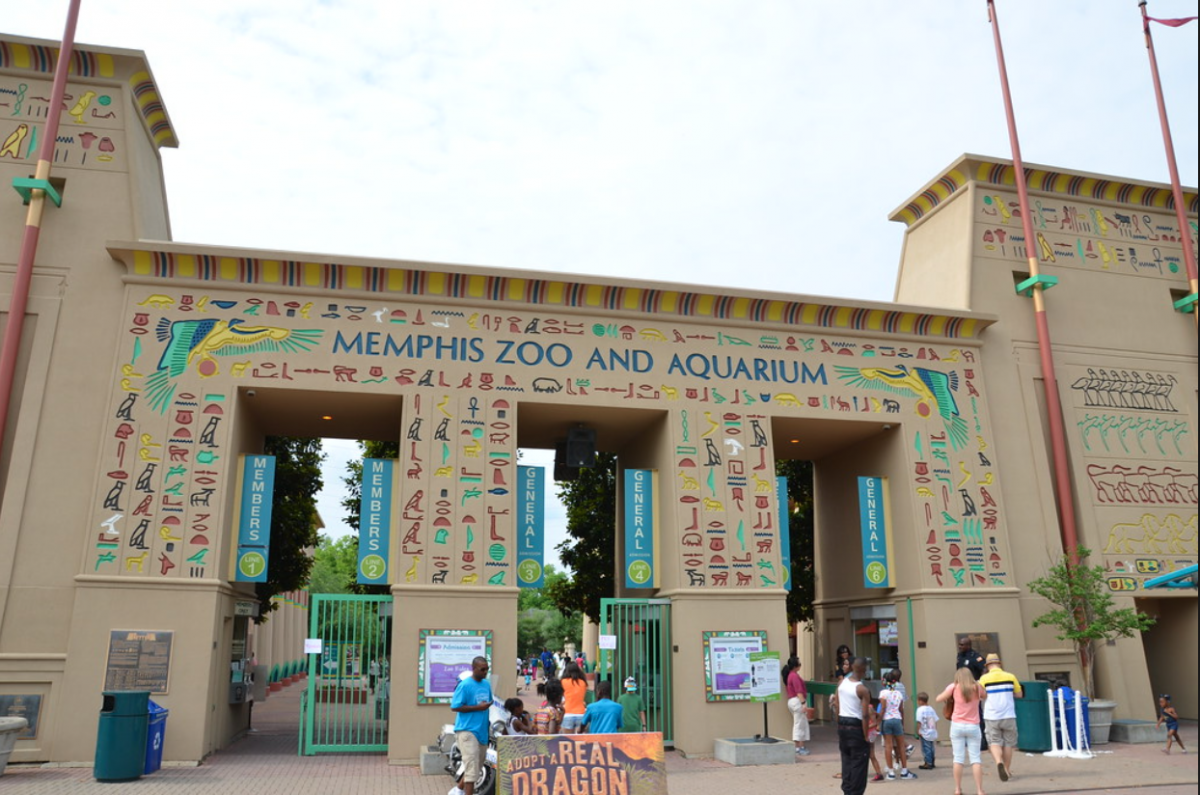 Located in the Birthplace of Rock 'n Roll, stands the famous Memphis Zoo. Voted the '#1 Zoo in the US' by TripAdvisor and the 8th 'Best Zoo in the US' by USA Today readers, the 100-year-old Memphis Zoo is home to more than 3,500 animals of over 500 different species.
Memphis Zoo opens its doors to over one million visitors every year. It is noted as the number one tourist attraction in Memphis and the sixth largest tourist attraction in the state of Tennessee.
If you wish to take a trip to Grind City and spectate at the exotic animals on display, read below for an 'all-you-need-to-know' guide to Memphis Zoo.
Memphis Zoo's Main Attractions
Miniature Railroad
You don't need to be living in a fairytale to take a trip down Once Upon a Farm. The miniature railroad allows visitors to take a scenic route exploring the popular exhibit of Once Upon a Farm. The exhibit takes a leaf out of the history books and is built to resemble a Southern farm circa early 20th century.
Animals that call the exhibit home include Caspian horses, domestic goats and chickens, miniature cows and donkeys, prairie dogs, Pekin ducks and Babydoll sheep. Other additions to the exhibit include a vegetable patch, a cotton patch and rows of cotton to provide authenticity to the aesthetic of an early 1900s Southern farm during the growing season.
Strap in, glide peacefully through the exhibit and be transported back in time.
Northwest Passage
A thematic tribute to the Canadian culture of the First Nations in British Columbia, the Northwest Passage displays the native animals and horticulture of the region. This $23 million-dollar exhibit is home to Memphis Zoo's polar bears, an underwater viewing building, sea lion observation bubble and 500-seat amphitheatre for daily sea lion shows.
Native American culture is heavily featured within this exhibit. There are messages of conservation inspired by famous Native American chief, Chief Seattle. Besides that, there is also a display of six hand-carved totem pools that received a traditional Native American blessing ceremony when they first arrived at the zoo.
Teton Trek
You don't need to be trekking and sweating to travel to the famous Yellowstone National Park. You can find here at Memphis Zoo! Marvel at the 25-foot replica of the renowned Old Faithful Geyser at the entrance of the Teton Trek. Gaze down the 25-foot replica of Yellowstone's Firehole Falls.
The Teton Trek is home to some of the keystone species found within the Yellowstone National Park, including grizzly bears, elk, timberwolves, river otters and sandhill cranes. There is no need to travel to Wyoming, Idaho or Montana to soak in the sights of the famous national park. You can find its best features here in Memphis Zoo.
Memphis Zoo's Famous Animals
Giant Pandas
Say hello to 'Le Le' and 'Ya Ya', Memphis Zoo's resident giant pandas. The giant panda is a global symbol of animal conservation. A species that once roamed several regions of China, pandas have now been pushed into mountainous regions, threatening their survival.
One of four US zoos that houses giant pandas, Memphis Zoo has made great strides in panda reproduction studies, including predicting the due date of a pregnant panda with astounding accuracy.
African Lions
Bow down to the kings of the zoo in all their majesty in the Cat Country exhibit of Memphis Zoo. Witness sisters, Akeelah and Jamela interact with their mate, Thabo and watch them behave in their natural environment with their inborn grace and regality.
African lions have been a pre-existing jewel in Memphis Zoo's crown, with the first lions arriving in 1906. 1906 was also the year when the beloved Dwyer, a Barnum & Bailey Circus lion, joined the Memphis Zoo family.
Sea Lions
Watch these clever aquatic animals bounce balls, play tricks and even paint at Memphis Zoo! Say hello to the resident sea lion babies; Remy, Catalina, and Buttercup, who live within the Northside Passage exhibit alongside Teva and her parents, Callie and Andre.
Although the collection of the resident sea lions is near and dear to the heart of Memphis Zoo, Andre is an incredibly special animal. A Hurricane Katrina victim, Andre was washed into a bayou when the hurricane hit. After being stranded in the swamp for two weeks without food or water, a local fisherman found him and informed his keepers. He has been in the care of Memphis Zoo ever since.
Memphis Zoo Dining Options
Cat House Café
You don't need to choose from one type of cuisine or menu here at the Cat House Café. Offering three varied menus of pizzas, deli subs or grilled food including burgers, catfish sandwiches, chicken fritters, and hot dogs, visitors can eat to their heart's content. The Cat House Café is a family-friendly restaurant which additionally offers a wide variety of kids menus and healthy options for all the family.
Carts and Kiosks
You may feel like you're at the fairground rather than the zoo when you spot the wide variety of carts and kiosks dotted around the zoo. Offering ICEEs, popcorn, cold drinks, ice cream, and Dippin Dots, the carts and kiosks are perfect to grab a quick bite to eat during your day of fun.
How to Get To Memphis Zoo
The Zoo is nestled within Overton Park, Midtown Memphis. If you are using a GPS, you can find the zoo at the address of 2000 Prentiss Place, Memphis, TN 38112. MATA Bus Services offers direct routes to the zoo with Bus 50 running along the Poplar line and Bus 53 running along the Summer line.
Memphis Zoo Opening Hours
During the summer (March 3 – October 14), the zoo operates between the hours of 9am to 6pm. In the winter months (October 15 – March 2), the zoo opens its doors between the hours of 9am to 5pm. Last admission to the zoo is one hour prior to the zoo closing. The zoo is closed during the day of Thanksgiving, Christmas Eve and Christmas Day. However, the zoo opens on Thanksgiving Night and Christmas Night at 5.30pm for SanTrust Zoo Lights.
| | | |
| --- | --- | --- |
| Opening Hours | Winter (October 15 – March 2) | Summer (March 3 – October 14) |
| Opening | 9am | 9am |
| Closing | 5pm | 6pm |
Memphis Zoo Tickets and Packages
Ticket prices for general admission comprise of: $18 for adults (12-59), $13 for children (2-11) and $17 for seniors (adults 60+). Groups of 20 or more will receive a 20% discount on the price of general admission tickets. US military personnel can purchase Discounted general admission tickets.
| | | | |
| --- | --- | --- | --- |
| | Adults (12-59) | Children (2-11) | Seniors (60+) |
| Ticket Price | $18 | $13 | $17 |
Hotel(s) Near Memphis Zoo
The Peabody Hotel
Famously known as the 'South's Grand Hotel', the esteemed and luxurious Peabody Hotel is a stylish and sophisticated four-star haven in Downtown Memphis. A member of the Historic Hotels of America, the Peabody is world renowned for its charm, elegance and high-quality hospitality.
Rates start at $269 per night and Memphis Zoo offers a cost-effective and generous package of 4 passes (2 adults and 2 kids) to Memphis Zoo, buffet breakfast for two in Capriccio Grill, complimentary breakfast for kids under 12, complimentary internet access and self-parking in Peabody Parking Garage.
Tourist Attractions Near Memphis Zoo
Graceland Mansion
Visit the world-famous past residence of the King of Rock 'n' Roll. Once home to Elvis Presley, Graceland now stands as a tribute and museum to the Pelvis himself. Wander the halls and walk through the gardens of the residence which the King called home. Graceland offers visitors a glimpse into the private life of Elvis. Personal items of the Presley estate and exhibits of his family are also on display.
National Civil Rights Museum
If you happen to be a history buff, catch a glimpse of the history of the country at the National Civil Rights Museum. It was built around the former Lorraine Motel, the site of Martin Luther King Jr's assassination. Visitors are informed about the growth of a movement that changed the history of the nation forever through interactive exhibits.