Pure white sugar sand beaches. Stretches of turquoise sea. These are some of the astonishingly breathtaking views that you can treat yourself to when you stay at the Lido Beach Resort in Sarasota, FL. A stunning Gulf Coast city, Sarasota's tropical climate and Latin flavour could trick you into thinking you're living the high life in Cuba or Brazil rather than the States. It's no wonder that Sarasota is also known as 'We Live Where You Vacation'. A stay at the Lido Beach Resort is guaranteed to provide a rejuvenating escape from the stresses and strains of normal everyday life. With a diverse array of facilities and amenities, it is going to be a struggle to go home.
If you happen to be an independent solo traveller, one big happy family or a loved-up couple looking for a revitalising vacation, then look no further. At the Lido Beach Resort, there is something for everyone. Carry on reading for the ultimate complete guide on the Lido Beach Resort.
Lido Beach Resort Facilities
Pool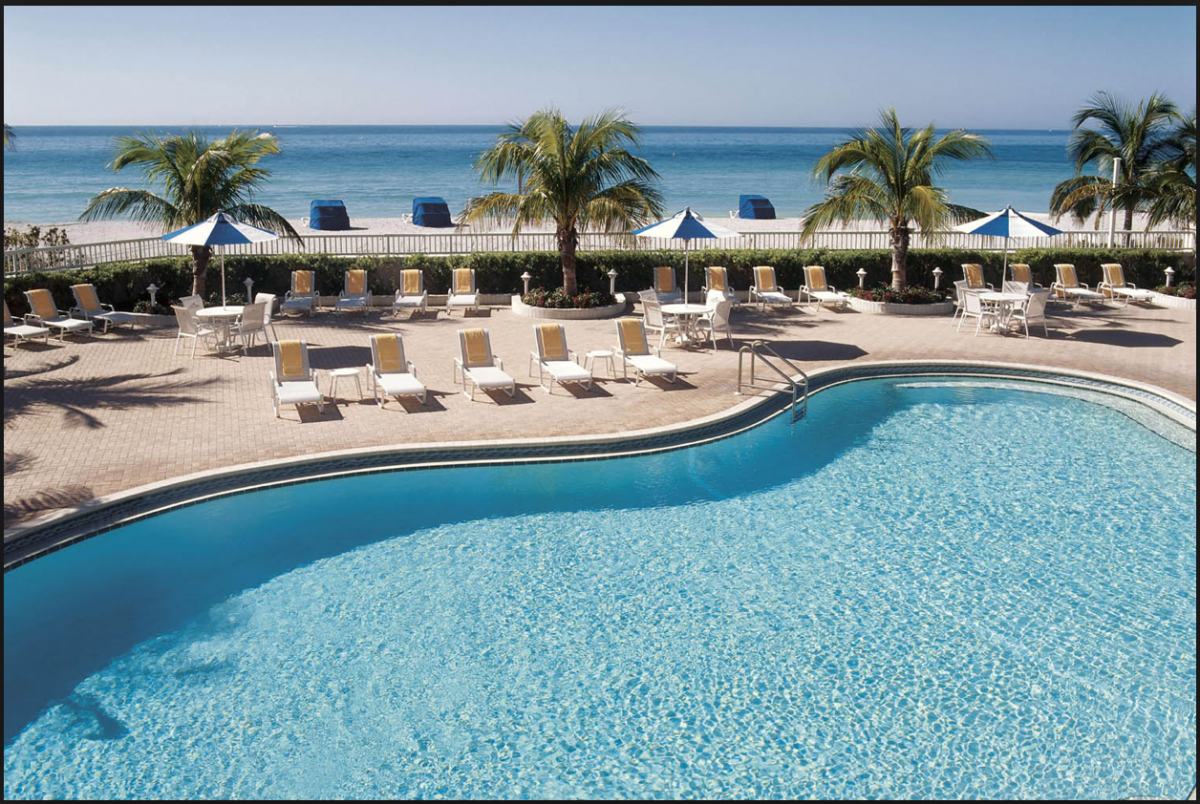 With the heat of the sun on your face and the sounds of crashing waves in your ears, floating in a swimming pool in an exotic locale sounds like the stuff of dreams. At the Lido Beach Resort, you can find not one, but two swimming pools catered for all individuals of all ages. With one pool exclusively available to adults over 18, and the other offered for use by both young and old, there is something for everyone.
Three hot tubs are also available within the pool area which makes taking in the views of the stunning Floridian Gulf Coast even more special. The pools are open between 7am to dusk. A sunset visit to the pool sounds good to me…Do you agree?
Fitness Centre
When you go on vacay, it is incredibly easy to pile on the pounds. While shovelling down delicious food and lazing by the pool, you may find that your bikini body may not be so summer-ready after all. With the all-equipped Fitness Centre at the Lido Beach Resort, you no longer have to worry about this! From treadmills to free weights and from ellipticals to strength training equipment, there is something for every gym bunny.
If you do not wish to be sweating buckets and happen to be more of a fan of pilates and yoga workouts, yoga mats are also available for use. With the help of the sophisticated Fitness Centre, guests can prevent the expanding waistline and promote their expanding fitness. Our hearts are already pumping thinking about it.
Activities At Lido Beach Resort
Sarasota Power Boat Grand Prix
It may not exactly be Monaco and it doesn't seem likely that Sebastian Vettel or Nico Rosberg may be making an appearance, however Sarasota's answer to the Grand Prix is nothing to be mocked. As one of the most popular and longest-running powerboat races in the United States, the annual Sarasota Powerboat Grand Prix is a famous favourite amongst tourists and locals alike.
The 10-day July event comprises of several preliminary socials and events, including car shows, meet-and-greets with the drivers, fun runs, a downtown block party and a firework display! With the resort only a few yards away from the site of the race, guests at the Lido can watch the highlights up-close or even from the comfort of their rooms.
Beach Activities
The white beaches are one of the most famous, recognisable and popular features of the Sarasota area. They welcome even the most reticent shade seekers and transform them into fully-fledged beach bums. One of the pleasures that comes with sunning on the beaches of Sarasota are the opportunities to recline on a beach lounger, sip a piña colada and take in the stunning views of the stretches of turquoise sea.
However, if you prefer to get up and go, Lido Key, 300 feet of the resort's private beachfront, offers ample opportunities for more active aquatic adventures. Guests can sail, scuba dive or even fish to their heart's content on the tranquil waves of Florida's Gulf Coast.
Lido Beach Resort Suite Packages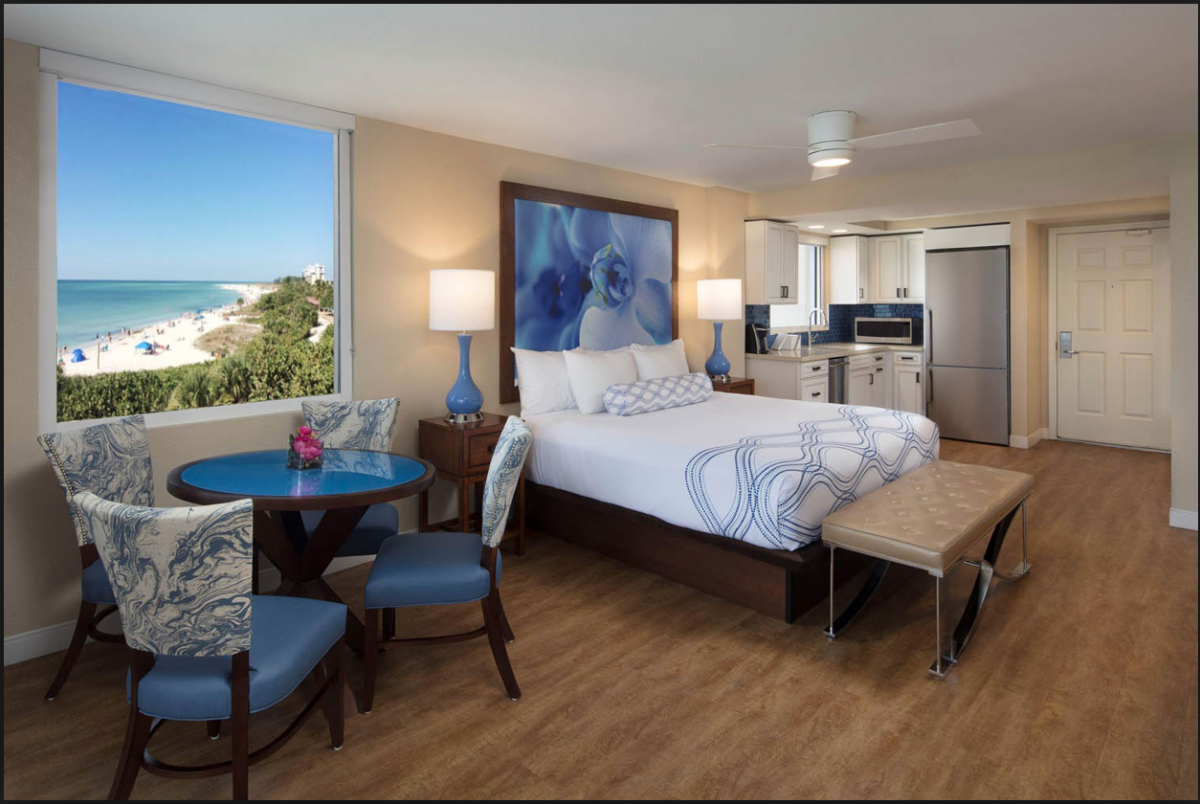 Guests have the choice to stay at the Tiki Building or the Palm Building of the resort.
With a choice of guest rooms (with bed choices of one king or two queens) or kitchenettes, the Tiki Building is preferably suited to solo travellers or couples. Equipped with the choices of more spacious guest rooms, junior suites or suites, the Palm Building is catered more to larger families or individuals who require or wish for more space.
Despite the differences in size and location within the resort, all rooms and suites come with gorgeous beachfront views, large beds and luxurious kitchen facilities. The rooms at the Lido Beach Resort may seem more like a beachfront apartment than anything else.
Because of its integral value of the location and amenities on offer, the rooms at the Lido Beach Resort are the most cost-effective, valuable and practical options when staying in the Sarasota area. Average room prices are found in the table below with the Book Early discount:
Price List
| | |
| --- | --- |
| Room | Avg Price (USD) (Per Night) |
| Traditional King Guest Room | $152.50 |
| Traditional King Kitchenette | $159.50 |
| Traditional Two Queen Kitchenette | $159.50 |
| Traditional Two Queen Guest Room | $159.50 |
| Beach Front Two Queen Guest Room | $210.83 |
| Beach Front Two Queen Kitchenette | $233.50 |
| Beach Front King Kitchenette | $233.50 |
| Beach View Two Queen Junior Suite | $272.17 |
| Beach View King Junior Suite | $272.17 |
| Premium Beach View Two Queen Junior Suite | $302.17 |
| Premium Beach View King Junior Suite | $302.17 |
| Non-View One Bedroom King Suite | $210.83 |
| Premium Gulf View One Bedroom King Suite | $302.17 |
| Beach View One Bedroom King Suite | $324.67 |
| Partial View Two King Two Bedroom Suite | $342.67 |
| Premium Beach View One Bedroom King Suite | $353.50 |
| Partial View, One King, Two Queen, Two Bedroom Suite | $424.50 |
| Partial Gulf View, One King, Two Queen, Two Bedroom Suite | $439.50 |
| Premium Gulf View, One King, Two Queen, Two Bedroom Suite | $469.00 |
Dining Options At Lido Beach Resort
Poolside Tiki Bar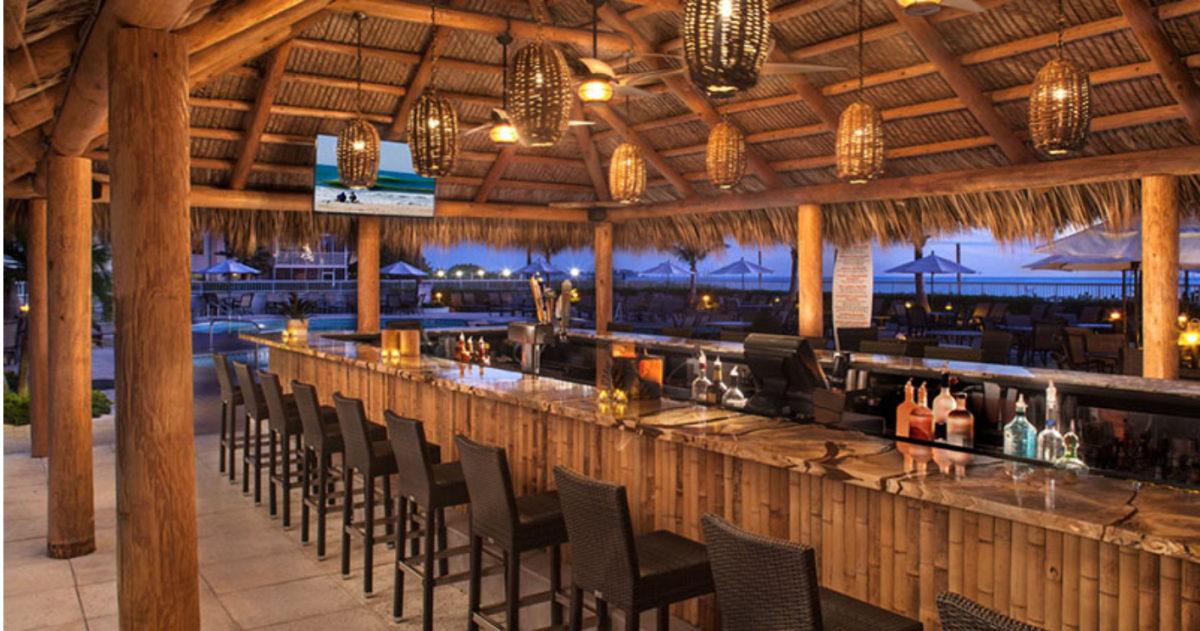 You may feel like you're one step away from attending a luau, wearing a flower garland and doing the hula when you enter the immensely popular Hawaiian-inspired poolside tiki bar at Lido Beach Resort. This is a favourite amongst locals and tourists. The tiki bar is a brilliant place to wind down, relax, meet new people and take in the gorgeous views of the Floridian coastline. With a diverse menu of tropical cocktails and food perfect for the beach including sandwiches and salads, the tiki bar is one place you can't afford to miss out on!
Lido Beach Grille
With a dash of Caribbean flavour and a sprinkle of Latin fire, the Lido Beach Grille specialises in serving up the best Gulf Coast cuisine around. With global influences permeating throughout the diverse and delicious menu, the intimate, yet casual, eatery is one of the most popular dining establishments in the Sarasota area. Take in the stunning panoramic views of the Gulf of Mexico and skyline of Sarasota when dining at one of the best restaurants in town.
How to Get To Lido Beach Resort
The Lido Beach Resort is located at 700 Benjamin Franklin Drive, Sarasota, FL 34236 USA. The nearest airport to Sarasota is the Sarasota-Bradenton International Airport. The resort is approximately a 15-minute drive from the airport. Guests can also take a water taxi from Venice Santa Lucia Station and Marco Polo Airport to arrive at Lido.
Tourist Attractions Near Lido Beach Resort
Ca' d'Zan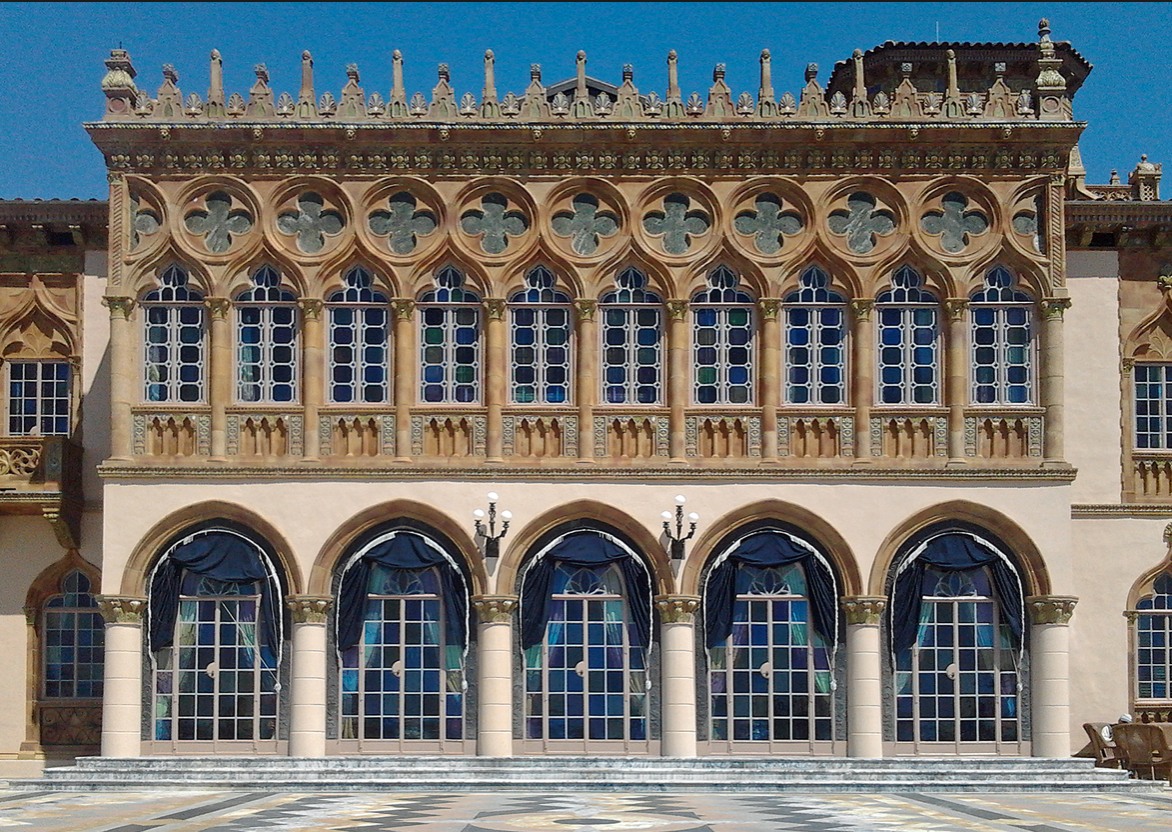 The popular attraction of Ca' d'Zan looks like it was pulled straight from the pages of Romeo and Juliet and plopped down overlooking Sarasota Bay. The Venetian Gothic residence was originally the winter home of American circus owner, John Ringling and his wife, Mable. Venetian for 'House of John', Ca' d'Zan stands as a tribute to a cultural icon, famous for merging the Ringling Brothers World Greatest Shows with the Barnum & Bailey Circus to create a monopoly for travelling circuses and forever revolutionising the circus world. Ca' d'Zan is also an architectural marvel with several details reminiscent of the Doge's Palace and Madison Square Garden.
Sarasota Opera House
If you're a fan of the opera, you're in for a treat when you visit the Sarasota Opera House. Previously standing as a theatre, the Sarasota Opera House possesses a rich history and list of superstar alumni. Past performers have included Will Rogers, Ziegfeld Follies and Elvis Presley.
Final Thoughts On Lido Beach Resort
Without a shadow of a doubt, Lido Beach Resort is the perfect place for your next vacation. Whether you are travelling solo, with your significant other or with your family, Lido Beach Resort caters to everyone and offers an array of amenities, facilities and events to satisfy every interest and hobby. Not to mention the turquoise waters, white beaches and tropical climate will transport you to any exotic city in the world without ever leaving The Sunshine State. Don't delay any further. Grab your passport and pack your bags!