Your Ultimate Tomorrowland Guide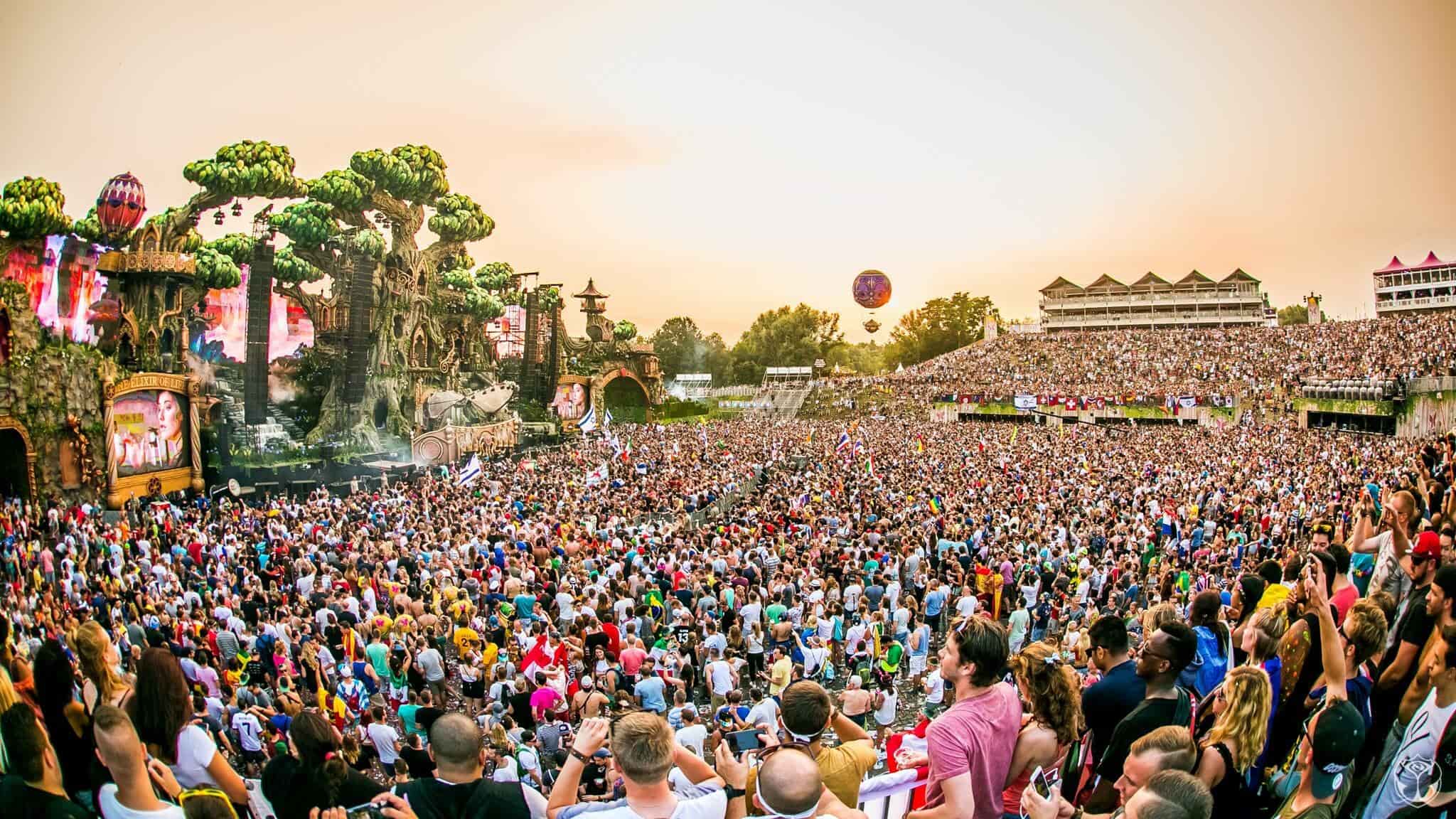 Introduction
Welcome to the ultimate guide to Tomorrowland, one of the most anticipated and iconic electronic music festivals in the world. With its mesmerizing stages, world-class DJs, and enchanting atmosphere, Tomorrowland has become a must-attend event for music lovers and festival-goers from around the globe.
Tomorrowland is more than just a music festival; it is an immersive dream world where music, art, and culture coexist harmoniously. Every year, hundreds of thousands of people flock to Boom, Belgium, to experience the magic of Tomorrowland. The festival offers a multi-sensory journey filled with electrifying performances, stunning visual effects, and a sense of unity and love that is truly unparalleled.
In this guide, we will dive deep into the essence of Tomorrowland, exploring its history, providing insights on how to secure tickets, offering travel and accommodation tips, and giving you a comprehensive festival guide to enhance your experience. Whether you are a seasoned festival-goer or a first-timer, this guide will prepare you for the adventure of a lifetime.
Join us as we unveil this enchanted world and discover why Tomorrowland has become a cultural phenomenon.
What is Tomorrowland?
Tomorrowland is not just a music festival; it is an immersive experience that transports attendees into a surreal world of music, art, and wonder. Founded in 2005, Tomorrowland has grown to become one of the most iconic and sought-after electronic music festivals on the planet. It is renowned for its elaborate stages, mind-blowing visual effects, and an impressive lineup of world-class DJs and artists.
The festival takes place annually in Boom, Belgium, usually over two weekends in July. The sprawling festival grounds span across a vast area of beautiful nature, providing a stunning backdrop for the extraordinary stages and art installations that define the Tomorrowland experience.
What sets Tomorrowland apart is its meticulous attention to detail in creating a fantasy world for its attendees. Elaborate stage designs, awe-inspiring light displays, and breathtaking fireworks create an otherworldly atmosphere that captivates and transports festival-goers into a realm of pure euphoria.
But Tomorrowland is not just about the music and visuals; it is about creating a sense of community and togetherness. Every year, people from over 200 countries come together to celebrate their love for music and share an unforgettable experience. The festival embraces diversity, unity, and love, creating a space where attendees can connect with one another on a deep level.
While electronic dance music (EDM) is the primary genre at Tomorrowland, the festival also incorporates a wide range of musical styles, including house, techno, trance, and more. This diversity ensures that there is something for everyone, allowing festival-goers to explore and discover new sounds.
Tomorrowland has gained a reputation for showcasing not only established international artists but also emerging talent. This commitment to providing a platform for new artists has contributed to the festival's influence and evolution as a trendsetter in the electronic music scene.
Whether you are a dance music enthusiast or simply seeking an extraordinary festival experience, Tomorrowland offers a one-of-a-kind journey that will leave you with memories to cherish for a lifetime.
The History of Tomorrowland
Tomorrowland was first held in 2005 and has since evolved into an international sensation, attracting music lovers from every corner of the globe. The festival was the brainchild of two Belgian brothers, Manu and Michiel Beers, who wanted to create an immersive experience that combined their passion for music, technology, and art.
The inaugural Tomorrowland took place in Boom, Belgium, and welcomed around 9,000 attendees. Although it was a modest beginning, the festival quickly gained recognition for its visionary approach and remarkable attention to detail. From the start, Tomorrowland set itself apart by creating a captivating atmosphere that brought together music, visual art, and fantasy.
As the years went by, Tomorrowland continued to grow, both in terms of attendance and reputation. The festival's unique concept and world-class lineup attracted more and more international visitors. In 2009, Tomorrowland expanded to a two-day event for the first time, doubling the excitement and festivities.
In 2011, Tomorrowland celebrated its seventh edition with a groundbreaking three-day extravaganza. The festival's popularity reached new heights, selling out all available tickets within seconds. This milestone edition firmly established Tomorrowland as a global phenomenon and earned it the title of "Best Music Event" at the International Dance Music Awards.
Tomorrowland's success paved the way for the creation of TomorrowWorld, an international expansion that held its inaugural edition in Chattahoochee Hills, Georgia, USA, in 2013. TomorrowWorld brought the magic of Tomorrowland to an American audience, spreading its influence and further solidifying its position as one of the most significant festivals in the world.
However, after several successful editions, TomorrowWorld faced challenges and did not continue after 2015. Nevertheless, Tomorrowland remained the flagship event, attracting visitors from every corner of the globe. The festival embraced innovation, incorporating groundbreaking technology to enhance the immersive experience and push the boundaries of what is possible.
With each passing year, Tomorrowland never failed to impress its attendees. From stage designs that defy imagination to pyrotechnic displays that light up the night sky, the festival continuously strives to outdo itself and create an unforgettable spectacle.
Today, Tomorrowland continues to be a pioneer in the festival world, reinventing itself with each edition while staying true to its founding principles. It has become a symbol of unity, love, and escapism, bringing people together from different backgrounds to celebrate the power of music and create lifelong memories.
Getting Tickets for Tomorrowland
Securing tickets for Tomorrowland is highly competitive due to the festival's immense popularity. Tickets for Tomorrowland typically sell out within minutes, creating a sense of anticipation and excitement among prospective attendees. Here are some key points to consider when trying to get your hands on Tomorrowland tickets:
1. Ticket Types: Tomorrowland offers various ticket options to cater to different preferences and budgets. These include Full Madness Passes, which grant access to the festival for the entire duration, as well as day passes and packages that include additional perks such as exclusive access to certain areas or VIP amenities.
2. Pre-Registration: To have a chance at purchasing Tomorrowland tickets, you must first pre-register on the festival's official website. Pre-registration typically opens a few weeks or months before the ticket sale date and requires providing personal information. This step is crucial as it allows you to participate in the ticket sale when it opens.
3. Global Journey Packages: One way to increase your chances of securing Tomorrowland tickets is by purchasing a Global Journey package. These packages include not only festival tickets but also transportation and accommodation options, making it a convenient and reliable way to secure your spot at the festival.
4. Ticket Sale Date: The official ticket sale date for Tomorrowland is announced well in advance. On the day of the sale, be prepared to join the virtual queue early and have multiple devices connected to increase your chances of success. Keep in mind that ticket availability is limited, so it's essential to be ready and quick when the sale opens.
5. Ticket Resale Platform: If you were unsuccessful in getting tickets during the official sale, there is still hope. Tomorrowland operates a secure ticket resale platform where festival-goers who can no longer attend can sell their tickets at face value. Keep an eye on official channels and forums for these resale opportunities.
6. Beware of Scams: As with any highly sought-after event, there is a risk of encountering scams and counterfeit tickets. To avoid falling victim to fraudulent activities, it is crucial to purchase tickets only through official Tomorrowland channels and trusted resale platforms. Be cautious of deals that seem too good to be true and do thorough research before making a purchase.
Securing tickets for Tomorrowland may require patience and determination, but the effort is undoubtedly worthwhile. Attending this iconic festival is an experience like no other and an opportunity to create unforgettable memories amidst a captivating music and art extravaganza.
Travel and Accommodation Tips for Tomorrowland
Planning your travel and accommodation for Tomorrowland is an essential part of ensuring a smooth and enjoyable festival experience. Here are some tips to help you make the most of your journey:
1. Research and Plan Ahead: Start your preparations well in advance to secure the best travel deals and accommodation options. Research the festival's official website and forums to gather information on transportation, recommended hotels, camping options, and nearby attractions.
2. Choose Your Mode of Transportation: Tomorrowland provides shuttle services from various cities, making it convenient for attendees to travel to Boom. If you prefer to drive, make sure to check parking arrangements and plan your route accordingly. Additionally, consider environmentally friendly options such as carpooling or public transportation to reduce your carbon footprint.
3. Book Accommodation Early: Whether you plan to stay in a hotel, a hostel, or camp on-site, it is crucial to book your accommodation as soon as possible. Hotels near the festival grounds tend to fill up quickly, so make your reservation well in advance. If camping is more your style, Tomorrowland offers camping packages with different levels of comfort and amenities.
4. Pack Essentials: Remember to pack vital items such as a comfortable pair of shoes, sunscreen, a rainproof jacket, earplugs, and a portable phone charger. Each festival day can be long and physically demanding, so it's essential to be prepared for different weather conditions and to take care of your well-being.
5. Stay Hydrated and Eat Well: It is easy to get caught up in the excitement of the festival and forget to take care of your basic needs. Drink plenty of water throughout the day to stay hydrated and energized. Explore the festival's food offerings, which often include a wide range of culinary delights to suit various dietary preferences.
6. Explore the Surrounding Area: While Tomorrowland itself is a captivating experience, don't forget to venture outside of the festival grounds and explore the beautiful town of Boom and nearby cities in Belgium. Take the opportunity to immerse yourself in the local culture, indulge in Belgian cuisine, and visit popular tourist attractions.
7. Connect with Fellow Festival-Goers: Tomorrowland is known for its sense of community and togetherness. Embrace the opportunity to meet new people from different parts of the world, share experiences, and create bonds that may last long after the festival ends. Engage in the various activities and meetups organized by Tomorrowland to enhance your social experience.
With careful planning and attention to detail, your journey to Tomorrowland will be an unforgettable adventure. Embrace the magic of the festival and take advantage of the opportunity to explore a new destination while being immersed in an incredible music and cultural experience.
Festival Guide: What to Pack for Tomorrowland
Properly packing for Tomorrowland can greatly enhance your festival experience, ensuring you have everything you need to fully enjoy the music, atmosphere, and non-stop energy. Here are some essential items to consider when packing for Tomorrowland:
1. Comfortable Clothing: Opt for lightweight, breathable clothing that allows you to move freely and stay cool. Pack comfortable shoes that will withstand long hours of walking and dancing. Don't forget to bring a few layers for cooler evenings.
2. Rain Gear: Belgium's weather can be unpredictable, so it's essential to be prepared for rain. Pack a waterproof jacket or poncho and consider bringing a compact umbrella or a rain cover for your backpack.
3. Hydration Essentials: Staying hydrated is crucial in a festival setting. Bring along a refillable water bottle to keep yourself hydrated throughout the day. Some festivals provide water stations for refills, so take advantage of those.
4. Sunscreen and Hat: Protect yourself from the sun by packing sunscreen with a high SPF and a wide-brimmed hat or cap. Sunburn can put a damper on your festival experience, so make sure to reapply sunscreen regularly.
5. Earplugs: Music festivals can get loud, and protecting your hearing is important. Invest in a good pair of earplugs that can reduce the volume without sacrificing the quality of the music.
6. Portable Charger: With all the photos and videos you'll be capturing, your phone battery can drain quickly. Bring a portable charger to keep your devices powered up throughout the day.
7. Snacks and Energy Food: While Tomorrowland offers various food options, having a few snacks on hand can be a lifesaver when you need a quick boost of energy. Pack nutritious snacks like energy bars, nuts, or dried fruits to keep you fueled throughout the day.
8. Cash and Cards: Bring a mix of cash and cards for purchases at the festival, as well as for any local shops or services you may encounter while exploring the area outside the festival grounds. Some vendors may not accept cards, so having cash on hand can be beneficial.
9. Personal Essentials: Don't forget the basics like your ID, festival tickets, a small backpack or fanny pack to carry your belongings, and any necessary medications or personal care items.
10. Positive Attitude and Open Mind: Lastly, pack a positive attitude and an open mind. Tomorrowland is about more than just the music; it's an immersive experience. Embrace the vibes, connect with others, and be ready to create lifelong memories.
By packing smartly and considering these essential items, you'll be well-prepared to make the most of your magical journey at Tomorrowland.
Exploring the Different Stages and Areas of Tomorrowland
Tomorrowland is known for its mind-blowing stages and immersive themed areas, each offering a unique and unforgettable experience. Exploring the various stages and areas of Tomorrowland is like embarking on a journey through different musical worlds. Here are some of the key highlights you can expect to discover:
1. Mainstage: The Mainstage is the crown jewel of Tomorrowland, showcasing awe-inspiring designs, state-of-the-art technology, and breathtaking visual effects. It features some of the biggest names in the electronic music industry and creates an electric atmosphere that unites festival-goers from around the world.
2. The Arch: As you venture deeper into Tomorrowland, you'll come across The Arch, a stage that often plays host to a diverse range of genres and artists. Get ready to dance and explore a wide array of musical styles as the beats resonate through this iconic stage.
3. The Garden of Madness: This stage brings a touch of mystery and enchantment to Tomorrowland. Powered by the electrifying beats of various DJs, including the legendary duo Dimitri Vegas & Like Mike, The Garden of Madness is a dynamic and immersive experience for those seeking something extraordinary.
4. The Core: As the nighttime approaches, head towards The Core to witness mind-bending visuals and mind-blowing beats. This stage is known for its cutting-edge production, combining mesmerizing light shows with some of the most innovative sounds of the electronic music scene.
5. The Rose Garden: For those seeking a more intimate and chill atmosphere, The Rose Garden offers a tranquil oasis amidst the energy of Tomorrowland. This area features live performances, laid-back beats, and a serene ambiance that allows you to relax and recharge before diving back into the festival's vibrant atmosphere.
6. Themed Areas: In addition to the stages, Tomorrowland features intricately designed themed areas that transport you to different worlds. Explore the enchanting Book of Wisdom, the mysterious Elixir, or the vibrant and energetic Freedom Stage. Each themed area offers a unique experience, immersing you in their individual narratives and atmospheres.
7. Street Performances and Art Installations: As you navigate through Tomorrowland's many stages and areas, keep an eye out for the captivating street performances and mesmerizing art installations. These artistic displays create an immersive and inspiring environment that adds another layer of magic to the festival's atmosphere.
Remember, part of the beauty of Tomorrowland is the opportunity to explore and discover new sounds and experiences. Don't be afraid to wander and stumble upon hidden stages or surprise performances. Embrace the adventure and immerse yourself in the multifaceted world of Tomorrowland.
Top DJs and Artists to Watch at Tomorrowland
One of the main attractions of Tomorrowland is its stellar lineup of world-renowned DJs and artists who grace its stages. From electronic dance music legends to emerging talents, the festival offers a diverse and impressive selection of musical acts. Here are some top DJs and artists you should keep an eye out for at Tomorrowland:
1. Martin Garrix: Known for his energetic performances and chart-topping hits, Martin Garrix is a definite must-see at Tomorrowland. His ability to connect with the crowd and deliver electrifying sets makes him a fan favorite.
2. Armin van Buuren: A true icon of the trance genre, Armin van Buuren promises to take you on an emotional journey with his uplifting melodies and captivating stage presence. His legendary ASOT (A State of Trance) stage at Tomorrowland is a gathering place for trance enthusiasts.
3. David Guetta: A household name in the electronic music scene, David Guetta's high-energy sets and infectious beats have the power to bring a massive crowd to their feet. With a vast catalog of hits, his performances are always a crowd-pleaser.
4. Charlotte de Witte: Rising in popularity, Charlotte de Witte is a Belgian techno DJ known for her dark and powerful sound. Her sets are intense and immersive, providing an underground vibe that will keep you dancing into the night.
5. Amelie Lens: Another prominent figure in the techno realm, Amelie Lens delivers hypnotic and driving beats that create an electric atmosphere. Her dynamic performances and distinctive style have earned her a dedicated following.
6. Dimitri Vegas & Like Mike: Belgian DJ duo Dimitri Vegas & Like Mike are known for their energetic stage presence and crowd-pleasing anthems. With a blend of electrifying beats and infectious melodies, their performances are bound to get the crowd jumping.
7. Afrojack: Bringing a unique blend of EDM and Dutch house, Afrojack delivers high-octane sets that are guaranteed to get you moving. Known for his charismatic stage persona and dynamic sound, his performances are a highlight of Tomorrowland.
8. Carl Cox: A true legend in the electronic music industry, Carl Cox is renowned for his impeccable mixing skills and captivating stage presence. With his infectious energy and timeless techno beats, he never fails to deliver an unforgettable experience.
9. Nora En Pure: If you're seeking melodic and soulful deep house vibes, Nora En Pure is the artist to watch. Known for her beautiful melodies and chilled-out sets, her music creates a serene and uplifting atmosphere.
10. Tale of Us: This Italian DJ duo excels at crafting immersive and emotive sets that seamlessly blend melodic techno and deep house. Their performances have a hypnotic quality that will transport you to another dimension.
These are just a few of the incredible DJs and artists you can expect to see at Tomorrowland. However, the festival offers a wide range of musical styles and talents, so take the opportunity to explore and discover new sounds that resonate with you. No matter who you choose to watch, Tomorrowland guarantees an electric and unforgettable musical journey.
Food and Drink Options at Tomorrowland
At Tomorrowland, the music isn't the only thing that tantalizes your senses; the festival also offers a diverse array of food and drink options to satisfy your culinary cravings. From local Belgian delicacies to international flavors, there's something to satiate every palate. Here's a glimpse into the delectable treats you can expect to find:
1. Belgian Delights: Indulge in Belgian classics like crispy frites (fries) served with a variety of sauces, savory waffles, or hearty Flemish stew. Don't miss out on trying traditional Belgian chocolates and refreshing Belgian beers renowned for their quality and craftsmanship.
2. International Cuisine: Tomorrowland celebrates global gastronomy, offering a wide range of international cuisines to please all taste buds. From Asian street food and Mexican tacos to Italian pasta and American burgers, there's a mouthwatering selection of dishes from around the world.
3. Vegetarian and Vegan Options: Tomorrowland recognizes the importance of catering to dietary preferences and offers a plethora of vegetarian and vegan options. From plant-based burgers and salads to vegan Indian curries and vegetable stir-fries, there are plenty of choices to keep plant-based festival-goers satisfied.
4. Food Trucks and Stands: The festival grounds are adorned with numerous food trucks and stands, each offering unique and creative culinary creations. These mobile gastronomic delights range from gourmet hot dogs and loaded nachos to sushi rolls and artisanal ice cream.
5. Cocktail Bars and Refreshments: Stay hydrated and refreshed with a wide assortment of non-alcoholic beverages available throughout Tomorrowland. Quench your thirst with fruit-infused water, freshly squeezed juices, or specialty teas. Additionally, there are cocktail bars where you can unwind with signature mixed drinks and creative concoctions.
6. VIP Dining Experiences: For those seeking a more exclusive dining experience, Tomorrowland offers VIP packages that include access to dedicated VIP dining areas. These areas provide a premium selection of gourmet dishes, carefully crafted cocktails, and an elevated dining atmosphere.
7. Tomorrowland Food Pass: To enhance the convenience of ordering and enjoying your favorite dishes, Tomorrowland offers a cashless payment system called the "Tomorrowland Food Pass." Simply load money onto your wristband and use it to make quick and hassle-free transactions at food and drink outlets throughout the festival.
It's worth noting that while exploring the vast festival grounds and immersing yourself in the music, you may come across unexpected food experiences, pop-up bars, or unique culinary collaborations. Embrace the opportunity to step out of your comfort zone and embark on a delicious journey to discover new tastes and flavors.
So, whether you're craving a Belgian classic, an international specialty, or seeking vegetarian and vegan options, Tomorrowland's food and drink offerings promise to satisfy your appetite and keep you energized throughout the festival.
Safety and Security at Tomorrowland
At Tomorrowland, safety and security are of the utmost importance. The festival organizers prioritize the well-being of attendees, implementing various measures to ensure a safe and enjoyable experience for everyone. Here's what you need to know about safety and security at Tomorrowland:
1. Entry Checks: To maintain a secure environment, all attendees undergo thorough security checks upon entry. This includes bag inspections and body pat-downs to prevent prohibited items from entering the festival grounds.
2. Medical Services: Tomorrowland provides comprehensive medical services, including first aid stations staffed by trained medical professionals. These stations are readily available throughout the festival grounds to promptly attend to any medical issues or emergencies that may arise.
3. Safety Personnel: A dedicated team of security personnel is present at Tomorrowland to ensure the safety of attendees. They patrol the festival grounds, monitor crowd movements, and respond swiftly to any potential issues or disturbances.
4. Communication and Information: Tomorrowland utilizes a range of communication channels to keep attendees informed and updated about safety-related announcements, such as weather advisories or emergency instructions. Pay attention to the festival's official communication channels, including social media and the Tomorrowland app, for important notifications.
5. Lost and Found: In case you misplace or lose any personal belongings, Tomorrowland has a dedicated Lost and Found area where you can report and search for lost items. It is advisable to keep your valuables safe and secure to minimize the risk of loss.
6. Responsible Drinking: Tomorrowland promotes responsible drinking and encourages attendees to enjoy the festival in moderation. It's important to stay hydrated, pace yourself, and know your limits. If you or anyone you are with requires assistance due to excessive alcohol consumption, support is available from festival staff.
7. Stay Aware and Look Out for Each Other: While Tomorrowland strives to create a safe environment, it is essential for attendees to exercise personal responsibility and be mindful of their surroundings. Look out for fellow festival-goers, report any suspicious activity, and adhere to the festival's rules and guidelines.
8. Emergency Exits and Evacuation Procedures: Familiarize yourself with the festival's emergency exits and evacuation procedures. In the event of an emergency, listen to instructions from festival staff and follow designated evacuation routes to ensure a safe and orderly exit from the festival grounds.
Remember, your safety is a shared responsibility. By staying vigilant, being mindful of your well-being, and cooperating with festival staff, you can contribute to maintaining a secure and enjoyable environment for yourself and fellow Tomorrowland attendees.
Enjoy your Tomorrowland experience knowing that extensive measures are in place to prioritize your safety and security.
Aftermovie and Memories: Capturing the Tomorrowland Experience
After the dust settles and the festival comes to an end, the memories of Tomorrowland continue to live on. One of the enduring ways to cherish and share those memories is through the Tomorrowland aftermovie – a beautifully crafted cinematic journey that captures the essence and magic of the festival. Here's why the aftermovie and creating your own memories are an integral part of the Tomorrowland experience:
1. Reliving the Magic: The Tomorrowland aftermovie transports you back to the enchanting world you experienced during the festival. It's a visual masterpiece that showcases the stunning stage designs, intricate art installations, and the vibrant energy of the crowd. Watching the aftermovie allows you to relive the magical moments, reignite the emotions, and bask in the nostalgia of your Tomorrowland adventure.
2. Sharing with the World: The aftermovie serves as a powerful tool for sharing your Tomorrowland experience with friends, family, and the online community. It captures the essence of the festival, allowing you to convey the atmosphere, excitement, and joy you felt during your time at Tomorrowland. By sharing the aftermovie, you can inspire others and ignite their curiosity to join in the future.
3. Creating Personal Memories: Aside from the official aftermovie, it's important to create your own memories of Tomorrowland. Take photos, record videos, and journal your experiences to cement the moments that touched your heart. These personal memories will serve as invaluable reminders of the music, the connections made, and the transformative experiences that shape Tomorrowland into something deeply personal.
4. Embracing the Festival Culture: Tomorrowland is more than just a festival; it is a celebration of music, art, and a sense of community. By embracing the festival culture and immersing yourself fully, you become a part of the vibrant tapestry that defines Tomorrowland. The aftermovie and personal memories serve as tokens of this culture, carrying its spirit with you long after the festival ends.
5. Inspiring Future Adventures: Watching the aftermovie and revisiting your memories can ignite the desire to return to Tomorrowland or explore other festivals around the world. The aftermovie acts as a catalyst, fueling your passion for music, fostering a sense of wanderlust, and inspiring future adventures where you can continue to create extraordinary memories.
Whether you're watching the official aftermovie or reminiscing through your personal memories, capturing the Tomorrowland experience is a way to preserve the magic and inspire others to embark on their own unforgettable journeys. So, grab your camera, dance in the moment, and create memories that will last a lifetime.
Conclusion
Tomorrowland is not simply a music festival; it is a transformative experience that transcends boundaries and creates lifelong memories. From the captivating stages and immersive themed areas to the electrifying performances and vibrant atmosphere, Tomorrowland captivates the hearts and minds of all who journey into its world.
In this comprehensive guide, we've explored the history of Tomorrowland, shared tips on getting tickets, provided travel and accommodation advice, highlighted the different stages and areas to explore, and showcased the top DJs and artists to watch. We've delved into the food and drink options available, discussed safety and security measures, and emphasized the importance of capturing the Tomorrowland experience through the aftermovie and personal memories.
As you embark on your Tomorrowland adventure, remember to immerse yourself in the magic and embrace the festival's core values of unity, love, and togetherness. Connect with fellow music enthusiasts, explore new sounds and genres, and let the energy of Tomorrowland inspire you to dream big and celebrate life in all its vibrant glory.
Whether you're a seasoned festival-goer or attending for the first time, Tomorrowland promises a journey like no other. So, pack your bags, prepare for the extraordinary, and let the music guide you into a world where the impossible becomes possible.
Tomorrowland awaits, ready to ignite your senses and create memories that will last a lifetime. Let the adventure begin.