Your Ultimate Guide: All You Need To Know About Hong Kong Disneyland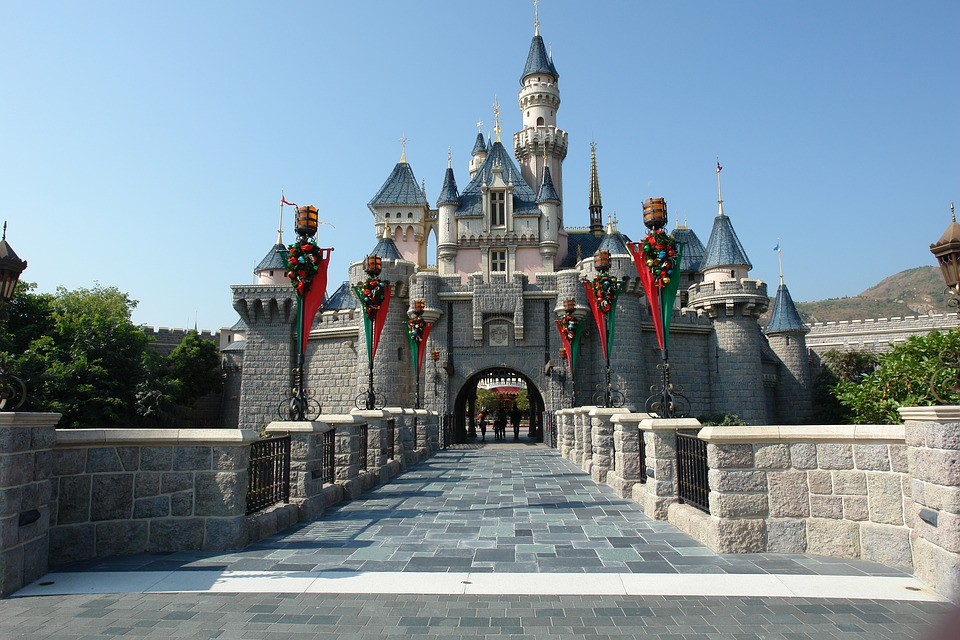 In this guide, we share with you how to make the most of your limited time in Hong Kong Disneyland.
A brief introduction to Hong Kong Disneyland
Opened in 2005, Hong Kong Disneyland is the largest theme park in Hong Kong. Spanning 27.5 hectares, it is even bigger than Hong Kong's signature Ocean Park despite being the smallest Disney theme park worldwide. Built on reclaimed land in Penny's Bay on Lantau Island, Hong Kong Disneyland sees an astounding 6 to 7 million visitors annually. While this may seem like a lot, Hong Kong Disneyland has a lowered daily capacity of 34,000 visitors to prevent overcrowding. Additionally, the park design emphasizes greatly on the spiritual concept of Feng Shui – For instance, a bend was put in a walkway near the entrance of Hong Kong Disneyland resort to minimize good Qi from flowing into the South China Sea.
Fun fact: Hidden subtly throughout the park are representations of Mickey Mouse heads. Dubbed 'Hidden Mickey', these representations are woven into attraction designs and environmental decor. Keep your eyes peeled to find these Easter Eggs!
Tourist Secrets: Game plan for Hong Kong Disneyland
Here are some note-worthy advice to adhere to before even visiting the theme park.
Visits in the summer can be stifling, so be sure to bring along or purchase an electric fan and umbrella to stay cool. Make sure to drink plenty of fluids to stay hydrated!
Meals in Hong Kong Disneyland can be on the pricier side. To save money and time, consume a hearty meal before visiting the theme park or purchasing meal coupons.
Half a day allows you to experience popular attractions. A full day gives you ample time to finish all the rides. Multiple days allow Disney aficionados to explore every inch of the park. The type of pass to get depends on this, so decide wisely.
Standard, 2-day fun package, priority special and even fast passes. Hong Kong Disneyland has a myriad of different passes for everyone. Choose the one that best suits your needs. Purchase the tickets online to skip the queue for tickets too. Check out the VIP tour for direct access to rides of your choice and reserved seating at shows.
Top tip: You may consider buying tickets from 3rd party websites like KLOOK for a discounted price.
Those looking to spend the night at Hong Kong Disneyland have 3 options – Disney's Hollywood hotel, Disney Explorer Lodge and Hong Kong Disneyland hotel(in order of least to most expensive). Hotel-stayers also have various perks accorded to them depending on the type of room booked. Be sure to check what the latest deals are online.
Before we explore each of Hong Kong Disneyland's 7 different themed areas, here are some rapid-fire information you may require to plan your trip to Hong Kong Disneyland.
There is a cross-boundary shuttle bus to Hong Kong Disneyland in addition to the MTR, buses or taxi.
Staff(or cast members as they are referred to in Disneyland) can speak English in addition to Mandarin and Cantonese.
The very useful guide maps are printed in both traditional and simplified Chinese as well as English.
Park opening times change so make sure to check before visiting. Reach Hong Kong Disneyland 15 minutes prior to opening times to get a head start on the attractions you want to visit.
Download the free Hong Kong Disneyland app which provides information on ride closure, waiting time estimates for rides, meet and greet location and timings, a GPS map and much more.
2 new themed areas, 'Arendelle: World of Frozen' and 'Marvel Land' are scheduled to open in 2021 and 2023 respectively.
Without further ado, let's jump straight into what Hong Kong Disneyland has to offer!
1.
Introducing Main Street U.S.A
The buildings of Main Street U.S.A in Hong Kong Disneyland are identical to the architecture of Anaheim, a city in California but with information unique to its Hong Kong location. With vibes similar to small-town America from the years 1890-1910, Main Street U.S.A serves as Hong Kong Disneyland's main entrance. However, there are Chinese aspects mixed in as well, with Plaza Inn being the first Chinese restaurant here. Inspired by the legendary heroine Mulan, the restaurant even offers 19th century Chinese table service. If Chinese cuisine is not for you, Market House Bakery and Corner Café are also splendid choices. Not far from the entrance is a grass area whereby character greetings are usually held but lines can be long.
Like all other Disneyland theme parks, the Emporium is also located here. Selling the popular plushies Duffy, Tsum Tsums and Ufufy, the Emporium is where to go for your souvenirs. While there aren't many rides here, Main Street U.S.A is still perfect for photos with amazing backgrounds. Furthermore, the new Bibbidi Bobbidi Boutique has been opened in the Royal Princess Garden, offering kids the chance to dress up as their favourite Disney prince or princess. Not only will they look more adorable, but it also enhances the magical experience at Hong Kong Disneyland.
2.
Adventures in Adventureland
For a thrilling time, try Adventureland. Hong Kong Disneyland's Adventureland is the largest among all other Disney parks and is home to Tarzan's Treehouse, an exciting walk-through styled after the 1999 film Tarzan. For the braver of hearts, take on the "Jungle River Cruise"(a cross-park staple) whereby a fearless captain will guide you into the heart of hidden regions filled with exotic creatures. Just like Main Street U.S.A, character meet and greet sessions are also held here at Karibuni Marketplace. It is also no surprise that fresh fruits are sold here and the Chocolate Banana Dippers are a huge hit. For those with children, Liki Tikis is a great spot to rest and cool off.
While at Adventureland, be sure not to miss the "Festival of Lion King" show. Stroll down memory lane, basking in the nostalgia and reminiscing about those childhood days as you listen to timeless classics like "The Lion sleeps tonight". Be sure to open your eyes though, as the stellar showmanship coupled with colorful costumes are a feast for the eyes. For the younger visitors, the new atmospheric stage show "Moana: a Homecoming Celebration" is worthy of praise.
Hong Kong Disneyland's Fantasyland is most well-received with kids. The rides are within close proximity of each other, making it easy to try different attractions at Fantasyland. Be sure to visit "The Many Adventures of Winnie the Pooh" a dark ride that transports you to the Hundred Acre Wood alongside Pooh, Piglet, Tigger and the rest of the friendly animals. We also strongly recommend visiting "Mickey's Philhar Magic" a mesmerizing 4D show that takes you flying on the magic carpet. However, the most enchanted place must be the "Golden Mickeys" at Disney's Storybook theatre. For a 25 minute musical drama, 'Golden Mickeys' will have you glued to your seat with stunning theatricals and real-life effects.
There is also Fantasy Gardens where you can take photos with Disney characters. On-site photographers will also sell professional photos, but fret not, as they will also take photos using your camera. For selfie-enthusiasts, the Fairy Tale Forest and Sleeping Beauty Castle are perfect backdrops for that ever crucial photo for social media. If you're hungry the nearby Royal Banquet Hall has 4 stations: Grill, Japanese, Guangdong and International.
4.
Excitement of Tomorrowland
After waking up from a fantasy, it is time to face a brand new day – enter Tomorrowland! With exhilarating rides that will keep your adrenaline pumping, Hong Kong Disneyland's Tomorrowland is not for the faint of heart. "Iron Man Experience" is a relatively new but popular attraction. Exclusive to Hong Kong Disneyland, the mind-blowing ride features several prominent Hong Kong buildings. With state-of-the-art flight simulators, 3-D projection, surround sound and crazy effects, it will feel as though you are at the forefront of the battle against the evil Hydra. "Space Mountain" is also another iconic ride at Hong Kong Disneyland that fans love. What sets "space Mountain" apart is the fact that the ride occurs in pitch black, making it extremely intoxicating. You also get a good laugh at the end when you see your scrunched up face during the ride being sold as a souvenir.
For Marvel Fanatics, "Ant-Man and The Wasp: Nano Battle!" is also a new ride at Tomorrowland. Taking the place of "Buzz Lightyear Astro Blasters", the new ride will have you shooting at targets to achieve a high-score. If all the excitement has gotten you hungry, Starlight Diner has the best Burgers and finger food in the park.
5.
Feel small at Toy Story Land
Hong Kong Disneyland's Toy Story land is themed after – you guessed it, Toy Story. The lovable Toy Story franchise has been with us for many years, with the 4th and final film coming out on 21 June 2019. With such an amazing history, it is no wonder why Toy Story Land is so popular. Using bamboos to act as giant blades of grass and enlarged characters from the franchise, it is now your turn to experience what characters in the film go through.
The "RC Racer", a Viking ship equivalent is an admirable ride, but "Toy Soldier Parachute Drop" takes the cake in Toy Story Land. Before boarding "Toy Soldier Parachute Drop", you will be required to leave your belongings in a designated area. However, if you have neck strap on your smart device or a well-secured go-pro you may be able to capture the breath-taking scenery provided the weather is clear.
It should be noted that there are no restaurants catering food in Toy Story Land, so if your stomach is growling, you'll have to purchase something from the snack cart. With a drinks and snacks menu that rotates periodically, you can definitely find something you enjoy here.
6.
Explore forgotten Grizzly Gulch
Hong Kong Disneyland's Grizzly Gulch is an imaginary abandoned mining town forgotten amidst the mountains and woods. Set to be founded in 8 August 1888 where prospectors hoped to discover gold, you can see the influence of Chinese culture here. Believed to be the luckiest of numbers, '8' is pronounced similarly to fortune in Chinese, hence its believed to be extremely fortuitous. With Grizzly Gulch being one of the smaller themed areas, exploring this archaic town shouldn't take too long.
"Big Grizzly Mountain Runaway Mine Cars" is the only ride in Grizzly Gulch. A hybrid between Big Thunder Mountain Railroad(in many other Disneyland parks) and the Animal Kingdom's Expedition Everest, this ride is here to impress. Shifting from a high(but manageable) forward velocity to backwards in mere seconds makes this ride both impressive and enjoyable. With a cool backstory and take-off to boot, "Big Grizzly Mountain Runaway Mine Cars" is a must-go ride. Not to mention its relatively short queue times. Be sure to exploit this fact and visit both in the day and night to experience different views.
Like Toy Story Land, there are no restaurants available so you'll have to make do with the snack outlet present. The bright side is that there is also a popcorn cart here.
7.
Marvelous mysteries await at Mystic Point
Mystic Point is the latest addition to Hong Kong Disneyland and is exclusive to only Hong Kong. Living in Mystic Manor is Lord Henry Mystic, exploring the dense, uncharted rain forest shrouded in mysterious forces and ghostly events. If you would like to meet the enigmatic Lord, join in the queue at "Mystic Manor".
Story-telling aside, "Mystic Manor" is the most well-received ride in Hong Kong Disneyland, albeit being the only ride in Mystic Point. Sort of a re-skinned version of a Haunted House, the ride puts a twist to it by following a different concept. Chock full of high tech special effects to immerse riders, "Mystic Manor" won't disappoint. But before you even visit Mystic Manor, prime yourself by walking through the Garden of Wonders with its perspective-morphing art installations and marvel at Lord Henry Mystic's magical artefacts. Explorer's Club Restaurant, the best Hong Kong Disneyland restaurant is also located here with all the food on the international menu being halal. Nice!
Hong Kong Disneyland's Finale
As per customs, a dazzling display of fireworks at Sleeping Beauty Castle marks the closing of Hong Kong Disneyland. The majority of visitors will stay till the end of the impressive show, resulting in a massive horde. We highly recommend taking time prior to the fireworks to seek out prime vantage points, especially if you have children. Otherwise, they may have to be held up to even catch a glimpse of the fireworks. While waiting, it will also be good to apply some insect repellent as pests appear at night.
Lastly, as a final tip, try to leave a few minutes before the end of the fireworks display, or you will inevitably be stuck in a crazed dash with everyone else trying to leave Hong Kong Disneyland.