Your Guide To Boryeong Mud Festival In South Korea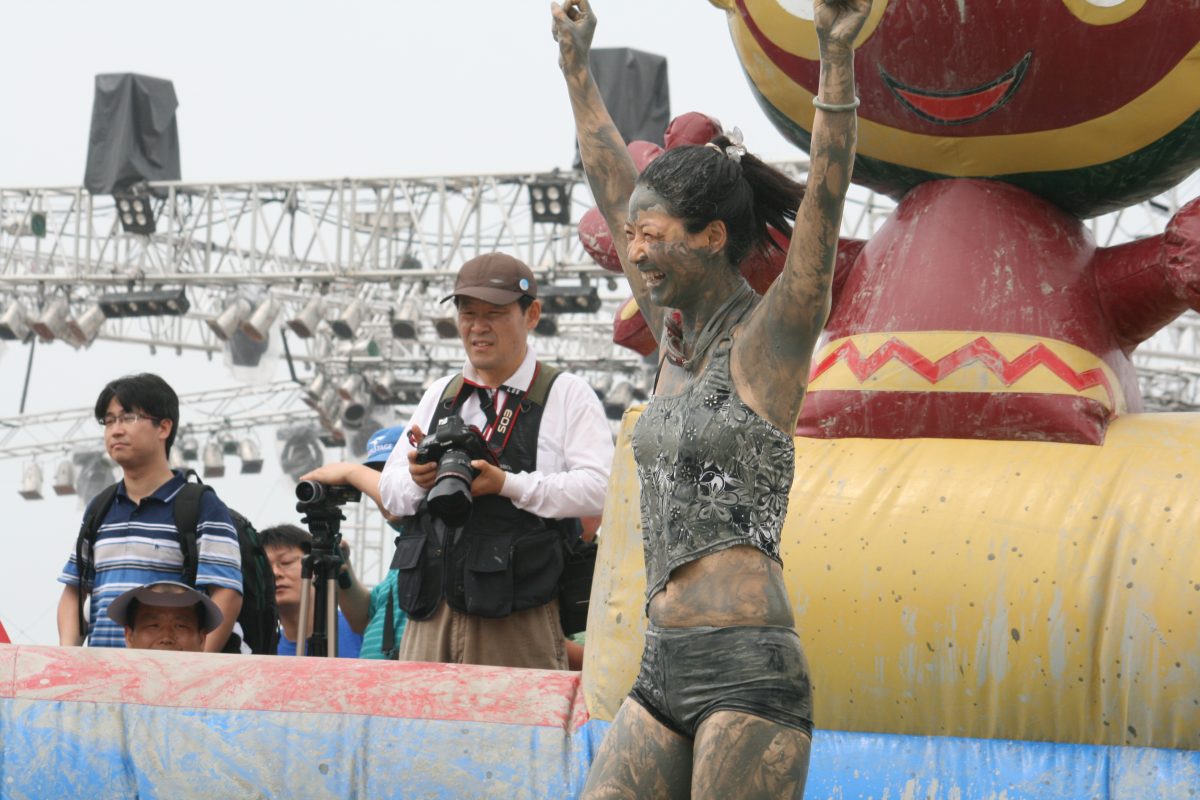 When you hear of "Korea", what do you think of? Do you think of the glistening fashion and beauty metropolis? Or perhaps their Budae Jjigae – translated to Army Stew? Maybe their notoriously distinguished K-Pop culture. But if you are an all-time Korea fan, one of the highlights in Korea you should know is the Boryeong Mud Festival!
What Is This Festival In The First Place?
Similar to the iconic festivals in the world, the Boryeong Mud Festival is comparable with the same scale and reputation. The Boryeong Mud Festival is an annual event that is held for 2 weeks located in Boryeong.
The first Boryeong Mud Festival was held in the year 1998, making it a relatively new Mud culture of Korea. The purpose of the festival was to promote facial products that are made from mud from the region. Through the years, the popularity of the Boryeong Mud Festival grew.
It became the largest international festival in Korea by winning several awards through the years. But as the event goes on, the public's perspective of a beauty festival has become a beach party festival. It successfully attracted a large number of foreigners to attend the festival annually.
Fun Fact: Did you know that beauty products made from the mud of Boryeong contains a high amount of minerals? The mud detoxifies skin, improves blood circulation, softens the skin and balance out PH levels. With that said, if you'd like to improve your skin, don't be afraid to try out a product made from Boryeong's mud!
This hands-on festival allows you to become a child again and roll in the mud to your heart's content. Boryeong Mud Festival's organizers claim that this is the go-to festival if you'd want to distract yourself or forget the daily grind of adulting. The event is perfect for couples, families and groups of friends due to the beautiful scenery of the Daecheon Beach. Also, the various activities and programmes caters to all kinds of participants in different walks of life.
What Happens In This Festival?
There are a variety of programmes which changes every day from bodypainting to rocking out in music festivals and participating in mud related activities that the festive-goers can choose to experience. Here are a few of the more prominent events in the Boryeong Mud Festival!
Muddy Filled Fun!
The main highlight of Boryeong Mud Festival is, well, mud. Throughout the Boryeong Mud Festival, there will be Mudflat games available for everyone to partake in. A few of the activities that the mudflat games consist of would be wrestling, marathon running, and football. There's also an exclusive mudflat competition for foreigners! And if you like inflatable slides and tubes, head towards the seaside mini water park that is open for everyone to experience.
Musical Performances
Be sure to catch buskers during the day to show support as the Boryeong Mud Festival is also another platform for aspiring artists to show off their talents.

Perhaps you are a young adult that would like to party after the sun's down or a parent that would like to have a mini-escape from taking care of your children. Well, lucky for you, the Boryeong Mud Festival is full of night life that you can partake in! Dance the night away to an exclusive beach clubbing experience with beats from professional DJs in the Midnight Mob Scene, experience a hiphop concert in Mud Night Stand or jam out to performances from local and foreign artists in the Citizen's Plaza Opening Performance. (Good news, it's all free!)
Tip: If clubbing or jamming to music isn't enough for you, this is a good opportunity to explore Boryeong's nightlife venues from bars to noraebang (Korean karaoke) and barbeque joints to satisfy your midnight cravings. Don't forget to try their national drink – Soju when you visit the bars!
Family Bonding Time!
Remember how I've previously mentioned that the festival caters to all walks of life? Young children are of no exception! Your child will be able to create a festival character tag by themselves with the aid of staff members and bring home the freebie with them. Not forgetting the ever-popular face painting… but with mud! Finally, the Boryeong Mud Festival Family Zone will keep your child busy and bring you and your child closer through quality family time. (Admission fees applies for the family zone and are stated below)
Tip: If you are only staying in Korea for a few nights during the period of the festival and would like the most out of the Boryeong Mud Festival, go to Boryeong during the weekends as there will be more activities lined-up in the festival.

These are only the few main attractions available during the festival, there are also beauty pageants, mud parades, k-pop concerts, Boryeong city festivals and many more! To find out more, head on to the official website of Boryeong Mud Festival.
Accommodation
The Boryeong Mud Festival is a pretty popular event worldwide so it is best to pre-book your accommodation early as the hotels are usually fully booked. However, most of the budget hotels or motels around Boryeong could not be found online. So if you have not pre-booked a hotel, there's a chance that you may need to go around Boryeong to ask about the rates of the motels during your intended stay.
A few of the options are Hotel Mudrin or Day Nice Hotel that are both located only 0.1km away from the Boryeong Mud Festival. Other options such as Hotel Western, Apple Tree Hotel and Gunsan Riverhill are availablr but they are located 40+km away from the festival which is quite a distance to travel towards. Nevertheless, book your rooms early as there will be tight competition from other travelers and tour groups!

If you are running on a budget and you are fine with travelling out of your comfort zone, one of the options that's available near the Boryeong Mud Festival will be the minbak. Minbak are usually cheaper than motels and hotels which can be cozy and comfortable if you are only looking for a place to sleep in. You can expect a spare bedroom or a basic hotel setup from a usual Minbak. However, since the festival is on high demand, there's a high possibility that you will be sharing the room with other guests, sleeping on mats on the floor.

Tip: If you do not want the hassle of booking your accommodation yourself, another option is to book your trip to the mud festival through a tour group and they will take care of your accommodation for you!
Ticket Prices
Interested? Here are ticket prices for the festival for both Monday – Thursday and Friday and Sunday respectively (as of 2019):
Regular tickets for adults aged 20-64 costs 12,000 Won and 14,000 Won respectively.
Regular tickets for youths aged 11-19 costs 10,000 Won to 12,000 Won respectively.
Group tickets for adults aged 20-64 costs 11,000 Won to 13,000 Won respectively.
Group tickets for youths aged 11-19 costs 9,000 Won to 11,000 Won respectively.
For guardians, Family Zone tickets costs 4,000 Won and 6,000 Won respectively.
For kids, Family Zone tickets costs 9,000 Won and 11,000 Won respectively.
Family Zone tickets for children under the age of 3 are free.
There will be a 30% discount on ticket prices if you fall in to categories of being the citizen of Boryeong, National Merit Holders, people with disability with a companion or if you are over 65 years old. If you do not wish to purchase a ticket, you are still entitled to enter the premises however you are not allowed to enter the non-free zones.
Want to find out more? Check out the official website of the Boryeong Mud Festival here for more details!
Tip: As Boryeong is located far from the main cities of Korea, it may be a whilst out before you are able to reach the destination. It is recommended to bring a neck pillow for further comfort while heading towards the festival! Lucky for you, even though the journey to Boryeong may be long, it is still widely accessible. Click here to see the different methods of transportation to get to the Boryeong Mud Festival!
Preparing For The Festival
Now that you have the information needed on the Boryeong Mud Festival, knowing what the bring to the event is just as important.
Dress Code
As this is a mud-based festival, you can expect yourself to get really muddy so there is no actual point in dressing to impress. Make sure to prepare clothes that are breathable and comfortable as you will be frolicking around in the mud. Bring a pair of cheap sunglasses as well if you would want to protect your eyes from the sun in addition, bring a GoPro or waterproof your filming devices to bring the memories home with you! And yes, before I forget, wear slippers or sandals instead of shoes unless you'd like the mud to destroy your covered shoes.
Other Things To Keep In Mind
Remember to bring sunscreen with you as the sun will be blazing and you won't want to bring those sunburns back home. Additionally, it is recommended to purchase a waterproof pouch for the Boryeong Mud Festival in order to keep your valuables dry and clean.
If you have been to the Boryeong Mud Festival, do share with us your experience at the comments section below! If you haven't been to the event and will be heading to Korea during July next year, remember to head specifically down to the festival and experience being a child again!