Ultimate Guide To Shopping In Bali For Tourists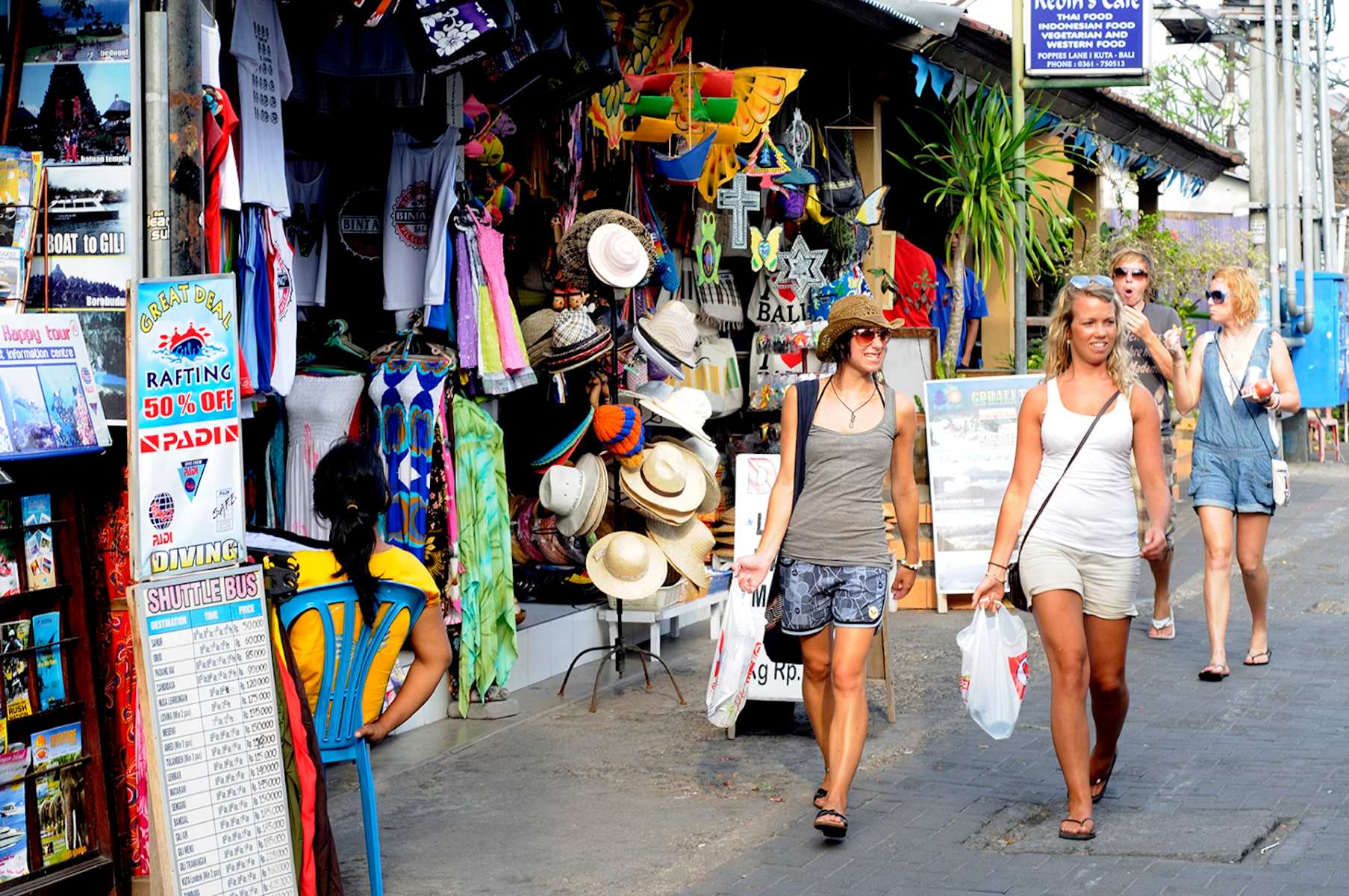 Introduction
Welcome to the ultimate guide to shopping in Bali for tourists! Bali is not only known for its stunning beaches and cultural attractions but also for its vibrant shopping scene. Whether you're looking for traditional handicrafts, unique souvenirs, or fashionable clothing, Bali has it all. With a wide range of shopping areas to explore, from bustling markets to boutique stores and modern shopping malls, there's something to suit every taste and budget.
Shopping in Bali is not just about buying items; it's an experience that allows you to immerse yourself in the local culture and discover the richness of Balinese craftsmanship. From hand-woven textiles and intricate woodcarvings to trendy fashion pieces and designer homeware, you'll find an array of treasures to take home as keepsakes or gifts.
In this comprehensive guide, we will take you through the best shopping areas in Bali, provide tips for bargaining, advise on authenticity and quality considerations, and offer shopping etiquette tips to ensure you have a memorable and enjoyable shopping experience. We will also share valuable tips for safe and secure shopping, especially for tourists who may be unfamiliar with the local shopping landscape.
So, whether you're a seasoned shopper or a first-time visitor to Bali, get ready to navigate the wonderful world of shopping in this tropical paradise. Let's dive in and explore the unique and exciting shopping opportunities that await you in Bali!
Best Shopping Areas in Bali
Bali offers a diverse range of shopping areas, each with its own unique charm and specialty. Here are some of the best shopping areas in Bali:
Kuta: Known for its bustling streets and vibrant atmosphere, Kuta is a shopping haven for tourists. The main shopping street, Jalan Legian, is lined with a mix of international brands, surfwear stores, and local boutiques. You'll also find plenty of souvenir shops offering a variety of Balinese handicrafts and trinkets.
Ubud: If you're looking for arts and crafts, Ubud is the place to be. The town is famous for its artistic community and traditional crafts. Explore the bustling Ubud Art Market for handmade textiles, woodcarvings, and paintings created by talented local artisans. The surrounding streets are also dotted with art galleries and boutique stores.
Seminyak: Known for its upscale vibe and trendy fashion scene, Seminyak is home to a multitude of stylish boutiques and designer stores. The streets are lined with fashion-forward brands, local designer boutiques, and concept stores offering a curated selection of clothing, accessories, and homeware.
Sanur: Sanur offers a more laid-back shopping experience, with a focus on locally made handicrafts and traditional products. Visit the Sindhu Art Market for a wide range of arts, crafts, and souvenirs. The surrounding streets also offer unique boutiques and galleries with a distinctly Balinese aesthetic.
Canggu: This beachside town has recently gained popularity for its hipster vibe and eclectic shopping scene. Explore the streets of Batu Bolong and Berawa to discover independent boutiques, bohemian-style clothing stores, and vibrant marketplaces offering a mix of fashion, homeware, and handmade crafts.
Whether you're looking for international brands, traditional crafts, or cutting-edge fashion, Bali has a shopping area to suit your preferences. Each area offers a distinct shopping experience, allowing you to immerse yourself in the local culture and find unique keepsakes to bring back home.
Traditional Markets
One of the best ways to experience the vibrant local culture and find authentic Balinese items is by exploring the traditional markets in Bali. These markets are a treasure trove of traditional crafts, clothing, and fresh produce. Here are some popular traditional markets worth visiting:
Ubud Art Market: Located in the heart of Ubud, this bustling market is a paradise for art enthusiasts. You'll find a variety of handicrafts, including intricate woodcarvings, traditional textiles, and beautiful paintings. Don't forget to bargain and explore the narrow lanes surrounding the market for hidden gems.
Sukawati Art Market: Situated in Gianyar, just a short drive from Ubud, Sukawati Art Market is a must-visit for those interested in traditional Balinese art. The market offers a wide range of art pieces, including batik fabrics, silver jewelry, and woodcarvings. It's a great place to get a taste of Balinese craftsmanship.
Kumbasari Market: Located in the heart of Denpasar, Kumbasari Market is the largest traditional market in Bali. It is a bustling hub of activity where locals come to shop for fresh produce, spices, and traditional Balinese items. It's a great place to experience the local way of life and find unique souvenirs.
Badung Market: Situated next to Kumbasari Market, Badung Market is another bustling market in Denpasar. It's known for its extensive selection of fresh fruits, vegetables, and spices. Head to the upper levels to explore the clothing section, where you'll find traditional Balinese clothing, sarongs, and accessories.
Pasar Senggol Gianyar Night Market: If you're looking for a unique culinary experience, visit Pasar Senggol Gianyar Night Market. Only open in the evenings, this bustling market offers an array of local street food, from traditional satay to beachside seafood. It's a great place to sample authentic Balinese flavors and immerse yourself in the local culture.
Exploring the traditional markets of Bali is not only a great way to shop for authentic Balinese items but also an opportunity to engage with the local community and witness the vibrant spirit of Bali. Don't forget to brush up on your bargaining skills to get the best deals!
Art Markets
Bali is renowned for its rich artistic heritage, and one of the best places to experience this is at the art markets. These markets showcase the unique creativity and craftsmanship of Balinese artists. Here are some notable art markets in Bali:
Ubud Art Market: Located in the heart of Ubud, this market is a haven for art lovers. Here, you will find a wide array of traditional and contemporary artworks, including paintings, sculptures, and handicrafts. The market is known for its high-quality craftsmanship and the opportunity to interact directly with local artists.
Sukawati Art Market: Situated in Gianyar, just a short drive from Ubud, the Sukawati Art Market is a popular destination for art enthusiasts. This bustling market offers an extensive collection of traditional Balinese art, including batik fabrics, woodcarvings, and silver jewelry. It's a great place to find unique pieces that showcase the intricacy of Balinese craftsmanship.
Pasifika Art Market: Located in Nusa Dua, the Pasifika Art Market is a showcase of art from across the Indonesian archipelago. This market features a diverse range of artworks, including traditional Balinese pieces, contemporary art, and cultural artifacts. It's a great place to explore the rich artistic heritage of Bali and beyond.
Art Market at Goa Gajah: Situated near the famous Goa Gajah Temple, this small but vibrant art market offers a unique selection of paintings and traditional crafts. Here, you'll discover works inspired by Balinese mythology, nature, and spirituality. It's a great spot to find one-of-a-kind pieces that reflect the mystical essence of Bali.
Sanur Art Market: Located in the coastal town of Sanur, this market showcases a range of art styles and mediums. From traditional paintings to modern sculptures, you'll find a diverse assortment of artworks created by talented local artists. The market also hosts regular art events and exhibitions, providing a platform for emerging artists to showcase their talent.
Visiting the art markets in Bali is not just about shopping; it's an opportunity to immerse yourself in the vibrant artistic culture of the island. Whether you're an art connoisseur or simply appreciate the beauty of creativity, these markets offer a truly enriching experience.
Souvenir Shops
When visiting Bali, it's hard to resist the allure of bringing back a piece of this beautiful island paradise with you. Souvenir shops in Bali are the perfect place to find unique keepsakes and mementos that capture the essence of the island. Here are some popular souvenir shops in Bali:
Krisna Bali Souvenir Shop: With multiple branches across the island, Krisna Bali Souvenir Shop is a one-stop destination for tourists looking for a wide variety of souvenirs. From traditional handicrafts and clothing to local snacks and cosmetics, you'll find a diverse range of products here, making it a convenient and popular option.
Uluwatu Handicraft and Souvenir Shop: Located near the iconic Uluwatu Temple, this shop specializes in handmade Balinese souvenirs and crafts. From intricately carved wooden masks to vibrant batik fabrics, the shop offers a selection of authentic Balinese items that make for memorable gifts or personal keepsakes.
Toko Jaya Keramas: Situated in the village of Keramas, this souvenir shop offers a unique collection of locally made ceramics and pottery. Here, you'll find beautifully crafted plates, bowls, and decorative items that showcase the traditional pottery techniques of Bali. These handmade ceramics make for vibrant and distinctive souvenirs.
Monkey Forest Road: Located in Ubud, Monkey Forest Road is not only known for its art galleries but also for its souvenir shops. Along this bustling street, you'll find an array of shops offering traditional Balinese crafts, clothing, and trinkets. Take your time to explore the shops and haggle for the best deals.
Edu Silver: If you're looking for silver jewelry, Edu Silver in Celuk village is the place to go. This small shop specializes in handmade silver jewelry crafted by local artisans. From intricate necklaces to unique earrings, you'll find a range of exquisite pieces that reflect the artistry and charm of Balinese silverwork.
Exploring souvenir shops in Bali is not only a chance to find special gifts and souvenirs but also an opportunity to support local artisans and craftspeople. Each item tells a story and represents the rich cultural heritage of Bali, making it a meaningful and cherished memento of your visit.
Boutique Stores
If you're looking for unique and fashionable items during your shopping experience in Bali, boutique stores are the perfect place to explore. These stores offer a curated selection of trendy clothing, accessories, and homeware that you won't find elsewhere. Here are some notable boutique stores in Bali:
Mister Zimi: Located in Seminyak, Mister Zimi is a boutique store known for its vibrant and stylish clothing. The store features a mix of colorful prints, bold patterns, and flowing fabrics that embody the bohemian spirit of Bali. From dresses and jumpsuits to swimwear and accessories, you'll find chic and effortless pieces to elevate your wardrobe.
Magali Pascal: With several boutiques across Bali, Magali Pascal offers a range of elegant and sophisticated clothing for women. The brand combines French style with Balinese influences, resulting in timeless pieces with intricate details and delicate fabrics. From feminine dresses to tailored blouses, each item exudes a sense of grace and refinement.
Bali Boat Shed: Located in Seminyak and Canggu, Bali Boat Shed is a boutique store that channels the laid-back beach vibe of Bali. The store offers a mix of swimwear, resort wear, and stylish accessories. With its colorful and bohemian-inspired pieces, Bali Boat Shed captures the essence of Bali's beach culture and is a favorite among fashion-savvy tourists.
Kiosk Bali: Situated in Seminyak, Kiosk Bali is a boutique store that focuses on local craftsmanship and sustainable fashion. The store offers a range of unique and ethically made clothing, accessories, and home decor items. From hand-woven textiles to handmade jewelry, each item reflects the artistic traditions of Bali while promoting responsible fashion practices.
Love Anchor: Located in Canggu, Love Anchor is a concept store that combines fashion, art, and lifestyle elements. The store houses a mix of local and international brands, offering a diverse range of clothing, accessories, and home decor. With its eclectic and bohemian atmosphere, Love Anchor is a favorite haunt for those seeking stylish and individualistic pieces.
Boutique stores in Bali offer a curated selection of fashionable and unique items that cater to different tastes and styles. From beachwear to bohemian chic, these stores provide a delightful shopping experience and an opportunity to discover fashion-forward pieces that capture the essence of Bali's style and creativity.
Shopping Malls
If you prefer a more modern and air-conditioned shopping experience, Bali is also home to a number of shopping malls that cater to both international and local shoppers. These malls offer a wide range of products, from high-end fashion brands to electronics and everything in between. Here are some popular shopping malls in Bali:
Beachwalk Shopping Center: Situated in the heart of Kuta, Beachwalk Shopping Center offers a mix of international brands, local boutiques, and a variety of dining options. With its open-air design and beachfront location, Beachwalk provides a relaxed and enjoyable shopping experience. You can find everything from fashion and accessories to cosmetics and home decor.
Seminyak Village: Located in the trendy Seminyak area, Seminyak Village is a modern mall that offers a mix of luxury fashion brands, local boutiques, and dining options. The mall features a stylish and upscale atmosphere, making it a popular destination for fashionistas. It also hosts regular events and exhibitions, adding to the vibrant shopping experience.
Discovery Shopping Mall: Situated right next to the beach in Kuta, Discovery Shopping Mall is a popular shopping destination for tourists. It offers a wide selection of fashion, accessories, electronics, and souvenirs. The mall's strategic location and variety of stores make it a convenient place to shop for both essentials and holiday mementos.
Bali Collection: Located in Nusa Dua, Bali Collection is a shopping complex that combines retail, dining, and entertainment. It offers a mix of international and local brands, designer boutiques, and art galleries. The complex also features cultural performances and events, providing a well-rounded shopping experience for visitors.
Mal Bali Galeria: Situated in the heart of Kuta, Mal Bali Galeria is a spacious mall known for its diverse selection of shopping options. From fashion and accessories to electronics and household items, you'll find a wide range of products here. The mall also has a food court, cinema, and supermarket, making it a convenient destination for all your shopping needs.
Shopping malls in Bali offer a comfortable and convenient environment for shoppers, with a wide variety of stores and amenities all under one roof. Whether you're looking for luxury brands, the latest gadgets, or simply a place to cool off, these malls are worth visiting during your time in Bali.
Local Brands and Designers
For those who appreciate unique and locally made products, Bali is a hub of creativity and home to many talented local brands and designers. These brands and designers offer a range of fashion, accessories, and homeware items that showcase the rich artistry and craftsmanship of Bali. Here are a few notable local brands and designers to explore:
Bin House: Bin House is a renowned local brand that specializes in modern Indonesian fashion. Their collections feature a fusion of traditional Indonesian fabrics and contemporary designs, resulting in stylish and sophisticated clothing. Bin House showcases the beauty of Indonesian textiles and supports local artisans.
Uma & Leopold: This Bali-based brand offers a curated collection of resort wear and accessories that exude a bohemian vibe. Uma & Leopold combines traditional craftsmanship with modern aesthetic, creating unique pieces that are both fashionable and ethically produced. From flowy dresses to handwoven bags, their items are perfect for a relaxed island style.
Magali Pascal: Magali Pascal, a Bali-born designer, has gained international recognition for her elegant and feminine clothing. Her collections feature delicate fabrics, intricate details, and a blend of French and Balinese influences. From romantic dresses to chic separates, Magali Pascal's designs embody timeless elegance and sophistication.
Suarti Boutique Jewelry: Suarti Boutique Jewelry is a local jewelry brand that specializes in sterling silver and gold pieces. With intricate designs inspired by Balinese artistry, their jewelry reflects the island's cultural heritage. From statement earrings to unique rings and pendants, each piece is handcrafted with precision and attention to detail.
Gooseberry Intimates: While not exclusive to Bali, Gooseberry Intimates is a popular lingerie brand with its flagship store in Seminyak. Their intimate apparel combines delicate lace, flattering cuts, and a touch of playfulness. Whether you're looking for everyday essentials or a special occasion set, Gooseberry Intimates offers luxurious and stylish options.
Exploring local brands and designers in Bali not only allows you to discover unique and stylish pieces but also supports the local economy and creative community. It's a chance to find one-of-a-kind items that are crafted with passion and reflect the beauty of Balinese craftsmanship.
Bargaining Tips
Bargaining is a common practice in Bali, and it adds an exciting aspect to the shopping experience. If you're not familiar with bargaining, don't worry – we've got you covered. Here are some tips to help you master the art of bargaining in Bali:
Do Your Research: Before heading out to the markets or shops, do some research to get a general idea of the price range for the items you're interested in. This will give you an idea of what is a reasonable price to negotiate for.
Start with a Smile and Friendly Greeting: Building rapport with the seller is important. Start the bargaining process with a smile and a friendly greeting. This sets a positive tone for the negotiation and shows that you're interested in establishing a mutually beneficial transaction.
Be Polite and Respectful: Bargaining is part of the cultural experience in Bali, but it's essential to be polite and respectful throughout the process. Remember that the seller also deserves fair compensation for their goods.
Start with a Low Counter Offer: When the seller quotes a price, don't be afraid to counter with a significantly lower offer. This allows room for negotiation and gives you the opportunity to meet at a mutually agreeable price.
Be Prepared to Walk Away: If the seller is not willing to meet your desired price, be prepared to walk away. Sometimes, the possibility of losing a sale can prompt the seller to reconsider and lower the price.
Don't Show Too Much Enthusiasm: It's important not to appear too eager or desperate to purchase an item. Show genuine interest, but avoid showing excessive enthusiasm, as it may affect the bargaining power.
Bundle Items for Better Deals: If you're interested in multiple items from the same seller, consider bundling them together. This gives you more leverage in negotiating a better overall price.
Stay Patient and Persistent: Bargaining can take time and require persistence. Be patient and stick to your desired price range. Remember, it's all part of the fun and cultural experience.
Know When to Accept a Fair Price: While bargaining is important, it's also essential to recognize when a fair price has been reached. If the seller is offering a reasonable deal, it's okay to accept it and appreciate the value of the item.
By following these bargaining tips, you can enjoy the process of negotiating prices while respecting the local customs and ensuring a fair and enjoyable shopping experience in Bali.
Authenticity and Quality Considerations
When shopping in Bali, it's important to consider the authenticity and quality of the items you're purchasing. Here are some key factors to keep in mind:
Buy from Reputable Sellers: To ensure the authenticity and quality of your purchases, it's best to buy from reputable sellers. Look for established stores, recommended by locals or fellow travelers, that are known for their genuine and high-quality products.
Examine the Craftsmanship: Take a close look at the craftsmanship of the item. Whether it's a piece of clothing, a piece of artwork, or a piece of jewelry, inspect the details and finishes. Look for signs of quality in stitching, materials used, and overall construction.
Ask About Materials and Sources: If you're purchasing an item made from natural materials, such as wood or textiles, inquire about the source and sustainability of the materials. This ensures that you're supporting ethical practices and receiving an authentic item.
Check for Certifications: Some products, such as certain types of jewelry or traditional handicrafts, may come with certifications or marks of authenticity. Look for these certifications to ensure that the item meets the necessary quality standards.
Read Reviews and Seek Recommendations: Before making a purchase, it can be helpful to read reviews or seek recommendations from other shoppers. The experiences and insights of others can give you a better understanding of the quality and authenticity of the products.
Spend Time Comparing Prices and Quality: Don't rush into buying the first item you see. Take the time to explore different stores and compare prices and quality. This allows you to make an informed decision and find the best value for your money.
Consider Supporting Local Artisans: When purchasing traditional crafts or handmade items, consider buying directly from local artisans. This way, you can support their livelihoods and ensure greater authenticity and quality in your purchases.
Be Mindful of Imitations: Unfortunately, Bali, like any popular tourist destination, is not immune to imitation products. Be cautious when purchasing branded items at significantly lower prices, as they may not be authentic. If in doubt, it's best to buy from authorized retailers.
By being mindful of these authenticity and quality considerations, you can have confidence in your purchases and bring home genuine and high-quality items that represent the true essence of Bali.
Shopping Etiquette in Bali
When shopping in Bali, it's important to be mindful of the local customs and practice good shopping etiquette. Here are some tips to ensure a respectful and enjoyable shopping experience:
Greet with a Smile: Start your interaction with a friendly smile and a greeting. Balinese people value politeness and a warm demeanor, so starting with a positive attitude sets the right tone for your shopping experience.
Respect the Bargaining Process: Bargaining is a common practice in Bali, but it's essential to do it with respect and tact. Remember that bargaining is part of the culture, so stay patient and avoid getting aggressive or disrespectful during the negotiation process.
Dress Modestly: Bali is a predominantly Hindu island with strong cultural values. When shopping, it's best to dress modestly out of respect for the local customs. Avoid wearing revealing clothing and opt for more conservative attire.
Remove Shoes in Certain Places: When entering smaller boutiques or traditional shops, you may be required to remove your shoes as a sign of respect. Pay attention to any signs or cues from the shop owner and follow their instructions.
Ask Permission Before Taking Photos: If you want to take photos inside a shop or market, always ask for permission first. Some shop owners may not be comfortable with photography, so it's important to respect their wishes.
Handle Items with Care: When browsing through products, be mindful of handling them with care. Avoid rough handling or causing damage to the items on display. Treat the merchandise as you would want your own belongings to be treated.
Be Courteous and Patient: Practice patience and courtesy when dealing with shop owners and staff. Understand that they may be busy or attending to other customers. Wait your turn, and use polite phrases like "excuse me" or "thank you" to show your manners.
Ask Questions and Show Interest: Engage with the shop owner or staff by asking questions and showing genuine interest in their products. This not only displays respect but also allows you to learn more about the item and the local culture.
Accept Cultural Differences: Bali is a culturally diverse destination with its own unique customs and traditions. Embrace the differences, be open-minded, and appreciate the opportunity to learn and experience the Balinese way of life.
By practicing good shopping etiquette, you not only show respect for the local culture but also create a pleasant and positive interaction with the shop owners and staff, enhancing your overall shopping experience in Bali.
Tips for Safe and Secure Shopping
While shopping in Bali can be an exciting experience, it's important to prioritize safety and security. Here are some tips to help you shop safely in Bali:
Keep Your Valuables Secure: When shopping, avoid carrying large amounts of cash or wearing expensive jewelry. Keep your wallet, phone, and other valuables secure in a bag that can be closed or worn across the body.
Be Aware of Your Surroundings: Stay vigilant and be aware of your surroundings when shopping. Keep an eye out for suspicious activities and crowded areas where pickpocketing can occur. Avoid isolated places, especially at night.
Use ATMs Safely: When withdrawing cash from an ATM, choose machines located in well-lit and populated areas. Cover the keypad when entering your PIN and be cautious of anyone observing your transaction.
Shop at Reputable Stores: Stick to reputable stores and markets to minimize the risk of purchasing counterfeit or low-quality products. Look for stores recommended by locals or fellow travelers, and read reviews or seek recommendations before making a purchase.
Secure Your Personal Information: When making purchases online or providing personal information at stores, ensure that you are using secure and reputable platforms. Avoid sharing unnecessary personal details and be cautious with sharing your credit card information.
Use Registered Taxis or Ride-Sharing Services: When traveling to and from shopping destinations, opt for registered taxis or reputable ride-sharing services to ensure your safety. Avoid unmarked or unofficial vehicles that may pose a risk.
Keep an Eye on Your Belongings: While shopping, be mindful of your belongings. Avoid leaving bags unattended or hanging them on the back of chairs where it's easy for someone to snatch them. Keep your belongings close to you at all times.
Trust Your Instincts: If something feels off or makes you uncomfortable, trust your instincts and remove yourself from the situation. Avoid engaging with aggressive or pushy sellers and be cautious of scams or suspicious offers.
Plan Ahead and Share Your Itinerary: Before heading out for a day of shopping, let someone know about your plans and itinerary. Share your location and estimated time of return with a trusted friend or family member.
Follow Local Laws and Customs: Respect and adhere to local laws and customs when shopping in Bali. Familiarize yourself with any specific regulations or cultural norms, such as appropriate dress codes or bargaining etiquette, to avoid any unnecessary complications.
By following these tips, you can shop with confidence and prioritize your safety and security while enjoying the vibrant shopping scene in Bali.
Additional Tips for Tourists
As a tourist visiting Bali, there are some additional tips that can enhance your shopping experience and ensure a smooth journey. Here are a few extra tips to keep in mind:
Bring a Reusable Bag: Bali has taken steps to reduce plastic waste, so bringing your reusable bag will not only be convenient but also eco-friendly.
Learn Basic Indonesian Phrases: Knowing a few basic Indonesian phrases such as greetings and numbers can go a long way in communicating and building rapport with the locals.
Stay Hydrated: Bali's tropical climate can be hot and humid, especially during shopping excursions. Carry a water bottle and stay hydrated throughout the day.
Wear Sunscreen: Protect your skin from the sun's rays by applying sunscreen before heading out. The tropical sun can be intense, so it's essential to take precautions.
Bring Cash in Small Denominations: Many smaller shops and markets in Bali may not accept credit cards, so it's advisable to carry small denominations of Indonesian Rupiah for easier transactions.
Respect Temple Etiquette: If you're planning to visit temples while shopping, be aware of the appropriate dress code and respectful behavior. Wear modest clothing, cover your shoulders and knees, and follow any guidelines provided by the temple staff.
Stay Cautious of Street Touts: Be cautious of street touts who may approach you with offers or promotions. It's best to decline politely and continue with your shopping plans.
Keep an Eye on Local Events and Festivals: Bali is known for its vibrant celebrations and cultural events. Keep an eye out for local events and festivals happening during your visit, as they often feature unique shopping opportunities.
Explore Beyond Tourist Areas: While popular tourist areas offer a wide range of shopping options, consider venturing beyond these areas to discover hidden gems and support smaller, local businesses.
Enjoy the Experience: Remember that shopping in Bali is not just about making purchases but also about immersing yourself in the local culture. Take the time to enjoy the experience, interact with friendly locals, and embrace the vibrant atmosphere.
By keeping these additional tips in mind, you can make the most of your shopping adventures in Bali and create lasting memories of your time on this beautiful island.