Best White Water Rafting Places In The U.S.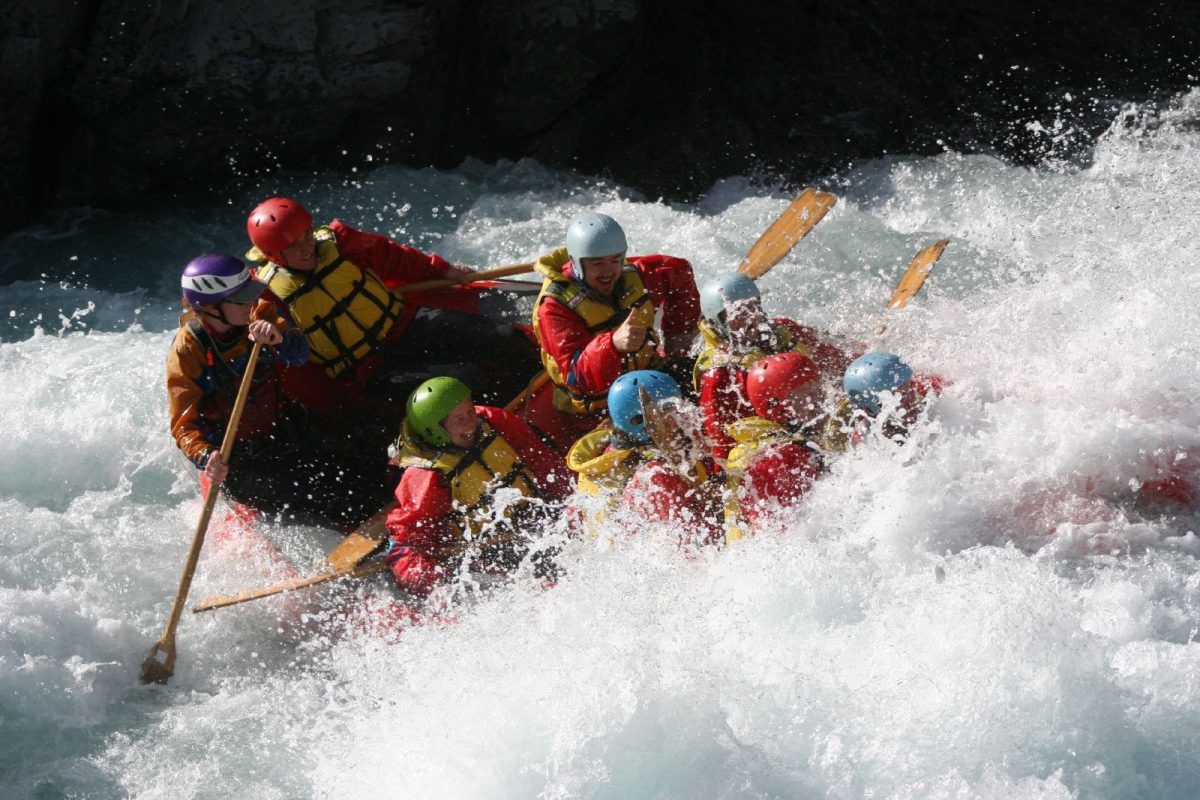 White water rafting is one of the most popular adventure sports in the U.S., and for a good reason; adrenaline pumping through your body while bouncing over the turbulent rapids of ancient rivers is a feeling like no other.
If you have tried hiking, rock climbing or camping, you may have caught the outdoor adventure bug. With a combination of danger and stunning scenery, what better way to continue than by trying white water rafting.
Here is our guide to the best white water rafting places in the U.S. and everything you need to know before you set off on your next adventure.
What Is White Water Rafting?
Picture the scene, you're speeding along the river, heart pounding. Your guide is shouting out instructions, but you can barely hear them above the noise of the rushing water as you tear along the rapids. And then, all is calm again and you float along taking in the beautiful surroundings. That is white water rafting.
The concept of rafting is easy, a team paddles an inflatable raft through a river's rapids. The adventure sport became popular in the 1950s and evolved from individuals paddling small 10 foot rafts with double-bladed paddles.
Today's white water rafts are made of high-quality materials with state of the art designs, which take water dynamics and manoeuvrability into consideration.
Travel fact: It's estimated that around 10 million people have tried white water rafting worldwide.
Best Places To Go White Water Rafting In The U.S.
1.
Colorado River, Arizona
The Grand Canyon is famous for its beautiful rock formations with Joshua trees growing among the orange rock. While many like to explore the area while hiking, there is another way to take in the sites; white water rafting along the Colorado River.
Paddling through the Grand Canyon is a dream come true for many rafting enthusiasts. The rapids in the canyon's Colorado River are some of the most scenic and adventurous in the U.S., while historical surroundings provide an abundance of trails for off-river excursions.
2.
Arkansas River, Colorado
Beginning high in the Colorado Rockies, the Arkansas River delivers more than 100 miles of white water, making it the most popular white water rafting river in the west.
From scenic floats to extreme white water rafting, the Arkansas River caters to everyone.
Rafting the Royal Gorge will get the adrenaline of even the most experienced of rafters pumping. Royal Gorge plunges 65 feet per mile through one of Colorado's most dramatic gorges with the canyon walls peaking over 1000 feet high.
Travel fact: The Ark, as the locals call it, is the 6th longest river in the U.S.
The largest river in Idaho and one of the largest in the U.S., Idaho's Salmon River meanders its way through Hells Canyon, the second deepest river gorge in North America. Passing through 85 miles of isolated wilderness, the Salmon is world-famous for its river adventures, which offer white water rafters the opportunity to become immersed in a world of untouched natural beauty.
The Salmon boasts extreme rapids along with calmer stretches of tranquil flatwater. Its white sandy beaches that line the way are perfect for overnight camping or as rest stops.
4.
Chattooga River, South Carolina
The Chattooga River is one of the most popular white water rafting locations in the U.S., stretching 26 miles through the Blue Ridge and Smoky Mountain region.
The river has something for everyone, ranging from flatwater that is ideal for beginners to advanced rapids at the famous Five Falls for the adventurous.
The river is so popular in the area that Southern Living voted rafting the Chattooga "The #1 Thing Every Southerner Ought to Do".
Travel Fact: The Chattooga River is the longest undammed river in the southeast.
5.
Youghiogheny River, Pennsylvania
Whether this is your first white water rafting or you are a seasoned pro, Youghiogheny River, in the heart of the Laurel Highlands, will give you the thrill you need.
The Yough, as it's popularly known, is broken up into three sections, lower, middle and upper.
The Lower Yough is the most popular for white water rafting and caters to everyone from novices to white water veterans. Along the Lower Yough's 7.5 mile journey, you'll experience the Dimple Rock, River's End and Cucumber rapids.
The Middle Yough offers a great beginners' experience. This section has some fun and bouncy rapids to pass along the 11-mile scenic journey.
The Upper Yough is for those looking to experience high-adventure white water rafting. You will thread your way between 22 continuous exhilarating rapids followed by heart-stopping descents.
6.
Gauley River, West Virginia
The Gauley River in West Virginia is recognised as one of the best rafting locations in the U.S. and offers everything from scenic beauty to technical rapids.
Over the course of 24 miles, the Gauley drops over 650 feet and has more than 100 rapids. The Gauley River has two distinct 12-mile sectors known as the Upper Gauley and the Lower Gauley. Each offers a different experience with the Lower Gauley suitable for beginner rafters and the Upper Gauley for those looking for a more challenging route.
The Kennebec River is ideal for everyone, from first-time rafters to white water experts. Blessed by nature, the Kennebec River winds its way from Moosehead Lake to the Gulf of Maine.
Adventurers get to raft through the remarkable upper Kennebec River Gorge with bouncy rapids and big waves before the Kennebec broadens into the easy-going lower section surrounded by forests, where you are likely to spot moose and eagles.
Rogue River winds its way through stunning forested canyons, as it flows from its headwaters high in the Cascades near Crater Lake National Park through the Rogue River National Forest to reach the Pacific Ocean at Gold Beach, Oregon.
The Rogue River is well known for its challenging white water rafting. An adventure down 40 miles of this scenic waterway, takes you through the historic Siskiyou Mountains, which have been explored by the Native American Indians for centuries.
Travel fact: Rogue River was a favourite getaway spot for John Wayne, Clark Gable and other stars from Hollywood's Golden Age.
9.
Deerfield River, Massachusetts
The Deerfield River flows from the Berkshire Mountains in Vermont all the way to Massachusetts.
White water rafting is available on two sections of the river: The Zoar Gap and the Dryway.
The Zoar Gap is the perfect rafting trip for beginners and provides fun rapids in a remarkable canyon surrounded by nothing but wilderness. It stretches for 10 miles and starts with some warm-up rapids before narrowing into a boulder area followed by a view of the beautiful forested shoreline.
The Dryway section, with stretches for 3.5 miles, is sure to keep your adrenaline flowing, with challenging rapids overlooked by the rugged northern Berkshire Mountains.
Rafters should expect to see a variety of bird species including red tail hawks, bald eagles and blue herons.
Flowing north through the heart of the Alaska Range Mountains, the Nenana River forms near Denali National Park and is the most popular whitewater river destination in Alaska.
Along the river's headwaters, you are sure to see plenty of wild moose, bear, and wolves. While progressing to the Nenana River Gorge, which offers 10 miles of exhilarating rapids, you will be greeted with views of golden eagles and wild sheep on the steep canyon walls.
The Nenana River offers a variety of levels of difficulty, from challenging white water rafting to scenic excursions for all ages and abilities.
Tips For First Time White Water Rafters
Pick The Best River For You
All rivers are different and can cater to a variety of experience and ability levels. Many rivers are good for beginners and seasoned white water rafters alike. Always research the difficulty of a river before you go so you can choose the best trip for you.
Don't Bring Anything You're Afraid To Lose
If you don't want to lose it, don't bring it. Things can easily fall over the side of the raft or get damaged by water. There's nothing like an expensive camera, phone or watch going overboard to ruin your rafting experience.
Suncare
Make sure to pack waterproof sun cream to protect yourself from the sun. Even when the sun doesn't seem so harsh, the sun's rays can still burn your skin if you're out for an entire day of white water rafting.
Stay Hydrated
Rafting can be hard work so it's always good to come prepared by ensuring you are properly hydrated before, during and after your trip.
Safety First
Your life vest should be fully secured at all times while in the water. Before getting onto the raft, ensure that it fits snuggly and comfortably. Remember, if something was to happen and you fell overboard, your life vest could save your life.
Listen To Your Guide
You must listen to everything that your guide says. These guides are highly-trained and are committed to making your trip as safe and enjoyable as possible.
Before leaving dry land, your guide will give you safety tips and a run-down of what to expect in the water. Be sure to listen carefully as they will tell you important information regarding your rafting adventure.
While on the raft, you should continue to listen to commands. They will tell you where and when to paddle, how to keep the raft balanced and what to do in an emergency.
Guides are knowledgeable and can also give you information about the nature and history of the area.
Teamwork
Rafting is a team activity and so it's essential that your paddling is in sync. Paddling as a team makes all the difference when navigating through strong rapids. Paddling together will give the raft power to get where it needs to be.
Learn About The Rapids Rating Scale
While researching rivers for your white water rafting trip, you will find that they are all numbered from Class I Rapids to Class VI Rapids. These ratings describe the difficulty level of each section of the river.
Here are the six classes and what they mean:
| | |
| --- | --- |
| Class I Rapids | These rapids are suitable for beginners with few challenges. |
| Class II Rapids | You will find some small rapids and will have to manoeuver your raft around small objects like rocks or logs. |
| Class III Rapids | These rapids are recommended for rafters with some degree of experience. If you are a beginner, these rapids may be too strong for your liking. |
| Class IV Rapids | These have faster-moving currents, and you are likely to face some challenges along the way. |
| Class V Rapids | These are for experienced rafters. Make sure to prepare in advance and know the river. These rapids are strong and difficult to navigate. |
| Class VI Rapids | These are extreme and are recommended for professionals with a complete understanding of rafting only. |
What To Wear?
During the hotter seasons, it's recommended that you wear a swimsuit, shorts, t-shirt and appropriate footwear such as old sneakers, river sandals or water shoes. You should also pack a towel, change of clothes and dry shoes for after your white water rafting trip. A baseball hat is also useful during the summer months for keeping the sun out of your eyes.
For cold seasons, the water and air temperatures are a lot chillier so pack wool sweaters, pants, and warm socks. Woollen items will retain heat, even when wet. You may also want to consider renting a wetsuit.
Why not team your rafting trip with a trip to one of the top 5 rock climbing spots in the U.S., that way you can see the beauty of America from the land and water!