How To Choose The Best Sleeping Bag Liner?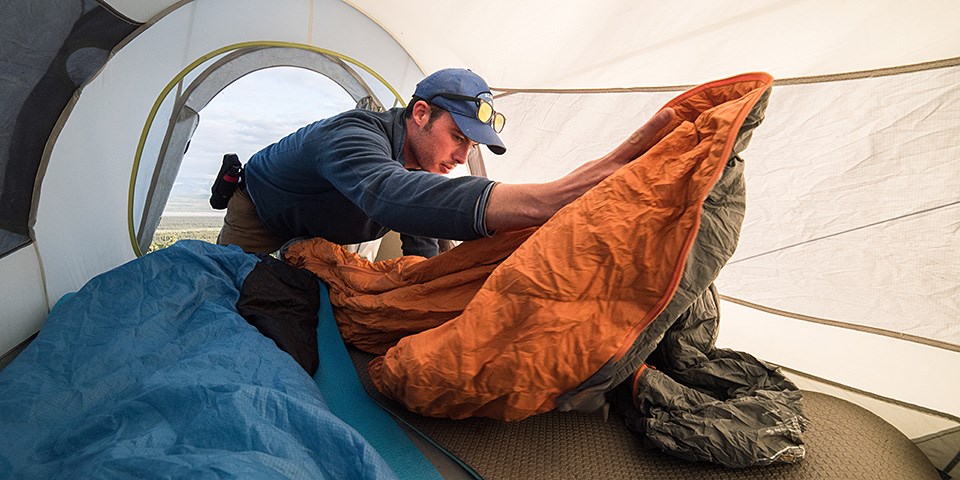 You've probably heard of sleeping bags and how they can increase your night's sleep quality. But you are missing one part of the whole process? You don't feel your night experience fully comfortable and enjoyable. Sometimes at night, you feel a bit cold.
All of these problems come to an end when a sleeping bag liner is added to your backpack.
Sleeping Bag Liners & Sleeping Bags
Hi there, in this article we are going to focus mainly on sleeping bag liners. Why are they essential, do you need one, how to choose one, and finally, we are going to present to you our five best sleeping bag liners.
So, before we jump into that, make sure you've checked our article on sleeping bags. It's tightly connected to this one, and it explains why sleeping bags can improve your sleep experience significantly.
In case you don't have time to do that, let me give you a brief introduction to sleeping bags.
Sleepings bags are a must check in your prep list while planning a trip or camping. The main advantage of sleeping bags is that they keep your body warm during the night. Sleeping bags are sorted into three different categories – T Comfort, T Limit, and T Extreme. Each level represents the comfort a sleeping bag provides as T Comfort being the most comfortable and T Extreme not recommended.
Without further ado, let's discuss the bag liners.
How To Select The Best Sleeping Bag Liner?
Sleeping bag liners come in two main types
Mummy shaped liners constructed to fit inside your sleeping bag

Rectangular liners (aka. Travel sheets) can be used separately or likewise can fit inside a sleeping bag.
For backpackers, mummy-shaped liners are preferred since they easily fit in your sleeping bag. Likewise, it keeps the sleeping bag clean and tidy. This type of liners provides anywhere from 5*F to 15*F additional warm to the sleeping bag, depending on the liner material.
As the name suggests, travellers ought to go with travel sheets(rectangular liners). A rectangular bag liner keeps you isolated from bedding of flawed tidiness or with conceivable bedbug infestations.
Let's look at the type of liners
Silk is extremely lightweight and easy to pack. It helps you preserve your body heat in cold weathers. Yet, it sucks in when the weather is warm. This one can be expensive.
Cotton – Simply put: strong and durable, but not the lightest or most compact. The price of this one is average.
Warmer and heavier are the fleece and microfleece. They can add up to 12*F additional degrees and are incredibly soft. The cost of this one is moderate.
Synthetics. These are moisture breathable, which makes them perfect for high humid conditions. Stretch is available here, which makes them an excellent choice for restless sleepers.
The last one – Insulated. This particular one can add up to 25*F of heat. So it's possible to extend the temperature range of a lightweight bag. This one can be rather expensive too.
Best Sleeping Bag Liners In The Market
Here are our top suggestions in case you find yourself in a difficult situation while choosing a sleeping bag liner.
1.
Therm-A-Rest Sleeping Bag Liner
The leading brand Therm-A-Rest offers us a high-quality sleeping bag liner in case we are searching for relaxation and comfort as a priority. It is made of polyester. Therefore the bag liner feels exceptionally soft and provides the comfort of the highest levels — one of the best sleeping bag liners in the market.
Get your Therm A Rest Sleeping bag liner from Amazon.
2.
The Friendly Swede Travel and Camping Sleeping Bag Liner
This one comes in cobalt or silver colour. It's made from machine-washable polyester. It brings average comfort and has a 23-inch side opening with velcro closure. It weighs only 8.35 ounces. Thus it becomes an excellent choice for people on a budget.
Buy The Friendly Swede Travel and Camping Sleeping Bag Liner from Amazon.
3.
Osage River Microfiber Zippered Sleeping Bag Liner
This one is an excellent choice since it is incredibly light and it provides significant warmth. It's likewise made of microfiber fleece hence becomes cheaper than silk. Osage River Microfiber Zippered sleeping bag liner is an incredible choice for people who need a bit more insulation for camping in winter. It is also trendy in the market.
Get Osage River Microfiber Zippered Sleeping Bag Liner from Amazon.
4.
Coleman Stratus Adult Fleece Sleeping Bag Liner
It might be bulkier than the microfibre fleece liners, but it can be the best option for you if warmth is the number one priority for you. It can be used separately on its own, and it will keep you warm in temperatures as low as 50*F. Also, this can be counted as one of the best sleeping bag liners in the market.
Buy Coleman Stratus Adult Fleece Sleeping Bag Liner from Amazon.
5.
Cocoon Silk Mummy Liner
The last on our list is Cocoon Silk Mummy Liner. It's made of silk; hence the price goes up too. It's incredibly lightweight, and it feels incredible against the skin. This sleeping bag liner is designed with high-quality materials. Therefore it stays cool in the summer and keeps the warmth inside the sleeping bag in the winter, our top sleeping bag liner.
Buy Cocoon Silk Mummy Liner from Amazon.
Why Sleeping Bag Liners Are Important
Sleeping bag liner is a type of insert that fits inside your sleeping bag, making it more heat-preserved and keeps it clean. Mummy liners and rectangular liners exist on the market right now.
For travellers and backpackers, it's inevitable to protect the sleeping bag from dirt and grit. Here is where the liner takes part. It keeps the sleeping bag clean from the inside. Thus, ensuring the bag will last longer.
A liner likewise prevents the sleeping bag from body oils.
Consider this also: A 30*F sleeping bag tells you that you will be able to feel comfortable and warm until the weather goes below than 30*F. Yet, 30*F is the limit. And it might not be so relaxing and friendly in your sleeping bag when the weather outside hits a temperature of 25-30*F. A sleeping bag liner helps you stretch that limit even further. It is thus securing more warmth and relaxation to your body.
You already know why keeping a sleeping bag liner in your backpack is vital, now let's take a look at it.