15 BEST Dog Backpack To Hike Comfortably With Your Furry Pals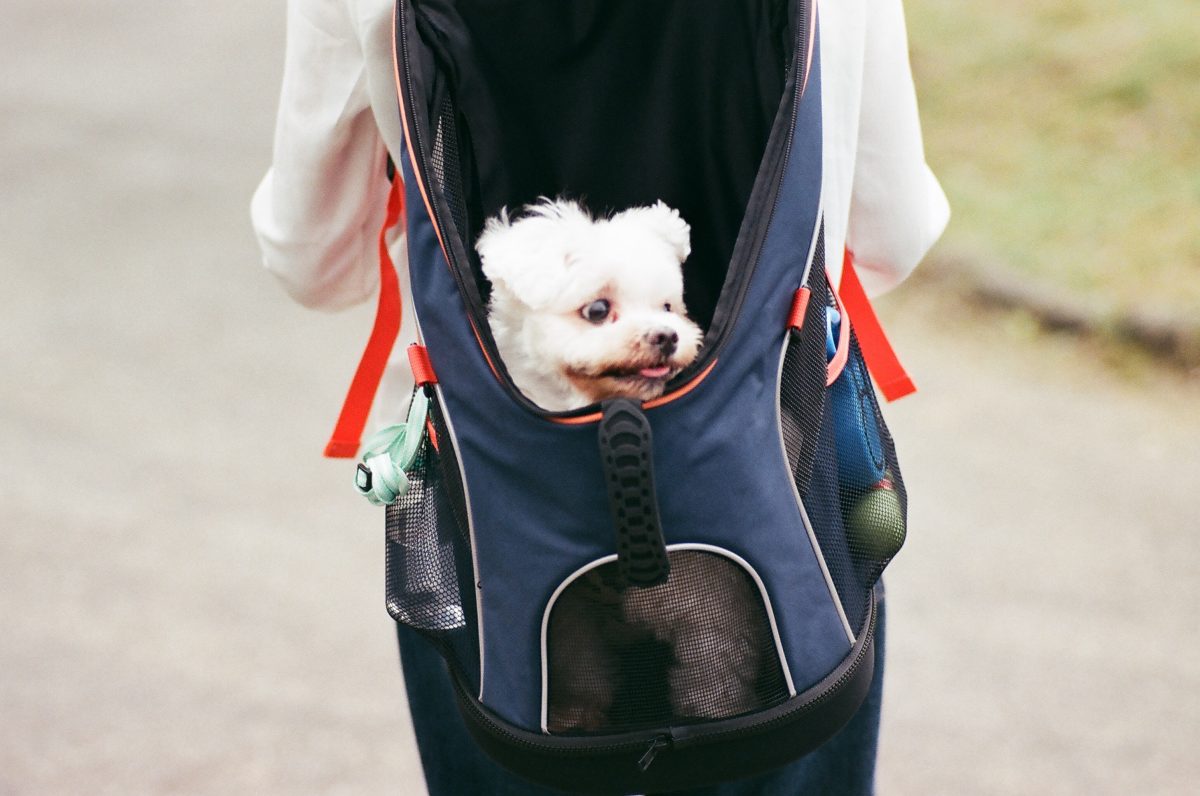 How fun can hiking really be if you're not doing it with your best friend? If you have a beloved pet, it's natural to want to take them with you. It would be twice as enjoyable to share the experience with your buddy. However, it's not always practical to hike with your dog given all the things you need to carry for them. They'd need their own gear for water, food, etc. Not to mention that they get tired more easily than you do since one human step can be four steps for a dog.
Dog backpacks are a great solution for all these setbacks. But with many brands for both types of backpacks, which one do you pick? Here's our list of 15 best dog backpacks for you to hike comfortably with your pup.
1.
Alfie Pet By Petoga Couture – Chico Reversible Pet Sling Carrier
Sometimes, it can be concerning when you hike with a dog backpack because you can't see what your dog's doing. If you're unsure about how to backpack with a dog, then you can check out the Alfie Pet by Petoga Couture. It's not a dog backpack, but it serves the same essential purpose of one, only as a sling bag. Imagine your dog curled up on your side as you hike through the forest or the Australian blue mountains.
Keep in mind that this pouch's weight limit is 12 lbs and is better suited for tame and calm dogs. Get yours now! We promise it won't burn a hole in your pocket and it's definitely durable too.
2.
Cesar Millan Dog Backpack
If you're familiar with the famous dog whisperer Cesar Millan, you might be familiar with his dog backpack. While it's not a backpack for carrying your dog, it's a very useful and small hiking backpack for mutt. It's one of the dog saddlebags made for hiking with your pooch.
It's water-resistant, durable, and high quality. The dog backpack is weighted towards your dog's front shoulder to keep them balanced. There's also a mesh inside to keep the bag breathable. With this design, you won't have to worry about how to get a dog used to a hiking backpack.
It's good for dogs of small, medium, and large sizes. Dogs from 20 lbs all the way up to 90 lbs can carry this bag depending on the size. Chest measurement ranges from 20″ to 44″.
3.
Commuter Pack By Ruffwear
The first thing you'll notice about this dog backpack is the aesthetic. It sports a beautifully made design that's perfect for all your Instagram posts with your pup. It's also functional with two large pouches sitting on either side of the saddlebag for all your dog hiking needs. Food, a water bottle, and even adorable winter dog boots for chilly weather can all fit inside this pet backpack.
It's also weighted towards the front and has a snug fit to keep your dog comfy. What's more, you can easily attach a leash onto it to make sure you don't lose your furry friend. It's water-resistant, has removable pouches, and has all kinds of sizes for all kinds of dogs. Get yours now on Amazon!
4.
COODIA Legs-Out Front Chest Backpack
Is there anything more adorable than a dog hanging on your back with his/her head poking out? I'll tell you what: a dog with head and limbs dangling, poking out of a dog backpack! Actually, it's more of a front-pack since your dog will be right in front of you (which is even cuter).
If you're worried about how to carry a dog in a backpack, COODIA makes it easy. You can easily fit your dog's limbs in the carrier without problems, and they'll cutely poke out. It's 10 times more adorable, and it's also safe with its own safety lock. COODIA has sizes for small, medium, and large dogs alike. The sizes don't affect the prices, get yours now on Amazon.
When your dog gets tired from hiking, you'll want to put your dog on your back. The K9 Sports Sack AIR gives ventilation on the sides of the dog backpack making it super comfortable. It's the perfect dog backpack for biking as well, as it's secure and safe.
It can carry up to 35 lbs for small to large dogs. Whether you're hiking in Connecticut or in the wilderness of Ohio, you can be sure that you won't have a problem hiking with your dog. It's available in various colors on Amazon.
6.
Kurgo Dog Carrier Backpack For Small Pets
The Kurgo Dog Carrier Backpack carries your pet on your back safely and securely. It also has vents on the sides to keep your dog cool and comfortable. The straps and build quality of the backpack is secure and sturdy, ensuring your dog's safety.
The top is water-resistant and the bottom is waterproof, perfect for slightly more rugged hiking. It even has a dedicated padded laptop compartment in case you need it on your journey. This dog carrier backpack has a weight limit of up to 25 lbs. Though it's slightly on the pricier side, we all can agree that quality has its price. Find yours here now.
7.
Mountainsmith K-9 Dog Pack
The Mountainsmith K-9 Dog Pack is a comfortable, adjustable saddlebag for dogs. It's spacious and padded for added storage and comfort. The adjustable design also allows for a perfect fit for your dog. The top section is connected to the pockets by straps allowing your dog to move freely and even curl up.
There's also ventilation making it breathable, and it's weighted forward for your dog's ease of use. Unfortunately, it isn't waterproof and isn't as durable as the others on the list. You can buy it on Amazon.
8.
OneTigris Blaze Packer Dog Pack
OneTigris Blaze is another dog backpack perfect for carrying around your dog's essentials. It also has a V-Ring backpack leash attachment for you to make sure your dog doesn't wander off. There's also a handy compartment to store your dog's poop, so you can pick up after yourself while on the go.
Blaze features adjustable straps and is padded for extra comfort. It also features two compartments on either side, an ID slot on top for your dog, and pockets for small items. Neat, huh? It's not waterproof though, so do be careful.
Blaze is available on Amazon for an absolutely affordable price.
9.
Pawfect Pets Soft-Sided Pet Carrier Backpack
The Pawfect Pets soft-sided dog backpack features big windows on the front and at the top. It's perfect if you want to show off how cute your dog is to the whole world. Designed to be durable and secure, the Pawfect backpack won't break as easily as others. Detachable fleece pads and padded shoulder straps make it a practical choice. It's also washable so it's easy to clean. Perhaps best of all, if you want to fly with your pup, you can definitely take Pawfect with you as it's an airline-approved size.
Pawfect has a weight limit of 10 lbs and goes for a reasonable price on Amazon.
10.
Pet Gear I-GO2 Plus Traveler Rolling Backpack Carrier
Pet Gear I-GO2 Plus is a good choice if you don't want to carry your dog all the time. It's a rolling carrier, a dog backpack, a tote, and even a car seat. With all these options your every pet-carrying need will be met with Pet Gear.
As a bag, it's got proper ventilation, adjustable straps, and pockets for your valuables. Its weight limit is 25 lbs and costs less than $100 on Amazon. If you're willing to buy it used, it can go for as low as $37, too.
11.
PetAmi Premium Pet Carrier Backpack
Even though it's one of the more affordable backpacks, it's by far one of the best on this list. Not only does it have generous ventilation, but it also has side pockets for your pet's needs. Whether toys, food, a water bottle, or others, PetAmi's got your back.
It's also a very versatile choice as it has a collapsible bowl for water on-the-go for your dog. Padded straps with added waist and chest straps keep you secure and comfortable during the hike.
It's available in a variety of colors. Get yours on Amazon now.
12.
Reddy Black Cotton Canvas Pet Carrier
Reddy may seem like a regular backpack, but it's really a convenient dog backpack. There's a safety tether to keep your dog secure and ventilation mesh windows so your dog can breathe. The padded straps are adjustable and comfortable allowing you to hike with your dog with ease.
You can order it on Amazon and get delivered to your doorstep.
13.
Singletrak Pack V2 By Ruffwear
If you're concerned about your dog's hydration while hiking, have no fear. With Singletrak, you'll have a dog saddlebag with two BPA-free bladders. They're both refillable and fit well in the bag's pockets. The pockets have enough room to store additional stuff your dog needs like a small water bowl or a toy.
It comes in sizes from small to large and is very lightweight, so your dog won't tire out too easily. Being light and brightly colored means that it's ideal for warm-weather hiking. Order it now on Amazon.
14.
Snoozer Wheel Around Travel Pet Carrier
One of the last but certainly not the least, Snoozer is another carrier on wheels. Most of its front exposed by either a mesh or an opening, so it's quite breathable. You can pull it around because of the wheels or carry it on your back like a regular dog backpack. It's so versatile that it can even double as a car seat or a bed for your pup.
Snoozer also has storage pockets on the sides for conveniently carrying essentials. It comes in small, medium, and large sizes and is available on Amazon.
15.
Ytonet Dog Backpack Pet Carrier
The Ytonet Dog Backpack not only looks premium from the get-go, it actually is. With two openings, mesh sides all around, and a leash tether for safety, Ytonet has everything you need to hike comfortably with your dog. It even has side pockets to carry all your pup's essentials.
It can carry up to 18 lbs and is available on Amazon for $30.
A Pack For Your Pup
While it's fun to travel and hike with your furry pal, it's worth it to travel well-prepared. You don't want to sacrifice your dog's health and well-being when you hike. Even if exercise is great for your pet, there's a fine line between rigorous exercise and just plain exhaustion. So, make sure to travel with a dog backpack to keep you and your dog ready on your next hike together.