Virginia Beach Travel Tips: How To Explore Beyond The Sand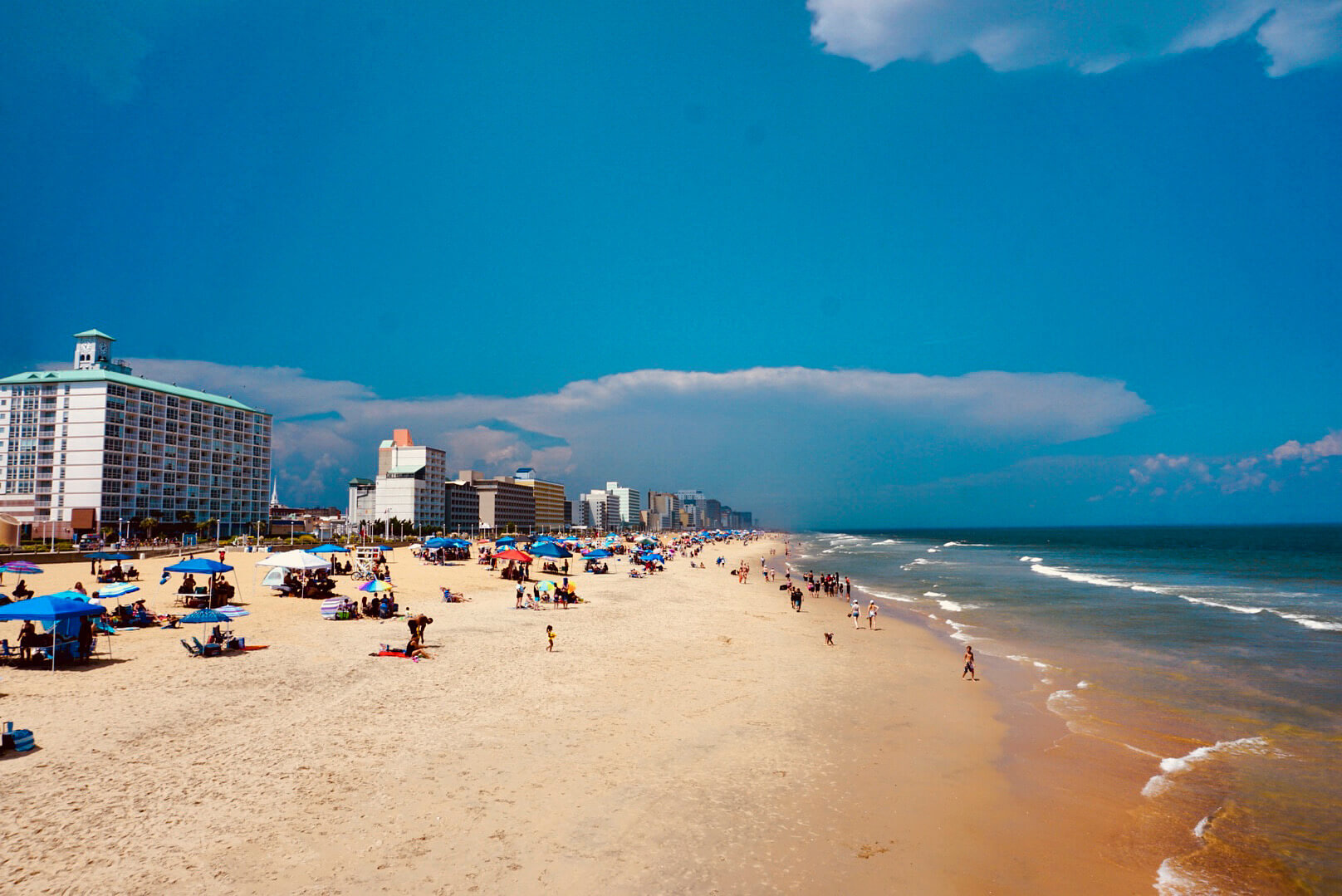 Introduction
Welcome to Virginia Beach, a vibrant coastal city known for its beautiful sandy beaches, lively boardwalk, and rich history. Located in the southeastern part of the state, Virginia Beach offers visitors a perfect blend of natural beauty, outdoor activities, culture, and relaxation.
With its mild climate, Virginia Beach is a popular tourist destination throughout the year. Whether you're looking to soak up the sun on the beach, indulge in delicious seafood, explore historical sites, or experience thrilling outdoor adventures, this city has something for everyone.
As you plan your trip to Virginia Beach, it's important to consider the best time to visit. The summer months from June to August are the busiest, with warm temperatures and the most tourists. Spring and fall offer pleasant weather and fewer crowds, making it an ideal time for outdoor activities and sightseeing. Winter is a quieter season in Virginia Beach, but it still has its charm and is great for a relaxing getaway.
In this article, we will provide you with valuable travel tips to help you make the most of your time in Virginia Beach. From getting there and finding accommodation to exploring the local cuisine and discovering the city's attractions, we've got you covered.
So pack your bags, put on your sunscreen, and get ready to immerse yourself in the beauty and charm of Virginia Beach. Let's dive in and explore all that this amazing city has to offer.
Planning Your Trip
When planning your trip to Virginia Beach, there are a few key factors to consider to ensure a smooth and enjoyable experience.
First, you'll want to decide on the duration of your stay. Virginia Beach offers plenty of activities and attractions, so allocating enough time to explore them is essential. A week-long trip is recommended to fully experience everything the city has to offer, but even a weekend getaway can be a fantastic option.
Next, determine the best time of year to visit. As mentioned earlier, summer brings warm temperatures and bustling beaches, while spring and fall offer pleasant weather and fewer crowds. Winter is the quietest season, but it has its own unique appeal for those seeking a peaceful retreat.
After deciding on the timing, consider your budget. Virginia Beach has a range of accommodation options, from luxury hotels and resorts to budget-friendly motels and vacation rentals. Research and compare prices to find the best fit for your budget and preferences.
It's also important to plan your itinerary in advance. Virginia Beach is home to numerous water sports, wildlife areas, historical sites, and cultural attractions. Take the time to research and prioritize the activities you want to do and the places you want to visit. This will help optimize your time and ensure you don't miss out on any must-see attractions.
Lastly, familiarize yourself with the local transportation options. While Virginia Beach is a car-centric city, there are also public transportation options available, such as buses and trolleys. If you prefer to be more flexible with your explorations, consider renting a car.
By taking these factors into account and planning ahead of time, you'll be well-prepared for an unforgettable trip to Virginia Beach.
Getting There
Getting to Virginia Beach is convenient, thanks to its central location and excellent transportation options. Whether you're traveling by air or car, there are several ways to reach this coastal destination.
If you prefer to fly, the closest major airport to Virginia Beach is Norfolk International Airport (ORF). Located just 20 minutes away from the city, the airport serves numerous domestic and international flights. From the airport, you can easily rent a car, hire a taxi, or take a shuttle service to reach your accommodation in Virginia Beach.
If you're traveling by car, Virginia Beach is easily accessible from major highways, such as Interstate 64 and Interstate 264. The city is about a 3-hour drive from Washington, D.C., and a 5-hour drive from Philadelphia. It's a straightforward and scenic journey, allowing you to enjoy the beautiful landscapes of Virginia as you approach the coast.
Another option for reaching Virginia Beach is by bus. Several bus companies, including Greyhound and Megabus, provide service to the city. The bus station is conveniently located near the oceanfront area, making it easy to access popular attractions and accommodation options.
Once you're in Virginia Beach, the city offers a comprehensive public transportation system. Hampton Roads Transit operates buses and trolleys that serve various areas of the city, including the oceanfront, downtown, and surrounding neighborhoods. This is a convenient and affordable way to get around and explore different parts of Virginia Beach.
In addition to these transportation options, Virginia Beach is also a popular stop for cruise ships. The city's cruise terminal, known as the Half Moone Cruise and Celebration Center, welcomes cruise lines throughout the year. If you're looking for a unique and scenic way to reach Virginia Beach, consider taking a cruise and arriving in style.
With its accessible location and multiple transportation options, getting to Virginia Beach is a breeze. Choose the option that suits your preferences and embark on an unforgettable journey to this beautiful coastal city.
Accommodation Options
Virginia Beach offers a wide range of accommodation options to suit every traveler"s needs and preferences. From luxurious beachfront resorts to cozy bed and breakfasts, there is something for everyone in this coastal city.
If you"re looking to indulge in a luxurious beach experience, consider staying at one of the many upscale resorts that line the oceanfront. These resorts often offer spectacular views, direct beach access, and a host of amenities such as pools, spas, and on-site dining options. They are perfect for those seeking a luxurious and relaxing getaway.
For travelers on a budget, Virginia Beach also has plenty of affordable accommodation options. Budget-friendly motels and hotels are scattered throughout the city, offering comfortable rooms and convenient locations. These properties often feature amenities such as complimentary breakfast, Wi-Fi, and parking, making them a great choice for cost-conscious travelers.
For a more unique and intimate stay, consider booking a bed and breakfast in the quieter residential areas of Virginia Beach. These charming establishments often feature cozy rooms, personalized service, and delicious homemade breakfasts. Staying in a bed and breakfast can provide a more intimate and authentic experience, allowing you to connect with the local culture and hospitality.
Another option to consider is vacation rentals. Virginia Beach has a variety of beach houses, condos, and apartments available for rent. This is an excellent choice for larger groups or families who want the convenience of a home-away-from-home and the flexibility to cook their meals and have more space to relax.
When choosing your accommodation in Virginia Beach, consider factors such as location, amenities, and proximity to the attractions you wish to visit. The oceanfront area is the most popular, offering stunning beach views and easy access to the boardwalk. However, if you prefer a quieter environment, you may opt for accommodation in the residential areas or near the Chesapeake Bay.
With its diverse range of accommodation options, Virginia Beach ensures that every traveler can find a place to stay that suits their needs and budget. Take the time to research and compare options to find the perfect home base for your vacation in this beautiful coastal city.
Exploring the Cuisine
Virginia Beach is a food lover's paradise, offering a diverse culinary scene that showcases the best of coastal cuisine, Southern flavors, and international delights. From fresh seafood and farm-to-table dishes to international cuisines and sweet treats, there's something to satisfy every palate in this vibrant city.
When it comes to seafood, Virginia Beach is renowned for its delectable offerings. Don't miss the opportunity to indulge in succulent crab legs, plump shrimp, and flavorful oysters, all sourced locally from the Chesapeake Bay. Visit one of the many seafood restaurants along the oceanfront or the Lynnhaven Inlet for a true taste of the sea.
In addition to seafood, Virginia Beach boasts a thriving farm-to-table food culture. The city's proximity to agricultural areas allows for a bounty of fresh produce and locally sourced ingredients. Many restaurants in Virginia Beach emphasize sustainability and work closely with local farmers to deliver delicious, seasonal dishes that showcase the region's flavors.
For those seeking international flavors, Virginia Beach offers an array of cuisine options. From Italian and Mexican to Thai and Indian, you can embark on a culinary journey around the world without leaving the city. Explore the diverse neighborhoods of Virginia Beach and discover hidden gems that showcase authentic and flavorful international dishes.
No visit to Virginia Beach is complete without trying the iconic Chesapeake Bay Blue Crab. These sweet and succulent crabs are a local delicacy and are best enjoyed in the form of crab cakes, crab bisque, or simply steamed and seasoned. Be sure to savor this regional specialty during your visit.
For those with a sweet tooth, Virginia Beach won't disappoint. Treat yourself to some homemade ice cream from one of the local creameries or indulge in a piece of Smith Island Cake, a traditional multi-layered cake with various flavors and fillings.
As you explore the cuisine of Virginia Beach, keep an eye out for food festivals and events that celebrate the local flavors. From the seafood-centric Neptune Festival to the Virginia Beach Restaurant Week, there are ample opportunities to immerse yourself in the culinary delights of the city.
Whether you're a seafood enthusiast, a lover of farm-to-table cuisine, or someone who enjoys exploring international flavors, Virginia Beach has countless options to satisfy your cravings. Don't miss the chance to indulge in the delicious and diverse cuisine that this coastal city has to offer.
Outdoor Activities
With its stunning coastline, beautiful parks, and diverse ecosystem, Virginia Beach is a paradise for outdoor enthusiasts. From thrilling water activities to peaceful nature hikes, there are plenty of opportunities to enjoy the great outdoors in this coastal city.
One of the biggest draws of Virginia Beach is its expansive sandy beaches. Spend your days basking in the sun, swimming in the Atlantic Ocean, or building sandcastles with your family. The city also offers a variety of water sports, including surfing, paddleboarding, kayaking, and jet skiing. Rent equipment from one of the beachside vendors or take a guided tour to explore the waters and experience the thrill of these activities.
If you prefer a more relaxed outdoor experience, head to one of the city's many parks and nature preserves. First Landing State Park is a must-visit, offering miles of hiking and biking trails that wind through maritime forests, dunes, and marshes. Back Bay National Wildlife Refuge is another popular destination for nature lovers, with its diverse range of habitats and opportunities for birdwatching and wildlife spotting.
For a unique outdoor adventure, take a dolphin-watching cruise or a boat tour to explore the Chesapeake Bay or the Atlantic Ocean. These tours offer a chance to see dolphins, whales, and other marine life up close, while enjoying the beauty of the surrounding waters.
Golf enthusiasts will also find plenty of options in Virginia Beach. The city is home to several championship golf courses, offering scenic layouts and challenging fairways. Whether you're a seasoned golfer or a beginner, you can enjoy a round of golf while taking in the picturesque coastal views.
Virginia Beach is also known for its vibrant biking culture. The city has a network of bike paths and trails that span over 200 miles, providing opportunities for leisurely rides or more extensive biking adventures. Rent a bike and explore the city at your own pace, or join a guided bike tour to discover hidden gems and local attractions.
Lastly, don't forget to catch the unforgettable sunrises and sunsets that paint the sky with vivid colors. Whether you're strolling along the beach at dawn or watching the sun dip below the horizon in the evening, these natural spectacles are a breathtaking way to end your day in Virginia Beach.
With its abundance of outdoor activities, Virginia Beach offers endless opportunities to immerse yourself in nature and enjoy the great outdoors. Whether you prefer thrilling water sports, peaceful hikes, or simply lounging on the beach, this coastal city has something to suit every outdoor enthusiast's taste.
Historical and Cultural Sites
Virginia Beach is not just a stunning coastal destination; it is also steeped in history and rich in cultural heritage. Explore the city's historical and cultural sites to gain a deeper understanding of its past and immerse yourself in its vibrant arts scene.
A must-visit historical site in Virginia Beach is the Cape Henry Lighthouse. Located within Fort Story, this lighthouse marks the site where English settlers first landed in Virginia in 1607. Climb to the top for panoramic views of the Chesapeake Bay and learn about the area's significant role in American history.
For a deeper dive into the region's past, head to the Virginia Beach History Museum. Located in the heart of the city, the museum showcases artifacts, exhibits, and interactive displays that trace the history of Virginia Beach and the surrounding area. Discover the stories of Native American tribes, early settlers, and the evolution of this coastal city.
The Military Aviation Museum is another must-see attraction for history enthusiasts. This unique museum houses one of the world's largest collections of World War I and World War II aircraft. Step back in time as you explore the hangars filled with meticulously restored planes and learn about the crucial role aviation played in military operations.
In addition to its historical sites, Virginia Beach also boasts a vibrant arts and culture scene. The ViBe Creative District is a hub for local artists, designers, and art galleries. Explore the district to discover unique artworks, attend art events, and experience the dynamic atmosphere of Virginia Beach's creative community.
For live performances, head to the Sandler Center for the Performing Arts. This state-of-the-art venue hosts a variety of performances, including theater productions, ballets, concerts, and more. Check the schedule to catch a show and immerse yourself in the vibrant performing arts scene of Virginia Beach.
No visit to Virginia Beach would be complete without exploring the Atlantic Wildfowl Heritage Museum. Located on the boardwalk, this museum celebrates the rich tradition of wildfowl carving, a unique art form that originated in the region. Admire intricate carvings, learn about the history of decoy making, and appreciate the talent of local artisans.
Immerse yourself in the cultural heritage of Virginia Beach by attending the Neptune Festival, an annual event that showcases local art, music, and food. This multi-day festival features live performances, art exhibits, a sand sculpting competition, and a parade, providing a lively celebration of the city's coastal culture.
From historical landmarks to vibrant arts spaces, Virginia Beach offers a wealth of opportunities to explore its rich history and cultural offerings. Discover the city's past and present as you visit its historical sites, delve into its art scene, and experience its lively cultural events.
Shopping and Entertainment
Virginia Beach is more than just a coastal paradise – it's also a thriving destination for shopping and entertainment. From bustling shopping districts and lively entertainment venues to charming boutiques and local markets, there are plenty of options to satisfy your retail therapy cravings and keep you entertained throughout your visit.
For those looking for a traditional shopping experience, head to the Virginia Beach Town Center. This premier shopping destination offers a mix of upscale shops, trendy boutiques, and national retailers. Explore the outdoor promenades and indoor malls, and find everything from fashion and accessories to home decor and electronics.
The Hilltop Shopping Center is another popular spot for shopping in Virginia Beach. This outdoor shopping complex is home to a variety of shops, including clothing stores, specialty shops, and gourmet food markets. Unwind with a stroll through the center's beautifully landscaped grounds and discover unique finds.
If you prefer a more laid-back and quirky shopping experience, make sure to visit the ViBe Creative District. This artsy neighborhood is filled with local artisans, designers, and specialty shops. Browse through unique handmade goods, original artworks, and one-of-a-kind items that reflect the creativity and spirit of Virginia Beach's artistic community.
In addition to shopping, Virginia Beach offers a vibrant entertainment scene. The Veterans United Home Loans Amphitheater is a popular outdoor venue that hosts concerts and live performances throughout the year. From top-notch musicians to exciting music festivals, this amphitheater is a must-visit for music lovers.
For a taste of the local arts scene, catch a performance at one of the city's theaters. The Sandler Center for the Performing Arts offers a diverse range of shows, including theater productions, dance performances, and concerts. The Little Theatre of Virginia Beach also stages a variety of productions, showcasing local talent and offering a cozy and intimate theater experience.
When it comes to entertainment, don't forget to explore the lively Oceanfront area. The Virginia Beach Boardwalk comes alive with street performers, musicians, and outdoor festivals during the summer months. Enjoy live music, indulge in delicious street food, and soak up the vibrant atmosphere of this iconic beachfront destination.
For a unique shopping experience, visit the Virginia Beach Farmers Market. This year-round market offers a variety of fresh produce, local seafood, handmade crafts, and artisanal products. Sample local delicacies, browse through unique gift items, and interact with the friendly vendors who embody the warm Southern hospitality.
Whether you're looking for a high-end shopping spree, a local artisan's treasure, or lively entertainment options, Virginia Beach has it all. Explore the diverse shopping districts, catch a live performance, and immerse yourself in the vibrant entertainment scene to make the most of your visit to this coastal city.
Safety Tips
While Virginia Beach is a generally safe and welcoming destination, it's always important to prioritize your safety and well-being. Here are some essential safety tips to keep in mind during your visit:
1. Be mindful of the ocean: When enjoying the beautiful beaches, be aware of the ocean's currents and heed any warnings or flags posted by lifeguards. Swim only in designated areas and follow all safety guidelines to ensure a safe and enjoyable beach experience.
2. Stay hydrated: Virginia Beach can get hot and humid, especially during the summer months. Drink plenty of water to stay hydrated and avoid heat-related illnesses. Carry a reusable water bottle with you and take regular breaks in shaded areas.
3. Protect yourself from the sun: Sunscreen is essential when spending time outdoors. Apply sunscreen with a high SPF regularly to protect your skin from harmful UV rays. Wear a hat, sunglasses, and lightweight, breathable clothing to further shield yourself from the sun's rays.
4. Keep your belongings secure: While enjoying the attractions and public spaces, be mindful of your personal belongings. Keep an eye on your bags, wallets, and electronic devices at all times. Consider using a lockable bag or keeping valuables in a hotel safe when not in use.
5. Practice safe dining: Virginia Beach offers a wide range of delicious cuisine, but it's important to practice food safety. Choose reputable restaurants and establishments, especially when it comes to seafood. Ensure that your food is cooked thoroughly and served at the appropriate temperature to prevent any foodborne illnesses.
6. Stay aware of your surroundings: Like any other destination, it's important to stay aware of your surroundings while exploring Virginia Beach. Be cautious of your surroundings, especially in crowded places or at night. Use well-lit and busy areas when walking around, and consider traveling in groups when possible.
7. Use reliable transportation: If using public transportation, familiarize yourself with the schedules and routes beforehand. If renting a car, ensure you are familiar with the local traffic laws and regulations. Use reputable taxi services or rideshare apps when needed.
8. Follow local laws and guidelines: Familiarize yourself with local laws, regulations, and any guidelines specific to Virginia Beach. Respect the community and its cultural nuances, and always adhere to any rules put in place by businesses and authorities.
9. Have an emergency plan: It's always wise to have an emergency plan in place, even when on vacation. Make note of emergency contact numbers, locate the nearest medical facilities, and keep a copy of your identification and important documents in a secure place. Familiarize yourself with the location of your hotel and the surrounding area.
By following these safety tips and using common sense, you can ensure a safe and enjoyable experience during your visit to Virginia Beach. Take the necessary precautions, stay aware, and have a wonderful time exploring all that this beautiful coastal city has to offer.
Conclusion
Virginia Beach is a captivating coastal destination that offers a blend of natural beauty, rich history, vibrant culture, and exciting outdoor activities. From its pristine sandy beaches and thrilling water sports to its historical landmarks and diverse culinary scene, there is something for everyone to enjoy in this dynamic city.
As you plan your trip to Virginia Beach, remember to consider factors such as the best time to visit, accommodation options that suit your budget and preferences, and transportation arrangements. Take advantage of the city's beautiful beaches, explore its parks and nature preserves, and discover its historical and cultural sites.
Indulge in the city's cuisine, from fresh seafood sourced locally from the Chesapeake Bay to international flavors and sweet treats. Engage in outdoor activities such as swimming, surfing, hiking, and biking, or immerse yourself in the arts and entertainment scene with live performances and vibrant festivals.
Keep safety in mind by staying aware of your surroundings, protecting yourself from the sun, and securing your belongings. Follow local guidelines and laws, and have an emergency plan in place for peace of mind during your visit.
Whether you're seeking relaxation, adventure, culture, or a combination of everything, Virginia Beach is sure to fulfill your desires. So, pack your bags, embrace the coastal charm, and immerse yourself in the beauty and vibrancy of Virginia Beach. Your unforgettable adventure awaits.