Sarasota Florida – Here's Why It's The Best Getaway!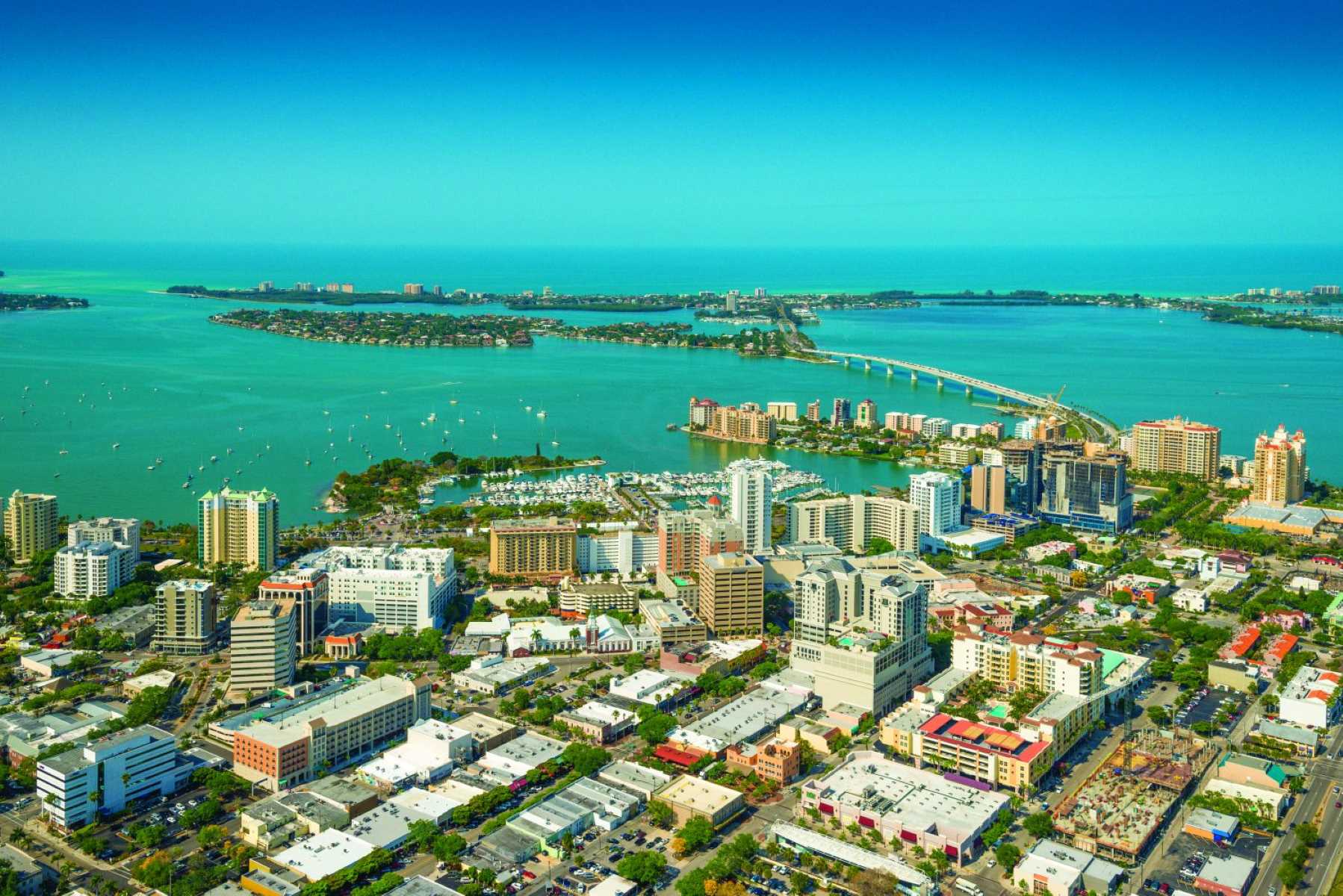 Introduction
Welcome to Sarasota, Florida – a hidden gem on the Gulf Coast that offers the perfect getaway for travelers seeking sun, sand, and a taste of cultural richness. Located about an hour south of Tampa, Sarasota boasts some of the most beautiful beaches in the state, along with a vibrant arts and culture scene, outdoor recreational opportunities, and delectable culinary experiences. Whether you're looking for a relaxing beach vacation, an adventure-filled outdoor escape, or a cultural immersion, Sarasota has it all.
With its pristine coastline and sparkling turquoise waters, Sarasota is a paradise for beach enthusiasts. Siesta Key Beach, named the number one beach in the United States by Dr. Beach, boasts powdery white sands and clear, warm waters, perfect for swimming, sunbathing, and beachcombing. Lido Key Beach offers a more intimate setting with its tranquil atmosphere and picturesque views. For those seeking an unspoiled natural beauty, head to the secluded Caspersen Beach, known for its shark teeth hunting.
Beyond its stunning beaches, Sarasota showcases a thriving arts and culture scene. The city is home to The Ringling, a magnificent museum complex that houses an impressive collection of art, including works by Rubens, Velázquez, and Gainsborough. The John and Mable Ringling Museum of Art also features an exquisite Venetian-inspired mansion, Ca' d'Zan, which offers a glimpse into the luxurious lifestyle of the Ringling family.
Outdoor enthusiasts will find plenty to explore in Sarasota's natural surroundings. The Myakka River State Park offers hiking trails, kayaking, and wildlife watching, allowing visitors to immerse themselves in Florida's unique ecosystem. For a different kind of adventure, the Legacy Trail provides a 10-mile path for cycling, walking, and jogging, winding through scenic landscapes and connecting the various communities of Sarasota.
No visit to Sarasota would be complete without indulging in its culinary delights. The city boasts a diverse dining scene, offering everything from fresh seafood dishes to international cuisines. Stroll through St. Armands Circle, where you'll find a variety of restaurants offering al fresco dining and a wide array of culinary options. Whether you're craving a succulent seafood platter or a farm-to-table experience, Sarasota has a restaurant to satisfy every palate.
Beautiful Beaches
Sarasota is renowned for its breathtaking beaches that rival any tropical paradise. One of the most popular beach destinations in the area is Siesta Key Beach, known for its powdery white sands that feel like walking on flour. This stunning beach has consistently been ranked as one of the best beaches in the United States, thanks to its crystal-clear turquoise waters and mesmerizing sunsets. Whether you want to relax with a good book, take a dip in the Gulf of Mexico, or engage in water sports like paddleboarding or snorkeling, Siesta Key Beach has it all.
Another must-visit beach in Sarasota is Lido Key Beach. This enchanting stretch of shoreline offers a more tranquil atmosphere, perfect for those seeking solitude or a romantic escape. The soft sand, gentle waves, and beautiful views make it an ideal spot for a leisurely stroll or a picnic overlooking the water. You can also find amenities such as picnic areas, showers, and restrooms, ensuring a comfortable and enjoyable beach experience.
For nature lovers and adventure seekers, Caspersen Beach is a hidden gem. Known for its unique feature – fossilized shark teeth scattered along the shore – this beach offers a one-of-a-kind treasure hunting experience. Grab a sifter or simply comb through the sand with your fingers to uncover ancient shark teeth that have been washed ashore. Beyond the thrill of finding these prehistoric treasures, Caspersen Beach also offers a more serene and less crowded atmosphere, making it a favorite among locals.
Longboat Key Beach is another idyllic spot that showcases the natural beauty of Sarasota. With its pristine turquoise waters, long stretches of sand, and lush vegetation, this beach is perfect for those looking to disconnect from the hustle and bustle of everyday life. The tranquil surroundings create an inviting ambiance for sunbathing, shelling, and swimming.
Sarasota's beaches are not just places to relax and soak up the sun. They also host a variety of events and activities throughout the year. From beach yoga sessions and live music performances to sand sculpting competitions and beach volleyball tournaments, there is always something happening to keep visitors entertained and engaged.
Whether you're looking for a peaceful retreat, a family-friendly beach outing, or a romantic escape, Sarasota's stunning beaches offer a little slice of paradise for everyone. So grab your sunscreen, pack your beach gear, and get ready to experience the beauty and serenity of Sarasota's coastal treasures.
Vibrant Arts and Culture Scene
Sarasota is not just a destination for beach lovers; it is also a haven for art enthusiasts and culture vultures. The city boasts a vibrant arts and culture scene that rivals some of the most prominent cultural hubs in the United States. From world-class museums and galleries to captivating live performances, there is something for everyone to enjoy.
One of the crown jewels of Sarasota's cultural landscape is The Ringling. This magnificent complex is a must-visit for art lovers. The John and Mable Ringling Museum of Art houses an impressive collection of European paintings, ranging from the Renaissance to modern times. With works by renowned artists such as Rubens, Velázquez, and Gainsborough, art enthusiasts will be captivated by the sheer beauty and historical significance of the pieces on display.
In addition to the art museum, The Ringling also features the Circus Museum, which celebrates the rich history of the circus in America. Explore vintage circus wagons, fascinating costumes, and memorabilia that offer a glimpse into the magic and wonder of this iconic form of entertainment.
The Sarasota Opera is another cultural institution that draws visitors from near and far. Known for its exceptional performances and world-class productions, the Sarasota Opera delivers a range of operatic masterpieces throughout the year. The historic Sarasota Opera House, built in 1926, provides an exquisite setting for these performances, adding to the overall experience.
For a taste of local and contemporary art, head to the Sarasota Museum of Art. Located in the historic Sarasota High School building, this museum showcases thought-provoking exhibitions and installations by both established and emerging artists. The museum's commitment to showcasing diverse and innovative art forms makes it a dynamic and ever-changing cultural destination.
Sarasota is also famous for its thriving theater scene. The Asolo Repertory Theatre, located on the grounds of The Ringling, is known for its outstanding productions and world-class performances. This professional theater company presents a wide range of plays and musicals, from classical works to contemporary pieces, providing theatergoers with an unforgettable entertainment experience.
In addition to these cultural institutions, Sarasota hosts a variety of festivals and events that celebrate art, music, and dance. The Sarasota Film Festival, Sarasota Music Festival, and the Sarasota Modern Dance Festival are just a few examples of the many annual events that add to the city's cultural vibrancy.
Whether you're an art connoisseur, a theater enthusiast, or simply someone who appreciates the finer things in life, Sarasota's vibrant arts and culture scene will leave you inspired and enriched. Immerse yourself in the beauty of masterful artworks, be moved by powerful performances, and witness the creative spirit that thrives in this remarkable coastal city.
Outdoor Recreation and Natural Beauty
Surrounded by stunning natural landscapes and picturesque waterways, Sarasota offers a wealth of outdoor recreation opportunities for visitors of all ages. Whether you're seeking thrilling adventures or serene moments in nature, this breathtaking Florida destination won't disappoint.
One of the best ways to immerse yourself in Sarasota's natural beauty is by exploring the Myakka River State Park. Spanning over 37,000 acres, this expansive park is a haven for outdoor enthusiasts. Hike or bike through the park's numerous trails, keeping an eye out for local wildlife such as alligators, deer, and a variety of bird species. For a unique perspective, take a guided kayak or airboat tour along the serene Myakka River, where you can admire the untouched splendor and perhaps even spot a manatee or two.
Sarasota is also home to an abundance of scenic parks and gardens. The Marie Selby Botanical Gardens is a tropical paradise filled with a vast collection of orchids, bromeliads, and other exotic flora. Stroll through the lush gardens, inhale the fragrant scents, and marvel at the vibrant colors that surround you. The serene ambiance makes it the perfect spot for a peaceful walk or a romantic picnic.
If you're a nature lover and bird enthusiast, make sure to visit the Celery Fields. This expansive wetland area is a renowned bird-watching destination, hosting a multitude of bird species throughout the year. Grab your binoculars and enjoy the tranquil beauty of the wetlands as you spot elegant herons, colorful warblers, and majestic bald eagles.
Sarasota is also a playground for water sports enthusiasts. With its crystal-clear waters and gentle waves, it's the perfect destination for kayaking, paddleboarding, and snorkeling. Rent a kayak or paddleboard and explore the scenic coastal areas or embark on a snorkeling adventure to discover the vibrant marine life that thrives just beneath the surface.
For those who prefer to stay on dry land, Sarasota offers an extensive network of trails for walking, jogging, and biking. The Legacy Trail is one of the most popular routes, stretching for 10 miles and passing through beautiful natural landscapes and charming communities. Enjoy the fresh air, stunning views, and the opportunity to connect with nature as you traverse this scenic pathway.
Whether you're seeking a thrilling outdoor adventure or a peaceful encounter with nature, Sarasota's abundance of recreational options and natural beauty will leave you awe-struck. Soak in the serenity of the Myakka River, wander through enchanting gardens, or take to the water for an unforgettable experience in this coastal paradise.
Delicious Culinary Experiences
Sarasota is a food lover's paradise, offering a diverse and vibrant culinary scene that will tantalize your taste buds. From fresh seafood and farm-to-table delights to international cuisine and innovative culinary creations, this Gulf Coast city has something to satisfy every palate.
As a coastal city, Sarasota is famous for its seafood. Head to the local seafood markets or waterfront restaurants and indulge in a variety of delicacies from the sea. From succulent Gulf shrimp and sweet Florida stone crab to mouthwatering grouper and freshly shucked oysters, you'll find an array of seafood options that are as fresh as they come. Don't miss the opportunity to savor a bowl of creamy New England clam chowder or a plate of tender blackened red snapper for a true taste of the coastal flavors.
For those seeking a more diverse culinary experience, Sarasota offers a wide range of international cuisines. Whether you're craving Thai, Italian, Mexican, or Japanese, you'll find restaurants that transport your taste buds to different parts of the world. From traditional family-owned establishments to trendy fusion eateries, the city's culinary landscape is as diverse as its residents and visitors.
If you're a fan of farm-to-table dining, Sarasota has you covered. The city boasts a number of restaurants that prioritize sourcing local, fresh ingredients and creating dishes that showcase the flavors of the region. From seasonal vegetables and locally raised meats to artisanal cheeses and craft beers, you'll be treated to a farm-to-fork experience that highlights the best of Sarasota's culinary bounty.
Exploring the local food scene wouldn't be complete without a visit to the famous St. Armands Circle. This charming shopping and dining district is home to a variety of restaurants and cafes that cater to all tastes and preferences. Whether you're in the mood for a casual meal, a romantic dinner, or a quick bite to eat, you'll find an array of options to choose from. Afterward, stroll along the circle and enjoy the charming boutiques, art galleries, and specialty stores that add to the unique ambiance of the area.
And let's not forget about the sweet treats! Sarasota is home to several delightful bakeries and dessert shops that will satisfy your sugar cravings. Indulge in homemade ice cream, decadent cakes, and freshly baked pastries that will leave you wanting more.
Whether you're a foodie on a culinary adventure or simply looking for a satisfying meal, Sarasota's delicious culinary experiences will leave you with a lasting impression. So dig in, savor the flavors, and discover the diverse tastes that make this city a true gastronomic delight.
Shopping and Entertainment
Sarasota offers a delightful combination of shopping and entertainment that will keep visitors of all interests and tastes entertained. From upscale boutiques and art galleries to lively entertainment venues and family-friendly attractions, there's something for everyone to enjoy in this vibrant city.
For those who enjoy shopping, Sarasota's diverse retail scene will not disappoint. St. Armands Circle is a premier shopping destination that offers a unique blend of high-end boutiques, specialty stores, and charming shops. From designer fashion and luxury jewelry to home decor and unique souvenirs, you'll find an array of options to satisfy your shopping cravings. The open-air setting and beautiful landscaping add to the enjoyable shopping experience.
If you prefer a more traditional mall experience, head to the Mall at University Town Center. This expansive retail complex features a wide range of national and international brands, offering everything from fashion and accessories to electronics and home goods. Take a break from shopping and refuel at one of the many restaurants and cafes located within the mall.
Sarasota is also known for its vibrant arts scene, and there are various venues that offer live performances and entertainment. The Van Wezel Performing Arts Hall, with its iconic sail-like architecture, hosts a variety of shows, including Broadway musicals, symphony performances, and ballet recitals. Enjoy an evening of culture and entertainment in this state-of-the-art venue.
For those who enjoy live music, check out the Sarasota Opera House, which not only hosts opera performances but also welcomes a variety of musical acts, from jazz and blues to rock and pop. The atmosphere of this historic venue adds a touch of elegance and charm to the experience.
In addition to shopping and live entertainment, Sarasota offers a range of family-friendly attractions. Visit the Mote Marine Laboratory & Aquarium to explore the wonders of the ocean through interactive exhibits and up-close encounters with marine life. The Children's Garden is another great place to visit with kids, offering a whimsical and educational environment filled with playful displays and secret gardens.
For a taste of Sarasota's rich history and culture, a visit to the Historic Spanish Point is a must. This outdoor museum features historical buildings, lush gardens, and archaeological sites that tell the story of Sarasota's early settlers. Explore the pioneer cemetery, walk along the scenic trails, and immerse yourself in the area's fascinating past.
Whether you're in the mood for shopping, live entertainment, or family-friendly attractions, Sarasota has it all. Immerse yourself in the vibrant shopping scene, enjoy captivating performances, and create cherished memories with your loved ones in this dynamic coastal city.
Rich History and Heritage
Sarasota is steeped in rich history and heritage, offering visitors a glimpse into its past and the diverse cultures that have shaped the area. From historical landmarks and museums to cultural festivals and art exhibits, there are numerous opportunities to explore Sarasota's unique heritage.
One of the iconic symbols of Sarasota's history is the Ca' d'Zan, a stunning Venetian-inspired mansion located on the grounds of The Ringling. Built in the early 20th century by circus magnate John Ringling and his wife Mable, this architectural gem offers a glimpse into the opulent lifestyle of the Ringling family. Take a guided tour and marvel at the intricate details, lavish furnishings, and breathtaking views of Sarasota Bay.
The Sarasota History Center, located in the historic Chidsey Library building, is another must-visit for history buffs. This museum boasts a vast collection of artifacts, photographs, and documents that tell the story of Sarasota's growth and development over time. Learn about the indigenous tribes that called the area home, discover the impact of the circus industry on Sarasota's economy, and delve into the city's cultural heritage.
For a deeper understanding of the Native American history in the region, visit the Historic Spanish Point. This outdoor museum showcases the remains of prehistoric settlements, including shell mounds and burial mounds dating back thousands of years. Walk along the winding trails, explore reconstructed pioneer buildings, and gain insight into the early human habitation of Sarasota.
Sarasota's heritage extends beyond its buildings and artifacts. The city hosts various cultural festivals and events that celebrate the diverse communities that have contributed to its development. From the Greek Glendi Festival and the Caribbean Carnival to the Latinx Heritage Festival and the Sarasota Highland Games, you'll have the opportunity to immerse yourself in the vibrant traditions, music, dance, and cuisine of different cultures.
Art enthusiasts will also appreciate Sarasota's commitment to preserving and promoting its cultural heritage. The Art Center Sarasota showcases the works of local artists, providing a platform for creative expression and fostering a sense of artistic community. Explore the ever-changing exhibits and experience the wealth of talent that thrives in the Sarasota art scene.
Whether you're a history buff, art enthusiast, or simply curious about the cultural heritage of Sarasota, the city's rich history and heritage will captivate and enlighten you. Immerse yourself in the stories of the past, celebrate diverse cultures, and gain a deeper appreciation for the vibrant tapestry that makes Sarasota such a unique and cherished destination.
Family-Friendly Attractions
Sarasota is a fantastic destination for families, with a wide range of attractions and activities that will keep children of all ages entertained. From interactive museums and theme parks to outdoor adventures and animal encounters, there's no shortage of family-friendly fun in this vibrant coastal city.
One of the top family-friendly attractions in Sarasota is the Mote Marine Laboratory & Aquarium. Explore the wonders of the ocean through interactive exhibits, educational presentations, and up-close encounters with marine life. From playful otters and majestic sea turtles to mesmerizing jellyfish and colorful tropical fish, children will have the opportunity to learn about marine conservation and appreciate the beauty of the underwater world.
Sarasota Jungle Gardens is another must-visit destination for families. This 10-acre botanical garden offers a unique opportunity to experience wildlife up close. Get up close and personal with various species of birds, reptiles, and mammals as you walk through the beautifully landscaped gardens. Don't miss the opportunity to catch a live animal show, where you can learn about the fascinating behaviors and characteristics of these creatures.
For a day of outdoor adventure, head to Myakka State Park. This expansive park offers a range of activities for families to enjoy, from hiking and wildlife spotting to camping and picnicking. Take a thrilling airboat tour or rent a canoe or kayak and explore the park's scenic waterways. Children will love the opportunity to see Florida's native wildlife in their natural habitats.
If your little ones are animal lovers, Sarasota offers even more options for animal encounters. Big Cat Habitat and Gulf Coast Sanctuary is home to a variety of exotic animals, including big cats, bears, and primates. Visitors can witness educational animal shows and have the opportunity to interact with some of the rescued animals. The Sarasota Children's Garden is another delightful spot that combines playfulness and education. The garden features whimsical displays, interactive play areas, and themed gardens that stimulate children's imagination and appreciation for nature.
Sarasota also offers a range of indoor attractions specifically designed for families. The Sarasota Children's Museum is a hands-on museum where kids can explore, create, and learn through interactive exhibits. From science experiments and imaginative play areas to arts and crafts, children can engage in educational and entertaining activities that cater to their curiosity and creativity.
For those seeking a dose of adrenaline and excitement, a visit to Big Cat Habitat and Gulf Coast Sanctuary is a must. This sanctuary houses a diverse range of exotic animals, including lions, tigers, bears, and primates. Visitors can witness captivating animal shows and have the opportunity to interact with some of the rescued animals. It's a thrilling and educational experience for the whole family.
Whether you're seeking animal encounters, outdoor adventures, or interactive learning experiences, Sarasota has a plethora of family-friendly attractions that are sure to create lasting memories. Embrace the spirit of adventure and exploration as you dive into the many fun-filled options that await you in this coastal paradise.
Stunning Sunsets
One of the most magical and unforgettable experiences in Sarasota is witnessing its breathtaking sunsets. As the sun dips below the horizon, painting the sky with hues of pink, orange, and gold, the beauty of these magnificent sunsets leaves visitors mesmerized. The combination of stunning views, tranquil waters, and a romantic ambiance makes Sarasota the perfect destination for sunset enthusiasts.
One of the best places to witness these jaw-dropping sunsets is Siesta Key Beach. With its wide expanse of powdery white sand and unobstructed views of the Gulf of Mexico, Siesta Key Beach provides an idyllic setting to watch the sun's descent. Find a comfortable spot on the beach, lay out your beach blanket, and prepare to be amazed as the sky transforms into a captivating palette of colors.
Lido Key Beach is another prime location to catch the awe-inspiring sunsets. As the sun sets over the horizon, it casts a golden glow over the water, creating a magical ambiance. Stroll along the shoreline, hand-in-hand with your loved ones, and immerse yourself in the tranquil beauty of the moment.
For a more intimate sunset experience, head to the Bayfront Park and Ringling Bridge. This waterfront park offers panoramic views of Sarasota Bay and the iconic Ringling Bridge. Watch as the sky becomes ablaze with vibrant colors, reflecting in the calm waters below.
If you're looking for a unique sunset adventure, consider taking a sunset cruise. Several tour operators offer scenic boat rides that allow you to witness the beauty of the setting sun from the water. Glide along the coastline, taking in the panoramic views and capturing stunning photographs of the golden hour.
Sarasota's sunsets are not limited to its beaches and waterfronts. The city's rooftop bars and waterfront restaurants provide an elevated vantage point for sunset gazing. Sip on a refreshing cocktail or indulge in a delicious dinner as you witness the sky's transformation into a masterpiece.
Aside from being a feast for the eyes, Sarasota's sunsets also offer a serene and peaceful atmosphere. As the day comes to a close, the city slows down, and a sense of tranquility envelops the area. Take this opportunity to reflect, relax, and appreciate the natural beauty that surrounds you.
Whether you choose to watch the sunset from the beach, the water, or a rooftop, Sarasota's stunning sunsets will leave you in awe. Capture the magical moments, create lasting memories, and let the beauty of these sunsets take your breath away.
Conclusion
Sarasota, Florida is a truly remarkable destination that offers a perfect getaway filled with beauty, culture, and endless possibilities. From its pristine beaches, vibrant arts and culture scene, and outdoor recreational activities to its delectable culinary experiences and rich history, there is something for everyone to enjoy in this coastal paradise.
With its stunning beaches like Siesta Key and Lido Key, Sarasota provides a haven for beach lovers seeking relaxation and natural beauty. The powdery white sands, crystal-clear waters, and mesmerizing sunsets make for a truly unforgettable beach experience.
The city's vibrant arts and culture scene, highlighted by The Ringling and the Sarasota Opera, offers a wealth of artistic and intellectual stimulation. Immerse yourself in the world of renowned artists, witness captivating performances, and engage with the rich cultural heritage of the area.
For outdoor enthusiasts, Sarasota's natural surroundings provide an abundance of recreational opportunities. Explore the wonders of Myakka River State Park, embark on hiking and biking adventures, and immerse yourself in the beauty of Sarasota's natural landscapes.
Culinary enthusiasts will delight in Sarasota's diverse dining scene, which offers fresh seafood, farm-to-table delights, and international cuisines. From casual dining on St. Armands Circle to upscale experiences, there are restaurants to suit every taste and preference.
With its rich history and heritage, Sarasota offers visitors the chance to explore its past through historical landmarks, museums, and cultural festivals. Discover the stories behind the city's development, celebrate diversity, and gain a deeper appreciation for the historical and cultural significance of Sarasota.
For families, Sarasota provides a welcoming and engaging environment with a range of attractions and activities suitable for all ages. From interactive museums and wildlife encounters to outdoor adventures and educational experiences, there is something to captivate the imagination and create lasting memories.
And, of course, let's not forget the enchanting sunsets that grace the skies of Sarasota. The stunning displays of colors, reflected over the serene waters, create a magical atmosphere that is simply awe-inspiring.
So whether you're seeking relaxation, adventure, culture, or memorable family moments, Sarasota, Florida is the ultimate getaway destination. Embrace the beauty, immerse yourself in the rich experiences, and create cherished memories that will last a lifetime.