Quirky Colorado: Traveler's Guide To Offbeat Denver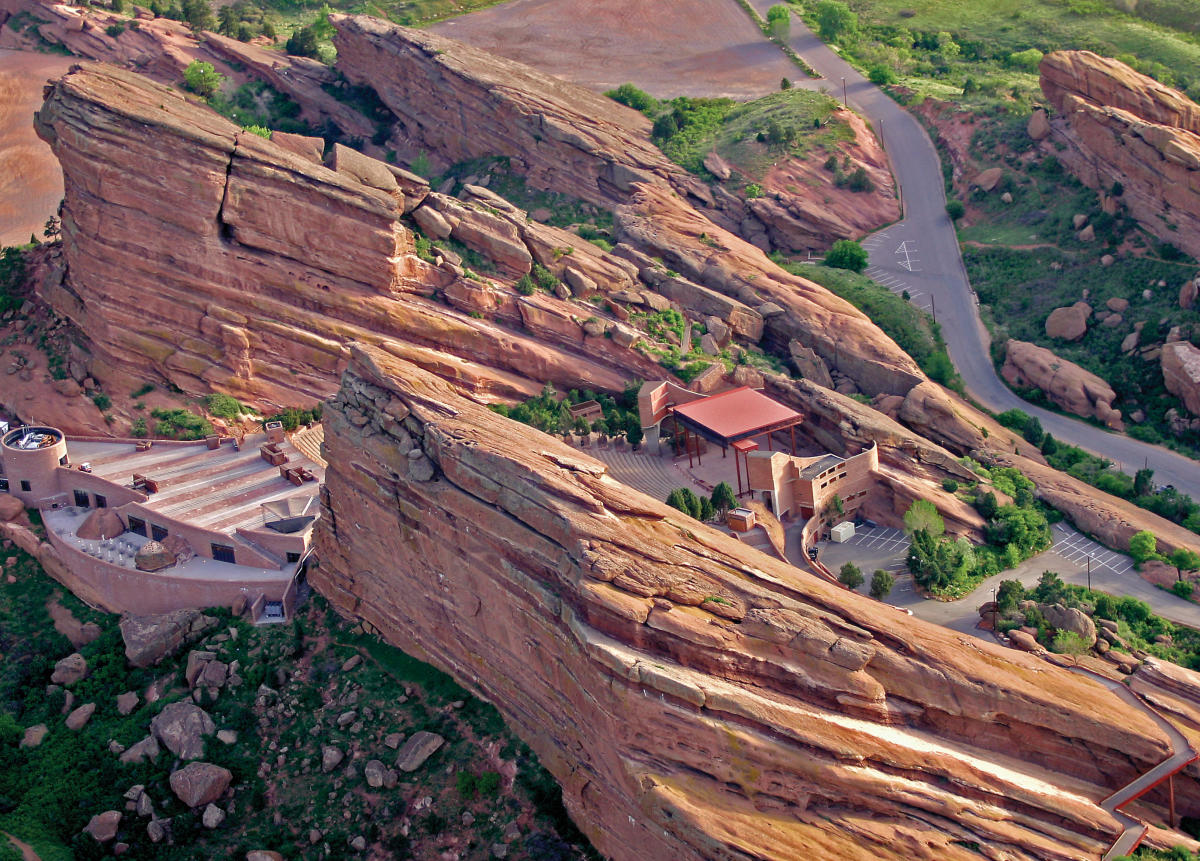 Introduction
Welcome to the Mile High City of Denver, where urban sophistication meets offbeat charm. While Denver is known for its stunning Rocky Mountain views and outdoor activities, there is much more to this vibrant city than meets the eye. From quirky neighborhoods to unconventional museums, Denver offers a plethora of unique experiences that are sure to delight the adventurous traveler.
Whether you're a first-time visitor or a seasoned Denverite looking to explore the city from a different angle, this traveler's guide will take you off the beaten path and into the heart of Denver's quirky side. Get ready to discover hidden gems, dive into eccentric eateries, and immerse yourself in the artistic and alternative culture that makes Denver truly one-of-a-kind.
With its relaxed and welcoming atmosphere, Denver is the perfect destination for those seeking a combination of urban exploration and offbeat adventures. So pack your sense of curiosity and let's embark on an unconventional journey through the quirkiest aspects of Denver.
Unique Neighborhoods
Denver is a city of distinct neighborhoods, each with its own unique character and charm. Exploring these neighborhoods is a great way to get a taste of the local culture and discover Denver's offbeat side.
One neighborhood that stands out is RiNo (River North), known for its vibrant street art and trendy galleries. Take a stroll through the streets and alleyways adorned with colorful murals, showcasing the city's thriving art scene. The area is also home to unique craft breweries, hip bars, and innovative restaurants, making it a haven for food and beer enthusiasts.
If you're looking for a more bohemian atmosphere, head to the Capitol Hill neighborhood. This historic district is known for its eclectic mix of Victorian-era mansions, quirky shops, and diverse culinary offerings. Explore the vintage boutiques, grab a coffee at a local café, and enjoy the lively street life that makes Capitol Hill a favorite among Denver's creative crowd.
For a taste of Denver's Latinx culture, make your way to the Santa Fe Arts District. Meander through the numerous art galleries and studios showcasing the works of local artists. Don't miss the First Friday Art Walk where the streets come alive with live music, food trucks, and open galleries. This neighborhood is also home to the iconic Denver Art Complex, a creative hub housing artists, musicians, and performers.
If you're seeking a more laid-back and suburban feel, explore the quaint and quirky neighborhood of Baker. Known for its historic Victorian homes, Baker offers a mix of funky shops, cozy cafes, and unique eateries. Don't miss the famous "Welcome to Denver" mural adorned with a giant blue bear peeking into the city, it's a must-see spot for a memorable photo!
When in Denver, don't limit yourself to the popular tourist spots. Take the time to explore the lesser-known neighborhoods that contribute to the city's rich tapestry of culture and diversity.
Unconventional Museums
When it comes to museums, Denver offers a range of unconventional and quirky options that go beyond the traditional art and history institutions. These unique museums provide a refreshing and offbeat take on learning and exploration.
One such museum is the Museum of Contemporary Art Denver (MCA Denver), a vibrant space located in the heart of the city's downtown. This contemporary art museum showcases thought-provoking exhibitions featuring emerging artists from around the world. With its innovative programming and interactive installations, MCA Denver challenges traditional notions of art and invites visitors to engage with the exhibits on a deeper level.
If you have a curious mind, the Denver Museum of Miniatures, Dolls, and Toys is a hidden gem worth visiting. This museum showcases an extensive collection of miniatures, dolls, and toys from different historical periods, including intricately crafted dollhouses and antique toys. It's a whimsical journey through the world of miniatures, transporting visitors back to their childhoods and sparking a sense of wonder and nostalgia.
The Forney Museum of Transportation offers a unique perspective on the history of transportation in Denver. From vintage cars and motorcycles to steam locomotives and antique bicycles, this museum houses a fascinating collection that will delight automobile and history enthusiasts alike. Don't miss the opportunity to marvel at the famous Big Boy steam locomotive, one of the largest and most powerful ever built.
For those with a taste for the odd and unusual, the Museum of Contemporary Art Alumni (MOCAA) might be just the ticket. This unconventional museum features works by graduates of the famous Rocky Mountain College of Art and Design. MOCAA showcases a diverse range of artworks, from avant-garde installations to experimental performances, challenging visitors to question traditional artistic boundaries.
When exploring Denver's museum scene, don't forget to check out these offbeat and thought-provoking institutions. They offer a fresh perspective on art, history, and culture, inviting visitors to think outside the box and embrace the unconventional.
Quirky Art and Street Murals
Denver is a city that truly embraces art in all its forms. One of the most visible expressions of this artistic spirit can be found in the city's vibrant street murals and quirky public art installations. From large-scale murals to hidden gems tucked away in alleyways, Denver is a playground for street art enthusiasts.
One of the best places to experience Denver's street art scene is in the RiNo (River North) neighborhood. This arts district is known for its ever-changing collection of colorful murals adorning buildings, walls, and even dumpsters. Take a walk down Larimer Street and you'll be greeted by an explosion of color and creativity at every turn. Don't be surprised if you stumble upon artists in action, as there are numerous opportunities for live mural painting in the area.
Another area where you can discover quirky art is the 16th Street Mall. This bustling pedestrian mall features a variety of public art installations that range from the whimsical to the thought-provoking. Keep an eye out for the iconic dancing aliens near the Denver Pavilions or the whimsical "The Yearling" sculpture that depicts a giant blue bear peeking into a glass atrium.
If you're looking for a slightly offbeat art experience, head to the Museum of Outdoor Arts and the adjacent Skyline Park. This unique park features an array of sculptures and installations that will capture your imagination. From giant metal horses to oversized birds suspended in mid-air, these interactive sculptures invite visitors to engage with the art in unconventional ways.
If you prefer a more intimate encounter with art, consider exploring the many galleries and studios in Denver's art districts. The Santa Fe Arts District, for example, is home to a diverse selection of art spaces where you can meet local artists and discover their unique creations. From contemporary paintings to avant-garde sculptures, you'll find a wide range of artistic expressions in these creative enclaves.
Denver's quirky art and street murals add a vibrant and unconventional flair to the city's cultural landscape. So take the time to wander the streets, soak in the colors and creativity, and let the art guide you on a whimsical journey through Denver's artistic soul.
Unusual Outdoor Activities
When it comes to outdoor activities, Denver offers much more than just hiking and skiing. For those seeking unique and offbeat adventures, the city and its surrounding areas are filled with unusual outdoor activities to satisfy your sense of adventure.
One thrilling and unconventional outdoor activity to try is urban kayaking. Yes, you read that right! Denver's South Platte River flows through the heart of the city and provides a unique opportunity to paddle through an urban landscape. Rent a kayak or stand-up paddleboard and navigate the gentle currents while enjoying the skyline views and passing by parks and bridges.
If you're up for a challenge, consider giving axe throwing a try. Denver is home to several venues where you can test your skills in this ancient sport. Step into an axe throwing arena, learn the proper technique, and unleash your inner lumberjack as you take aim at wooden targets. It's a fun and unconventional way to release some stress and tap into your primal instincts.
An unconventional way to explore the natural beauty surrounding Denver is by taking a llama trek. Yes, you can hike the scenic trails while accompanied by these gentle and quirky animals. Llama trekking tours offer a unique and enjoyable experience, allowing you to learn about the animals while enjoying the stunning Colorado landscapes.
For a truly unique outdoor adventure, try hot air ballooning over the scenic vistas outside of Denver. Take to the skies at sunrise or sunset and soar above the breathtaking landscapes of the Rocky Mountains and picturesque valleys. It's a peaceful and awe-inspiring experience that offers a fresh perspective on the beauty of Colorado.
If you prefer a more laid-back activity, consider exploring Denver's urban gardens and green spaces. The Denver Botanic Gardens, for instance, offers a variety of gardens to wander, including a Japanese garden, a water garden, and even a sensory garden. Take a leisurely stroll and immerse yourself in the serenity and beauty of these urban oases.
When visiting Denver, don't be afraid to think outside the box when it comes to outdoor activities. From urban kayaking to llama trekking, the city offers a myriad of unconventional adventures that are sure to create lasting memories.
Eccentric Eateries
Denver's food scene is not only diverse but also full of eccentric and offbeat eateries that will satisfy your cravings for culinary adventures. From themed restaurants to unique dining experiences, these eccentric establishments will leave a lasting impression on your taste buds.
Start your culinary journey with a visit to Casa Bonita, a legendary Mexican restaurant that is more than just a place to eat. This immersive dining experience takes you into a colorful world of cliff divers, live entertainment, and even a haunted cave. Enjoy the classic Mexican dishes while being captivated by the vibrant atmosphere.
For a truly unique dining experience, head to The Buckhorn Exchange, Denver's oldest restaurant. This historic establishment not only serves delicious steaks and game meats but also houses an extensive collection of taxidermy animals. From the mounted bison heads to the antler chandeliers, dining at The Buckhorn Exchange feels like stepping into a hunting lodge from a bygone era.
If you're a fan of pop culture and nostalgia, make sure to visit the 1UP Arcade Bar. This funky spot combines classic arcade games with a full bar, offering a nostalgic and playful atmosphere. Enjoy a craft beer or cocktail while playing your favorite retro games like Pac-Man, Donkey Kong, and pinball machines.
For a truly offbeat experience, check out the Voodoo Doughnut located in downtown Denver. Known for their unique and whimsical donut creations, this Portland-based doughnut shop offers a variety of unusual flavors and toppings. From their famous Bacon Maple Bar to their Voodoo Doll-shaped donuts, these treats are as visually appealing as they are delicious.
If you're looking for a quirky and unconventional dining experience, head to the popular diner, Sam's No. 3. Known for its large portions and eclectic menu, this family-run joint has been a staple in Denver since 1927. Enjoy classic American comfort food alongside Greek and Mexican-inspired dishes, all served with a side of Denver's signature hospitality.
Denver's eccentric eateries offer more than just a meal; they provide a unique and unforgettable experience. So venture beyond the traditional dining options and indulge in the offbeat and quirky culinary delights that Denver has to offer.
Offbeat Shopping
When it comes to shopping in Denver, there are plenty of offbeat and quirky options to explore. From unique boutiques to hidden gems, Denver offers a diverse selection of stores that cater to the unconventional shopper.
One area known for its offbeat shopping experience is the South Broadway district, also known as the "Antique Row". Here, you'll find an array of antique shops, thrift stores, and vintage boutiques. Spend hours delving into the treasures of the past, discovering unique items, from mid-century furniture to vintage clothing and accessories.
If you're a fan of all things mystical and metaphysical, be sure to visit the Wizard's Chest. This enchanting store offers a wide range of magical supplies, including spell books, tarot cards, and mystical artifacts. Step into a world of fantasy and let your imagination roam freely as you peruse the shelves of potions, crystals, and mystical creatures.
For those with a taste for the unusual and quirky, a visit to the I Heart Denver Store is a must. This locally-owned store showcases a variety of local artists and their unique creations. From prints and artwork to handmade jewelry and Denver-themed souvenirs, you'll find a wide selection of one-of-a-kind items that celebrate the city's creative spirit.
If you're a book lover, be sure to stop by the Tattered Cover Book Store. This indie bookstore is a treasure trove for bibliophiles, with its extensive collection of new and used books covering a wide range of genres. Take your time browsing the shelves and discover literary gems while enjoying the cozy atmosphere of this beloved Denver institution.
For a truly eclectic shopping experience, visit the Denver Flea. This seasonal pop-up marketplace features a curated selection of local artisans, makers, and vintage collectors. From handmade crafts to unique clothing and accessories, you'll find an abundance of one-of-a-kind treasures that reflect the creativity and craftsmanship of Denver's local talent.
When in Denver, don't limit yourself to mainstream shopping malls. Explore the offbeat shops, boutiques, and markets that offer a wealth of unique and unexpected finds. From vintage treasures to local artwork, Denver's offbeat shopping scene is sure to satisfy the curious shopper in you.
Alternative Nightlife Options
When the sun goes down, Denver's alternative nightlife scene comes alive, offering a wide range of unique and offbeat experiences for those looking to stray from the traditional bar or club scene. From underground music venues to quirky entertainment spots, Denver has something for everyone seeking an alternative night out.
For those who appreciate intimate live music performances, the Hi-Dive is a must-visit. This dive bar turned music venue hosts a variety of indie bands and up-and-coming artists from different genres. With its cozy atmosphere and stellar acoustics, the Hi-Dive offers a truly unique and memorable live music experience.
If you're in the mood for laughter and entertainment, the Voodoo Comedy Playhouse is the place to be. This improv comedy theater features a lineup of talented comedians who will have you laughing all night long. From improvised sketch shows to stand-up comedy nights, the Voodoo Comedy Playhouse offers a taste of Denver's vibrant comedy scene.
Dance the night away at the Mercury Café, an eclectic venue that hosts swing dance nights, salsa parties, and live music events. This community-oriented space not only offers a unique nightlife experience but also fosters a sense of connection and camaraderie among attendees. Whether you're an experienced dancer or a beginner looking to learn some new moves, the Mercury Café welcomes all with open arms.
If you're into gaming and a bit of friendly competition, visit the 1UP Arcade Bar. This nostalgic spot combines classic arcade games with a full bar, providing a unique and playful atmosphere. Challenge your friends to a game of Pac-Man, Mortal Kombat, or pinball while enjoying a drink or two.
For those seeking a truly immersive and interactive experience, the Denver Escape Room offers an alternative night of entertainment. Put your problem-solving skills to the test as you work together with your friends to solve puzzles and riddles, unraveling the mystery within a themed room. It's a thrilling and unconventional way to spend an evening with a group of friends.
When it comes to alternative nightlife options, Denver has a vibrant and diverse scene that caters to all tastes. So step outside the traditional club scene and explore the offbeat and unconventional venues that make Denver's nightlife truly unique.
Festivals and Events
Denver is a city that loves to celebrate, and throughout the year, you can find a wide variety of festivals and events that showcase the city's vibrant culture and unique spirit. From quirky and offbeat gatherings to large-scale music festivals, Denver offers something for everyone.
One event that shouldn't be missed is the Great American Beer Festival. Held annually in Denver, this festival is the largest gathering of craft breweries in the United States. Beer enthusiasts from around the world come together to sample a vast selection of beers and experience the incredible diversity of the craft beer scene. With live music, educational seminars, and plenty of delicious brews to enjoy, it's a true paradise for beer lovers.
For a taste of Denver's alternative and indie music scene, the Underground Music Showcase (UMS) is the event to mark on your calendar. This multi-day music festival takes over the streets and venues of the South Broadway neighborhood, featuring performances from local and national acts across different genres. With its laid-back and community-oriented atmosphere, UMS is a celebration of Denver's independent music and arts culture.
If you're into unconventional and edgy performances, the Denver Fringe Festival is a must-attend event. This annual festival showcases innovative and boundary-pushing works of theatre, dance, and performance art. From avant-garde plays to experimental dance performances, the Fringe Festival brings together artists from around the globe to captivate audiences and challenge traditional artistic norms.
For a unique cultural experience, check out the Dragon Boat Festival at Sloan's Lake. This two-day event celebrates the Asian heritage of Denver through dragon boat races, cultural performances, and traditional food. Immerse yourself in the vibrant colors, sounds, and flavors of Asian culture as you join in the festivities.
For the film buffs, the Denver Film Festival is a must-attend event. This prestigious festival showcases a wide range of films, from independent and foreign films to documentaries and shorts. With its focus on storytelling and cinematic artistry, the Denver Film Festival offers a platform for emerging filmmakers and celebrates the power of filmmaking to inspire and provoke thought.
From beer to music, theater to cultural celebrations, Denver's festivals and events reflect the city's diverse and vibrant character. So make sure to check the calendar and plan your visit accordingly to experience the offbeat and captivating festivals that Denver has to offer.
Hidden Gems and Secret Spots
As you explore Denver, be sure to seek out its hidden gems and secret spots that are often tucked away from the usual tourist paths. These offbeat destinations will reward you with a sense of discovery and immerse you in the lesser-known aspects of the city.
One hidden gem is the International Church of Cannabis. Located in the historic Washington Park neighborhood, this unconventional church is dedicated to the spiritual and creative use of cannabis. Step inside the vibrant interior adorned with colorful murals and experience a unique blend of art, spirituality, and counterculture.
If you're a nature enthusiast looking for a tranquil escape, the Denver Botanic Gardens' Mordecai Children's Garden is a hidden oasis. Tucked away within the larger botanical gardens, this secluded area offers interactive exhibits, play areas, and a chance for children of all ages to connect with nature in a whimsical and educational setting.
For a unique dining experience, visit Linger, a restaurant housed in a former mortuary. This unconventional setting provides a backdrop for a menu inspired by street food from around the world. Enjoy delicious bites while reflecting on the history and transformation of this intriguing space.
Discover the beauty of the Mile High City from a different perspective by visiting the Skyline Park, an urban park located along the 16th Street Mall. This hidden oasis in the heart of downtown Denver offers a serene and peaceful atmosphere, perfect for a relaxing stroll, yoga session, or a picnic amidst the bustling city streets.
Another secret spot worth exploring is the Denver Milk Market, a food hall tucked away within the Dairy Block. This hidden gem features a collection of diverse vendors serving everything from gourmet sandwiches to artisanal ice cream. It's the perfect place to satisfy your culinary cravings while immersing yourself in a vibrant and lively atmosphere.
For art enthusiasts, the Street Art Alley in Capitol Hill is a must-visit. This hidden gem showcases a collection of ever-changing street art murals, graffiti, and installations. Take a stroll through the alley and let the vibrant colors and thought-provoking artwork transport you into the heart of Denver's alternative art scene.
When exploring Denver, don't be afraid to venture off the beaten path and seek out the city's hidden gems and secret spots. These unique destinations will offer a different perspective of Denver, unveiling its offbeat treasures and delighting the curious explorer within you.
Conclusion
Denver, Colorado is a city that embraces its offbeat and unconventional side, offering a myriad of unique and engaging experiences for visitors and locals alike. From the quirky neighborhoods to the unconventional museums, Denver has a knack for captivating its audience with its vibrant culture and artistic flair.
Exploring the city's distinct neighborhoods allows you to discover its hidden gems and immerse yourself in its diverse tapestry of cultures. The offbeat shopping options provide opportunities to find one-of-a-kind treasures and support local artisans and small businesses. The alternative nightlife scene offers a range of entertainment options that go beyond the traditional bar or club experience.
Denver's festivals and events showcase the city's vibrant spirit and provide opportunities to celebrate its diverse arts, music, and culture. From the underground music showcases to the immersive theater experiences, these events captivate audiences and push artistic boundaries.
As you navigate the city, don't forget to seek out the hidden gems and secret spots that add an element of surprise and wonder to your explorations. These off-the-beaten-path destinations allow you to connect with Denver's unique charm and provide a deeper understanding of its offbeat character.
So whether you're a first-time visitor or a seasoned Denverite, be sure to embrace the offbeat side of Denver. Let your curiosity guide you to the unconventional museums, quirky art and street murals, and unusual outdoor activities that will make your Denver experience truly memorable.
In Denver, there's something for everyone seeking a break from the ordinary. So pack your sense of adventure and dive into the captivating and unconventional world of Denver, Colorado.