The Ultimate Guide To Santa Barbara In A Weekend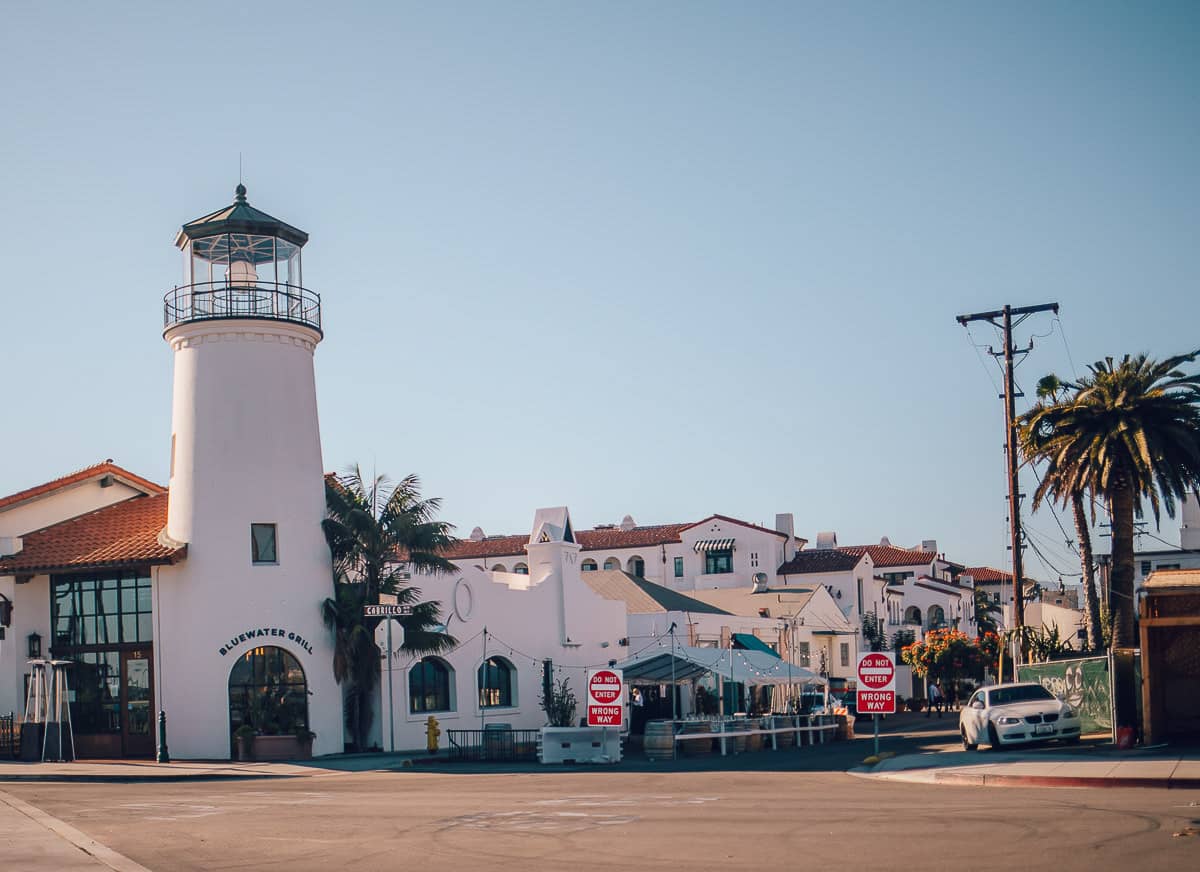 Introduction
Welcome to the beautiful city of Santa Barbara, California! Nestled on the central coast, Santa Barbara is a charming and picturesque destination that offers a perfect blend of natural beauty, cultural attractions, and a laid-back coastal vibe. Whether you're a California local looking for a weekend escape or a traveler exploring the Golden State, Santa Barbara is a must-visit destination that will leave you enchanted.
With its Mediterranean climate, stunning beaches, and dramatic mountain views, Santa Barbara boasts a wide array of activities and attractions for every type of traveler. From shopping and dining in downtown to exploring the rugged coastal landscapes, this city has something for everyone.
In this ultimate guide, we'll provide you with a comprehensive itinerary for exploring Santa Barbara over a weekend. We'll cover the must-see sights, the best places to eat, and the top activities to make the most of your time in this coastal paradise. So pack your bags, bring your sunglasses, and get ready for an unforgettable weekend in Santa Barbara!
Day 1: Exploring Downtown Santa Barbara
Start your weekend adventure in Santa Barbara by exploring its vibrant downtown area. Known for its Spanish-influenced architecture, charming boutiques, and bustling State Street, downtown Santa Barbara is a perfect blend of history and modernity.
Begin your day with a stroll along State Street, the main thoroughfare of downtown. Lined with beautiful shops, restaurants, and galleries, State Street offers a wide range of options for shopping and dining. Take your time to browse through the unique boutiques and discover local treasures.
As you explore downtown, make sure to visit the iconic Santa Barbara County Courthouse. This stunning Spanish Colonial Revival-style building is not only a functioning courthouse but also a popular tourist attraction. Climb to the top of the clock tower for panoramic views of the city and the surrounding coastline.
No visit to Santa Barbara is complete without a visit to Stearns Wharf. Located at the end of State Street, this historic pier offers picturesque views, delicious seafood, and unique shops. Take a leisurely walk along the pier and admire the stunning ocean views or enjoy a seafood meal at one of the waterfront restaurants.
In the afternoon, venture into the vibrant Funk Zone. This eclectic neighborhood, located near the beach, is home to an array of hip tasting rooms, artisanal breweries, and art galleries. Explore the various tasting rooms and sample locally crafted wines or beers. Don't miss the opportunity to visit the Urban Wine Trail, a collection of wineries within walking distance of each other.
End your day with a relaxing stroll along the Santa Barbara Harbor. Watch the boats come and go, take in the beautiful sunset, and enjoy the cool ocean breeze. If you're feeling adventurous, you can even rent a kayak or paddleboard and explore the coastline from the water.
After a long day of sightseeing, head to one of the many downtown restaurants offering a diverse range of cuisines. Whether you're in the mood for fresh seafood, international flavors, or local farm-to-table dishes, downtown Santa Barbara has it all.
As the night settles in, explore the vibrant nightlife scene. From live music venues to trendy bars, downtown Santa Barbara offers plenty of options for evening entertainment. Enjoy a cocktail, listen to live music, or simply soak in the lively atmosphere of this charming city.
After a day filled with exploration and excitement, rest your weary feet at one of the many cozy boutique hotels in downtown Santa Barbara. Wake up refreshed and ready for another day of adventure in this picturesque city.
Day 2: Discovering the Beautiful Beaches
On your second day in Santa Barbara, immerse yourself in the breathtaking beauty of its pristine beaches. Known for its stunning coastline, Santa Barbara offers a variety of beaches that cater to different interests and activities.
Start your day by visiting one of the most popular beaches in Santa Barbara, East Beach. With its wide stretches of sand, palm trees, and picturesque views of the mountains, East Beach is perfect for sunbathing, beach volleyball, or simply taking a leisurely stroll along the shore. If you're feeling active, rent a bike and explore the nearby coastal bike path for a scenic ride.
For those looking to immerse themselves in nature, head to Arroyo Burro Beach, also known as Hendry's Beach. This beautiful beach is surrounded by cliffs and offers a tranquil atmosphere for sunbathing, picnicking, and swimming. Take a walk along the beach and keep an eye out for dolphins playing in the waves.
If you're a surfer or aspiring to be one, make your way to Rincon Beach. Known as the "Queen of the Coast," Rincon Beach is renowned for its consistent swells and world-class surfing conditions. Even if you're not hitting the waves, it's worth a visit to witness the impressive surfers catching waves along this iconic stretch of coastline.
For a more secluded beach experience, visit Butterfly Beach. Located in the upscale neighborhood of Montecito, this beautiful beach offers stunning views, calm waters, and a peaceful atmosphere. Pack a picnic and spend the afternoon basking in the sun or enjoy a leisurely beach walk with breathtaking views of the Santa Barbara Channel.
As the day winds down, make your way to Shoreline Park. Perched on the bluffs overlooking the ocean, this park offers panoramic views of the coastline, offshore islands, and the Santa Ynez Mountains. Enjoy a picnic on the grassy areas, take a hike along the trails, or simply relax and watch the sunset over the Pacific Ocean.
After a day of beach exploration, treat yourself to a delicious seafood dinner at one of the waterfront restaurants with stunning ocean views. Santa Barbara is known for its fresh seafood, so indulge in a mouthwatering meal featuring local catches like Dungeness crab, halibut, or Santa Barbara spot prawns.
End your day with a leisurely beachside stroll and enjoy the cool ocean breeze. Whether you choose to watch the stars twinkling above or take in the soothing sounds of the waves, the beaches of Santa Barbara provide the perfect setting for relaxation and rejuvenation.
Day 3: Enjoying the Local Food and Wine
On your third day in Santa Barbara, it's time to immerse yourself in the culinary delights and world-class wines that the region has to offer. Santa Barbara is renowned for its farm-to-table cuisine, artisanal food products, and award-winning wineries, making it a paradise for food and wine enthusiasts.
Start your day by indulging in a delicious breakfast at one of the many charming cafes or bakeries in Santa Barbara. From freshly baked pastries to hearty brunch options, you'll find a wide range of culinary delights to kickstart your day.
After breakfast, explore the Santa Barbara Farmers Market, where local farmers, artisans, and food purveyors come together to showcase their products. Stroll among the stalls filled with vibrant fruits, vegetables, artisan cheeses, baked goods, and more. It's the perfect opportunity to taste and purchase local products to bring home a piece of Santa Barbara's culinary scene.
Next, embark on a culinary tour through the Funk Zone. This trendy neighborhood is a hub for foodies, offering a wide selection of restaurants and tasting rooms. Sample artisanal chocolates, taste locally crafted olive oils, and savor small plate delicacies paired with local wines. The Funk Zone is a culinary paradise where you can explore a myriad of flavors and indulge in the region's finest offerings.
After satisfying your taste buds, it's time to explore Santa Barbara's renowned wine region. Take a scenic drive to the Santa Ynez Valley, where you'll find numerous wineries nestled amidst beautiful vineyards. Whether you join a guided wine tour or create your own itinerary, be prepared to savor exceptional wines crafted from a variety of grape varietals. From world-class Chardonnay and Pinot Noir to unique Rhône blends, the Santa Barbara wine region offers a diverse range of options to satisfy every wine lover's palate.
In between winery visits, take a break to enjoy a leisurely lunch at one of the acclaimed vineyard restaurants. Many wineries offer farm-to-table dining experiences, showcasing local ingredients paired with their wines. Relish the idyllic surroundings as you bask in the beautiful scenery and sip on exquisite wines.
After a full day of culinary exploration, return to downtown Santa Barbara in the evening to enjoy a delightful dinner at one of the city's renowned restaurants. From upscale fine dining establishments to cozy neighborhood eateries, Santa Barbara has a diverse culinary scene to suit every taste and preference.
Complete your food and wine adventure with a visit to one of the charming wine bars or lounges in downtown Santa Barbara. Sip on handcrafted cocktails, sample rare wines, or enjoy live music as you toast to the memorable experiences of your weekend in Santa Barbara.
Santa Barbara's food and wine scene is a true reflection of the region's diverse flavors and local craftsmanship. Indulging in the delectable and robust offerings will leave you with lasting memories of this gastronomic paradise.
Where to Stay in Santa Barbara
When it comes to choosing accommodations in Santa Barbara, you'll find a variety of options that cater to different preferences and budgets. From luxurious beachfront resorts to cozy boutique hotels and charming bed and breakfasts, there's something for everyone in this coastal paradise.
If you're looking for a luxurious and indulgent stay, consider booking a room at one of the upscale beachfront resorts. These resorts offer luxurious amenities, stunning ocean views, and direct access to the beach. Immerse yourself in luxury and enjoy features such as spa treatments, fine dining options, and concierge services to make your stay truly memorable.
For those seeking a more intimate and personalized experience, boutique hotels are a perfect choice. These unique and stylish properties offer a blend of comfort, charm, and personalized service. Many boutique hotels are conveniently located in downtown Santa Barbara, putting you in close proximity to shops, restaurants, and attractions.
Another option is to opt for a cozy bed and breakfast, where you can experience the warmth and hospitality of local hosts. These charming properties often offer comfortable rooms, homemade breakfasts, and a cozy atmosphere that makes you feel right at home. Bed and breakfasts can be found in various locations, from downtown Santa Barbara to the scenic countryside.
If you're traveling on a budget, there are also affordable accommodations available in Santa Barbara. Look for budget hotels or motels located slightly away from the city center. Although they may not offer the same level of luxury as the high-end resorts, they provide comfortable and convenient lodging options at a more affordable price.
Regardless of the type of accommodation you choose, keep in mind that Santa Barbara is a popular tourist destination. It's advisable to book your accommodations well in advance, especially during peak seasons, to secure the best deals and availability.
Remember that staying in Santa Barbara offers more than just a place to sleep. It provides the opportunity to fully immerse yourself in the charm and beauty of this coastal haven. So, choose the accommodation that best suits your style and preferences, and get ready for a memorable stay in Santa Barbara.
Getting Around Santa Barbara
Getting around Santa Barbara is a breeze, thanks to its compact size and well-connected transportation options. Whether you prefer to explore on foot, take advantage of public transportation, or rent a car, there are several convenient ways to navigate this beautiful coastal city.
If you're staying in downtown Santa Barbara, many attractions and points of interest are within walking distance. State Street, the main downtown thoroughfare, is pedestrian-friendly and lined with shops, restaurants, and attractions. Take a leisurely stroll and explore the charming streets, architecture, and lively atmosphere of downtown.
For longer distances or if you prefer not to walk, Santa Barbara's Metropolitan Transit District (MTD) offers an extensive bus network that covers the city and surrounding areas. The buses are clean, reliable, and affordable, making them a great option for getting around. You can easily plan your routes and check the schedules using MTD's website or mobile app.
If you're planning to explore attractions outside of the city center, renting a car gives you the flexibility to venture further afield. Several major car rental companies have offices in Santa Barbara, making it convenient to pick up and drop off your rental vehicle. Keep in mind that parking can be limited in certain areas, especially downtown, so be prepared to pay for parking or use public parking lots.
If you want to experience the joy of cycling, Santa Barbara offers a bike-friendly environment with numerous bike lanes and paths. You can rent bicycles from various rental shops in the city and explore the coastal bike path or venture into the scenic neighborhoods and parks at your own pace. It's a great way to enjoy the beautiful weather and soak in the natural beauty of Santa Barbara.
If you're traveling to Santa Barbara from Los Angeles or other nearby cities, you can also take advantage of the Amtrak Pacific Surfliner, which offers scenic train rides along the stunning Southern California coastline. The Santa Barbara train station is conveniently located near downtown, making it easy to access the city center.
Regardless of your preferred mode of transportation, it's important to plan your routes and allow enough time for travel. Santa Barbara is a popular tourist destination, and traffic can get congested, especially during peak hours. By staying informed and prepared, you can make the most of your time and get around Santa Barbara with ease.
Tips for a Successful Weekend Trip
Planning a weekend trip to Santa Barbara? Here are some helpful tips to ensure that your visit is enjoyable, memorable, and stress-free:
Plan ahead: Santa Barbara is a popular destination, so it's important to plan your trip in advance. Make reservations for accommodations, restaurants, and any activities or attractions you wish to visit to secure availability and avoid disappointment.
Pack accordingly: Santa Barbara enjoys a Mediterranean climate, with mild winters and warm summers. Pack layers and bring a light jacket or sweater, as the temperatures can be cool in the evenings. Don't forget your sunscreen, hat, and sunglasses, as the California sun can be strong even on cloudy days.
Explore beyond downtown: While downtown Santa Barbara offers plenty of attractions, don't be afraid to venture out and explore other neighborhoods and nearby towns. The Santa Ynez Valley, Carpinteria, and Montecito are worth a visit and offer their own unique charm.
Sample the local cuisine: Santa Barbara is a food lover's paradise, so make sure to try the local cuisine. Indulge in fresh seafood, farm-to-table dishes, and the region's renowned wines. Don't be afraid to ask locals for dining recommendations, as they often have insider tips on the best hidden gems.
Take advantage of outdoor activities: With its stunning coastline and beautiful natural surroundings, Santa Barbara provides ample opportunities for outdoor activities. Enjoy a beach day, go hiking in the mountains, rent a kayak, or take a bike ride along the scenic coastal paths.
Respect the environment: Santa Barbara's natural beauty is something to be treasured and preserved. Practice responsible tourism by following local regulations, picking up after yourself, and respecting the flora and fauna.
Embrace the laid-back vibe: Santa Barbara is known for its relaxed and laid-back atmosphere. Take your time, slow down, and enjoy the unhurried pace of life. Immerse yourself in the local culture, interact with friendly locals, and soak in the coastal charm.
By following these tips, you'll be well-prepared to have a successful and memorable weekend trip in Santa Barbara. Whether you're immersing yourself in the local food and wine scene, exploring the picturesque beaches, or simply enjoying the relaxed lifestyle, Santa Barbara is sure to capture your heart and leave you longing to return.
Conclusion
Santa Barbara is a destination that captivates visitors with its stunning natural beauty, charming downtown area, and world-class culinary scene. A weekend trip to Santa Barbara offers a perfect blend of relaxation, exploration, and indulgence.
From strolling along the vibrant streets of downtown to discovering the breathtaking beaches and enjoying the local food and wine, there's something for everyone in this coastal paradise. Explore the Spanish-influenced architecture, browse through unique boutiques, and soak in the lively atmosphere of State Street. Discover the beauty of the beaches, from the wide stretches of sand at East Beach to the secluded tranquility of Butterfly Beach.
Indulge in the local cuisine, savoring farm-to-table dishes, fresh seafood, and award-winning wines, or immerse yourself in the laid-back charm of the Funk Zone. Take advantage of the variety of accommodations available, whether it's a luxurious beachfront resort, a cozy boutique hotel, or a charming bed and breakfast.
Getting around Santa Barbara is a breeze, thanks to its walkable downtown, convenient public transportation, and the option to rent a car or explore by bicycle. Plan your trip ahead of time, pack accordingly, and make the most of your time exploring this coastal haven.
Santa Barbara's natural beauty, warm climate, and friendly atmosphere make it an ideal destination for a weekend getaway. Whether you're seeking relaxation, outdoor adventures, culinary delights, or a mix of everything, Santa Barbara has it all.
So, pack your bags, put on your sunglasses, and get ready to immerse yourself in the beauty and charm of Santa Barbara. Explore the stunning beaches, savor the delectable food and wine, and create memories that will last a lifetime. A weekend in Santa Barbara is sure to leave you with a deep appreciation for the beauty of California's central coast.