Top 10 Things to Do in Madison, Wisconsin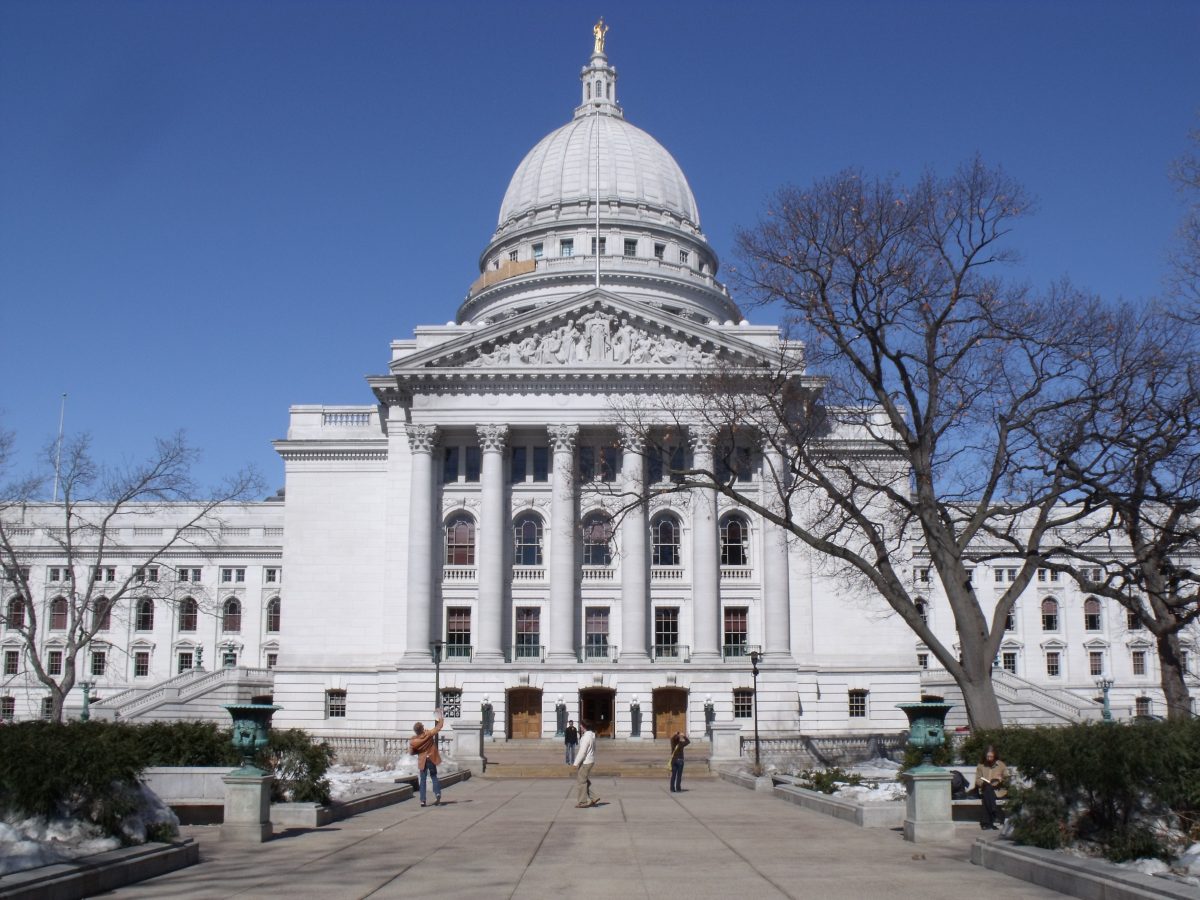 While Madison, Wisconsin might not be the first destination that pops into your head when thinking about a great American vacation, it should definitely be on your shortlist. This charming state capital of Wisconsin has quite a lot to offer its visitors. There are plenty of cultural, historical, culinary, outdoor, and nature activities to enjoy while you are spending time in this beautiful northern city. There are so many great things to do in Madison, that you should plan to stay for at least a long weekend, if not a week. Madison is the perfect destination for families, couples, and groups of friends. There is truly something for everyone here, and more!
Waterparks riddle Wisconsin Dells! There are thirteen to be exact. For this reason, it naturally earned the titled "Waterpark Capital of the World." There are even indoor waterpark options for those rainy or cold days up north. But Wisconsin Dells is more than just waterparks, especially during the summertime. There are nearly 100 different attractions and activities to enjoy here for both families with kids and adults. Whether you are into adventure and nature or luxury and leisure, the Wisconsin Dells has plenty of things to do to fill your itinerary.

If you are looking for the perfect getaway where everything you could ever want to do is at your fingertips, this is where you need to go. You can spend your days riding roller coasters, exploring an exotic wildlife park, visiting a big cat rescue center, ziplining, boating, golfing, throwing axes, fishing, tackling a WWII-inspired rope course, or taking a scenic horseback ride. Then, at night, there are dozens of live shows, casinos, nightclubs, and bars to keep the party going.

Obviously, somewhere in there and throughout your day and stay, you will need to eat! There are close to 100 dining establishments serving an impressively wide range of food. Even the pickiest of eaters and those with dietary restrictions will find plenty of delicious options. With 8,000 hotel rooms and 3,200 campsites to choose from, there is no shortage of accommodations, and there is something to fit every budget, preference, and size need. If you are seeking some real rest and relaxation, Wisconsin Dells has multiple spa options. There is nothing quite like treating yourself to a massage and spa treatment after a day of activities and adventure.
Basically, Wisconsin Dells has it all!
2.
Olbrich Botanical Gardens
Olbrich Botanical Gardens was voted one of the top ten most inspiring gardens in North American by Horticulture Magazine. This lush 16-acre outdoor garden is free to the public and is open every day of the week. Here you will find beautifully-kept landscapes bursting with native Midwest plants and flowers. There are actually twelve individual gardens within the 16-acres as well as an indoor garden. The outdoor gardens include a rose, perennial, wildflower, and herb garden that will surely inspire you to start your own little plot of plants! There are even gardening workshops to help you make your own dream garden a reality.

The Boiz Conservatory is the indoor garden at Olbrich and is filled with exotic plants, delightfully fragrant flowers, free-flying birds, and even a waterfall. On Sundays, you can take a free sixty-minute guided tour through the botanical gardens at 1:30 or 3:30. This is a fantastic way to learn about all the diverse collections of plants and flowers that are thriving in the gardens. A visit to these botanical gardens is surely a treat for the horticulturist! Throughout the year there are also all different types of exhibits, workshops, outdoor concerts, and other special events.
3.
Dane County Farmer's Market
The Dane County Farmer's Market is the largest produce-only farmer's market in the country! Here you will find a bountiful selection of seasonal fresh fruits, vegetables, herbs, cheeses, meats, pastries, and flowers, as well as art, crafts, jewelry, and other specialty and homemade items. There are approximately 275 vendors that come to the market every Wednesday and Saturday. Everything that you will find here for sale has been grown, raised, or made in Wisconsin. This is an excellent example of a true local farmer's market at its best!

Visiting this huge market should be a must on your list of things to do in Madison, Wisconsin. Located on the Square, the farmer's market takes over four streets. As you walk up and down the streets, you will also get to enjoy plenty of live music. This is an activity that the whole family will enjoy.
The Wednesday and Saturday markets take place every week from the second week in April until the first week of November until 1:45 pm. From November 23 until December 21, you can enjoy a weekly holiday market on Saturdays. Then, the late winter market begins from January 4 until April 4 and takes place on Saturdays.

So, regardless of the time of year that you are visiting Madison, Wisconsin, you will likely be able to catch a Dane County Farmer's Market.
The Henry Vilas Zoo should be at the top of your list of things to do in Madison. This unique zoo is one of only ten remaining free-admission zoos in North America. In 1904, Colonial William and Anna Vila donated a large plot of land to the Madison Park and Pleasure Drive Association "for the uses and purposes of a public park and pleasure ground." The park was named after their son Henry who died when he was very young due to complications associated with diabetes. In 1911, the first animal exhibit was created, and the Henry Vilas Zoo was born.

The zoo is open daily and year-round from 9:30 am to 5:00 pm. Visitors will have the opportunity to visit with and observe over 115 species of animals, 20 of which are either endangered or considered vulnerable. At this zoo in the Wisconsin state capital, you can explore parts of the tropical rainforest, arctic passage, African savanna, and North American prairie, among other captivating ecosystems and regions.

There is even a children's zoo and a discovery center within the Henry Vilas Zoo. While admission and parking are free, donations are much appreciated!
5.
Ice Age National Scenic Trail
The Ice Age National Scenic Trail when completed will be a 1,200-mile trail that will trace the Ice Age formations in the state of Wisconsin. Over 12,000 years ago, a tremendous glacial ice flow carved out the landscape that is now present-day Wisconsin. Today, around 600 miles of trails have been created and maintained for your walking pleasure.
This is a healthy, environmentally-friendly, and active activity to do one day or even over the span of a few days while you are visiting Madison. It should be noted that spending time in nature has significant health and wellness benefits too. The trail is open for hiking, backpacking, snowshoeing, and in some parts and parts of the year cross-country skiing. It crosses through 31 counties in Wisconsin and is one of only eleven National Scenic Trails in the United States. The Ice Age National Scenic Trail website has plenty of resources to help you plan your ideal hike or camping trip, as well as maps and other useful information.

This stunning scenic trail is perfect for day hikes, backpacking, camping trips, and retreats. There are all different routes depending on your physical fitness level and desired walking length, but there is something suitable for nearly everyone. Depending on the hike you choose to do, you will enjoy old-growth forests, vast prairies, and pristine lakes and rivers. This is the type of activity that is good for your mind, body, and soul.
6.
Madison Museum of Contemporary Art
The Madison Museum of Contemporary Art has been showcasing exquisite exhibitions for over one hundred years. In 2006 though, a newly-designed facility was completed and opened to the public. The new space is connected to the Overture Center for the Arts. World-renowned architect Cesar Pelli designed the 51,000 square foot museum space along with a 7,100 square foot rooftop sculpture garden. Admission is still free!

The museum has a 230-seat lecture hall, a children's classroom, a media gallery, and a study center for drawing, print, and photography. There are always new exhibits, so even if you've been here before you can expect something entirely different the next time. You can visit this inspiring home of the arts on Tuesday through Thursday from 12 to 5 pm, Friday from 12 to 8 pm, and Saturday from 10 am to 8 pm. They are closed on Mondays.
7.
Memorial Union Terrace
Memorial Union Terrace is at the heart of the University of Wisconsin-Madison and a long-time favorite spot amongst students, faculty, Madison residents, and visitors alike. This ample outdoor space is host to a plethora of events, live music, film showings, and waterfront activities. You must be a student or member to enjoy the festivities and space at the Memorial Union Terrace, but day passes are available and affordable for purchase.

If it is a sunny day, this is where you want to be! This is a beautiful spot to grab a bite to eat, a cold drink, and people watch. The Memorial Union Terrace is right on the water, and the energy here is quite inviting and enlivening. Memorial Union Terrace is an authentic taste of local life in Madison, Wisconsin.
State Street is a famous street in Madison that links the State Capitol Square to the University of Wisconsin-Madison. This civilian vehicle-free street is the perfect place for a leisurely stroll. Both sides of the street are lined with fantastic restaurants and shops. The sidewalks are particularly wide here, which is ideal for street-side dining.
This lively street is a favorite amongst tourists and locals alike. Sometimes there are even big events that take place here, so make sure you ask around when you are in Madison. The Madison Museum of Contemporary Art is also located on State Street, so after you are done exploring the museum, you can spend the rest of the afternoon here. It doesn't get any more convenient than that!
9.
Madison Eats' Food Tours
If you are a foodie, this is the activity for you! Madison Eats' Food Tours offers premier tours of Madison's happening food and drink scene. There are several different tours you can choose from. There is a downtown Capitol Square lunch tour, Taste of the Farmer's Market tour, Atwood Brew and Chew tour, Willy Street Global Eats tour, Mexican Culinary, and Culture tour, and an option to customize your very own private tour.

An experienced local guide will take you on a culinary journey through the streets of the capital of Wisconsin. You will get to taste a wide variety of what some of the best chefs, restaurants, bars, and vendors have to offer. You will definitely get plenty to eat and drink on any one of the available tours. This is the best way to experience food and drink culture in a place that has so much to offer on that front. You will also learn about the local history, culture, and landmarks in Madison while on your food tour.
Brat Fest is the world's largest brat festival! For three days in May, downtown Madison becomes a festival ground. The festival also includes a music line-up of local favorites like Smash Mouth, Madison County, and SuperTuesday. There are a kid-friendly zone and plenty of activities that the whole family will enjoy. As a visitor, this an excellent opportunity to mingle with the locals!

While Brat Fest is a tribute to the brat, there are also plant-based brat options available for vegetarians and vegans. You'll also find plenty of American and craft beer booths to wash down all the meaty goodness. If you are planning on visiting Madison in May, make sure you purchase tickets ahead of time, so you don't miss out on this local festival.