Top 10 Things to Do In Bangalore, India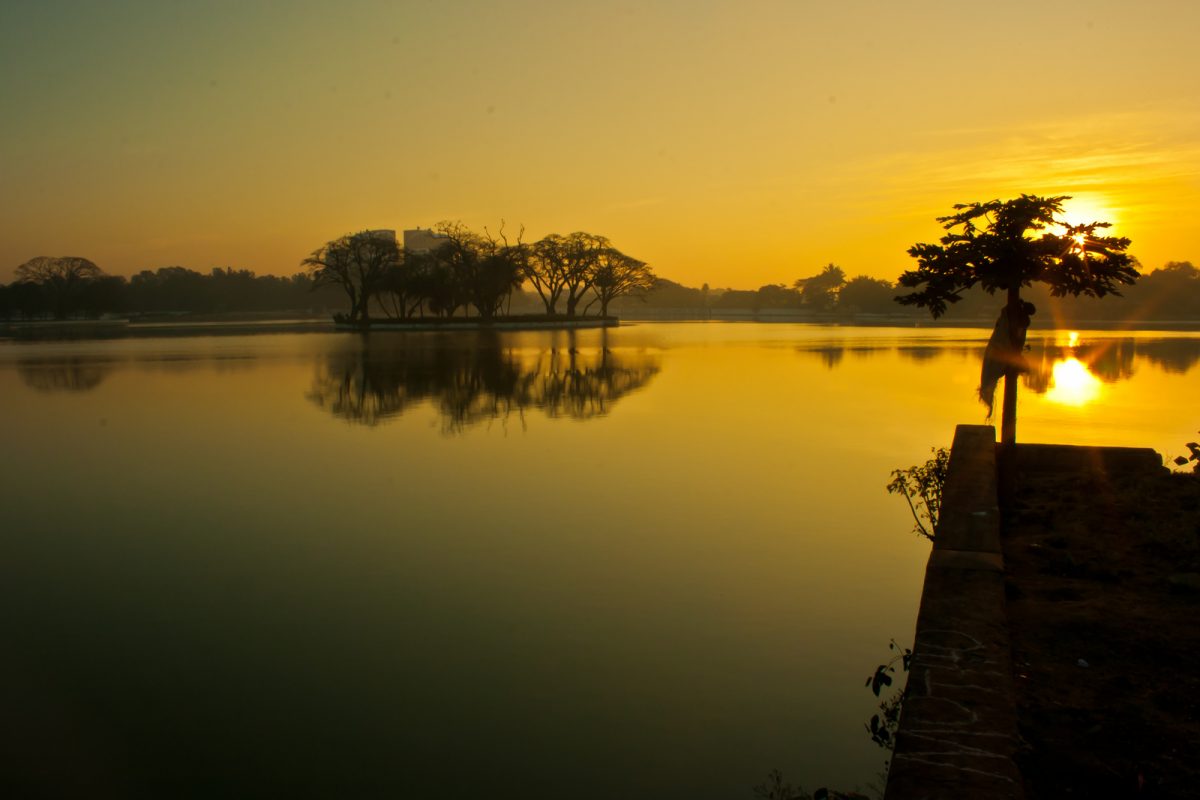 Bangalore, the Garden City of India, is a unique blend of breath-taking architecture & history, sparkling nightlife, and cosmopolitan experiences. This splendid city is home to the IT Revolution in India, earning itself the tag 'Silicon Valley of India'. From expansive public gardens to modern shopping malls and heritage temples exuding the aura of divinity, Bangalore has something in it for everyone.
Everyone can experience that homely feeling in Bangalore once they settle. So if you're heading to the Pub City of India, you're in for experiences that are diverse and absolutely enjoyable! Here's our list of interesting things to do in this wondrous city.
1.
Appreciate The Architectural Marvel That Is Bangalore Palace
The crowning glory of the Wadiyar legacy, Bangalore Palace boasts of massive floor space of 45,000 sq ft. The grounds of the Palace extend over 450 acres. The Palace houses some of the choicest and most prized architecture of South India. These include a dining table that belonged to the Diwan of Mysore, Mirza Ismail himself.
The Palace boasts of a rich repertoire of art, architecture, and history, making it one of the most popular places to visit in Bangalore.
Bangalore Palace In The Modern Era
In modern times, the expansive grounds of the Palace have made a mark for themselves as ideal locations for public events. These include music concerts and marriages.
What's more? the sprawling grounds also house an amusement park called Fun World. Fancy a thrilling ride or two after soaking in the beauty of the Bangalore Palace?
2.
Stroll Around The Verdure Of Cubbon Park
It's no wonder that Bangalore is known as the Garden City of India – how many cities can boast of a 300-acre size park in the heart of the city? Cubbon Park was named after the longest-serving commissioner of the region, Mark Cubbon. It is home to some of the most exquisite plantations and flora in Bangalore city.
Amidst the inviting botanical species are various statues of the historical importance of legendary personalities as well as some historic buildings in Bangalore such as Karnataka High Court and the Government Museum.
An Ode To Fitness At Cubbon Park
Cubbon Park is home to thousands of morning walkers who come to the park for their daily dose of health. Aside from fitness enthusiasts, you will find vendors of fresh fruit and animal enthusiasts bringing their canine families for a walk.
There are also laughter clubs and yoga groups. There couldn't possibly be a refreshing start to your day, could it? We absolutely recommend heading here during to morning hours to get the best of what Cubbon Park has to offer.
3.
Lalbagh Botanical Garden
The Lalbagh botanical garden is one of the oldest and most favorite recreational spots of the old Bangalorean. This garden is now synonymous with a lazy Sunday stroll or an evening out for many Bangalore Residents.
It houses over a thousand species of botanicals with trees dating back to over a hundred years. The garden is adorned with scenic fountains, pleasant lawns, pathways, and captivating plants.
There is a hill-like rock structure within the premises of the garden that is quite a tourist and local attraction. Most visitors simply lounge on the rocks and soak in the ambience around them.
The Glass House In Lalbagh Botanical Garden
The Glass House in Lalbagh Botanical Garden is created along the lines of the Crystal Palace in London. The garden organizes flower shows twice a year, around the time of Republic Day and Independence Day inside the Glass House.
You will find the entire Bangalore city visiting and appreciating the beauty of the flowers. It is definitely a sight to witness if you happen to be in the Garden City around this time.
4.
Bannerghatta Biological Park
What better way to spend an afternoon than in the midst of some majestic creatures of the wild. Bannerghatta biological park arguably tops the best places to visit in Bangalore and is easily accessible by a private vehicle.
This national park offers a host of experiences including a butterfly park, an elephant sanctuary and a reptile park among many others.
You can view and appreciate various animals herein including the royal Bengal tiger, zebras, wild bears, Russell's viper among others. There is also an interpretation center and film show auditorium to help understand the fauns better.
With over a hundred species of birds, Bannerghatta Biological Park offers a wholesome and diverse experience. The crowning glory is, of course, the sight of the beautiful white tiger herein.
Tiger & Lion Safari At Bannerghatta Biological Park
The park offers dedicated tiger & lion safaris that take you through the interiors of the park in an official guided bus tour. These safaris are an excellent opportunity to see these majestic animals up close. Over a 6 km pathway, you can observe these animals in their natural habitat.
The State Legislature of Karnataka is called the Vidhana Soudha. Located in the heart of Bangalore city, this building is constructed in Dravidian sight. It is one of the most serene sights in the city, especially with the evening sunset in the backdrop.
The building has been closed for public for over a decade due to security threats. However, until the 90s, it was thronged by morning walkers and families on Sunday evenings. With street hawkers serving local treats, Vidhana Soudha certainly holds a special place in the minds of Bangaloreans.
Vidhana Soudha On Karnataka Rajyotsava
Every year on the 1st of November, the state of Karnataka celebrates the monumental day of the formation of the state. On this day, the Vidhana Soudha is truly a spectacle to witness. With all its interior lights ablaze, this historical building comes across as an adornment in the night sky.
If you're in Bangalore on the 1st of November, we definitely recommend driving by the Vidhana Soudha to witness it in all its glory.
6.
Tipu Sultan's Summer Palace
Bangalore represents in its architecture, culture, and art various influences of Tipu Sultan the Emperor. One among these is the Tipu Sultan's Fort or His Summer Palace situated in the bustling KR Market in Bangalore.
While it can't be compared to Tipu Sultan's Palace in Mysore, it certainly has a charm of its own. The palace is built entirely of teakwood and stone and displays the delicate and complex Islamic architecture and design.
(i) Museum In Tipu Sultan's Palace
The Palace houses a museum in the ground floor rooms that display various artefacts from the Mysore Ruler. Gold & silver ornaments, royal clothing, crowns, vessels and a host of other items can be found here. They give visitors a glimpse into the natural life during the time of the great Emperor.
(ii) Ganesha Temple In Tipu Sultan's Palace
An apt token of Tipu Sultan's inclusive nature and tolerance to other religion is present in his palace. There is a temple in the honour of Lord Ganesha within the premises of the Palace.
7.
Commercial Street, MG Road & Brigade Road
Indulge the shopaholic in you at three intersecting roads of Bangalore that offer an exciting mix of street shopping and big brands. The busiest streets in Bangalore, its here that the diverse youth of Bangalore head to for their dose of fashion.
Shopping Themed Streets at Commercial Street
In the by-lanes, you shall find streets dedicated entirely to materials of adornment. Street names such as Dupatta street & Jewellers street are not uncommon to Bangaloreans. Tucked away in these avenues, you will find accessories, dupattas, footwear and a whole lot more.
(i) The Silk Paradise At MG Road
MG Road houses some of the legendary silk saree stores in Bangalore such as Vijayalakshmi Silks, Deepam Silks among others. You will also find the Cauvery Emporium for handicrafts made of sandalwood, brass and other intriguing pieces of art.
(ii) The Versatile Brigade Road
For the cosmopolitan shopper, Brigade road houses various brands, international fast-food chains, legendary bookstores, and iconic pubs. If you are looking to rub shoulders with avid book readers, there's no better place than Blossom's Book House.
Head to Pecos' or Guzzlers Inn to discover why Bangalore is referred to the Pub City of India. There's a whole new world to explore in the avenues of Brigade Road.
Bangalore is a city that is known to be up to speed with fashion and style. It's no surprise then that the first luxury shopping mall in India was open in Bangalore, namely UB City. Located on the posh Vittal Mallya road, the mall is named after the Bangalore-brewed brand United Breweries. UB City is indeed a jewel in the Bangalore skyline.
The mall has four towers that house both offices and corporates and high-end brand outlets. Stroll through its expansive and luxurious corridors to appreciate Louis Vuitton, Burberry, and Canali among many other brands. The mall is also home to Oakwood service apartments, a luxury abode in the heart of the city.
(i) Dining & Nightlife At UB City
The mall has an amphitheatre that hosts occasional events, stand-up performances, and dramas. Surrounding the amphitheatre are some of the best lounge bars, restaurants, and cafes of Bangalore. Skyye Bar on the rooftop of UB City gives you an aerial view of Bangalore and is certainly a city favorite. Head here for the perfect Saturday night out.
(ii) Helipad From UB City To KIA
For a dash of pampering, you could even avail the helipad services from UB City to Kempegowda International Airport. You are transported to the Airport in less than 10 minutes, with a quick airborne recap of Bangalore.
While we do admit that this lake is not as clean as it was, it certainly is one of the most pleasant spots in the bustling city of Bangalore. Earlier, one could boat and swim for free in the lake.
However, due to pollution issues and other concerns, there have been certain restrictions around these activities. If you're lucky, you may get to indulge in a dip or a boat ride at the time of your visit.
Ulsoor is also a favorite with morning and evening walkers. You will find a lot of families and children bringing their badminton racquets for a game in the evenings. Look out for some rare birds around the lake and at the large island in its midst. This island is a perfect muse for nature photographers. One can click the best pictures of their life at Ulsoor Lake.
Lakeview Restaurants Near Ulsoor Lake
If you're looking to grab a cuppa and soak in the serenity of Ulsoor Lake, we recommend heading to Urban Solace. It is a lake-facing café that's been around for years and is a favorite in that part of town. They also host book-readings, comedy clubs and various cultural events that you can partake in should your visit coincide.
Located around 60km from Bangalore, Nandi Hills is one of the perfect weekend getaways from Bangalore. If you're spending a weekend in Bangalore, you must absolutely drive atop the hills to catch the glorious morning sunrise. What was once Tipu Sultan's summer retreat is now a stunning landscape for cyclists and trekkers.
(i) Paragliding At Nandi Hills
If you are lucky, the wind speeds could be favourable at Nandi hills during your visit. In which case, brace the adventurer in you and strap on your paragliding gear. Trust us, you are going to have the experience of a lifetime with the chill Bangalore winds enveloping you.
(ii) Don't Miss The Temples Around Nandi Hills
There are various temples tucked away in the crevices of Nandi Hills. But one temple we would absolutely recommend visiting is the Bhoga Nadeeshwara temple. Honouring Lord Shiva, the Bull Nandi, and Goddess Parvati, the temple is a famous tourist attraction in Bangalore. Built early in the 9th century the architecture at the temple is truly a marvel. A calm pond at its centre is the perfect place to find some solace.
So, we've filled you in on the best places to visit in Bangalore. We hope you're pulling out your calendars and planning your trip to this splendid city already!