Things To Do In Porto, Portugal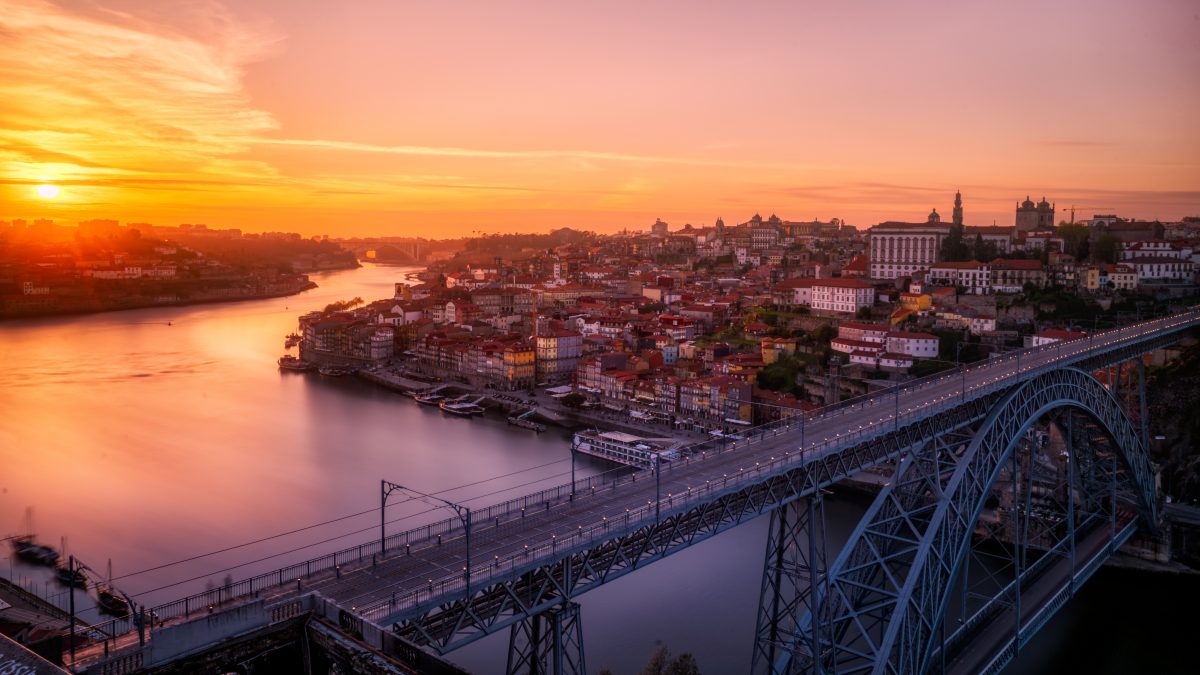 When it comes to tourism in Portugal, Porto falls behind capital city, Lisbon and the Algarve's beach and golf resorts. However, for a true slice of Portuguese culture and food, Porto is the city to be at. From its famous river to UNESCO World Heritage Sites, a Porto trip is top prize for any true-blue traveller.
So if sipping on a glass of Port by the river is your idea of a perfect holiday, you'll want to check out the best travel destinations in "The Unvanquished City" of Portugal.
What better way to start your Porto holiday than a visit to the Palacio de Cristal. Also known as the "Crystal Palace Garden", Palacio de Cristal offers the best vantage points of Porto and its famous Douro River. Admire the scenic views under the comfort of Portugal's cool climate.
Be enthralled by its rose gardens and fountains as you take a stroll through the park. The landmark truly captures the charm of Europe in one location. What's more, peacocks freely roam the garden and you'll feel as though you are in a magical place straight out of a fairy tale.
Palacio de Cristal is free to enter and opens at 8 in the morning. A perfect way to start your morning!
A European holiday is never complete if you haven't seen the architectural wonders in the city of your choice. The Church of São Francisco ranks high on the list of Porto's most iconic landmarks.
For starters, you'll be amazed by its gothic exterior, transporting you back to the 14th century when it was built. The interior is even more worthy of awe. Entering the Church of São Francisco, you're greeted by three naves covered in gold carvings.
Then, make your way to the catacombs. Here, you can marvel at thousands of human bones of local aristocrats and religious leaders under your feet through a glass floor.
The undisputed icon of Porto. In a city with 6 famous bridges, the Dom Luis Bridge reigns supreme. This double-decker bridge spans the Douro River, linking the historic Ribeira precinct with the adjacent Port wineries.
Aside from crossing the Douro River by boat, walking across the iconic river via the Dom Luis Bridge ranks a close second. The lower deck carries road traffic, while the top deck is used as a pedestrian walkway, offering a panoramic view of Porto. At 60m above water level, it might not be a trek for the faint-hearted. But we are sure that the sense of achievement is worth the thrill.
If open-air markets are more your thing, Mercado do Bolhão is sure to attract with its vast selection of fresh produce. As you approach the Mercado do Bolhão, you'll probably be surprised by the worn down state of the structure. However, we find that it provides a true depiction of Porto living and embodies the charm of Europe.
Entering the market, you are immersed in a crowd of shoppers finding the best deals. Check out the freshest fruits, vegetables and meat that you can find in Porto here. Or just soak in the vibrant atmosphere. Before you go, drop by one of the many cafes at the ground floor to enjoy some Portuguese food.
Located in the historical centre of Porto, this 19th century neoclassical palace is a must-see tourist destination in Porto. You'll be amazed by the Palacio da Bolsa's beauty from start to finish.
Entering the courtyard, you'll find yourself walking up an exquisite marble and granite staircase. At the upper floor, explore the gold leaf-covered Golden Room and its other spaces. Finally, take your time to admire the majestic Arab Room. The Moorish-styled room was used to receive officials around 150 years ago. Today, its splendid design is relished by people from all over the world.
If Palacio da Bolsa's history intrigues you as much as its architecture, there are 45-minute guided tours available. For €10 per ticket which includes the guided tour, it is certainly money well-spent! The historic Bolsa Palace is open daily from 9am to 6:30pm.
Want to see a contemporary icon in Porto for a change? Casa da Musica is the answer! The concert hall's "show-box" design certainly stands out among its surrounding buildings. To date, it has garnered the attention of many visitors.
The square itself is welcoming with a garden of its own and plenty of shaded areas to rest. Perhaps the most eye-opening sight, other than the Casa da Musica, is the 45m-tall statue that stands right in the middle of plaza.
This grand monument features a lion standing atop a defeated eagle at its peak with soldiers on horseback gathered at its base in celebration of Portugal's successful defense against the invading Napoleon forces.
If you are into photography, the Casa da Musica and monument are definitely golden photo opportunities.
The waterfront of Porto's historic neighbourhood, Cais da Ribeira is a place where medieval houses meet classic-looking boats along the quayside. In fact, Cais da Ribeira is culturally rich that UNESCO declared it a World Heritage Site. It is one of the most picturesque landmarks in Porto right next to the Douro River.
Enjoy the sunshine and boat rides along the Douro River in the daytime. However, it is in the evening when Cais da Ribeira truly comes to life. The quayside is filled with traditional Portuguese restaurants where you can savour some of Porto's best dishes with a nice glass of Port.
The biggest urban park in Portugal, Parque da Cidade do Porto is an ideal place to enjoy a walk and rub shoulders with ducks and geese by the lake. As the park adopts a "naturalist approach" to its setting, Parque da Cidade do Porto lets visitors truly reconnect with nature amidst a bustling city.
Upon entering Parque da Cidade do Porto, take a deep breath and admire the vast green oasis around you. Wide spacious areas and panoramic viewpoints are trademarks of the 80 hectare park. Make your way to the lakes where you'll be greeted by a swarm of friendly ducks and geese.
All in all, Parque da Cidade do Porto is a great place to enjoy peace and spend a couple of hours with nature.
Tucked in Porto's "rural district", Mercado Mom Sucesso is sure to capture your attention, given its modern exterior. It used to be a rundown fresh goods market until recently. Today, Mercado Bom Sucesso has transformed into a bright indoor marketplace, thanks to an architectural revamp.
As you enter Mercado Bom Sucesso, you're welcomed by the sights and smells of restaurants that occupy the ground floor. You will be spoilt for choice by the sheer number of Portuguese cuisine eateries here. A favourite choice of ours would be Casa de Santo Antonio for its amazing Portages chorizo and craft beers.
After a hearty meal, shake off all that excess calories with a visit to the indoor fresh produce market. Take the time to soak in the atmosphere of Porto's market scene. Or if you prefer, sample some of the mouth-watering sandwiches and freshly brewed coffee on display.
The Mercado Bom Sucesso is open from 10 am to 12 midnight. Perfect way to wind down after a busy day!
Besides walking the Dom Luis Bridge, taking a boat ride on the Douro River is a must-do activity when touring Porto. There are many boat tours available online and most of them will see you sail Porto's iconic river in the Rabelo, a traditional boat.
Alight at Vila Nova de Gaia, on the opposite of Ribeira, to explore the historic wine farms of Porto. Vila Nova de Gaia houses many of Porto's port wine cellars and is a major attraction for wine lovers.
Relax and enjoy a glass of Port as you appreciate the scenic view of the river that you just crossed. If you found a wine that you like, buy a bottle to share with family and friends back home. These world-class Porto wines make for a thoughtful gift!
Porto has many cathedrals that tells the story of its rich history. However, one church truly stands out among the rest with its majestic tower. Torre dos Clerigos, known as the Clerigos Tower, is the accompanying bell tower of the Clerigos Church.
As you approach the Torre dos Clerigos, you're treated to the grand sight of the Clerigos Church is its Baroque-styled beauty. Gaze upon the splendid bell tower that sits atop this impressive 18th century place of worship.
The Torre dos Clerigos is the highest bell tower in Porto, and even Portugal, standing at 76m tall. Besides being one of the must-do activities in Porto, we highly recommend you ascend to the Torre dos Clerigos's observation deck. After climbing the tower's 200 steps, you're immediately rewarded with a stunning view of Porto and its Duoro River.
Torre dos Clerigos is open 7 days a week from 9am to 7pm. Entrance to the Clerigos Church is free but you need to pay €3 to access the bell tower's observation deck.
Without a doubt, the Livraria Lello is the most exquisite bookstore in Porto, Portugal, and possibly the entire world. Home to two floors of books packed to the ceiling, seeing this Neo-Gothic building will literally transport you back to the 19th century. You'll feel like you have walked into a fantasy movie set instead of a bookstore! In fact, this was the very location that inspired J.K. Rowling's depiction of Hogwarts in the Harry Potter series.
Upon entering the Livraria Lello's glass door, feast your eyes on the elegant wooden red velvet staircase in the middle of the library. There are several bookshelves covering every inch of the Livraria and is a book lover's haven. Just as rewarding too even if you're just here to see the place that inspired Harry Potter's Hogwarts.
You'll have to purchase a ticket with €3 to enter the Livaria Lello. However, the amount will be refunded if you buy anything from the book store.
It's no secret that Europe is football-mad, and Porto is no different. Home to FC Porto, the 2004 Champions League winners, the entire city is fully behind their local football team. Hence, it is no surprise that there is a museum dedicated to the history and achievements of Portugal's second-most successful football club.
Located at FC Porto's stadium, the Estádio do Dragão, this travel landmark is one for the football fans. The museum's corridors are lined with jerseys, mementos and photos that highlight FC Porto's journey throughout the years. As you move through the museum, don't miss the touch screen displays showing videos of the club's greatest matches.
Tickets to the FC Porto Museum costs €12. If you are an FC Porto fan, we recommend you get a combined ticket for the museum and stadium tour which costs only an additional €3.
The most highly regarded place of worship in Porto, the Porto Cathedral was declared a National Monument in the early 20th century. As you first lay eyes on the cathedral, you'll be enthralled by its alluring mix of architectural styles. The Porto Cathedral is primarily Baroque in style, while also having elements of Romanesque and Gothic designs.
Don't miss out on visiting the cloister as you enter the hallowed Porto Cathedral. The cloister's interior is decorated with tiles showing scenes from the Bible. Venture further inwards and discover the Cathedral Treasure, a collection of Porto Cathedral's most precious possessions.
The Porto Cathedral is open daily from 9am to 7pm. Although entry to the Porto Cathedral is free, you'll need to pay €3 to enter the cloister.
A famed cultural institution in Porto, the Serralves Foundation aims to promote Portuguese modern art to the world. With multiple attractions at the Foundation, hours of exploration awaits you.
Upon entering the Serralves Foundation, you are surrounded by a beautiful 18-hectare garden, segmented into various gardens and lakes. With lush greenery and bright flowers around you, you'll definitely lose track of time admiring the wonders of nature.
Make your way to the centre of the park where the Serralves Museum of Contemporary Art is located. Here, permanent and temporary exhibits are housed that showcase the works of local and international modern artists.
Porto is truly an amazing travel destination, given its rich culture and history. With its vast scenic views and grand places of worship within the city centre, you'll want to visit Porto in your lifetime. Furthermore, enjoying a fine glass of Port wine after an afternoon of sightseeing is just heavenly. What's not to like about that!
Are you excited to make Porto your next travel destination? Which famous landmark interests you the most? Let us know in the comments section below!