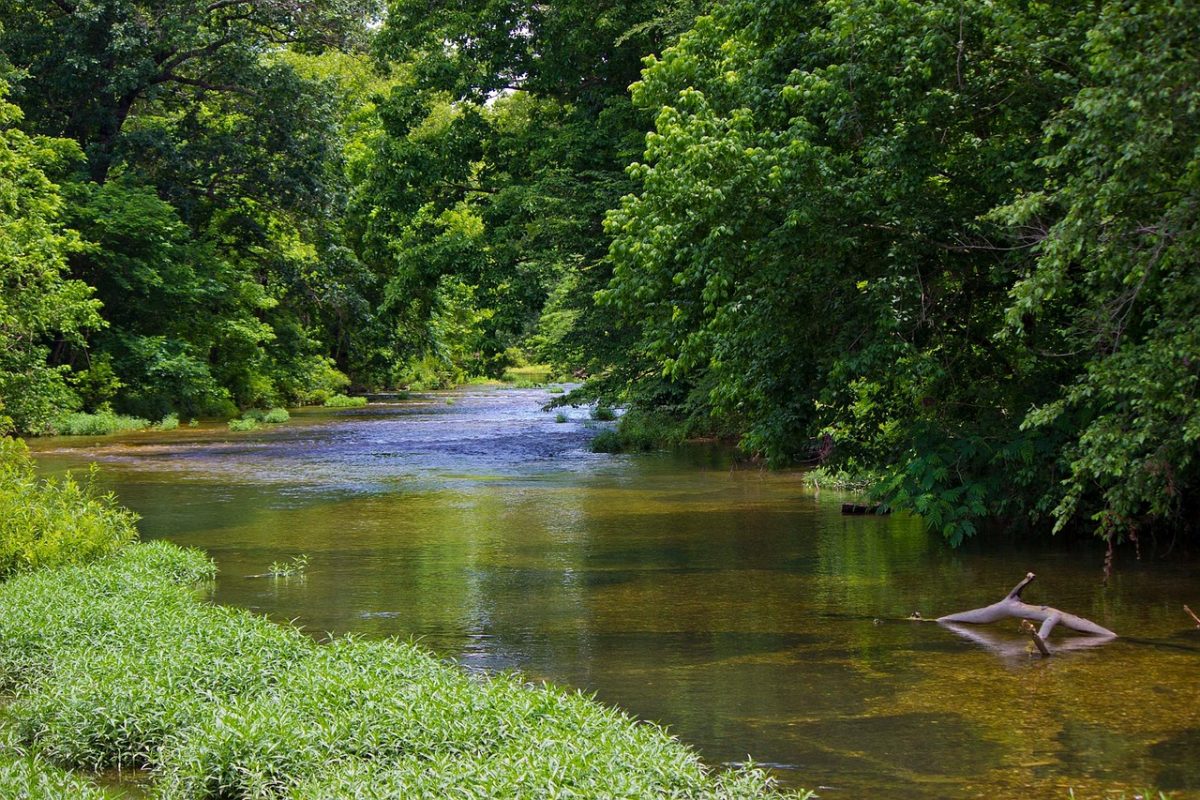 Oklahoma is a cowboy's dream come true. Warm summer winds caress through lush prairies, creating a gentle whistle between endless fields of switchgrass. Electric blue lakes twist and turn, crafting sandy shorelines in a sweltering oasis. Rocky hills scatter across a vacant countryside, hidden under the rumble and roar of nature's own thunder and lightning.
However, it would be a grave mistake to only associate the state with cowboys. Modern museums, chic urban districts, and flashy casinos can be found in nearly every city. And while the state still manages to maintain its roots from the American West, it has rapidly evolved, and adapted to changing trends.
So go wine and dine in Bricktown. Admire history in a cowboy museum. Attend a heart-pumping NBA game. Or just float in a warm freshwater lake. Whatever you choose, you are bound to have a great time in Oklahoma.
1.
National Cowboy & Western Heritage Museum
Peek into the history of the American West at the National Cowboy & Western Heritage Museum.
The growth of the American West was a massive turning point in US history. It was a time when the American culture started to clearly define itself, and move away from European customs. Modern life changed from a noisy urban society, into a society spread far and wide in rural areas. And just like that, new ideas, tools, and thoughts emerged from the transition.
A collection of Western arts, displays, and exhibits relating to the changing era can be found in the 200,000 square foot museum. Visitors can stroll through an authentic prairie town and view life on the range. Gaze at hand-painted landscapes by inspired artists. Or even explore Native American artwork from centuries ago.
Further relics from the American Rodeo Gallery and the Weitzenhoffer Gallery of Fine American Firearms may also be found in the museum.
2.
Oklahoma City Museum Of Art
Few museums are as highly regarded in Oklahoma as the Oklahoma City Museum of Art.
Art has always found a special place in the heart of man. So it is no wonder that there are countless museums across the US honouring talented souls. But the Oklahoma City Museum of Art is a true standout.
The ultra-popular urban museum spans over 110,000 square feet and houses countless pieces of work from the US and Europe. Spectators can revel at stunning pieces of glasswork, finely crafted sculptures, modern photos, and ornately drawn prints.
Works from many popular artists may also be found in the museum. Such artists as Georgia O'Keefe, Thomas Moran, Gustave Courbet, and Sir Thomas Lawrence.
Who doesn't love a good zoo experience every now and then? The Oklahoma City Zoo is a fantastic way to spend some downtime when visiting the state capital. After opening in 1904, the site became a true hit with locals and travellers.
Today's visitors now see a remarkably different zoo, as it is home to nearly 1900 animals, from every corner of the globe. While the typical animals such as bears, tigers, and elephants are present, there are also a handful of more rare species. Kaiser spotted newts, cassowaries, and red pandas may also be found residing inside the park.
Those looking for something a bit more hands-on can join the 'wild encounters' experiences. Trainers escort a group of 10 guests into an up close and personal encounter with some of nature's finest beasts.
4.
Oklahoma History Center
Explore the history of the Sooner State with a visit to the Oklahoma History Center. Oklahoma acquired its 'Sooner' nickname from the thousands who moved to the area just before 1889. Nearly all were anticipating the new statutes that would open up over 2 million acres of land for settlement.
Since then, the state has seen multiple economic booms through ranching, the discovery of oil, and more recently, sports teams.
Today's visitors can revel in all of the state's history via the Oklahoma History Center. The 215,000 square-foot structure houses artefacts, videos, exhibits, maps, and displays from the past. Some of the most popular lures include a history of Native Americans, a glimpse of Oklahoma's free commerce, and an in-depth look at forensic sciences.
After a series of less than stellar years, the rights to the Seattle SuperSonics were sold to an investment group from Oklahoma City, Oklahoma.
Just two years after the purchase, the franchise was moved to the Midwest state. The team was then rebranded in an attempt to breathe new life into the basketball club. As of September 2008, the SuperSonics no longer existed, and Oklahoma City Thunder became the fresh name for the squad.
In their first draft, the club picked up Russel Westbrook, a young player who would soon become the key player for the franchise. Since moving locations, the Thunder has risen to be one of the top teams in the NBA. Still led by Russel Westbrook and now Paul George, the games are as electrifying as ever, and absolutely worth catching when visiting Oklahoma City.
If the name alone hasn't already caught your attention, then the scenery of the Wichita Mountains certainly will.
The Wichita Mountains may possess some of Oklahoma's best nature. Rocky hillsides gently roll throughout a soft countryside, until they meet with sweeping grasslands and tranquil river canyons.
Yet, there's no shortage of wildlife that calls the mountains home. American bison, deer, lizards, mockingbirds, and many other species all quietly reside inside the hills. Biologists simply can't get enough of all the fauna present.
While visiting guests can enjoy rock climbing over billion year old stones, cycling throughout serene prairies, or fishing in gentle river bends. After a busy day, tourists can then retire to social campsites to recharge and prepare for the next day. No matter what time of the year, adventure can be found in Oklahoma's Wichita Mountains.
Pass a few nights on a floating cabin when you visit Lake Murray; Oklahoma's premier lake for outdoor activities.
There is no shortage of fun to be had at Lake Murray, a freshwater lake that includes over 150 miles of shoreline. The lake contains electric blue water, dozens of remote coves, and shallow sandy beaches. It's beauty is so great, that locals simply flock to it year round.
When visiting, guests are encouraged to check out the Lake Murray Nature Center. The educational center offers info-graphics, displays, and models of the local wildlife and ecosystem. From this point, guests can also hike to the Tucker Tower, a viewpoint resting upon a nearby hillside. Once climbing, guests are granted brilliant sights of the freshwater lake.
Grab a fine fishing set up and head to Lake of the Arbuckles for some of Oklahoma's best freshwater fishing.
Sure, Oklahoma is landlocked, so it may not have a fishing scene as desirable as the other states. However, that surely won't deter any avid sportsman, as the lake holds the state record for the largest bass, and largest tournament weigh in.
Of course, there is more to the lake than just fishing. Outdoorsy folk also use it for scuba diving, boating, swimming, and hiking. The water is superbly clean and clear, and the surrounding trails are chocked full of wildlife and natural scenery. When it comes to ideal places for photography, not many places in Oklahoma beat Lake of the Arbuckles.
There's just something catchy and classy about Bricktown, Oklahoma City's chic entertainment district. The hip and modern corner of OKC offers a bit of everything. There are countless southern restaurants, trendy venues, historical museums, wild nightclubs, and artsy theatres.
However, Bricktown is no ordinary district, as it is linked via a series of canals. Visitors can simply hop aboard a water taxi, and cruise from one block to another. Move over Venice, you've got a new rival.
Whether enjoying rock and roll duelling pianos, or sipping beers at a local sports game, tourists and locals are sure to have a good time in the lively district.
Are you ready to dive into a stunning oasis this summer? How about one that is home to Oklahoma's largest waterfall? If yes, then set your sights on Turner Falls.
Turner Falls attracts a massive crowd each year, as the cascading falls provide a fresh escape for those looking to dodge the summer heat. The scene is perfectly ideal, as it is filled with sandy beaches, vast swimming areas, and turquoise green water.
The fun extends far beyond the oasis though, as there are charming campsites and cabins available for rent year round. And due to the falls being located in the heart of the Arbuckle Mountains, they also offer great footpaths and hiking trails for the swift-footed adventurer.
11.
Alabaster Caverns State Park
Take a descent into the world below when you visit Alabaster Caverns State Park in northern Oklahoma. A unique blend of gypsum forms the naturally occurring mineral, alabaster, that the park is aptly named after. The dark hollows extend for nearly ¾ of a mile, providing quite an adventure for those fearless enough to explore them.
Visitors can take a guided tour, or choose to explore the cave on their own. Those who choose to partake in wild caving can explore small hollows that are just a mere 550-ft in length, or larger caverns reaching nearly 1600-ft. Due to the hibernation of protected bats, the hollows are only open at select times of the year.
12.
The Holy City Of The Wichitas
Hidden deep in the Wichita Mountains is a sacred fortress built in the style of Biblical Israel.
The Holy City of the Wichitas was assembled over 80 years ago, as the site for an Easter pageant. Church members wished to retell the story of Christ, in a setting remarkably similar to Israel. So with the help of the CCC, a local reverend penned and built a series of buildings straight from biblical times.
Today's visitors can stroll throughout the grounds, and explore the religious relics. Of course, the Easter pageant is still held every year, so if timed right tourists can witness the live version of the story of Christ.
13.
Beavers Bend State Park
A quick trip to Beavers Bend State Park will reveal why the site is adored by both locals and tourists alike. The park, which lies in the southeast corner of Oklahoma, offers numerous activities for the avid sportsman.
Visitors can find themselves at heart of the Mountain Fork River and Broken Bow Lake, which comprise a large portion of the state park. At these points, outdoorsy folk can fish for trout, water ski, hike, bike, or just float the river.
Those looking for a longer stay can set up camp under 100-ft pine trees, or rent out cozy cabins. And like any of the national parks, there are plenty of seasonal activities to enjoy such as hayrides, paddle boat ventures, and mini-golf courses.
14.
Little Sahara State Park
Are you feeling the need for speed? To cut loose, and let your wild side out? If so, then take a venture to Little Sahara State Park and zip across towering sand dunes with ATVs, RZRs, dune buggies, and more.
The largest sand dunes in Oklahoma are a speed junkies dream come true. The state park contains over 1600 acres of naturally occurring golden sand dunes, just ready to be torn up by gearheads.
Riders can choose to either bring their own vehicles or rent from the local vendor. Those who seek to rent can choose from high-speed ATVs or secure and powerful RZRs.
Guests can also book a reservation at the local RV site complete with water and electricity, to ensure a whole weekend of fun.
15.
Choctaw Casino And Resort In Durant

A trip to Oklahoma simply wouldn't be complete without a visit to a casino. Thankfully, there are dozens scattered across the state offering all sorts of fun.
The Choctaw Casino and Resort is one that simply can't be missed. Gamers can hit the slots, poker tables, race books, or table games and play around the clock.
Gaming isn't for everyone though, and Choctaw has embraced that. Those wanting a more relaxed experience can cool off in the oasis pools, and lounge in private cabanas. And after a nice dip guests can head to the theatres, arcades, or bowling alleys – for fun that the whole family can enjoy.
Countless live performances can also be seen at the Choctaw, including some of country music's best artists. A trip to the Choctaw Casino and Resort in Durant is sure to entertain any time of the year.
If you're thinking about driving during your time in Oklahoma, you're going to need an Oklahoma Pikepass.