Things To Do In DUMBO, Brooklyn
There are a handful of unique and charming neighbourhoods scattered throughout New York City. Areas that are teeming with life, and full of interesting finds. Such is the case with DUMBO, the quaint district in the northern pocket of Brooklyn, New York.
DUMBO, which stands for "Down Under the Manhattan Bridge Overpass", is an area ideal for those looking to escape the hustle and bustle of the downtown.
As the abbreviation suggests, it's a small pocket located under and around the Manhattan Bridge, with dozens of shops, markets, and parks. However, that small area arguably has some of the best pizzerias, chocolate shops, and food markets in the entire city.
Don't spend all of your time in downtown Manhattan on your next NYC trip. Give DUMBO a try, and see why locals and foreigners love it to pieces. Read on to see which spots in the hip area should be on your summer travel list.
New York is known for its spectacular food. Shocking right? Who would have ever guessed that a city made up of every nationality could have sweet culinary bites?
Sarcasm aside, New York's Superfine restaurant is a real treat – even by New York standards. The bistro opened just weeks after 9/11, by three locals who had been working in the hospitality industry for decades. Their vision was to create a hip, spacious, and artistic venue that welcomed the spirit of New York.
That vision came to life beautifully, and the pub-style restaurant could not be a bigger hit with locals and tourists alike. The offerings consist of farm to table ingredients, crafty drinks, and a rotating menu of seasonal dishes.
A fan favourite for many is the spaghettini, which is an original creation from Superfine's own kitchen. With shiitake mushrooms, scallions, English peas, asparagus, and midnight moon cheese, the dish is sure to please even the pickiest of eaters.
Best of all, Superfine offers free rounds of billiards to patrons all night long. Making it the ideal spot to throw back some brews and meet new friends.
2.
Stuff Yourself Silly At Juliana's Pizza
Pizza is to New York like crepes are to France. It's delicious, can be found everywhere, and has hundreds of varieties. Yet even amongst all of the competition, Juliana's Pizza is still a standout.
The pizza joint, which first started serving pies in 2012, was opened by longtime NYC pizza veteran – Patsy Grimaldi. Grimaldi, who was the original owner of Grimaldi's Pizza, had been in the pizza game for a very long time.
Grimaldi originally started tossing dough at Patsy's Pizza in the '40s when he was just a teen. His uncle, Patsy Lancieri, owned the place, and taught the young Grimaldi all of the tricks of the trade. And Lancieri certainly knew the tricks, as he himself had learned from NYC pizza legend Gennaro Lombardi.
So when Patsy Grimaldi came of age, he too opened his own restaurant. In just a matter of years, his pizzeria became world famous, and won over even the toughest of critics.
However, Grimaldi sold his joint in 1999 and went into retirement. He planned to stay at rest, but after bad blood arose between him and the new owner, he had no choice but to defend his name. So he opened Juliana's, to continue his legacy in the pizza industry.
Today's visitors can salivate over the mouthwatering pizzas that combine the perfect amount of cheese, sauce, and dough. Those lucky enough might even be able to chat with Patsy, and receive legendary pizza advice.
3.
Treat Yourself At Jacques Torres Chocolate
If chocolate is a gift from the Gods – then Jacques Torres Chocolate shop might as well be heaven.
Jacques Torres Chocolate is a testament to one man's dedication and perseverance. The charming shop in DUMBO was once an abandoned warehouse that was torn to shreds. However it had potential, so Jacques Torres purchased the building, thinking he could easily remodel it for his future plans.
But when an estimate for repairs came back from carpenters, it was nearly 6x his budget. Yet Jacques had already quit his job at an upscale restaurant, so his options were limited.
Luckily enough, a fellow chef had summers off and was keen to help remodel the building. So the two men fashioned a plan and restored the shop in just under four months.
Those visiting can munch on the delicious chocolate that Jacques Torres crafts himself. His specialty blends consist of wild flavours such as PB&J, passion fruit, chai tea, and cinnamon praline. No matter how picky they are, sugar fanatics are sure to fall in love with his sweet treats.
4.
Hang Out At Brooklyn Bridge Park
Central Park often steals the show when it comes to open spaces in New York. Yet there are dozens of other parks, which may be even better. Such is the case with Brooklyn Bridge Park.
Brooklyn Bridge Park resides right under the massive transit structure, as one would guess. The natural area consists of sprawling lawns, quaint walkways, and even beaches. For many, it is a place to relax and take in nature. While for others, it is a spot to engage in sporty activities or events. Like most of the modern parks, it beautifully transitions from the urban city into a natural escape.
During the summer visitors can stumble into the park and find a handful of events. Outdoor concerts, kayak sessions, basketball camps, and hip hop dance classes occur almost daily.
5.
Relive Your Childhood At Jane's Carousel
Wouldn't it be nice to go back to a simpler time? When movies were .05 cents, kids weren't hooked to smartphones, and dogs didn't need to be on leashes?
Unfortunately, those times are long gone. But you can still get a taste of them when you visit Jane's Carousel along the East River.
Jane's Carousel is a beautifully refurbished ride hailing directly from the 1920s. The old school entertainment was originally placed in Youngstown, Ohio, but ultimately found its way into an auction. And it was at auction that Jane Walentas purchased it, and decided to remaster the structure. Jane repainted, repaired, and replaced all of the broken facets of the ride, which desperately needed a touch-up.
Today's attraction consists of 48 hand-carved wooden horses that are available to ride for just $2. Whether you want to enjoy a classic ride, or just take photos of the lovely facade, Jane's is surely worth visiting.
6.
All Kinds Of Steals & Deals Await At The Brooklyn Flea
Everyone wants to take home a souvenir from New York, right? Well, good news – the Brooklyn Flea is just the place to find one.
The Brooklyn Flea is the premiere flea market in the Big Apple. It rests right below the bridge, and is the ideal spot to search for gifts and treasures.
Though it is located in NYC, the flea market takes on a very European feel. It combines the best elements of a vintage bazaar, a food market, and a public square all in one.
Those wandering the site can find goods from 80 different vendors, who show up every Sunday to pedal their products. So go ahead and hunt for classic records, bell bottoms, trendy bites, and antique china – you never know what you might find at the DUMBO Flea.
7.
Get Active At The Cliffs at DUMBO
The hustle and bustle of New York can make it a bit of a stressful place. Cars are always flying by, noises are always blaring, and lights are always flashing. So unsurprisingly, people can get a bit burnt out at times.
The Cliffs at DUMBO are a solid solution to the constant madness. The collection of outdoor climbing walls can be found right below the Manhattan Bridge, in a peaceful shaded area. Once there, climbers can test their skills on a handful of structures that vary in difficulty.
There's a large number of walls for total novices, and an equal number for experts. Regardless of the difficulty, the climbing gym provides the same great views of downtown Manhattan and the Brooklyn Bridge from any wall.
Those who wish to climb can pay just $11 for a day pass. The pass includes climbing shoes, access to any wall, and of course the chance to make new friends.
8.
Discover More Eats At The Time Out Market
Time Out Market New York simply could not be a cooler place. The hip food market filled with trendy bites and beers welcomes those with an atmosphere that just makes time fly.
The inspiration for the cosy market came from across the Atlantic, in Lisbon, Portugal. The team behind Time Out Market wanted to revamp the historic fish market in the centre of the city.
So they remodelled the interior, ushered in 24 restaurants, and created a handful of chill cafes. The rebrand was an instant hit, and Lisbon's old Mercado de Ribeira suddenly was the place to be.
Naturally, it only made sense for that concept to be brought to New York. So the team made a few adjustments, and opened doors in DUMBO. Every month the market releases a magazine with all of the hit foods from the area, as well as those which can be found at the DUMBO location. However, only the best of the best make it to the market, which means Time Out could likely have some of the tastiest bites in NYC.
9.
Explore Front and Water Streets
The Manhattan Bridge is truly an incredible piece of work. The 2089 meter behemoth took over 11 years to complete, by the hands of hundreds of workers. The end result was a piece so epic that it simply had to become a staple in the identity of New York.
Naturally, people now want to photograph the stunning structure. And one of the very best places to snap a shot is from the intersection of Front and Water Street.
Glaring down the intersection towards the bridge presents a view so striking that it ends up on Instagram almost daily. The sun-kissed structure can be seen with a stark contrast against the shadows of the buildings, making it seem to glow with warmth.
Those looking for the most opportune time can snap a shot in the morning as the sun rises.
10.
Get Your Adrenaline Pumping At Gleason's Gym
Boxing has always been widely respected in American culture. It's tough, gritty, and full of wild action. Yet it has maintained popularity for well over a century in the US, especially New York. So the fact that one of the best boxing gyms resides in DUMBO just makes sense.
Gleason's Gym was originally opened by the famous American boxer Bobby Gleason in 1937, during the final years of the Great Depression. However, Gleason struggled to keep the place open, as expenses were greater than revenue. So he drove cabs at night, in an attempt to keep his dream alive.
Luckily enough, Gleason's Gym managed to weather the storm and keep doors open. So as other gyms in the area started to close, business just got better and better.
Eventually, Gleason's became the superlative training centre, and hosted legends such as Muhammad Ali, Julio Cesar Chavez, Larry Holmes and more. Today's tourists can visit the gym to see where the handful of legends trained.
11.
Put Your Brain To The Test At Beat The Bomb
Are you a puzzle fiend? Someone who loves to crack codes, and solve mysteries? If so, then Beat the Bomb may be the very challenge you have been searching for.
Beat the Bomb is DUMBO's premier entertainment centre that combines escapism with problem-solving. Visitors are tasked with a series of puzzles and mini-games that reward them for their performance. The higher a player's score, the more time they are rewarded with on the bomb clock. But what exactly is the bomb clock?
The bomb clock is the very core of Beat the Bomb – as it is a metric associated with a paint bomb. If the clock runs out of time, players get drenched with paint from an exploding paint bomb. The only way to prevent such a thing is to solve the puzzles with superb efficiency, and continue to add time to the bomb clock.
Those who feel they are the next Rick Sanchez can make a booking directly on the site for an unforgettable hour of adventure.
12.
Head Down To Pebble Beach
Most folk simply think of large scale skyscrapers when they think of New York. They certainly don't think of calm pebble beaches.
But low and behold, a tranquil pebble beach does in fact reside in the DUMBO area of New York. The small rocky shore hides right alongside the East River, just waiting for restless travellers to come skip stones. Visitors can walk in and relax on a hot summer day, away from the crowds of New York City.
However, it is worth noting that the East River does have a quite strong current at times. For this very reason, it is not suitable for swimming. On the contrary, it is a decent spot for those looking to kayak or canoe. There is even a program there each summer that gives curious adventurers 20 minutes of free kayak use.
13.
Check Out DUMBO's PowerHouse Arena
Bibliophiles and art admirers can get lost in the abundance of treasures at DUMBO's PowerHouse Arena. The state of the art library and gallery opened in 2006, after the hit publisher powerHouse Books got hold of the building at 28 Adams Street.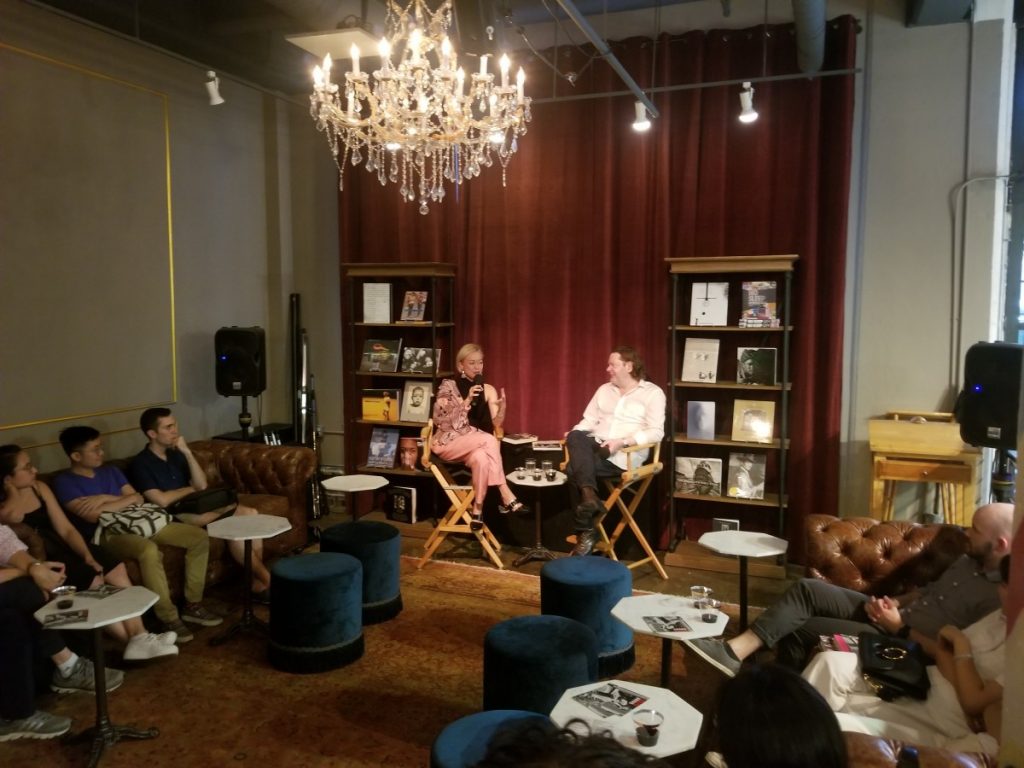 Photo from powerhousearena.com
The initial opening aimed to promote new novels, authors, and readings. However, as time passed it became more of an exhibition and convention centre. Many large scale events have since been hosted at the arena for large firms such as VH1, VICE News, and Absolut Vodka.
Of course, everyday visitors can still enjoy the splendour of a beautiful bookstore. The 10,000 sq. ft. building holds thousands of new novels and literary pieces, which are just waiting for an avid reader. Those who are lucky enough may even have the chance to chat with a famous author, as dozens come by throughout the week for book signings.
While you're in Brooklyn make sure you pop over to the Brooklyn Botanic Gardens!