Things To Do In Abu Dhabi, UAE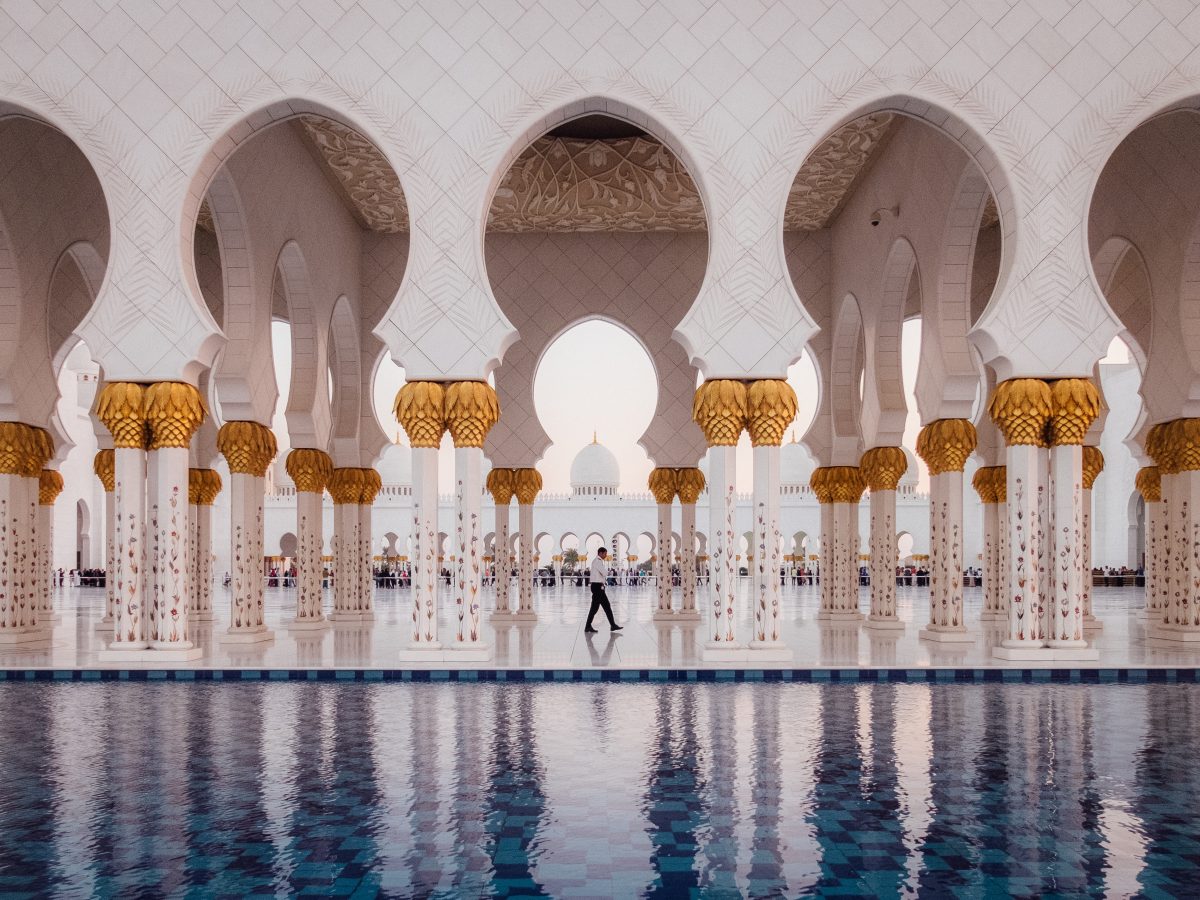 United Arab Emirates — UAE is one of the most famous metropolitan countries in the Middle East. On contrary to its laid-back neighbouring country like Oman, UAE has a shocking ratio of expats to local Emiratis. By all means, dazzling skyscrapers and modern architectures can be spotted easily within the country. While many travellers were overwhelmed by the fact that Abu Dhabi is the capital city of UAE, this city has everything to deserve it.
So, where is Abu Dhabi?
The UAE comprises of seven Emirates that includes Abu Dhabi, Dubai, Ajman and others. Similar to other emirates, Abu Dhabi is located at an island off the Persian Gulf interconnecting its city to the rest of the country. Although Abu Dhabi has slightly lesser population than Dubai, this city still holds an estimation of over 3 million population. As the largest city among the seven other emirates, Abu Dhabi is far more than you imagine. From beautiful beaches, intricate mosque to scrumptious food, I can assure you Abu Dhabi is going to be your next favourite city.
While this city is often over shined by the dazzling city of Dubai, let's not forget that Abu Dhabi holds the title of 'Richest City in The World'. Also, Burj Khalifa wouldn't be there if it's wasn't because of the financial help from Abu Dhabi.
Let's follow our guide to explore some of the must-do things in Abu Dhabi and look out for some Middle East travelling tips along the article.
1.
Visit The Sheikh Zayed Grand Mosque
It's no strange sights for Sheikh Zayed Grand Mosque to be seen all across the internet. Named after the former Sheikh of Abu Dhabi, this golden white landmark is worth visiting for its intriguing architecture alone. Regardless of your interest in religion, this mosque has to be on your travel list when you're in Abu Dhabi.
Apart from being on the top attractions for tourists in Abu Dhabi, this mosque is actively used for worshipping and gatherings. Reminiscent of the Taj Mahal's white marble domes, Sheikh Zayed Grand Mosque set itself apart through its comprehensive Persians and Indo-Islamic architecture. Not to mention this mosque house one of the World's largest crystal chandeliers at the main hall.
Although this holy site is open for the public, travellers are bound to follow the rules and regulation. We recommended you to dress modestly and be mindful of the photographs you take. After all, it's still a religion site and we should respect the premises. This mosque opens daily without any entrance fee. Also, there is a free guided tour, just check the hours prior to your visit so that you don't miss them.
Fun fact: You wouldn't be able to find any joining on the carpet in the grand mosque. As the whole carpet is hand-knotted by Iranian craftsmen. It took more than two years to complete.
Still struggling to be in line for the Louvre in Paris? Fear not, Abu Dhabi has your back. Since its opening in 2017, this landmark receives over a million visitors in its first year. International visitors travelled all the way to Abu Dhabi for its unique colonial arts.
Comprises of more than 600 pieces of arts and galleries, Louvre's aim of bridging different cultures under a roof proves that creativity is more than just words. Since its opening, Louvre Abu Dhabi has successfully hosted thousands of tours and also launched the world's first roadside gallery on the 100km Abu Dhabi highway. Curating the most intricate pieces of arts to be displayed on the billboards, this highway gallery organised by the Louvre Abu Dhabi certainly put its name to the world.
Look out for the 'Self-Portrait' by Vincent van Gogh, 'Kitab Al Manazir' from Egypt and more other historical pieces displayed all across the hall. Take time to appreciate the building's architecture particularly of the east-meets-west dome with Abu Dhabi's sunshine puncturing the dome creating rays of sunlight passing through the date palm fronds. This museum opens daily except on Monday and its admission price cost 16USD (60AED) per person.
Pro Tips: In the upcoming seasons, the Louvre Abu Dhabi will present four major international exhibitions that include the 'School of Paris', 'Charlie Chaplin' and more. Mark your calendar well if you're planning to visit Abu Dhabi.
Believe or not, everything in the UAE is bigger and better. While Dubai has its world's tallest skyscraper, Abu Dhabi has Ferrari's first theme park. Featuring its fastest roller-coaster in the world (Formula Rossa) at 240 km/h, Ferrari World is a must-visit for thrill seekers.
Covered under an enormous iconic Ferrari's red shield, you'll find many interesting activities offers for both adults and kids. Despite its adrenaline-rush roller-coasters, you'll find an array of Ferrari exhibitions featuring vintage cars and interactive experiences such as tyre changing and more. Don't worry about your kids, there are more than enough performances, 3D cinemas and many other activities for families. Take on the challenge to race your peers at the 'Karting Academy' and indulge the race like a real Formula 1 driver. Ferrari World ticket price ranges from 80-161USD (295-595 AED) and it opens daily from 11 am to 8 pm.
Located just off the coast about 20km away from Abu Dhabi city centre, this 2,500 hectares island is a paradise on earth. From the grandeur Yas Mall to las Marina Circuit, you name it, Yas Island definitely has it. Merely just a stretch of sand in the early 2000s, Yas Island in Abu Dhabi has grown to be one of the leading attraction in the UAE.
If you are into Formula One, there's this hotel 'Yas Viceroy' built right across the Marina circuit. Over-looking the racing track, there is the Yas Waterworld and the island's latest theme park addition— Warner Bros World Abu Dhabi. Offering exclusive displays of Warner's Bros characters, there are many roller-coaster rides that cater to all ages. Besides the impressive malls and theme parks in Yas Island, the highlight of this island is their wide stretches of sandy beach. Thus, Yas Island is a perfect getaway for you to escape the winter chills. Head down to Yas Beach and soak up the sun for some vitamin-sea now!
There are hundreds of things to do in Abu Dhabi but one should not miss the desert safari. Since Abu Dhabi lays at the edge of Empty Quarter a.k.a the largest sand dunes in the world, it makes sense to get the most out of the Abu Dhabi deserts by going for a dune bashing experience.
Book a day desert safari, departing from Abu Dhabi to the outskirts of the city for a dune bashing experience. While there are many modes of transportation available for the safari, we recommend dune bashing with a four-wheeler over the massive desert dunes. If you don't mind eating up some sands, try dune buggies and sand boarding, you won't regret it. Pick up your courage to ride a camel if your desert safari comes with it. The ride is totally different from any horse rides and it's actually quite challenging to ride one of them.
While many travellers would have chosen to end the safari here, it is totally worth the time to enjoy a local Emirati food afterwards. Extend the duration of your desert safari for the Emirati belly-dance performance and stargazing under the fine sands of Abu Dhabi's desert.
Emirates Palace is the most luxuries spot of Abu Dhabi for a good reason. Despite its luxurious architecture, this one of the few 7-stars hotels has become a landmark of the city. Although the public is welcome to tour the public areas and catch a glimpse of the golden domes and antiques, you can not miss having afternoon tea here.
Ever heard of the golden leaf coffee? Yes, you heard us right, gold leaf in the coffee. As we mentioned earlier, everything in the UAE is better and more luxurious. It's not a surprise to find a twist to your ordinary beverage. Le Café is the perfect place for you to settle your sweet cravings with a touch of luxury. As the best café in Abu Dhabi, they serve a vast menu of exquisite delicacies and artisanal pastries to complement its finest handcrafted beverages. Besides, there's no better way to indulge your afternoon cravings than having them with live music in a classical yet glamours atmosphere.
Pro Tips: Don't expect to get a table without any reservations. It's 13USD (50AED) for the 24K gold leaf Palace cappuccino and 8USD (35AED) for the regular.
7.
Observation Deck at 300
Believe it or not, Abu Dhabi's skyline is as good as Dubai's. By that means, viewing it on top of a skyscraper is as best as it can be. While many travellers flock to Burj Khalifa for its observation deck, 'Observation Deck at 300' at the 74th floor of Etihad tower is a great alternative.
If you look closely, it might cross your mind that this majestic backdrop was featured in the Hollywood film 'Fast and Furious 7'. Here, you'll get a panoramic view of Abu Dhabi's capital. This including some of the famous landmarks like Emirate Palace and even the UAE Presidential Palace. On the other hand, the admission ticket cost 26USD (95AED) per person.
8.
Take a stroll at Corniche Road
No trip to Abu Dhabi is complete without taking a stroll along the corniche road. Beyond the desert, beautiful beaches are everywhere all across Abu Dhabi. While most of the beaches in the UAE are private, there are still beautiful public beaches available. Along the eight-kilometre corniche road, you can either cycle or just take a casual evening stroll. If the weather is good, you can even spot the Guinness record-breaking flag hoisted on a fixed flagpole.
Set right across the beach, there are numerous restaurants along the corniche road. We recommend 'Casa Latina' for some Latin American cuisine and 'Chagh Kabab'. However, if you're craving for seafood, 'Cabana Beach Bar & Grill' at the St. Regis Abu Dhabi is a good option.
'Souk' in Arabic is the heart and soul for all Emiratis. Historically, souks in Abu Dhabi were used as a transportation hub for goods from the Far East. Over time, souks now have been diversified and various goods like spices, silks, clothing, golds and jewellery can be found at ease. All and all, Souk hopping in Abu Dhabi is a great way to learn about the traditional trading of local Emiratis.
All expert travellers agree that there are no better ways to learn about a culture than taking a trip to the market. Wake up early and take a trip down to the Fish souk at Mina Zayed, not too far from Abu Dhabi's port. Here, you'll see different actions from loud haggles from fishermen to housewife bargaining for seafood. Through these hectic atmospheres, you'll be fascinated by the actions and understand how the traditional business is truly be done.
Alternatively, head down to the Al Mina Fruits & Vegetable souk to pick up some Abu Dhabi dates like a local. If you fancy a little of everything, try visiting the Old Souk at Al Ain Souk. Grab your chance to savour the local delights and bring home some souvenirs.
10.
Visit Abu Dhabi Falcon Hospital
Did you know passports were issued to Falcon? Since Falcon is the national bird of the UAE, it's no surprise that this creature receives special treatment like the Falcon Hospital. Known to be the world's first and largest hospital for Falcon, this building hosted more than 6,000 birds annually. Unlike many other attractions, this purpose for this Falcon hospital is to treat and spread the knowledge of Falcon through human contact.
If you're a fan of birds, you have to book a tour to this Falcon Hospital. Not only you get to learn about the roots the relationship of Falcon and the nation's culture, but you'll also get the chance to be close to one of them. Don't miss the golden opportunity to get close to the Falcon as it perches on your arm.
Tourist Secrets
The official language in the UAE is Arabic. However, most Emirati has good English command.
Abu Dhabi has a sub-tropical with sunny blue skies. Expect the sunny blue sky and best to visit here between September to October.
US passport holder does not require a visa to enter the UAE if the visit is less than 30 days. Do run through with your embassy to confirm stay in the UAE if unsure.
Dress modestly in the public and only take photographs if it's permitted. Alcohols are only allowed at certain premises.