The 25 Things You Must Do In Bucharest, Romania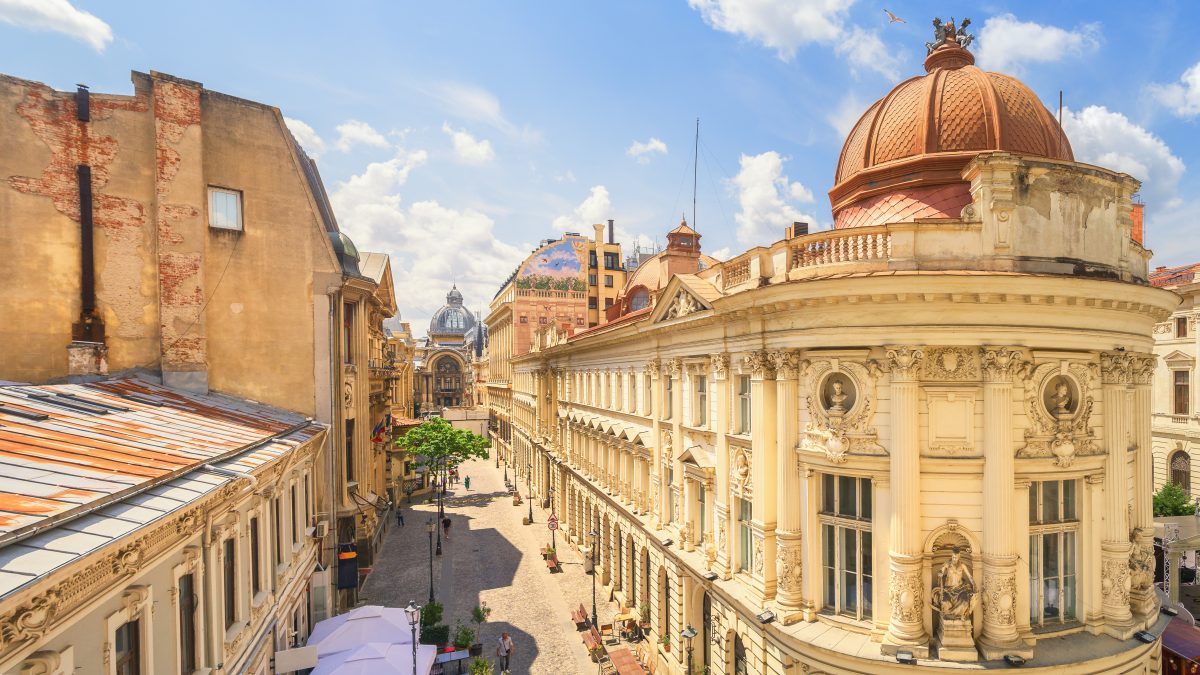 Dubbed as the "The Paris Of The East," Bucharest, Romania is a city of contrasting charm. Unlike most Romanian cities, Bucharest is a hub of economic progression despite being heavily damaged by war, systematization, and natural calamities over the years. Today, it stands as one of the most picturesque destinations in the world. In fact, millions of tourists heed the place to personally witness the enriching beauty and culture it offers. Enriching history, quaint sceneries, friendly locals, and world-class tastes, what else can you ask for?
Besides these features, you can also enjoy a bunch of adventures to keep your wandering heart at ease. Here are the 25 things you must do in Bucharest, Romania.
Currency In Bucharest, Romania
Despite being a part of the European Union, Romania operates with its own currency rather than the sole currency of the Union. Leu (plural: Lei) is the national currency of Romania. Likewise, subunits are termed as ban (plural: bani). As of January 2020, 1 leu is equivalent to 0.21 euro.
Climate In Bucharest, Romania
Romania is an Eastern European country with a temperate-continental climate. It generally has hot summers and cold winters. However, the climate varies from one city to another, depending on the elevation. During summer (June – August), Bucharest experiences a hot and sunny day with the temperature reaching 35 °C (95 °F). Still, thunderstorms can slice through the afternoon, so watch out!
On the other hand, the wettest period of the city happens from May to August. Make sure to carry a protective gear, such as an umbrella, during these times as the precipitation can amount to more or less 595 mm (23 in) per year.
Don't forget to bring your warm coats when you're visiting Bucharest during the winter as the temperature can drop up to -15 °C (5 °F).
Spoken Language In Romania
There are several languages spoken in Romania. Aside from their national official language, Romanian, you can hear eleven more languages with some having resemblance to their country-wide language. Those include Hungarian, Romani, Ukrainian, German, Russian, Turkish, Tatar, Serbian, Slovak, Bulgarian, and Croatian.
Where To Stay In Bucharest, Romania
Here are some hotels you can book to make your stay more memorable in Bucharest, Romania:
Ramada Plaza Bucharest – A luxurious hotel with world-class amenities such as a wellness pool and spacious rooms with great views.

Podstel Bucharest – A mid-range hotel with top-notch facilities, delicious foods, and frequent events for people looking for cultural exchange.

Calea Victoriei Poshtel – An affordable hostel that is pet-friendly and high-rated by tourists.
1.
Visit The Monumental Palace Of Parliament
A building of enormous size, the Palace Of Parliament is considered as the second-largest administrative building in the world with an approximate measurement of 365,000 square meters. While the building emanates an undeniable splendor, it is a testament to the former Romanian dictator Nicolae Ceauşescu's dynasty.
According to Romanian history, The Parliamentary Palace is Ceauşescu's attempt of redesigning the city after being massively damaged by an earthquake. It is also the result of Ceauşescu's admiration for North Korea's policies. Being a communist leader himself, he decided to replicate the said regulations to Romania and the palace is the proof of this desire. However, thousands of people have died during construction, making it one of the largest buildings in the world with a painful past.
Although never finished, the palace shelters more than 3,000 rooms including an underground nuclear bunker. Inside, you'll see a spread of hardwood, marble, and gold that adds glimmer to the surroundings. Do note that hours of guided tours will only take a fraction of the building (yes, it's extremely wide). If you plan to visit the place, make sure to make an advance booking. Also, bring your passport along with you for verification.
2.
Stroll Along The Lipscani Streets
Lipscani Street is the living embodiment of Bucharest history, especially of the commercialism from the Middle Ages to the early 19th century. Eons ago, you can find all types of trade in this area. In fact, the streets are named after the guilds based along with them such as Blănari = Furriers street and Blănari = Furriers street. Despite being ravaged by World War II, much of the area was transformed into a pedestrian zone. Some buildings were beautifully restored as well.
Today, the street is sprawling with boutiques, restaurants, and bars. What more, it became one of the best quaint streets that are ideal for your Instagram feeds. Check out these best quotes to pair with your photograph!
3.
Witness A Classical Performance At Romanian Athenaeum
Don't pass up your chance to listen to mellifluous music of the oldies at Romanian Athenaeum. Home to George Enescu Philharmonic Orchestra, sounds of classical legends such as Haydn, Bach, or Mozart can be heard during live performances. This concert hall is built in 1888 and until now, it remains steadfast to rendering euphony to locals and tourists.
Outside, a flourishing garden with colorful faunas embraces spectators with a cool breeze. Inside, you'll find a 41-meter-high dome laced with timeless frescoes and decors. The architecture adopted the neoclassical style tinged with romantic highlights. You'll enjoy a series of concerts from Tuesdays to Saturdays from 12 PM to 7 PM, and Sundays from 4 PM to 7 PM. However, Romanian Athenaeum is closed every Monday.
4.
Find Your Next Read At Cărtureşti Carusel
Sure, there are plenty of book shops around the world that are utterly large and beautiful. However, Carturesti Carusel has great features that stand out among the crowd. Resting right in the heart of an old town, this elegant library is coated in glistening white lacquer with spiral staircases where you can climb up and down like a royalty.
It offers a wide range of books, covering all genres not only in Romanian but also in English. With the aesthetically pleasing ambiance, you surely can't get enough exploring the area while looking for your favorite read. If ever you get tired, don't fret. There are restaurants and burger shops on top of the building that offers energizing foods to boot.
Carturesti Carusel has tons of promos during holidays so make sure to drop by if ever you're in Romania during holiday breaks!
5.
Bask In The Colorful Umbrella Alley Of Pasajul Victoria
In every ravishing destination in the world, there is an umbrella street awaiting to be discovered. You can find one at Pasajul Victoria. Tucked behind a whitewashed edifice, you will find an explosion of colorful umbrellas that light up the alleyway. Also, a pizzeria and bar are there to offer you a tasty selection of snacks and drinks.
6.
Explore Bucharest Through A Free Walking Tour
What better way to experience the magnitude of Bucharest than joining a free walking tour. Various tours are offered in every city in Romania, especially in Bucharest. You can search for free tours on Google or any travel website. However, you can catch one offered by Walkabout. The tour consumes two to three hours of walking while learning about the city's annals. Don't worry, as tiring as it seems, you won't even feel exhausted during the activity. Discovering secret places as well as their roots will fuel up your spirit and make you fall in love more and more with Bucharest.
7.
Enjoy Day Activities At Cişmigiu Gardens
A space of magnificence and recreation, Cismigiu Gardens offers a tranquil relaxation with nature. It sits right in the heart of the city and covers 17 acres of land scattered with beautiful floras and trees. You can set out your blanket on the vibrant grasses and have a picnic with your family, meander the perimeters, or rent a boat and sail on the lake. During winter, the lake freezes and transforms into a glistening ice rink, perfect for ice skating.
8.
Visit The Stavropoleos Monastery
Regarded as Stavropoleos Church, the Stavropoleos Monastery is an iconic landmark worth visiting in Bucharest. Constructed in 1724, this small Orthodox church is likened to a jewelry box because of the size and rich decorations. In fact, you will see bounties of frescoes as well as stone and wood carvings on the edges of the place.
Besides the aesthetic it brings, the worship house offers peace and tranquility to its mass-goers. You'll also find a collection of Byzantine music books, including tombstones dotted across the courtyard.
9.
Dance The Night Away At Mojo Music Club
One of the best places to experience Bucharest's nightlife is by spending your evening at Mojo Music Club. Here, you will find the best nightspot in the city with a sports pub as well as a karaoke bar. Tons of friendly people flock in the area to have fun and meet new people. Additionally, live shows are held by local cover bands, so you can spend the entire night rocking and grooving to local and international songs.
10.
Unravel Romania's Roots At National Museum Of Romanian History
Your trip to Bucharest isn't complete without grabbing nuggets of wisdom about Romania's history, and the perfect place to do so is at the National Museum of Romanian History. Previously known as the Postal Services Palace, this museum shelters a menagerie of valuable displays such as the Pietroasele Treasure and the Romanian Treasury consisting of jewels worn by Marie of Romania (Granddaughter of Queen Victoria).
In addition, you can also see Trajan's Colum frieze including a collection of postage stamps.
11.
Taste A Good Local Beer At Gradina Eden
Craving for a glass of cold liquor? Head to Gradina Eden. Located on Calei Victoria, this beer garden is surrounded by verdant green trees making it a perfect spot to enjoy your brimming craft beer while partaking nature's fresh breeze. There's no food in Gradina Eden. However, you can choose from a selection of booze to satisfy your strong taste. Indulge in your drinks while socializing with people at their Social Space. Hammocks, wooden tables, as well as bohemian lightings make the place more idyllic than ever.
Planning to visit Gradina Eden? Be informed that it only opens after 4 PM every day.
12.
Experience Romanian Cuisine At Lacrimi și Sfinți
Looking for the best place to taste local foods? Lacrimi și Sfinți is the place to be. Perched silently in the Old City of Bucharest, this restaurant combines the simple country-interior where the wooden furnishings and decorations come from old farmhouses. Likewise, the foods served here are made from fresh ingredients to assure the quality given to the consumers. All in all, dining here gives you not only an experience of the old Romanian times but also a healthy and scrumptious meal.
For more information, visit their website. Make sure to also book in advance to secure your slot as the place gets pretty busy every day.
Must-Eat Foods In Romania
Unsure of Romania's foods? Worry no more. Here are some of Romania's popular dishes. Go ahead and try them:
1. Sarmale (Cabbage Rolls)
2. Mămăligă (Cornmeal Porridge)
3. Ciorbă de burtă (Beef Tripe Soup)
4. Mici (Grilled Minced Meat Rolls)
5. Jumări (Greaves)
13.
Pay respect To Romanian Artists At Bellu Cemetery
Located at Șerban Vodă Way, Bellu Cemetery is one of the most genuine attractions in Bucharest, Romania. Unlike the places filled with fun activities, here, you will find the tombs of the greatest Romanian artists who contributed to Romania's significant advancement and culture. Covering 54 acres of land, this cemetery has been in use since 1858.
Some notable interments found in the place are Ion Luca Caragiale, Mihai Eminescu, and Gheorghe Gheorghiu-Dej.
14.
Unwind Your Body At Therme Bucharest
After a day of tiring yet fulfilling exploration of Bucharest attractions, time to loosen up. Head to Therme Bucharest and experience relaxation like no other. Nestled in the northern portion of the city, Therme Bucharest is a one of a kind wellness center that offers extraordinary wellness concepts blended with contemporary charm.
You will find 9 pools, 6 saunas, 4 wet saunas, including 16 water slides that are ready to take your breath away. Also, trees of all kinds border the place, making it also the largest botanical garden in Romania with more or less 800,000 plants. With these features paired with modern amenities, you'll be living the greatest time of your life in Bucharest.
15.
Learn About Jewish Culture At The Great Synagogue
Apart from the beautiful edifices that encircle the city, Bucharest has thousands of stories to tell. One of which is the presence of the Jewish people in the city in the 16th century. In fact, the greatest proof of this claim is the creation of synagogues across Romania, particularly in Bucharest. However, these buildings were destroyed by communist authorities including a large portion of the Jewish communities.
Today, The Great Synagogue in Bucharest serves as a priceless legacy of since it remains as the oldest of all the remaining synagogues in the city. In fact, the look it currently possesses is the result of various renovations and enlargement over the past years. Inside, you will find distinctive paintings from the ceiling by Gershon Horowitz in 1936.
16.
Take A Peek Inside Hanul Lui Manuc
Frequently referred to as Manuc's Inn, Hanul Lui Manuc served as Europe's final caravanserai (khan) during the 18th century. It was built in 1808 by a rich Armenian entrepreneur following the traditional style. The inn is composed of a large courtyard, including two floors of wooden galleries and rooms for lodging, dining, and storing of goods.
The inn functioned as Bucharest's business hub in the early 19th century. Since then, it was renovated for countless times and its essential structure remains intact – restaurant.
17.
Marvel At The Casa Ceausescu
Formerly known as Spring Palace, Casa Ceausescu is the former dwelling of the notorious Romanian leader, Nicolae Ceausescu, and his family from 1965 to 1989. After undergoing a major renovation in 2016, it was opened as a museum. Today, hundreds of tourists flock the place to see its extravagance.
Casa Ceausescu has 80 rooms adorned with expensive furnishings and wallpapers. You can also find some famous paintings inside. Plus, a large courtyard, cinema, swimming pool, wine cellar, and many luxurious bathrooms are waiting to be discovered. What more, you'll see that the water taps in the bathrooms are made of gold. Cool, right?
You can visit the palace from Tuesdays to Sundays from 10 AM to 6 PM.
18.
Discover Vlad The Impaler's Grave At Snagov Monastery
Unbeknownst to many, Vlad Tepes has a significant connection with Bucharest. Vlad Tepes, known as the Vlad The Impaler, is the real-life bloodthirsty prince who died near Bucharest while fighting the Turks. Located at the northern end of Snagov Lake, his grave allegedly lays at the back of the Snagov Monastery.
To get here, you have to ride a boat from the Snagov village or resorts along the shore. The fee costs around 100 lei for a ride back and forth. Also, you can take the bridge connecting the island and the mainland. Either way, you'll witness incredible scenery before arriving at the destination.
19.
Acquaint Yourself With Romania's Wildlife At Grigore Antipa Natural History Museum
Geared towards young minds, Grigore Antipa Natural History Museum is among the greatest attractions in Bucharest. It showcases Romania's wildlife, presented in video displays, games, and interactive exhibits to keep your children engaged all throughout the visit. What more, there are dinosaur skeletons and a butterfly chamber with detailed descriptions. Don't worry, they are all written in English.
This museum was first established in 1834 as the National Museum of Natural History. Years passed, it was named after Grigore Antipa who managed the said attraction for 51 years.
20.
Uncover The Traditional Peasant Materials At Museum Of The Romanian Peasant History Museum
If you're interested in the early Romanian lifestyle, you can check out the Museum of the Romanian Peasant. This museum is among the visited attractions in Bucharest since it exhibits valuable artifacts of the Romanian peasant life. In fact, it is considered as one of Europe's richest museum in terms of popular arts and traditions. Hosting over 10,000 objects, you can find here a collection of textiles, costumes, icons, ceramics, and more.
21.
Chill At King Michael I Park
Previously named as Herastrau Park, King Michael I Park is one of the most visited parks in Bucharest for plenty of reasons. It covers 200 hectares of land surrounded by a sparkling lake where you can rent a boat and sail. You can also find tons of restaurants and cafes near the shore of the lake.
There are many activities during the summer. You can attend many sporting activities, as well as a flower exhibition in an open-theatre. At night, some of the city's best clubs gather around the area transforming the park into a surging hype of nightlife.
22.
Score Ancient Romanian Stamps At Antique/Flea Market
Leaving Bucharest, Romania without buying souvenirs is a sin. Hence, the best palace to get one is at the Antique/Flea Market. Located inside a semi-abandoned building at the heart of Bucharest, Strada Doamnei 11 hosts an antiquities market filled with antique and handmade objects. You'll not only find amazing items for your loved ones back home but also relish looking through a number of ancient objects engraved with beautiful designs.
23.
Shop 'Til You Drop At Unirea Shopping Centre
An old mall in the old city, Unirea shopping center renders the 'traditional' vibe to its consumers without sacrificing its quality. Besides, the charm it possesses adds more charm to the ambiance as you shop around the area. You can find diverse shops, including branded stores, that sell everything you need.
What To Buy In Bucharest, Romania?
Romania has many signature items worth buying. If you're new to the place, here are our suggestions for the things you might like when shopping for souvenirs:
1. Hand-painted Easter Eggs
2. Horezu Ceramics
3. Tulca
4. Romanian Wines
5. Walnut Jams
24.
Wander Around An Open-Air Museum
Not far from King Michael I Park, Dimitrie Gusti National Village Museum features the traditional Romanian village life. Made from stone, wood, or clay, you can spot 272 authentic peasant houses, churches, farms, windmills, and more. Generally, this area is a perfect representation of Romania's ancient living. Don't worry, each shack has English explanations so you can learn more about its past.
The museum is open on Mondays from 9 AM to 5 PM. On Tuesdays to Sundays, the visiting hours are longer. You can explore the place from 9 AM to 7 PM. The admission fee is
25.
Take A Snap Of The Arcul De Triumf
Sitting in the northern portion of Bucharest, Arcul de Triumf was first constructed to commemorate Romania's freedom. After gaining independence in 1878, Romania made its first triumphal arc out of wood. However, Petre Antonescu developed a new arc after World War I in 1922.
Today, the arc hosts military parades every December 1st to celebrate Romania's independence day.
Bucharest, Romania – A City Worth Adding In Your Bucket List
There you have it, the 25 things you must do in Romania's capital. Still, Bucharest oozes with adventures waiting to be experienced. If you're wondering, "Is Romania Safe?" Our answer is a definite yes. In fact, it ranks 24th in the list of safest countries all over the world. Approximately 15.8 million tourists visit Romania annually, and the crime rate here is minimal to none. So what are you waiting for? Book your next trip to Bucharest, Romania, and experience a vacation like no other!
Did you enjoy the article? Click here for the 20 Fascinating Travel Words You Never Knew Existed.