Rabat: 10 Things To Do In The Capital of Morocco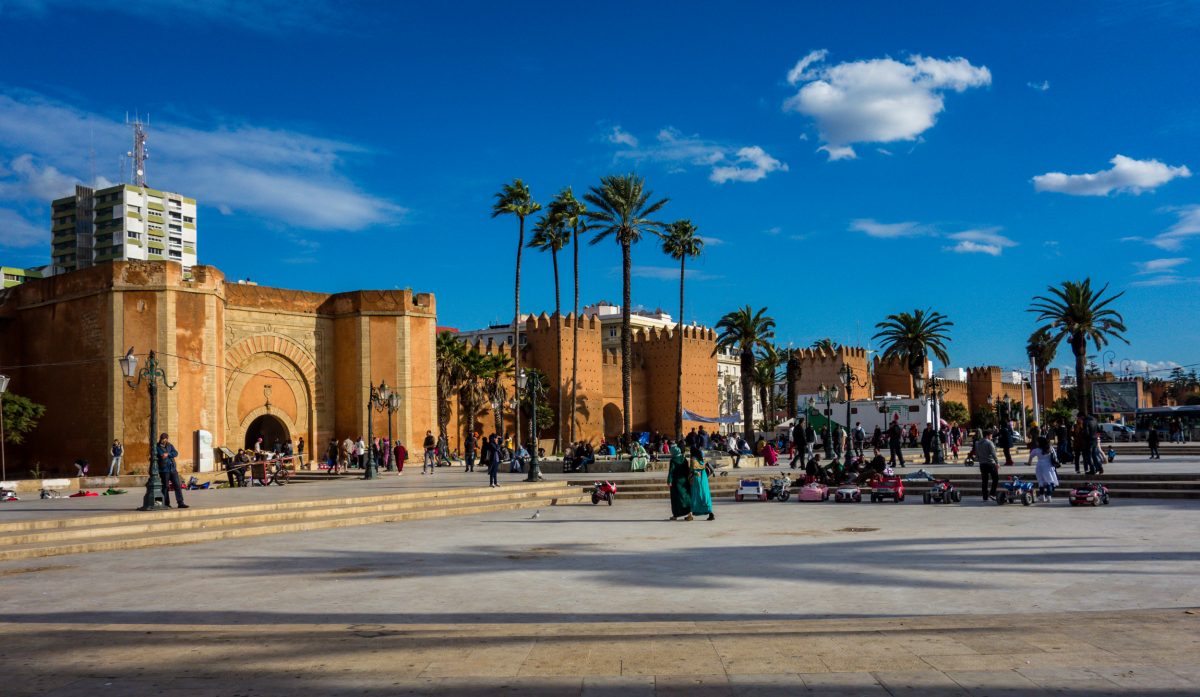 Located right on the Atlantic Ocean, Rabat, the enchanting capital of Morocco is kind of a hidden gem. This North African jewel of a city is remarkable in its long religious and cultural history, exotic locations and breathtaking landscapes.
The city's iconic historic attractions pull tourists from all over the world each year.
The Capital of Morocco offers a unique glimpse into the past by offering everything from ancient mausoleums to museums full of fascinating artefacts that history buffs are sure to find themselves drooling over.
The people in Rabat are very welcoming and fun to be around. If you're planning a vacation to the capital of Morocco anytime soon, here are the top 10 things you can do while you're there.
1.
Feast Your Eyes On Kasbah Des Oudaias
Morocco is famous for its blue city. But we bet you didn't know that the capital of Morocco has its very own blue city as well. When you're spending time in Rabat, stop by Kasbah des Oudaias and lose yourself in the labyrinth of its streets.
Kasbah des Oudaias is mostly a residential area now but its 11th-century design and architecture is a feast for the eyes. Most buildings are completely white-washed with a dash of bright blue visible here and there. The contrast of white and blue colours is absolutely refreshing to see.
The narrow winding streets make it easier for tourists to explore the entire place on foot without the hustling and bustling of traffic. Most of the homes in Kasbah des Oudaias have astonishingly beautiful old doors that provide an excellent backdrop for cool travel photos.
Apparently, these white-washed homes were built by Muslim refugees from Spain.
The Kasbah is open to visitors and usually attracts large crowds due to its popularity. While there are many small entries to get to Kasbah, a dramatic entryway to the blue city is through the gigantic Almohad gate of Bab Oudaia which you can check out as well.
All in all, the blue city of Kasbah is a pleasant place to walk around and explore the quiet side of Rabat.
2.
Stroll Around In The Medieval Chellah Town
Spending time in Rabat means you'll be seeing a lot of historical landmarks and monuments. The medieval Chellah town is one such historically significant location you must absolutely check out.
The Chellah town served as the citadel in the 14th century. The entire walled town is said to have been built by the Romans.
When you visit the Chellah town today, you will see that the ruins of the city have been preserved for tourists. Take a stroll and take in all the abandoned buildings, temples, mausoleums shrouded in overgrown plants and shrubs growing all over the town. The place provides a glimpse into the past of Rabat and the ways it has transformed over the years.
Viewing the abandoned buildings and houses is a humbling experience for many. History buffs would definitely enjoy this place a great deal.
The Chellah town provides another great spot for tourists wanting to explore the history of the capital of Morocco away from all the noise of modern life.
Interestingly, the Chellah is also used as the venue for the annual Jazz au Chellah festival in September. So, if you happen to be in Rabat during that time, be sure to look into it to enhance your experience even further.
3.
Tour Hassan Tower And The Mausoleum Of Mohammad
Hasan Tower is a sight you can't escape when you're in Rabat, Morocco. Upon first viewing, you might feel like the tower is missing something. And you wouldn't be wrong, because the structure was actually never completed.
Hassan tower was intended to be a minaret for a grand mosque that ruler Yacoub al-Mansour wanted to construct.
In fact, when you see the Hassan tower, you'll notice several columns leading up to the tower itself which were meant to be a part of the mosque. Sadly, the project was abandoned. Despite the tower being unfinished, its beauty is something to marvel at.
Hassan tower is fashioned with intricately beautiful designs and patterns that you should take a close look at when you visit.
The Mausoleum of Mohammad V is right nearby. It is a fascinating structure with amazing tile work that shows the traditional Moroccan designs used at that time. The beauty of the Hassan tower, as well as the Mausoleum of Mohammad V, lies in their symmetry.
The erect white pillars leading up to these two structures have a charm of their own. The entire location is perfect for tourists, especially because it is exceptionally peaceful.
4.
Look At Beautiful Art At Mohammed VI Museum
History buffs and art enthusiasts rejoice! Mohammed VI Museum of Contemporary Arts is a fantastic place to check out Moroccan art collection. The collection may be small but it is definitely worth your time if you have enough interest.
The museum is among the top tourist spots within Morocco capital. The art collection sits inside a very huge and impressive building. The artworks in the museum are from some of the top names in arts within the Morocco capital.
Mostly, the museum features modern art and if you're a fan you must visit. What's interesting about the museum is that it can show you the very contemporary and modern side of the capital city of Rabat, which you otherwise wouldn't see when strolling around the city.
Unlike other Morocco cities, Rabat has this very traditional Moroccan feel to it.
And the Mohammed VI Museum of Contemporary Arts is a great place to view some of the present-day artistic expression coming out of the capital city of Morocco.
The museum also holds some artworks dating back to the French colonial period. Currently, the museum is used for many art exhibitions and is pretty active in terms of taking these exhibitions to the international level and inviting artists over.
5.
Go Shopping At Old Medina
Old Medina is definitely the best place to buy a souvenir from in Rabat, Morocco. Be sure to check some Moroccon lanterns out here.
Known among the locals as Medina of Rabat, the place features narrow streets and alleyways that you can make your way through. Old Medina really has a charm of its own.
Located in the heart of the city, Old Medina is surprisingly very peaceful and easy to navigate. You will find that the Old Medina is very accessible and isn't as chaotic as the rest of the places in the capital city of Morocco.
However, the beauty of Old Medina is that you can do plenty of exciting stuff here apart from just strolling around.
You will find many traders selling all kinds of outlandish stuff here along with some traditional items you can easily bargain and buy. Everything from beautiful scents to dried fruits and herbs are easily available. You will also notice plenty of spices here.
Old Medina is filled with aromas of different kinds of perfumes, fragrances, spices, and herbs. You might have to do a bit of strolling around to find the best items at the best price.
Some traders might even be selling some unique items like traditional Moroccan paintings and wood items. These items make for great souvenirs and to be fair, who doesn't want to invest in art?
6.
Have A Bite At Le Dhow
When you're tired of strolling around exploring the capital of Morocco, head to Le Dhow to have a bite and drink.
Le Dhow is a fancy lounge bar in Morocco that lets you relax on a boat and enjoy great food. The setting is a mixture of modern and traditional, an excellent reflection of the capital of Morocco.
Le Dhow serves everything from veal and steak to coffee and drinks. You can hang out on the deck with your coffee or enjoy one of their evening concerts after you've had a great meal.
All in all, Le Dhow is a good place to hang out and unwind when you've had too much of touring around the capital of Morocco.
7.
Check Out All The Cool Animals At Rabat Zoo
Rabat zoo is a great place for touring families and children. The Rabat zoo is astonishingly big, housing animals and species of all kinds.
Surprisingly, the zoo has animals you'd normally find in an African Safari park. Think elephants, rhinos and lions, Rabat zoo has them all.
The best part about the zoo, however, is that all the animals have been provided with an open space to roam around instead of keeping them in cages. It almost looks as if these animals are in their natural habitat.
Families who are touring the capital city Morocco with little kids would find the Rabat zoo a highly suitable place. Young children may find the zoo highly entertaining and informative.
You can explore the place and learn more about several different kinds of species.
Your child may forget the medieval stone buildings they saw in Morocco as they grow older, but they're bound to remember how fierce that lion looked at the Rabat zoo. These kinds of things just stick in the mind, don't they?
So, if you can spare a day while in Rabat, be sure to put the Rabat zoo on your list. You can make a nice trip out of it. It can also serve as a nice break from all the strolling around you might be doing while visiting the capital city of Morocco.
8.
Explore The Beauty Of Rabat On A Boat
A boat ride in Rabat is an absolute must for tourists. It is located just outside of Kabash des Oudaias and provides a great view of the city as a whole.
The boat rides take place on the Bou Regreg River. It's a cool activity for many reasons. You get to see Rabat from a different viewpoint that you haven't before.
While exploring on foot is fun on its own, viewing the city from the vantage point of the river can provide a whole new outlook to the beauty of Rabat.
The boat ride itself is fairly short. You can arrange for a boat ride in the evening and plan in such a way so that you can watch the sun going down from the boat.
It's a nice way to watch a sun-setting in the magnificent city of Rabat. Boat rides are very peaceful overall.
The boats are rowboats so all you hear is the calm sound of the water. You will see many families heading on towards the boat riding area during the evening.
From the boat, you can also view the old fortified Kasbah which is a great way to take pictures of Kasbah from a distance.
9.
Take A Walk At The Andalusian Gardens
Andalusian Gardens is another beautiful and colorful location in the capital of Morocco. There's plenty of space in the garden to just sit down, relax and look at beautiful flowers.
If you're after a refreshing retreat from all the crowd and noise of the capital of Morocco, the Andalusian Gardens is the place for you.
The Andalusian Gardens were built by the French. The garden features all kinds of trees and colorful flowers. You'll find different species of shrubs, lemon and banana trees here.
The atmosphere in the Andalusian Gardens is very relaxing and peaceful. You don't necessarily need a whole separate day to visit the garden. You can plan your day in a way so that every evening you could stop by the gardens and relax.
For nature lovers, the Andalusian Gardens present a unique opportunity in terms of exploring the history of Rabat while being close to nature.
The Kasbah des Oudaias is very near to these gardens. You can stroll around and keep walking until you reach the Kasbah des Oudaias. And since both the Andalusian Gardens and Kasbah des Oudaias are very peaceful places, they make for excellent walking trails that you can follow as you contemplate.
10.
Spend Quality Time At The Beach
The capital of Morocco has plenty of beaches that locals and tourists can visit and enjoy. The beach is a great way to unwind, relax and be close to nature all at once.
While there are many beaches that you can visit in the capital of Morocco, one you should definitely check out is Temara Beach.
It's perfect for families travelling with young children because the beach has bathing pools. Plan an evening to Temara Beach for sure on your visit to the capital of Morocco.
Where is Rabat? Learn More…
There are many Morocco cities worth visiting, but the capital definitely stands out as unique and inviting. Where is Rabat?
Rabat is located in Morocco and is one of the seventh largest cities in the country. Rabat also serves as the capital of Morocco and attracts tourists from all over the world.
Visitors either choose a ferry or a flight to get to Morocco. Once there, tourists can take advantage of public transport like buses or trains or choose to hire a car to get around.
If you want to get the most out of the experience, finding a place to stay near Old Medina or Oudaias Kasbah is a good idea.
Rabat has several accommodation options from luxury hotels, to medium and budget hotels tourists can easily book.
Airbnb is another great option. No matter the choice, staying in Rabat and exploring the city is an experience of a lifetime. Be sure to make the most of it.