Make The Most Out Of Your Stay In Sofia, Bulgaria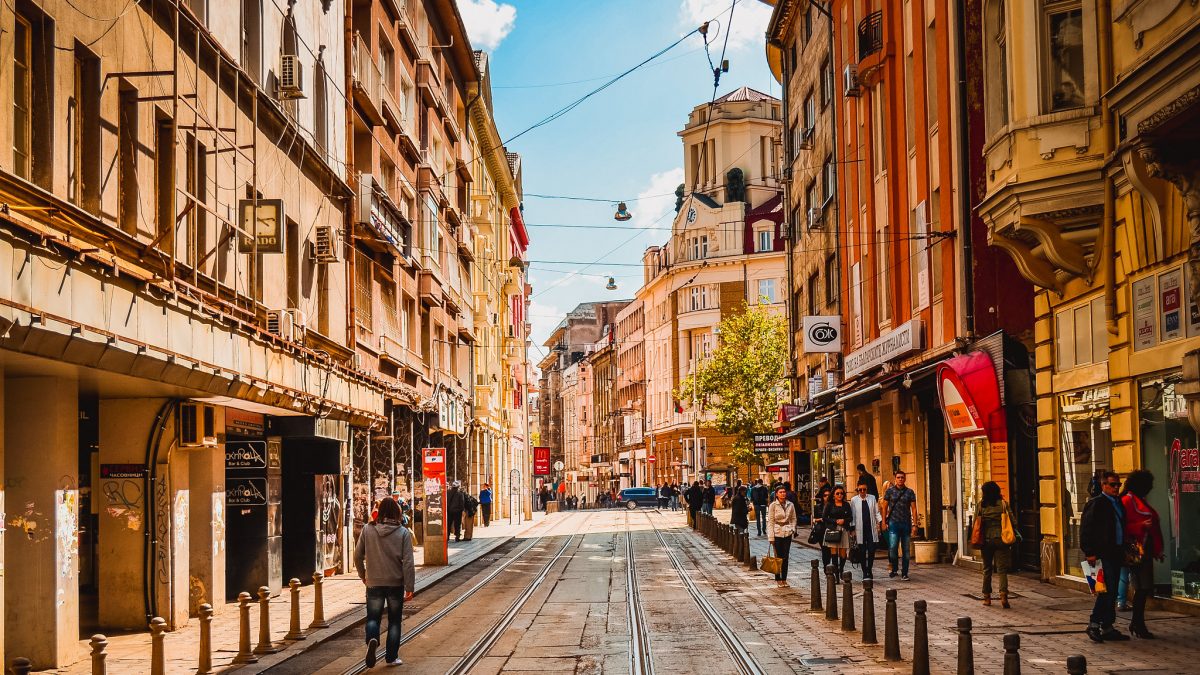 Located at the foot of the Vitosha mountain, Sofia is the capital of Bulgaria. Many travellers often stop here for a short time before journeying on through Bulgaria and other Balkan states.
If you're in Bulgaria's largest city for a short visit, we have compiled a list of attractions for you to explore – most of them are within walking distance from one site to another. Without further ado, here's a complete guide of what to do and places to see in Sofia, Bulgaria!
1.
Arriving in and Departing from Sofia, Bulgaria: Airport, Station, Taxis
Many travellers stay in Sofia for a short period of time, whether for a stopover between flights, to deal with residence formalities, or to conduct business. Knowing your point of arrival and departure saves valuable time and helps you get the most out of your stay.
Sofia Airport has two main terminals set at quite a distance apart. First-time travellers to Sofia who are unaware of this often get to the wrong place. To help you out, here's everything you need to know regarding the airport terminals and available transport:
Terminal A
This terminal is the old airport built in the 1930s. Serving mostly budget airlines and package tours, its facilities are basic. (You may want to use the plane's facilities before disembarking.) Bus services are not easy to find. (Tip: Head straight for the car rental desk. It sells tickets for the shuttle bus services, and the bus drivers collect their passengers there.)
Terminal B
This one's a more modern airport which opened in 2016 where most scheduled flights by international airlines arrive. Here, you'll find all the amenities travellers need, and various sign posts can be seen around to guide people regarding public transport connections.
Train or Bus Station
The train station and bus station are located side by side in the city center and easy to find. Watch out for scam guides and pickpockets. For the toilets, you'll need a 50-stotinki coin. At the bus station, each bus company has its own booth and sells tickets only for its own routes and destinations. (Tip: learn to recognise the name of your destination in Cyrillic lettering, so you can find the right booth.)
Taxis
In Sofia, Bulgaria, taxis are yellow, and you'll usually find several waiting outside the airports, the bus and train stations, tourist attractions, and landmarks. If you need to call a taxi, phone 9732121 (359899732121 from an international phone).
Sofia also has trolleybuses, trams, and metro trains.
2.
Stroll Along Vitosha Boulevard And Eat!
Known as "Vitoshka" by locals, the Vitosha Boulevard is the first place you can go after arriving in Sofia. This pedestrian zone is the main commercial shopping street. It is the perfect spot where you can get the overall feel of the city. When arranging to meet friends or clients in Sofia, you can suggest the steps in front of the Palace of Justice.
The broad boulevard is paved with slabs and bricks and flanked with the large parasols of the many eateries. Hanging baskets with petunias adorn the historical-style street lamps.
Here you'll find posh shops and designer brands. You can shop for high-end fashion labels (the prices are correspondingly high) or indulge in free window shopping.
Vitosha Boulevard offers many restaurants, cafes, and bistros — from traditional Bulgarian to Italian, Greek, Chinese, and Japanese cuisine. While the shops in Vitosha Street are beyond the budget of many travellers, the eateries are more affordable. A main course costs around 15 leva (7.50 Euro).
Tip: The bistros and restaurants quickly fill up in the evenings and on weekends, so consider eating here during the daytime.
3.
Join a Free Guided Walking Tour Around Sofia, Bulgaria
Go on a guided walking tour around Sofia if you want to stretch your legs for a bit. One tour usually lasts for about two to two and a half hours. You can learn about Sofia's history and see many of the city's main attractions, such as the Sveta Nedelya Church, the Statue of Sofia, the former Communist Party headquarters, and the St. Alexander Nevski Cathedral. The guides are friendly and enthusiastic. If you have any questions about the city, they're always ready with an answer.
You don't need to book in advance. You just have to wait at 11.00, 14.00, or 18.00 outside the Palace of Justice and watch out for a guide carrying a sign. The tours take place every day in any weather, and they're free, although donations are welcome and appreciated.
Alternatively, you could participate in Balkan Bites, a free food-sampling tour, where you visit several restaurants to get a taste of Bulgarian cuisine. The tour starts daily at 14.00 from Krystal Garden.
Tip: You can combine both tours: take the free Sofia Tour at 11 followed by the Balkan Bites Food Tour at 14.00. You should remember that this will involve a lot of walking.
Bulgaria boasts of many mineral springs, and some of the most famous ones are in and around Sofia.
While in the city centre, take a sip from the fountains next to the Central Mineral Baths. You can also follow the locals and fill your bottle or canteen. The fountains feature a utilitarian design, with water taps and basins set into low brick walls. The water from this spring gushes at 46 degrees Celsius, and on cold winter days, great columns of steam rise from the basin whenever water runs from the spouts. Drink the water hot or let it cool down. It has a mild, slightly sweet flavour.
You can also buy bottled mineral water. We recommend the Bankya and Gorna Bania brands. These are two famous mineral water springs both located outside Sofia.
5.
Visit the Sofia Regional History Museum (Central Mineral Baths)
Don't let the name of the 'Central Mineral Baths' mislead you: there are no baths. Although the building used to house public spa baths until 1986, it now accommodates the Sofia Regional Historical Museum. Its stunning architecture with arches and horizontal stripes is the creation of 19th century Austrian architect Emil von Fehster and looks great in photographs.
In eight halls with a total area of 2300 square meters, exhibits span the period from the Neolithic to the 1940s, showing Sofia's development from a small oriental city to a modern European capital. You can experience a historical urban living room and a street scene, as well as see vintage vehicles, e.g. an automobile and a luxury horse-drawn carriage.
You'll find the museum at Ploshdad Banski 1 (shown on some maps as Banski Square 1), near the mineral water fountains. When using the Metro, get out at Serdika 1 or Serdika 2. Most days, the museum opens 10.00-`18,00, but it remains closed on Mondays during the winter months. An adult admission ticket costs 8 leva. URL: http://www.sofiahistorymuseum.bg (The website can be a bit tricky to navigate, and the English isn't great.)
6.
Catch A Glimpse of Sveta Nedelya Church (a.k.a. Saint Nedelya, Holy Sunday Church, Svei Kral Temple)
If you're interested in religion, spirituality, history, art, or architecture, Sofia offers numerous sacred buildings to explore.
A medieval church destroyed and rebuilt repeatedly over the years, Sveta Nedelya probably has its origins in the 10th century. Its interior, with colourful icons on gilded frames, offers a good introduction to the style of Bulgarian Orthodox Christian worship. Consider buying and lighting one of the slender white candles and offering up a prayer.
The church's history reflects facets of Bulgaria's history. You should try to visit this church with a guided tour (city walking tours also cover it, albeit only from the outside) to learn about historical events, especially the 1925 terror attack that killed 200 of the country's political and military leaders.
You can find the church in Sveta Nedelya Square which is named after the church. The venue is normally open during the daytime.
7.
Visit St. Sofia Church (a.k.a. St. Sofia Temple, Holy Wisdom Church, Sveta Sofia)
This is the church that gave the city its name. A remarkable example of early Christian architecture, it was a mosque during the Turkish occupation in Bulgaria.
Although referred to as St. Sofia Church (or St. Sofia Temple by members of the Bulgarian Orthodox Church), it is actually named not after a female saint, but after the divine holy wisdom (Greek: 'Sophia'). Visitors expecting to see icons of the princess or the martyr of that name are surprised to find instead depictions of the young Jesus seated on a rainbow. Confusing? Visit the church and see for yourself!
The church — with its characteristic red-brick facade, flagged floor, and Romanic arches — is open for worship and sightseeing from 7.00-19.00 (7.00-18.00 in the winter months.) The address is Ulitsa Parish 2 (on some English-language maps, it's written as 2 Paris Street).
8.
Marvel at the Thracian Gold Treasures in the National History Museum
The National History Museum of Sofia, Bulgaria is the biggest museum houses many collections. Some of these collections include clocks, furniture, weapons, traditional textiles, costumes, uniforms, Christian art, and more.
Tip: Instead of trying to take in the whole museum, pick two or three collections that reflect your personal interests and devote time to exploring them. The archaeological finds from the Thracian period (including the famous Valchitran Treasure, Rogozen Greasure, and Panagyurishte Treasure) will take your breath away, even though some of the items are replicas rather than originals.
The museum is open from 9.30 – 18.00 in the summer and 9.00-17.30 in the winter. The address is Ulitsa Vitoshko Lale.
9.
Visit The Dolls Art House and Museum
More than 3000 dolls are on display in this quirky doll museum: porcelain dolls and theatre puppets, ritual objects, and toys. This is a great museum for adults and children alike.
However, it normally opens only in the afternoons (from 13.00-19.00) and stays closed on Sundays and Mondays. The address is Ulitsa Tsar Samuil 34.
Tip: If you get the opportunity, you should definitely watch a puppet performance.
10.
Contemplate Inside the Banya Bashi Mosque (a.k.a. Sofia Mosque)
Built in the 16th century when the Turks had control of the city, Banya Bashi is the only mosque in Sofia, Bulgaria today. That's why it's often referred to simply as Sofia Mosque.
The slender minaret serves as a local landmark, but it's the mosque's interior that impresses everyone. It features arches, domed ceilings, and walls covered in aquamarine and calligraphy tiles.
Although the Banya Bashi Mosque is not intended as a tourist attraction, visitors are welcome between 5.00 and 20.00. During times of worship (i.e. on Fridays and Muslim holidays), the Mosque, as well as the area around it, fills up with people, so you'd best do your sightseeing during the quieter periods.
As a mark of respect, please dress modestly (wearing long sleeves and trousers, and if you're a woman, a scarf over your head), remove your shoes when entering the mosque, and avoid photographing people engaged in prayer.
The address is Boulevard Knyaginya Maria Luisa 18, and the nearest Metro station is Serdika.
Tip: Walk around the area, and you'll see the mosque (Banya Bashi Mosque), a Bulgarian Orthodox church (Sveta Nedelya), a Roman Catholic church (Sveti Yosif – St Joseph), and a Jewish synagogue (Sofia Synagogue) in close proximity. Sofia, Bulgaria is the only place in Europe where places of worship of four different religions stand next to each other. You may want to contemplate this 'Square of Tolerance' and what this peaceful coexistence means in today's world.
11.
Attend a Performance at the Ivan Vazov National Theatre
The Ivan Vazov National Theatre is the oldest and most respected theatre in Bulgaria. Built in a neoclassical style, it is named after Ivan Vazov. He is a celebrated playwright whose play, The Outcast, was the first to be performed at this theatre when it opened at the beginning of the 20th century.
The theatre has three performance venues — the Big, the Chamber, and the Stage. Most days, all three have scheduled events, usually starting at 19.00. Advance booking is advisable.
The address is Ulitsa Diacon Ignatiy 5.
Tip: Unless you understand Bulgarian, consider whether a play in that language will hold your attention.
12.
Learn about Communist Ideology in the Museum of Socialist Art
After the fall of communism, most Bulgarian cities took down their socialist monuments and sought to hide this era of their history. In Sofia, the art of that period is preserved in the Museum of Socialist Art, sometimes called the Socialist Museum. Here you'll find statues of Lenin which once adorned public buildings everywhere in Bulgaria. Additionally, you can find paintings of workers with athletic bodies in heroic poses, gaining an insight into communist ideals and propaganda strategies.
This museum is outside the city centre, and it's not the easiest place to find. Either hail a taxi or take the Metro to the GM Dimitrov stop. Museum hours are from 10.00 – 18.00 Tuesday to Friday. On Mondays and public holidays, the Museum of Socialist Art remains closed.
These are just 12 of the many sites you can see around Sofia, Bulgaria. The city is rich with history, and the government has managed to preserve many of its artifacts. If you're a history buff, you should consider visiting this city!
Stay safe with these anti theft backpacks no matter where you travel to!