What is The Legal Drinking Age in Canada?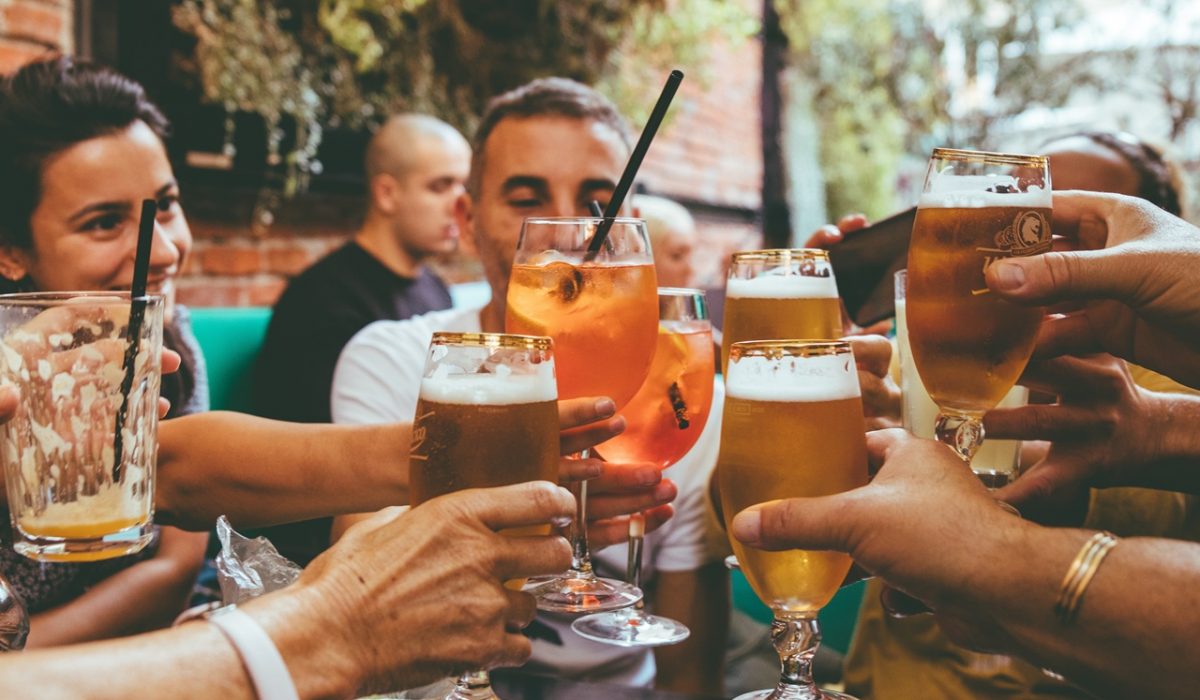 Booze, like food, is a universal language. Whether it's a social event at your hostel in Siargao or a pub crawl in Montreal, drinking brings people of different nationalities together. Alcohol is part of Canadian's daily life, just like anywhere else in the world. It is associated with various social events like festivals, sports shows, weddings, and more. But before you head out or grab a bottle of ice-cold beer, make sure that you are of legal drinking age in Canada.
The legal drinking age is different around the world, and in Canada the age depends in every province and territory. For example, the legal drinking age in Toronto province is 19 years old. On the other hand, the legal drinking age in Canada provinces like Alberta and Manitoba is 18 years old. Additionally, you may have to present certain documents to prove that you are within the Canadian drinking age.
Age of Consent in Canada
The current age of consent in Canada is 16 years old. In 1890, the age of consent was raised to 14 years old from 12 years old. As per the Age of Consent Reform in Canada in 2008, the age of consent was raised from 14 years old to 16 years old.
Take note that the age of consent in Canada is different from the legal drinking age. The legal drinking age is the minimum age at which an individual can legally purchase and consume alcoholic beverages. On the other hand, the age of consent is the age at which an individual can legally consent to sexual acts.
Legal Drinking Age in Canada's Provinces
There is no national legal age of drinking in Canada; each province and territory decides it's own legal drinking and purchasing age.
Alberta: 18 years old
British Columbia: 19 years old
Manitoba: 18 years old
New Brunswick: 19 years old
Newfoundland and Labrador: 19 years old
Northwest Territories: 19 years old
Nova Scotia: 19 years old
Nunavut: 19 years old
Ontario: 19 years old
Prince Edward Island: 19 years old
Québec: 18 years old
Saskatchewan: 19 years old
Yukon Territory: 19 years old
Legal Drinking Age Concerns
Although the legal drinking age in Canada is roughly the same as other countries, Canadian provinces and territories are reconsidering the laws on the legal drinking age. This is after numerous studies showing that lower drinking age limits may lead to higher death rates.
In 2014, the University of Northern British Columbia's Dr. Russel Callaghan published a study that correlates Canada's drinking age with the age of death. In his study, Dr. Callaghan found that as the legal drinking age increases, road accidents and injuries among the youth decrease. As shown in the research, increasing the legal drinking age to 19 years in Alberta, Manitoba and Quebec would bring down the 18-year-olds. Additionally, it would prevent up to seven deaths annually. If the legal drinking age in Canada is raised to 21 years, 32 deaths could be avoided every year.

Drinking in Hotels and Resorts in Canada
While Canada has strict rules regarding drinking in public places, these places only include roads, walkways, and parks. Although bars, restaurants, hotels, and resorts are open to the general public, they don't qualify as public places.
In most hotels and all-inclusive resorts, outside drinks are not allowed, and only alcoholic beverages purchased within the establishment can be consumed. Other hotels and resorts also allow purchasing drinks at the bar and they will gladly bring them to your room. Some hotels and resorts in Canada stop serving alcoholic drinks by 2:00 AM, but this varies per establishment. In most all-inclusive resorts in Canada, the room price typically includes alcoholic drinks.
Because drinking policies in hotels and resorts vary, it's best to confirm with the concierge before your stay. Nonetheless, all hotels and resorts enforce responsible drinking and will refrain from serving alcohol to minors not within the legal drinking age in Canada.
Rules for Teenage Drinking in Canada
Teenage drinking, also called underage drinking, is common in Canada. In 2018, a report showed that almost 80% of Canadians aged 15 consumed alcohol in the past year. The same study concluded that alcohol is the first substance most teens in grades 7 to 12 will try first. Although all provinces and countries prohibit selling alcohol to minors and selling to anyone who is visibly intoxicated, there are still cases of underage drinking resulting in accidents, and even deaths.
In provinces like Alberta, Manitoba, and Quebec, underage drinking is allowed for 17-year olds as long as there is parental supervision at home. However, other 17-year-old guests and minors in the same residence are prohibited to drink. This is a topic of debate, but others believe teenagers can learn responsible drinking when they drink with parental supervision.
Teenagers not yet within the drinking age in Canada can also learn how to drink within safe limits and are less likely to develop drinking problems in the future. While this belief does make sense, it doesn't remove the possibility of developing alcohol dependence problems and other issues later.
Penalties for Underage Drinking in Canada
Minors caught in possession of alcohol and minors attempting to purchase alcohol under a false identity will face criminal charges. If convicted, they may even face jail sentences. In addition, minors will have to render a number of hours of community service and join diversion programs such as supervised counseling. If the minor participates in the program, charges against them may be dropped.
In Alberta, if you are caught in possession of or drinking alcohol and you are not within the drinking age in Canada, you will face criminal charges. Anyone who sells or provides alcohol to a minor, except under parental supervision, may face criminal charges as well. Meanwhile, in British Columbia, minors can receive a 230 CAD violation fine if they are caught with alcohol in possession, if they try to buy liquor, and if they attempt to buy alcohol using a fake ID. Inspectors can issue violation tickets inside licensed establishments and can issue tickets at any location.
On the other hand, vendors who provide alcohol to minors will also face charges. Charges may include fines and jail time. Other consequences may include the suspension of the right to sell or serve alcohol and the withdrawal of license. In areas that don't allow private consumption of alcohol, hosts may face jail time or pay fines.
Tips for First-Time Drinkers in Canada
Know your limits. Don't drink more if you are not comfortable with it.
Bring proofs of identification that you are within the legal drinking age in Canada. You may bring a valid government-issued ID like a driver's license, passport, or citizenship card.
Make sure to water down. You may also drink one non-alcoholic beverage for every alcoholic beverage you consume
If you are drinking out with friends, create a "buddy system" wherein your buddy will watch out for you and let you know once it looks like you've had enough to drink, and vice versa.
Keep track of how many drinks you have consumed. This helps in learning about your alcohol tolerance.
Always eat before and during your drinking session. Never drink on an empty stomach since you will feel the effects of alcohol faster.
Never accept a drink from a stranger. If you're not comfortable with someone giving you a drink, just say no.
If you're on prescription medication, check with your doctor before drinking if medications can be mixed with alcohol. Be sure that your medication will not have any negative effects on alcohol.
Never leave your drink unattended. Your drink should always be in your hand or at least in your sight. If you leave your drink unattended, someone might end up tampering with your drink. If you need to go to the restroom, take it with you, or have a friend hold your drink for you.
Always have a plan on how to get home. Never drink and drive.
Low-Risk Alcohol Drinking
Aside from first-time drinking tips, the CCSA (Canadian Centre on Substance Use and Addiction) published a brochure on low-risk alcohol drinking. The brochure indicates best practices for safer drinking to minimize health risks.
For women, it is recommended to consume 10 drinks a week, with no more than 2 drinks a day on most days. On the other hand, men are recommended to consume 15 drinks a week, with no more than 3 drinks a day on most days. The Low-Risk Alcohol Drinking Guidelines also state that one should always consider their age, body weight, and health problems when setting drinking limits. Additionally, the guidelines present instances when you shouldn't drink and reminders to follow when drinking.
Best Bars in Canada
Bar Raval, Toronto
Bar Raval takes inspiration from Barcelona's architecture: curved or rounded corners in wooden tones. Its name is also from El Raval, a neighborhood in the outskirts of Barcelona famous for its Bohemian-styled bars and colorful street art. As Canada's Best Bar for three years in a row, Bar Raval takes pride in its Spanish-themed food and drinks, offering classic bar food with hints of Spanish and Portuguese cuisine. Find Spanish and Portuguese wines along with cleverly-described cocktails. Munch on tapas and pintxos like pancetta with rhubarb and smoked mussels with chili and fennel. The bar doesn't accept reservations, so be sure to arrive early since it tends to get packed in the evening.
Must-try drink: Tinto Fino (Fino Sherry, Pineapple, White Sage, Soda)
Address: 505 College St, Toronto, ON M6G 1A5, Canada
Botanist, Vancouver
Restaurant in the day, hip bar at night, Botanist offers whimsical cocktails made with natural ingredients. Its interiors are a perfect harmony of bright spaces and lush flora, making one feel at home. The outside terrace in particular is bursting with greenery, matching with the floral-patterned cushions. Aside from its Instagram-worthy design, Botanist Bar's unique cocktails and signature drinks are what draw people in. Snap photos of its cocktails inspired by the four elements of nature, each presented in elaborate glassware and garnished to perfection. One of their signature drinks, Deep Cove, has thinly sliced cucumber garnish, which resembles waves, and comes in a small chunk of driftwood.
Must-try drink: Deep Cove (Island Gin, Sea Buckthorn, Blue Algae, Driftwood)
Address: 1038 Canada Pl, Vancouver, BC V6C 0B9, Canada
Cloakroom Bar, Montreal
Nestled beside a barbershop, the Cloakroom Bar is a discreet yet sleek speakeasy straight out of a Bond film. Its dimly-lit interiors and small seating capacity give you a cozy and familiar feeling, giving you a sense of exclusivity as you sip on your drink. The Cloakroom Bar is also a favorite for its well-curated beer and wine list, perfect for those who don't prefer cocktails. What makes it one of the best bars in Canada is the fact that there's no menu. You get something tailor-made for your taste after the bartender asks you a series of questions.
Must-try drink: Whatever you prefer — there's no menu
Address: 2175 Rue de la Montagne #100, Montréal, QC H3G 1Z8, Canada
The Keefer Bar, Vancouver
The Keefer Bar is an apothecary-themed bar in the heart of Vancouver's Chinatown. When it opened several years ago, it instantly became one of the must-visit bars in what used to be a gloomy street. The Keefer Bar is a favorite by most music lovers and anyone who's into edgy ambiances and drinks. True to its theme, some medicinally-inspired drinks at the bar (aptly named "List of Remedies and Cures") feature ingredients like red ginseng and glehnia root, staple herbs in most Chinese medicines. Its food menu is also within their theme, and you can find Asian-infused dishes like dumplings, peking duck crepes, and spring rolls.
Must-try drink: Dragonfly (Dragonfruit-infused gin, nigori sake, ginger, lemon, magnolia bark tincture)
Address: 135 Keefer St, Vancouver, BC V6A 1X3, Canada
Atwater Cocktail Club, Montreal
Located next to Foiegwa, the Atwater Cocktail Club offers the same French vibe with sleek 1950s decor, tucked in an alley behind the French restaurant. Covered with ferns, mirrored ceilings, and plush coral sofas, the Atwater Cocktail Club is also a speakeasy-style cocktail bar. The bar's signature cocktails come in unique containers, like the playful panda-shaped mug for the Kung-Fu Panda and the glass dome for the Smoke Show. Its food menu is also promising, boasting classics such as black truffle pasta and more exotic bites like frog legs. Because the Atwater Cocktail Club is a popular Montreal bar, expect long queues especially on a weekend night.
Must-try drink: Dame Nature (Citadelle gin, aquavit, thyme, green grapes, and fennel)
Address: 512 Atwater Ave, Montreal, Quebec H4C 2G5, Canada
Have Fun and Drink Responsibly
Drinking is a popular pastime in Canada, much like in other nations. Events like music festivals, weddings, and sporting matches are best celebrated with booze. Alcohol is also the most abused vice in Canada, and there have been several cases of alcohol-related injuries and deaths within the past years. Although the legal drinking age in Canada varies in every province and territory, the government is reconsidering changing the minimum age after studies that correlate the mortality rate with the drinking age.
If you are drinking for the first time in Canada, make sure you drink responsibly and follow the necessary safety reminders. On that note, why not have your first drink at one of the best bars in Canada?