Italian Countryside: Everything You Need to Know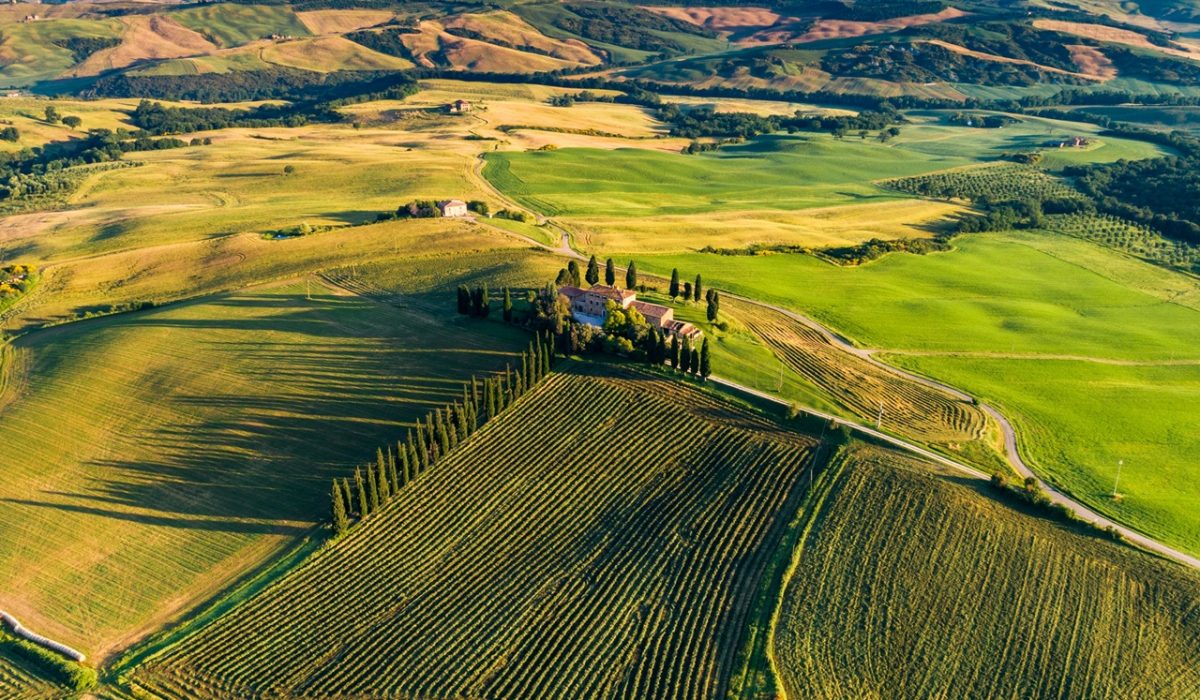 What do you see when you think of Italy? Some would probably see a glimpse of the striking colosseum, charismatic cathedrals, as well as magnificent museums and galleries. While those are a few of what Italy is known for, people would think about the country's sublime sceneries, too. With all the valleys and mountains, Italy's al fresco is fascinating. Sure, people can also picture themselves devouring a generous scoop of gelato and a fresh-from-the-oven pizza! But this country in South-Central Europe has something more. If there is something else that you should picture out here, it is the Italian countryside.
Italy's countryside is beautiful, too! It, being underrated, is what keeps it different from the top sights in the cities. What does it have? It is such a simple question, yet there are many things to ponder. Here is everything you need to know about the Italian countryside.
THE BEST ITALIAN COUNTRYSIDE
If you are not looking forward to the Italian countryside, you will surely miss a lot on your Italy trip. It may not be as touristy as the cities but, it sure has exquisite beauty that cities do not have. Here is a list of the best countryside in Italy that you should visit!
1. ALBEROBELLO, PUGLIA
Alberobello is a small town in Puglia (Apulia), in the province of Bari. This town is probably one of the unique places in the countryside of Italy. While most of the settlements are full of vineyards, Alberobello is quite different. What fills the spaces of this town are tiny houses with narrow and hilly streets perfect for long walks or bicycle riding. These tiny houses called "trulli" are also what makes this small Italian town distinct.
THE TRULLI OF ALBEROBELLO
The trullo or trulli (plural form) is a unique type of house in Alberobello. It is a traditional Apulian dry stone hut with thick walls, conical roof and is usually round or square-shaped. Constructing a multi-story trullo is not easy, so most of what you will see is a single-story building only. The interior of a trullo is mainly wood, and it is traditionally colored white. It is more practical to build several trulli than constructing a big one. That is why families in Alberobello live in trulli groups.
There are thousands of trulli, and you can see most of them in the districts of Monti and Aia Piccola. The style of the construction of these tiny houses is why it has been on the UNESCO World Heritage Sites since 1996.
BEST TIME TO GO TO ALBEROBELLO
The best time to visit Alberobello in Puglia is from April to July or August to November. These periods bring pleasant weather that lets the tourists complete their bucket list for Puglia.
The average temperature from April to July ranges from 16°C to 28°C. While from August to November, the average temperature is from 29°C going down to 16°C. The chance of rain from April is 27%, and it goes down to 20% in November.
Hotel accommodations may cost more than usual from April to August as it is the busiest time for Puglia's tourism. If you are looking for low hotel rates, you should book your stay some time from September to November.
2. CAMERANO, LE MARCHE
Camerano is a town in Conero Riviera, bordered by the Aspio River and the Botanico and Betelico streams. This place is known as the friendliest town in Le Marche, blending art and nature effortlessly. Despite having ancient origins, Camerano's industrial base is well-developed. In case you did not know, the production of the famous Rosso Conero wine takes place here. Every first week of September, Festa del Rosso Conero (a festival) happens, where you can enjoy a glass of local wines. But though Camerano has one of the world's best wines, it also has a tunnel system that you can explore.
Known as the "Land of Underground Wonders," Carmerano's underground caves are a must-see. If you would like to go for one, visit the Grotte di Camerano.
THE GROTTE DI CAMERANO
Grotte di Camerano is an underground system that lies underneath most of the old cities. The construction of these tunnels started during the Roman era and ended in the 1800s. During World War II in 1944, these tunnels were an anti-bomb shelter holding 3,000 people. That said, the entire route will for sure offer tons of history.
Carvings, friezes, ornaments, and religious symbols are what you will see when you go inside these tunnels. Though this place remains mysterious in many aspects, many people still choose to see it for its architectural details and chambers with domes.
BEST TIME TO GO TO CAMERANO
April to June and August to November are the best period to visit Camerano, Le Marche. The average temperature from April to November ranges from 24°C to 26°C.
Exploring the Camerano Caves from early July to late August is not that ideal. The temperature during these months rises to its highest point, which is much better spent on the beaches. Other outdoor activities in Camerano are the best from early June to late September.
If you are looking for low hotel accommodation rates, you should book a stay from August to November.
3. CHIANTI, TUSCANY
Chianti is one countryside in the region of Tuscany where you can find medieval villages and country castles. Its rolling hills stretch between Florence and Siena, Arezzo, and the ridge of Pisa, giving it vast, stunning landscapes. Fields may be that spacious but it is never too plain as the colors from the vineyards pop perfectly! Chestnut forests, oaks, and maples also bring life to the fields of Chianti.
Besides its romantic vineyards, you should also see its colonial farmhouses that feature wineries and enoteca — wine shops and bars. Local wines are everywhere but, here, you can also taste one of the world's best wines, Chianti.
THE WORLD-FAMOUS CHIANTI WINE
The Chianti wine is one of the world's best wines. It is a recipe by Baron Ricasoli that starts in the 19th century. The characteristics of this wine vary to its territory of origin and winemaking tradition.
Leaving the grapes dry on the vines contributes a lot to this wine's flavor. This specific practice in winemaking transforms all the sugar of the fruit into alcohol, making it a dry, stable wine. After its fermentation, the winemakers leave it in steel or cement tanks to age. Chianti wine becomes soft and velvety as it ages.
A bottle is perfect with red meat and aged cheeses. But you could also pair this with a Tuscan dish called ribollita — reboiled leftover cooked vegetables, with a drizzle of olive oil and stale bread.
BEST TIME TO GO TO CHIANTI
The periods of April to June and August to November are the best time to go to Chianti, Tuscany. Since this countryside is known for its romantic vineyards, tourists may walk through it in such sunny weather!
The temperature from April to June is 15°C to 23°C. While on the period of August to November, it is 27°C down to 11°C. The chance of rain is high from April to June (35% to 42%) and is low from August to November (23% to 32%).
The rates of hotel accommodation from April to June may be at their highest, but affordable rates are available from August to November. The latter period may not be the peak of tourism in Chianti but, tourists can witness grape harvesting in November.
4. MONTEFALCO, UMBRIA
"The Balcony-rail of Umbria" Montefalco is a hill town in the central west of Umbria, in the middle of Clitunno valley, Topino and Tiber rivers. Due to its position that connects Spoleto and Perugia, this town is also notable during Roman times. As you roam around, the ancient walls of this countryside town will bring you back to the high middle ages. Serenity will embrace you as every corner of this place brings quietness. The fields are with olive trees and grapevines and walking through it is one thing you could do here. But taking a walk on the streets will direct you to the center of the town called Piazza del Comune.
Piazza del Comune offers aristocratic palaces from the 14th, 15th, and 16th centuries like Palazzo Pambuffetti, Palazzo Senili, and Palazzo Langeli. Though these aristocratic palaces are equally amusing, Montefalco also has medieval churches, and you should visit the Saint Francesco Church. This church is also the town's major tourist attraction known for its museum.
THE CHURCH OF SAINT FRANCESCO
Saint Francesco Church is the oldest church in San Marino. Its construction was started between 1335 and 1338 by the Friars Minor. Back in the day, local artists like Perugino, Giovanni di Corraduccio, and Tiberio d'Assisi lived here. No wonder why the interior of this church is with fascinating paintings. People visit this church to see not just the most substantial items in the Renaissance period but for its museum, too.
The Museo-Pinacoteca San Francesco opened in 1966. It offers a collection of fresco and paintings from the 15th to 18th century. This museum also displays the works of Timoteo Viti — an Italian Renaissance painter. But it is not paintings alone as the monastic library has various codices and manuscripts, too! People who come here also see several theological and philosophical writings from the 15th and 16th centuries.
BEST TIME TO GO TO MONTEFALCO
The best time to go to Montefalco, Umbria, covers a long-range period. Tourists who would like to see the substantial Renaissance items may book their flights to Montefalco from April to October.
The weather during this period is perfect, with an average temperature of 14°C to 16°C. The warm weather happens in June, July, August, and September, to be exact. During the said months, the average temperature ranges from 21°C to 26°C. But there are chances of rain during this long-range period, too. The highest chance of rain is from April to May, 40% to 49%.
Hotel rates from April to June are pricey as this is the peak of tourism in Umbria. On the other hand, low-cost ones are available from August to October.
5. PROCIDA, CAMPANIA
Procida lies between Cape Miseno and the island of Ischia. It is the smallest and least-known Flegrean Islands off the Naples

coast in Southern Italy. Since this is far from the tourism routes, Procida is also one of the underrated areas in Campania that you should discover. Ports are what surround the whole area. But the bright colors of the medieval houses bring so much life to them.
You may find vineyards in other countryside but here, it is courtyards and gardens. You may also see churches, buildings, and a castle, as well as villages clinging to the rocks on this island. One of the famous spots in Procida is the Marina Chiaiolella.
THE MARINA CHIAIOLELLA
The Marina Chiaiolella beach is the main attraction and the third historical marine area in Procida. Strolling along the pier through Via Giovanni da Procida, you will have a complete view of the brilliant architecture of the centuries-old houses at the top of the port. The said port also consists of an old volcanic crater and is surrounded by Solchiaro on the west and Santa Margherita on the east.
Though many changes happen on this island now and then, it maintains the characteristics of a fishing village. Watching sunset all over the islands of Ischia and Vivara is also one thing that you can do on this beach. The color of the sundown covering the vivid colors of the houses is a relaxing sight, too.
BEST TIME TO GO TO PROCIDA
March to June and September to November are the best period to go to Procida, Campania. The average temperature from March to June ranges from 13°C to 24°C, while from September to November, it is 25°C down to 16°C.
The Marina Chiaiolella beach is the main attraction here. And if you like to avoid rain on your beach trip, do not book flights in November. Moreover, you can find low-cost hotel accommodations from June to November.
BEST WAY TO SEE THE ITALIAN COUNTRYSIDE
The best way to see the Italian countryside is, of course, by stepping out of the cities. After doing so, here are a few guides you could take to see the underrated parts of Italy.
GO ON A ROAD TRIP DOWN TO THE COUNTRYSIDE
One way to see the Italian countryside is to drive to it. Here is one route that you drive through.
Location: Chianti
Route: From Florence via Chiantigiana
From Florence, drive through Chiantigiana. It is one of the satisfying roads to go through. As you step on your gas, you will see tons of breathtaking fields dotted with trees and other greens. Not only that, but you will also see the valley of river Elsa (Val d'Elsa or Valdelsa) and the valley of River Arno (Val d'Arno or Valdarno). Farmhouses and villas, as well as castles and chapels, are everywhere, too. So do not forget to stop for a while and admire them completely.
Upon completing the route, the landscapes of Chianti will welcome you. Make sure to get a glass of the best local wine when you arrive here!
BOOK A CYCLING TOUR
Using an outdoor activity to discover such a place will always be exciting! Another way to see the Italian countryside is to book a cycling tour. One of the tours that you can take goes to the Green Valleys of Umbria. This cycling tour to Umbria will take at least five days. It will start from the Pilgrimage Town of Assisi. The route will mainly be at the valley with a few rolling parts, so prepare for such a challenge along the way.
In this tour, you will get to stop by medieval villages and towns of the green valley. These are the Assisi, Spello, Foligno, Spoleto, Bevagna and Perugia. Some of the highlights in this tour include country roads, Renaissance palaces, churches, and wine and olive oil museums. This cycling tour will take much of your stay in Italy but, it will be all worth it.
WALK THROUGH THE ITALIAN COUNTRYSIDE
Since the countryside is also an agricultural area in Italy, there are some clear trails that you can walk through. Thousands of footsteps in the Italian countryside will bring you to some of the country's nature reserves, too. This way may be tiring for some tourists, but this will give you enough time to see the towns and villages.
One trail that you can take is in the Dolomites in northeastern Italy. This trail will let you see a broad portion of the countryside. Walking through it, you will also get a view of mountains, lakes, limestone peaks, and forests. Another way to take a break from the tall establishments in the cities.
STAY IN AGRITURISMO AND TOUR AROUND THE FARMS AND VINEYARDS
If you are dying to see the countryside, you should spend a day or two in such a village. In the underrated parts of Italy, there is also this so-called "agriturismo." It is a farm that produces wines and local foods but also has accommodations for guests. A farmhouse that will also pull you closer to the way of living in the countryside.
During your stay here, touring around the farm and vineyards is a must. Witness how the locals produce Italian wine. Grab this chance to make them tell you stories of how winemaking goes. If that is not what interests you, go for the local ingredients, and dig in authentic Italian dishes.
After touring around, you can help these winemakers and farmers by purchasing their produce. It is nice to see the countryside. But gaining some knowledge about it, the life there, and its people is a different kind of fulfillment.
WHERE TO STAY IN THE ITALIAN COUNTRYSIDE
TENUTA MORIANO
Location: Tuscany
Tenuta Moriano is a farmhouse that is seven kilometers away from Montespertoli. Since this is in Chianti, the view from the fields and the pleasure of the hills surrounding the place will keep you relaxed. Aside from this is a best-rated accommodation, Tenuta Moriano also produces wine and olive oil which you will surely get to taste!
This farmhouse has one and two-bedroom apartments, as well as deluxe and superior apartments.
One-bedroom Apartment – the price is 411.15 USD for two guests, three nights.
Two-bedroom Apartment – the price is 531.73 USD for four guests, three nights.
Deluxe Apartment – the price is 549.81 USD for four guests, three nights.
Superior Apartment – the price is 567.90 USD for four guests, three nights.
Each apartment comes with a kitchenette, dining area, and a sofa. Some of these apartments also have a private terrace. Guests may enjoy its pool and garden during their stay, too. If you are checking in with pets, it will not be a problem because Tenuta Moriano allows them in the farmhouse.
TRULLI FENICE ALBEROBELLO
Location: Puglia
Experience life inside a Trullo! Trulli Fenice Alberobello offers accommodation in a traditional Trullo. All the units have a rustic style but it sure is appealing to the eye. Guests can choose from five types of accommodations.
One-bedroom Trullo – the price starts at 317.26 USD for two guests, three nights.
Suite Trullo with bathtub – the price starts at 317.26 USD for two guests, three nights.
Superior Trullo – the price starts at 345.84 USD for two guests, three nights.
Cummersa with two bedrooms and a garden – the price starts at 345.84 USD for two guests, three nights.
Luxury Three-bedroom Trullo – the price starts at 403 USD for two guests, three nights.
The accommodations are complete with a dining area with a kitchenette and a flat-screen TV. Each of them also has a bathroom with a shower, free-of-charge toiletries, and a hairdryer.
If you like to explore the region, the staff of Trulli Fenice Alberobello also organizes excursions. They can also book your bike rental and treatments at a discounted wellness center around the area.
L'OLMO AGRITURISMO DI CHARME
Location: Umbria
L'Olmo Agriturismo Di Charme is in Bettona. The surroundings are with Umbrian vineyards, and the view that it is giving is just scenic. What's more, guests can also get the sight of Assisi Valley here!
The apartments are in a converted barn, and here is the selection you can choose from:
One-bedroom Apartment – the price is 229.09 USD for two guests, two nights.
Two-bedroom Apartment – the price is 385.82 USD for four guests, two nights.
Apartment-Split Level – the price is 385.82 USD for four guests, two nights.
Luxury Two-bedroom Apartment – the price is 578.74 USD for six guests, two nights.
All the apartments welcome guests with a complimentary basket of local products! It has a kitchenette and a lounge with flat-screen satellite TV and DVD player. The bathrooms also have a hairdryer and toiletry set. It seems like everything you need is just around the room.
An outdoor pool and a fitness center are also available here in L'Olmo Agriturismo Di Charme. But guests can also spend their time in its garden and gazebo.
HOTEL LORELEI LONDRES
Location: Campania
Hotel Lorelei Londres offers a breathtaking sea view from above the port of Naples coast. Situated in the heart of Sorrento, guests who book their stay here fall in love with such a view!
At the accommodation, guests can hop in a cozy hot tub before taking a rest in the hotel's rooms which are:
Deluxe Double or Twin Room with Sea View – the price is 803.03 USD for two guests, two nights.
Superior Deluxe Sea View – the price is 947.70 USD for two guests, two nights.
Junior Suite with Balcony Sea View – the price is 1,116.51 USD for two guests, two nights.
The amenities include Wi-Fi, air conditioning, a flat-screen TV with satellite channels, and a coffee machine. It also has a private bathroom with a shower and free-of-charge toiletries. For meals, Hotel Lorelei Londres serves Italian dishes, and they also have vegan and gluten-free meals. This hotel also has a restaurant and bar for more options. Aside from the hot tub, guests can spend their time in the garden and terrace that are available for them, too.
CASABLANCA HOTEL
Location: Le Marche
Casablanca Hotel is a fine accommodation in Civitanova Marche. Aside from the comfort that this hotel will give you, it will also bring you closer to nature! The hotel is on a hill, bringing its guests a panoramic view of the countryside.
There are five room types in this hotel.
Twin Room with Terrace – the price is 240.53 USD for two guests, two nights.
Standard King Room – the price is 278.51 USD for two guests, two nights.
Twin Room with Pool View – the price is 303.84 USD for two guests, two nights.
Double Room with Pool View – the price is 329.16 USD for two guests, two nights.
King Room with Pool View – the price is 417.78 USD for two guests, two nights.
The rooms have air conditioning, a flat-screen TV with cable channels, a fridge, and a coffee machine. The bathrooms, on the other hand, have a bidet, hairdryer, and a wardrobe.
Casablanca Hotel also offers a pool and terrace to their guests where they can be at leisure. Snacks and Italian drinks like Grappa are also available at the hotel's restaurant and bar.
EXPLORE THE ITALIAN COUNTRYSIDE
Sometimes, as a tourist, you would always want to go to the usual tourist spots when traveling to another country. Come to think of it. Tourists would always ask for directions going to the cities but never on the underrated places. For some reason, maybe because it is not what they usually hear from other tourists. It is not what other travelers would recommend. Or simply because itineraries online do not include much from the smaller towns.
Yes, cities are where most tourists go, whether for some fun activities, authentic local dishes, and spots to see. But the countryside always has something great to offer, too. At times, they give more than what the cities would give you.
Tourists who travel to Italy and not spending some time visiting the Italian countryside are missing so much. From the traditional Apulian dry stone hut to historic caves and tunnels, to the taste of the world's best wine down to the substantial items from the Renaissance period, or a panoramic view of thousands of vineyards and the simple living at a quiet port — all these amazing things and a whole lot more are in the countryside only.
If you come to Italy, go for the liveliness of the cities but never miss the quietness of the villages. Going for it also means that you are going for Italy's roots. That, right there, is something that will fulfill your Italy trip. Explore the underrated part of this country — the Italian countryside.