Hubei | Everything About This Province In China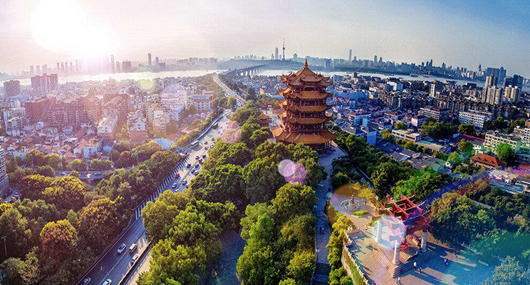 Looking to vacation in China? Why not explore Hubei Province – the heart of the Middle Kingdom! Situated in the middle reaches of the famous Yangtze River, this tourist transport hotspot boasts 13 cities, with its biggest being Wuhan. It is home to a vast range of China's ethnic minorities. Hence, Hubei's reputation as a culturally diverse province with a wide range of fascinating traditions.
Are you a food enthusiast? Well, you're in luck! Saturated with culinary influences from all over China, Hubei is a province that will leave your taste buds tingling with rich flavours! The province boasts spicy Sichuan peppers from the west and hearty meaty recipes from the north. Other local favourites include the famous Wuchang fish and Wuhan's hot dry sesame noodles – an essential must-have on your bucket list when in Hubei!
Here, tourists look forward to exploring the province's urban, natural and historical wonders. From tranquil, idyllic Taoist retreats to loud city vibes, and wondrous caves to opera performances, Hubei has something for everyone! Want to know more about this captivating province? Then read on to find out!
Getting To Hubei
From Shanghai To Hubei
The fastest route is to take a flight from Shanghai Pudong Airport to Xiangfan Airport. From there, you can take a taxi to Xiangyang Train Station, and then take a train to Jingmen Station. Finally, from Jingmen Station, it'll be a 10-minute taxi ride to Hubei. However, this will take approximately 6 hours and 30 minutes, costing between 942 to 3120 CNY.
Hence, the most recommended route is to take the train from Shanghai – Chongqing North Station to Yichang East, then Jingmen Station. From there, you can take a 10-minute taxi ride to Hubei. Although it will take 9 hours, it is a cheaper alternative and will cost between 387 to 554 CNY.
From Beijing To Hubei
The fastest route from Beijing to Hubei would be to take a flight from Beijing Nanyuan Airport to Xiangfan Airport. There, you can take a cab to Xiangyang Train Station where you'll have to take a train to Jingmen Station. Then, there is another 10-minute taxi ride to reach Hubei. This will take around 6 hours and 56 minutes, costing between 942 to 2270 CNY.
Another route for those looking for cheaper alternatives is to take a train from Beijing to Jingmen Station, followed by a 10-minute taxi ride to Hubei. Although it will cost between 163 to 353 CNY, it will take approximately 19 hours and 30 minutes to reach your destination!
Hence, the most recommended route would be to take a train from Beijing West to Tianmen South, followed by a taxi ride to Xiantao. From there, take a 2-hour 14-minute bus ride to Jingmen, where you can take a taxi to Hubei. This will take 8 hours and 45 minutes
Major Attractions In Hubei
Head to Hubu Lane where shopping with a snack in hand makes for a contenting experience! Located in Wuhan, the biggest city in the Hubei Province, Hubu Lane is famed for its extensive 400 over years of history. Permeated with shopping booths and entertainment venues, this street is the place to go when hunting for the perfect souvenir!
Additionally, this street will appeal to foodies looking to expand their horizons and explore new flavours. With a variety of food stalls crowding the street, you won't ever run out of options! Known for their authentic breakfast dishes and local delicacies, visitors should give some Hot and Dry Noodles and Stinky Tofu a try!
Also located in Wuhan in Hubei, the grand Yellow Crane Tower stands tall at the top of Snake Hill. This top tourist attraction boasts panoramic views of the city and has earned its reputation as one of Wuhan's top iconic symbols. With classic poetry left behind by numerous well-known literati combined with the tower's modern appeal, the Yellow Crane Tower is indeed a sight to behold.
Unwind with some thirst-quenching refreshments at a nearby teahouse where the entertainment won't disappoint! Here, many enjoy Traditional Chinese music performances. Looking to explore further? Well, situated at the bottom of the hill, you'll the Museum of the 1911 Revolution where you can learn more about Wuhan's vast history!
Nestled within the Shiyan City in Hubei, Wudang Mountains – the famous Taoist shrine, was renowned for its spectacular Ancient Building Complex and captivating natural landscape. In fact, the mountain was also said to be the birthplace of the widely known Chinese Wudang Martial Arts. Hence, in 1994 this Ancient Building Complex was listed on the World Heritage List by UNESCO.
There's much to explore at this grand building complex! The Palace of Harmony is known for its glamour and grandiosity. Moreover, the palace is constructed of bronze! It constitutes of the Forbidden City, the Gutong Hall, and the most celebrated one of them all – the Golden Palace.
Another magnificent must-see here is the Grand Purple Cloud Palace. This palace is known for being the best-preserved Taoist building on the mountain. It comprises of the Dragon and Tiger Hall, the Stele Pavilion, the Grand Hall of the Purple Cloud Palace and more! In fact, the Grand Hall is the most symbolic wooden structure on the mountain. It is home to a sculpture of Emperor Jade that is worshipped by many.
The South Cliff Palace comprises of the Tianyi Zhenqing Hall, the Two Bearings Hall, the Eight Diagrams Pavilion, the South Heaven Gate, and the Flying Cliff. The Tianyi Zhenqing Hall is the most renowned of them all. With every inch of its halls carved from stone, it lives up to its reputation as a stone palace of Chinese stone carving.
Other noteworthy places to visit when at this Ancient Building Complex are the Yuzhen Palace, the relics of the Yuxu Palace and the Five Dragon Ancestral Temple, Xuanyu Gate, and the Fuzhen Temple! With an abundance of beautiful natural scenery, magnificent sculptures, tablets, and inscriptions on cliffs, this popular tourist spot is definitely worth a visit!
4.
Jingzhou Ancient City Wall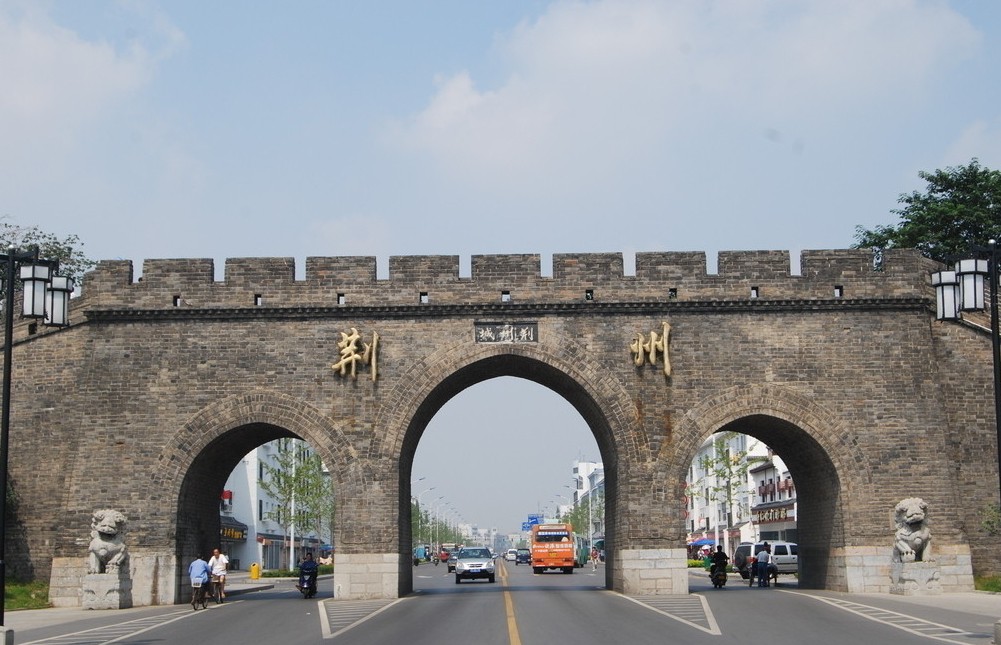 Located in Jingzhou City of the Hubei Province, the Jingzhou Ancient City Wall highlights over 2000 years of history. The wall was a large military defense in the Han architectural style of the Ming and Qing dynasties. Moreover, it is one of the four best-preserved ancient city walls in China!
Explore all 3 parts of the Jingzhou City Wall! Known as the Water City, Brick City, and Earth City, the wall covers a total area of 4.5 square kilometres. The wall also had 6 ancient city gates which originally, had a tower each. The most renowned being the Binyang Tower on the Eastern Gate, the Qujiang Tower on the Southern Gate, and the Chaozong Tower on the Large Northern Gate. Climb to the top of these towers where the tower sports magnificent, panoramic views of the scenic city!
5.
Shennongjia Nature Reserve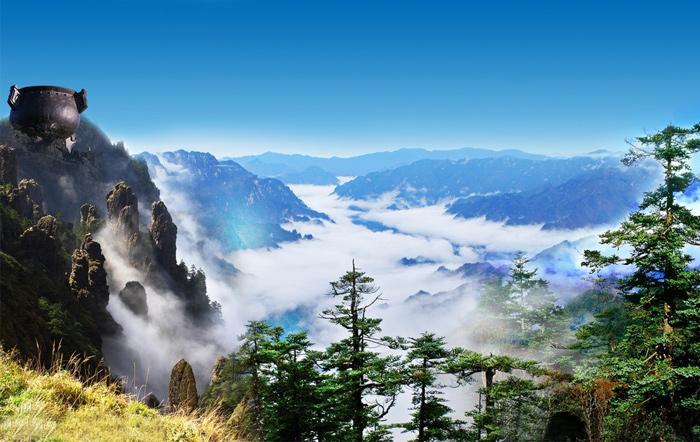 Located in the eastern Hubei province, this 803,833-acre nature reserve was listed as a world heritage by UNESCO in 2016. It boasts spectacular natural scenery, rare foliage, endangered animals and is the birthplace of famous legends. With flora and fauna at every corner, the forest highlights its virgin forests, clear streams, grand waterfalls and thousands of canyons.
If you're into caving, Shennongjia Nature Reserve is home to a number of peculiar caves. Namely, the Swallow Cave with thousands of swallows, the Tide Cave that floods 3 times a day, and the Icy Cave that's always icy in summers.
This forest zone is known for being home to peculiar species such as 'white animals'. Albino animals such as white bears, monkeys, deers, and snakes have been discovered here! Additionally, it's also a natural garden where thousand species of precious herbs gathered. Definitely helpful for the concoction of herbal medicine!
The renowned folk legend of this nature reserve includes the Wild Man of Shennongjia. As mysterious and bizarre as Bigfoot or the Loch Ness Monster itself, the Wild Man was recorded in ancient Chinese books since the 1970s. Ape-like, 2 metres high and moving at lightning speed, the Wild Man is believed to be an ancient species. Although numerous hikers and visitors have reported their sightings of the Wild Man, to this day he has yet to be caught.
Curious isn't it? Why not head down to Shennongjia Nature Reserve to find out more!
6.
Wanhao Hot Spring Valley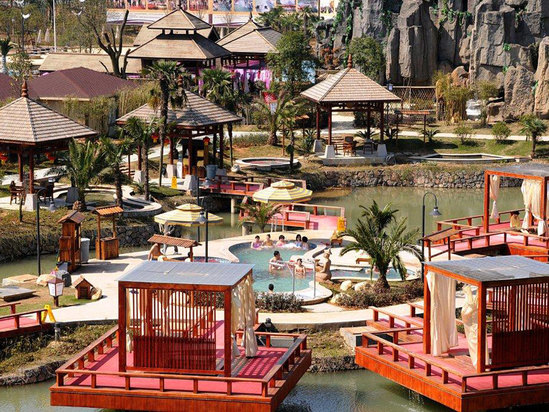 Take a dip at Wanhao Hot Spring Valley and soak your worries away! Also known as Xianning Hot Spring Valley, the resort is situated in front of Xianning Qianshan Mountain Park. In fact, Xianning is a city best-known for its sweet Osmanthus, tea, and of course, hot springs!
With over 1,400 years of history, the boiling waves of this hot spring can go up to 53 Celsius. This makes the water good for relaxing stiff muscles – something that's much needed for a vacation! Moreover, the water contains over 10 kinds of minerals such as calcium, magnesium, sulfate, and carbonate. And, it can cure various kinds of skin diseases such as canker. Truly a distressing experience indeed.
7.
Xianling Mausoleum of Ming Dynasty
Situated in the Songlin Mountain in the Hubei Province, the Xianling Mausoleum was built by Emperor Jiajing for his beloved parents during the Ming Dynasty. With a total area of 183 hectares, this grand mausoleum looks dazzling in golden and green. Due to its location which was specifically chosen due to traditional Chinese Fengshui, the mausoleum is surrounded by the scenic views of mountains and rivers with the perfect picturesque view.
Divided into inner and outer parts, the mausoleum is connected through a sacred way where huge stone statues of animal carvings, civic officials and generals are lined up. Noteworthy mentions include the Xiama Bei statue inside the Red Gate that's worthy of respect for his past contributions; the Ming Tower, Imperial Tablet Pavilion, Heavenly Gate, Imperial River, and White Marble Stone Bridge.
Hence, with its historical value, cultural relics, and unique environment, Xianling Mausoleum was listed under China World Cultural and Natural Heritage List in 2000. Definitely an attraction worthy of a visit!
Located in Enshi City in Hubei, this Grand Canyon flaunts impressive sceneries and colourful customs of its locals – the Tu people. It's renowned for its 2 opened scenic areas – Yunlong Ground Fissure and Seven Star Village!
Once an underground river for 20 to 30 million years, Yunlong Ground Fissure is now above ground, breeding steep cliffs, plunging waterfalls, and streams. In fact, there is a total of 7 and a half waterfalls in Yunlong Ground Fissure. Moreover, this half waterfall only occurs during the wet seasons!
One highlight of The Seven Star Village is the Mother-Infant Statue. An artwork created by mother nature herself, the statue resembles a mother pecking her baby on its cheek. This symbolises a mother's deep love. Another popular feature is the Stone Incense which was said to be given to by God. An important treasure to the canyon, the incense was meant to be lit in times of disaster. When lit, the legend goes on to say that God would save people as long as he saw the smog.
Next, you'll be greeted by the Bowing Pine, which on behalf of the Tu people, welcomes and sees guests off. The Cliff Corridor is another thrilling feature of the Village. Popular with couples, legend has it that when people go through the Cliff Corridor together, they go through life hand by hand.
Located 6km from Lichuan City in Hubei, Tenglong Cave is one of the biggest karst caves in China. Furthermore, it was also awarded by China National Geographic as the most beautiful place in all of China! Integrated with mountains, a forest, and a river, the cave produces a mysterious, beautiful and quiet environment that just leaves you in awe.
Absorbing the Qianjiang River, the river becomes an undercurrent running through the cave. Moreover, it forms a 23 metres tall waterfall. Hence, the cave has a complex system and is divided into the Water Cave, Dry Cave, Breeze Cave, the Dujia Village, and Three Dragon Gate. This makes the Tenglong Cave worthy of exploration, especially for those adventurous at heart!
Take a trip down the Yangtze River and take a peek at the Three Gorges! Famous for being the highlight of most cruising tours, the Yangtze Three Gorges is a magnificent valley with the most splendid landscape in the Yangtze River. It is also one of the ten most famous scenic sites in China. With a length of 193km, this picturesque valley is one of the birthplaces of the civilizations of China – The Daxi Culture. As a matter of fact, this valley was once a battlefield during the period of the 3 Kingdoms. Other renowned historical sites that add value to the valley is the White Emperor City, Huangling Temple, and Nanjin Pass.
Rich in natural resources, the Three Gorges Dam on the Yangtze River is the largest hydro-electric power station in the world. It features the dam as a modern engineering wonder of the world! Additionally, the gorge also features the Three Gorges Museum which has exhibits on the Ba culture. It educates its visitors on life in Chongqing during the Qing Dynasty, the early republic, and the World War II era.
Final Thoughts
With multiple cities, this huge province is clearly not lacking in natural beauty, history, culture, scrumptious food, and of course, entertainment! What are you waiting for? There's no time to lose, visit Hubei Province now!