Things To Do In Cambridge, England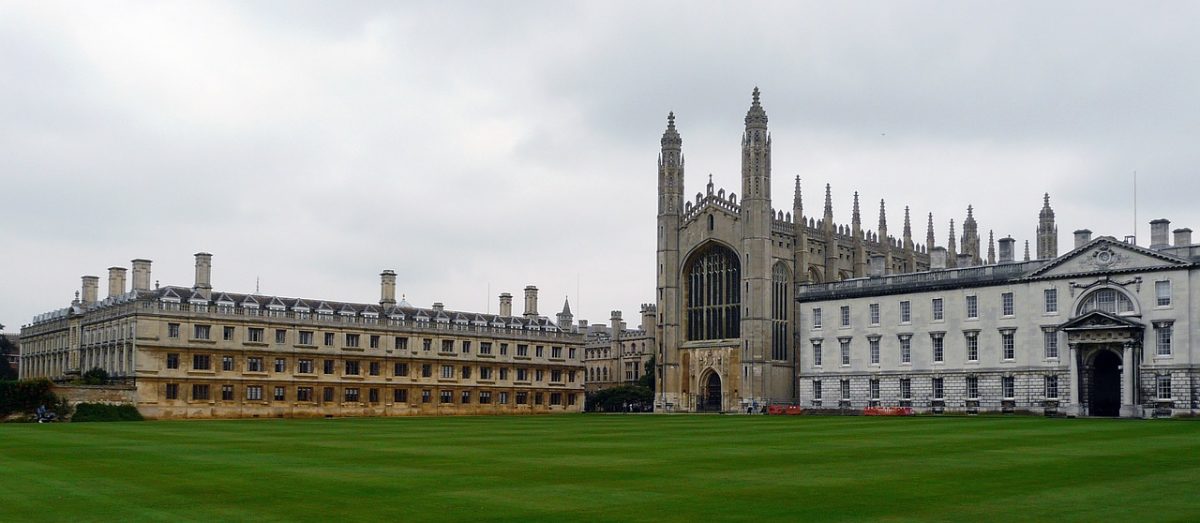 If you think that Cambridge is all about regality, Victorian architecture, and rich history, you are right! Cambridge is also known for its ivy league Cambridge University, which allures the brightest of the minds from across the world to study here. But there's more to Cambridge than the University. And what really adds this city on a traveler's bucket list, is its glorious past, beautiful locations, and architecture, that can keep you hooked for several days.
A city in the county town of Cambridgeshire, England, Cambridge has a fantastic collection of colleges, churches, gardens, museums and historic eateries. Such is the number, that you'll have plenty to explore and click on your camera. So, if you are planning a trip, you must know it all from the Cambridge Bridges to the Churches, Colleges to the fun points.
So, come, let's explore the city.
The Most Amazing Things To Do In Cambridge
1.
Behold The Sight At The King's College Chapel
The most mesmerizing part of the King's College Chapel, apart from its architecture, is that it took over a century for its completion. Without doubt, the time and efforts are visible in the awe-inspiring interiors. To get into its history, it's construction was initiated in 1446, by Henry VI (who was also known as the Royal Saint). Talking of interiors, it's adorned by one of the most beautiful medieval stained glass and the most massive fan-vault ceiling in the world.
If you are visiting during Christmas break this is the place to be at. The Chapel also plays a central role in the college traditions, for ages. For instance, the King's College Chapel evensong is still sung by the Choir. Thus, it will be a great thing to do in Cambridge, if you could attend the Choir. However, you must note that access to the Chapel can be occasionally closed. Admittance to the Chapel is upon a paid ticket.
2.
Explore Historical Artifacts At Fitzwilliam Museum Cambridge
Noted for being one of the most famous free attractions in England, the Fitzwilliam Museum is a must-visit place in the city. It is home to over half a million artworks and paintings, which you can see for no price at all.
Sitting on Trumpington Street, in central Cambridge, it has one of the best collections of contemporary and modern arts. The Museum Paintings are one of the finest in their class. Visiting this impressive Cambridge art museum deserves a top spot on your things to do in Cambridge list.
3.
Do Some Math At The Mathematical Bridge Cambridge
Initially built in 1749 and officially known as the Wooden Bridge, Mathematical Bridge in Cambridge is a sophisticated engineering marvel. Built over the River Cam, and connecting two parts of the Queen's College, there are so many myths that go about this bridge. One of them being that Newton built it without using any nuts and bolts!
However, the Mathematical bridge model is based on the positioning of straight timbers in tangential positions. Plus, the intention was to assemble and dismantle it, in case of war quickly. Moreover, this cool bridge is a great place to hang out, as there are lots of places to eat and drink around. To visit this bridge, you may either walk over or travel underneath in a punt. Wondering what's punting? Read next!
4.
Go Punting On River Cam In Cambridge
Dubbed as the national pastime of the Cambridge, punting on River Cam is not worth missing on your things to do in Cambridge list. If you are new to the term, a punt is a wooden, flat-bottomed boat coupled with a square-cut bow. Punts are usually designed for travelling in small or shallow rivers.
River Cam punting is a level apart, as its a fashionable way to site see Cambridge's beauty at its best. Since most of the earlier colleges of Cambridge were built along the banks of the River Cam, you'll get to see plenty of fantastic architecture. Besides, you may choose to bow by yourself (if you have the nerve), or else, you may hire a guide.
Be all set to explore the city, through its beautiful waterways by just grabbing a hot chocolate and chips. Also, you can book a punt in advance, or on the spot.
5.
Lose Yourself In The Cambridge University Botanic Gardens
Owned by Cambridge University, the Botanic Gardens are almost always full of colour. Spread on a sprawling 40-acre landscape, and it has more than eight thousand varieties of flora present in its precincts. It also houses a natural lake, elegant glasshouses, chronological flower beds, besides a grans collection of trees.
This garden is an ideal space for a picnic, or a stroll if you need some rest during your trip. Besides, the Station and the City Center is at a stone's throw, so it's worth waiting in if you are awaiting a train.
6.
Pay Visit To The Homely Kettle's Yard
The Kettle's Yard is quite a homely art galley, which was once the home of a kind couple, Jim and Helen Ede. The two had filled their house with some excellent pieces of art, to the likes of Barbara Hepworth, and Joan Miro. Out of their generosity, they donated all of their collection to Cambridge University. So seeing their collection is another addition among the things to do in Cambridge.
7.
Witness The Glory Of St. John's College
The St. John's College, Cambridge, is a majestic castle that stands tall, with over five hundred years of history. It's one of the largest and oldest colleges in Cambridge, and also the wealthiest. For instance, it's annual May Ball is touted as one of the best parties in entire Britain. Besides, another noteworthy factor is that the college is immaculately preserved and the students get to gorge on a lavish meal, each day.
The St Johns College Chapel is also quite a stunner. So, if you wish to observe this masterpiece of architecture, you must have it in your itinerary.
8.
Hold Your Breath At The Bridge of Sighs
The Bridge of Sighs in Cambridge is located at St. John's College. It's a covered structure stretching over the Cam. If you're wondering for the reason behind its name, it's from the sighs by the students, whenever they pass from their rooms to the tutor's offices. That's how the word 'sighs' got added to its name.
While some say that it's named after the Bridge of Sighs in Venice, Italy. Albeit, it makes for a beautiful place to walk and will remind you of Hogwarts (castle from Harry Potter), if nothing else. However, it must be one of the top things to do in Cambridge.
9.
Tour The Kings College Campus And Chapel
With Henry VI as the founder, Kings College is one of the oldest buildings in Cambridge. Its most striking feature is the King's Bridge, the Chapel, and beautiful views of the backs. In addition its various college campuses on the riverside pride in their sumptuous views.
Visiting and spending some quality time here is one of the most relaxing things to do in Cambridge. This college has some of the most distinguished people as its alumni, with Horace Walpole, and Lord Keynes, two of the examples.
10.
Grab A Great Read At The Heffers Book Shop
Cambridge Books are worth a read, and the Heffers book shop is the best spot for it. Cambridge is after all the city of geeks. So without shying, you must visit this book shop and have a paperback travel partner with you. Besides, it's the best thing to do in Cambridge if you are a book worm at heart.
11.
Get around the Round Church
The Church of the Holy Sepulchre, Cambridge or the Round Church is also counted among the best of Cambridge Churches. It's an Anglican Church, that's one of the four medieval round churches still running in the country. Though small in size, it is the second oldest Church in Cambridge, completed in 1842. Its round design draws inspiration from the original Round Church in Jerusalem.
The historic landmark has been visited by Bill Gates and Queen Victoria. Thus, it's another awesome place to visit in Cambridge and also one of the oldest buildings in Cambridge.
12.
Bite Some Traditional Brunch At Fitzbillies
Fitzbillies has been on Cambridge's Trumpington Street since 1920, and it's traditional Chelsea buns are still a craze. Most current and former residents, fondly remember spending a major chunk of their pocket money at this eatery. To give you an idea, the Chelsea buns are prepared from a rich yeast dough. This is further imbued with lemon peel, cinnamon, and other comingled spices. Lastly, it is coated with a blend of currants, brown sugar, and butter. Mouthwatering already? Besides, its artisan coffee and pastries are no match.
So, you must make a point to take out time for brunch. It is guaranteed that you'll not be disappointed. Also, you will fall in love with their homemade cakes, as they seem straight out of heaven.
13.
Visit The Great St. Mary's Church In Cambridge
Visiting the Great Saint Mary's Church, often just called as simply GSM is another best thing to do in Cambridge. This towering church is really a sight to behold.
So get in, explore the interiors, and take in the beauty of this engineering marvel. While the best part here is to climb up the stairs, to the top of the tower.
Though this is paid, it's completely worth the fare. Be in for a surprising sensation, in case the bells start tolling during your climb. However, the view from the top of the tower is purely mesmerizing.
14.
Explore The Countryside At Grantchester Village
Fancy a walk amidst meadows on the lakeside? You need to travel just a mile from Cambridge to the Grantchester village, and you can get it all. Besides, you can satiate your hunger at one of the classy pubs in the village, or grab a punt and set off on the water trail. If you travel at the right time, the Orchard Tea Gardens could be a place to visit as well.
15.
Grab A Pint And Relax at Plough Pub
Visiting the Fen Ditton is another village and one of the best things to do in Cambridge. Especially in summer, you can feast yourself to one of the most refreshing gardens here. Besides, they have amazing cuisine, which you can pair with a pint, and enjoy the lakeside scene. Apart from Fen Denten, there are many more beer gardens in and around the city. So if you are an enthusiast, you know where to find one.
Avoid some confusions while in Cambridge
The 800-year-old Cambridge University, has thirty colleges under its cap, with most of them holding a decent history. Needless to say, it also the alma mater of many great minds, including Charles Darwin, Allen Turing, Stephen Hawking, Ariana Huffington, and many more. The list is endless. But more than often, some visitors often confuse between Cambridge, Oxford and Harvard Universities. So let's ask you two questions.
Do you know where is Harvard located?
To get to Harvard, you'll have to apply for a US visa, because that's where it's located. The reason for the confusion is that Harvard University is also situated in Cambridge, but this Cambridge is located in Massachusetts, a state in eastern America. While Cambridge University is in the Cambridge city in Cambridgeshire, a county in the East of England. Due to the same name, tourists get mistaken and look for Harvard University in England. Now since you know that where is Harvard University located, you'll save yourself from being a fool. In case you already knew, you are a crisp traveller. High five!
Where is Oxford University?
The prestigious Oxford University is located in Oxford, England. And both of them have similar architecture and the best of the world's teaching quality. The distance between the two cities is around 135 kilometers, which is only a couple of hours by car. In fact, the two universities together are fondly called as Oxbridge.
So are you all informed and ready for the trip? I hope you already have an itinerary in your head. Besides, without much ado, you look for tickets, grab your stuff and pack your luggage. Cambridge is waiting for you!