Four Days in Kampot, Cambodia: A Detailed Itinerary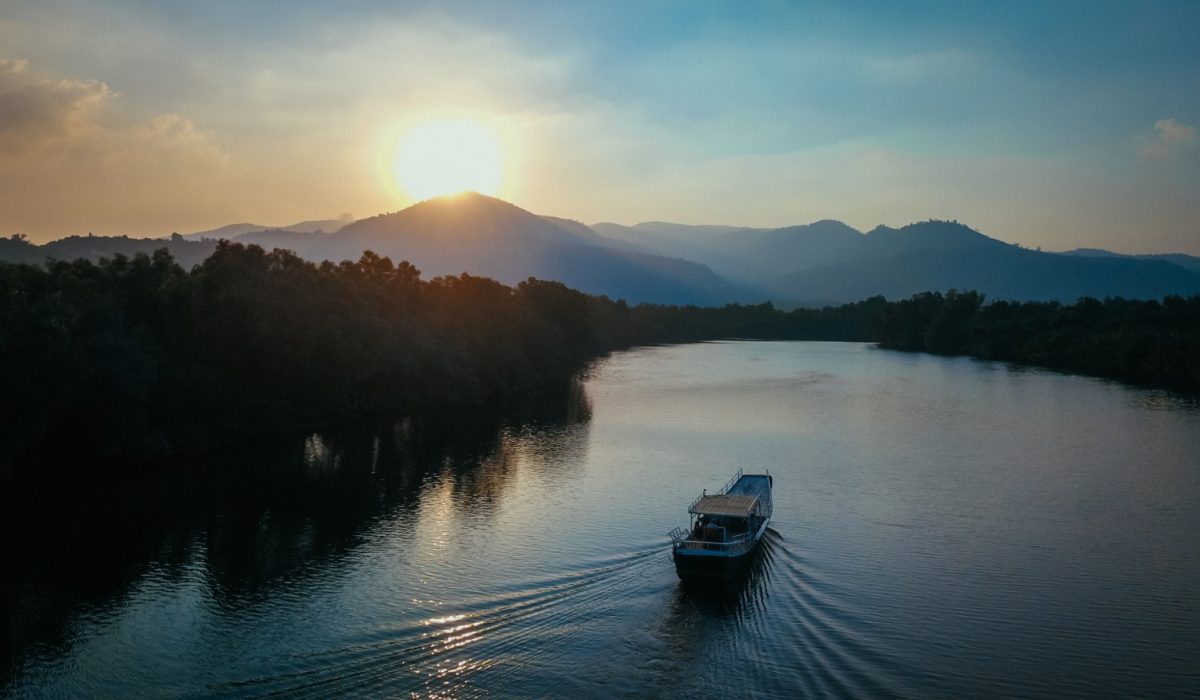 Cambodia is home to fascinating temples and interesting culture, not to mention it boasts some of the most beautiful Cambodian beaches. Perhaps Phnom Penh and Siem Reap are already on your bucket list, but there is also another place that you have to visit — Kampot, Cambodia!
Located in the southern part of Cambodia, Kampot used to be the country's premier port until the 1950s. Today, the city is still adorned with yellow colonial buildings. Some are turned into Chinese shophouses, while others are restored in its original beauty and became one of the city's gems. These remnants of bygone era add to the charming character of this sleepy city. Perhaps, this is also the reason why Kampot is gaining more popularity as a tourist hub in Asia.

Things to Know before your trip to Kampot, Cambodia
Cambodian Visa
You will need to apply for a 30-day visa to enter Cambodia. But don't fret because the process is very easy and swift. You can get it upon arrival at the airports of Siem Reap, Phnom Penh, or Preah Sihanouk. Or you can also get your Cambodian e-Visa for only US$36.
Best Time to Visit Kampot
From November to February, you will experience temperate sunshine and cool evening breezes in the entire country. It's usually during these months where tourists peak in Cambodia. Since Kampot is becoming a dense tourist area, even if it's in the countryside, it can get as crowded as other bigger cities during these months. So expect that the flight and hotel accommodations are more expensive during this time.
But for those who want to avoid the crowd, the best time to visit Kampot is in March. During this time, the crowd is starting to thin out. It's also starting to get warmer as it approaches the peak summer heat. But it is during this time where you can score great travel deals and enjoy more of the local scene.
Cambodian Currency
The official currency is Cambodian Riel (KHR), and US$1 is around KHR4,040. But US dollars is their unofficial currency. You will find a lot of establishments that use US dollars in their menus and quotations. Some even accept US dollars as payments. But in 2020, they are starting to do de-dollarization where US$1, US$2, and US$5 are no longer accepted in circulation. While if you pay with US$10, your change will be in Cambodian Riel.
So instead of getting lost in conversions, get a Cambodian Riel from the ATMs at the airport or at a local bank. You can also find money changers near gold sellers for your convenience. Paying with Cambodian Riel will not only make you feel like a local, but it can also serve as your souvenir once you get back to your own country.
Safety in Kampot, Cambodia
In general, Kampot, Cambodia, is a safe place for travelers. In fact, the locals are very welcoming to foreigners. But just like when you're traveling to other countries, be vigilant. Be cautious with your valuables. Be friendly with locals, but don't trust anyone too much. Don't walk or ride alone at night. Most of all, never touch artillery shells, mortars, and other war items that you see on the ground. Regardless if it looks worn out or safe, just don't touch them. There might still be remnants of war items that you might come across in your travels in Kampot. So to be safe, don't forget to get travel insurance before coming to Kampot or anywhere else in the world.
Where to Stay in Kampot, Cambodia
Budget: Two Moons Hotel
Rate per night: starts at US$16 for four people
Just 20 minutes away on foot from the Durian Roundabout, the Two Moons Hotel awaits. You can either choose to be in a wooden bungalow, traditional Khmer houses, or in the modern hotel rooms. Each room has a private patio that will allow guests to get an idyllic view of the river of Prek Kampong Kandal, as well as the outlines of the mountains. Some rooms are also equipped with large fans, while some are airconditioned. For your entertainment, you can also take a dip in the outdoor pool and dine at their in-house restaurant.
Also, since it's just near the city center, you also have easier access to most cafes and tourist destinations. With this, you can re-allocate your transportation budget to your activities because most tourist destinations can be accessed on foot.
Luxury: Amber Kampot by Pramana
Rate per night: starts at US$350 for two people
Set on the other side of the river of Prek Kampong Kandal, Amber Kampot by Pramana offers a luxurious villa. The villa boasts tropical interiors with its soothing earth-colored furniture pieces and lush greeneries outside your window. It also has a private pool, outdoor jacuzzi, and televisions with streaming services like Netflix to entertain you. The hotel also has a superb outdoor pool and a series of elegant restaurants that serve aromatic Cambodian flavors.
Although we understand that it will be challenging to leave your nook, the hotel is in an excellent location. It's just less than 15 minutes ride to the Durian Roundabout, which allows you to access all the city gems without leaving too early.
Day 1 in Kampot, Cambodia
Wake up to a hearty breakfast at your hotel. Amber Kampot by Pramana's room rate includes a continental breakfast to get you going through the day. While at Two Moons Hotel, you can avail of their hotel breakfast at US$5.
See Vintage Pieces at Kampothead
Start your Kampot, Cambodia, adventure by getting a glimpse of Cambodia's past in the vintage store in the Old Royal Cinema. Kampothead has an enormous collection of vintage pieces from entire Asia — from tin cans engraved with Khmer scripts to delicately painted Indian woodblocks, an ancient Hongkie electrical switchboard and a family photo from old Saigon. Apart from admiring these pieces, you can also jumpstart your vintage pieces collections by getting a good deal from the owner's wife, Sutee.
Walk along Kampot's Old Street
Kampot's Old Street is studded with colonial buildings turned Chinese shophouses. Although some buildings seem to have been dilapidated by time, you will still get a glimpse of its vibrant days. The street is lined with grocery stores, shops, restaurants and bars, as well as colonial or traditional accommodations.
Across these buildings, you will see the Kampot Provincial Park. This elongated park separates two streets of the bustling commercial area and it's also a great spot to appreciate the colonial edifice on both sides.
As you walk towards the river, you will see Kampot's Old Market. The old market is a sizable commercial complex with clothing shops, travel agencies, vehicle rentals, restaurants, electronic stores, and more. Then, by the river, you will spot the Old French Bridge atop the placid river.
Have Lunch at Rikitikitavi Restaurant & Bar
Set in a terrace surrounded by giant coconut trees overlooking the contours of the mountain, the Rikitikitavi Restaurant and Bar satisfies both your eyes and stomach. Together with their adept chefs, they take pride in bringing out the mouthwatering Cambodian flavors on international cuisines.
Rikitikitavi's main menu ranges from US$5.75 for a Kuree Krahom, a Cambodian red vegetable curry, to US$9.50 for a Saraman, a Khmer beef curry made with peanuts. Either you're coming for breakfast, lunch, snacks, or midnight snack, they have an array of options for you. Some of the dishes they serve are vegetarian wraps, Sait Ko Aang (Cambodian beef skewers), and Oma's apple pie. They also have coffee, tea, shakes, cocktails, and other liquors.
Admire the Architecture of the National Bank of Cambodia
Four minutes away on foot from Rikitikitavi Restaurant and Bar, you will find an amber yellow edifice with colonial architecture. The Kampot's National Bank of Cambodia is one of the city's historical sites. During the reign of the Khmer Rouge, a Cambodian communist group, they abolished Cambodian Riel and bombed the National Bank of Cambodia in Phnom Penh. Fortunately, the Kampot branch did not experience the same fate.
Today, the National Bank of Cambodia in Kampot boasts well-maintained coats and polished gates. However, it is fully operational as the city's bank, so you cannot enter freely. But if you want to take a snapshot of it, you can politely ask permission from the stationed security guards.
Learn about Cambodia's History at Kampot Provincial Museum
Featuring traditional arched windows and intricate antique lamps, Kampot Provincial Museum is another colonial edifice in the city. In its completely restored interior, you can see various collections that exhibit the rich thousand-years history of Kampot. This museum will walk you through from the pre-Angkorian period to the contemporary period via photos and archaeological pieces that will show you how Kampot, Cambodia, used to look like. The entrance costs US$2 per person and you can visit the museum on any day from 8 to 11 AM and 2 to 5 PM.
Pass by Durian Roundabout
Let everyone know that you're finally in Kampot by having a picture of the city's most iconic landmark, the Durian Roundabout. As the name suggests, huge Durian fruit is the centerpiece in this roundabout. This also serves as a remembrance of Kampot's prime years as the center of Durian production in the 1940s.
So, while you're here, don't forget to taste this infamous fruit. You might have heard a lot of horror stories about its terrible smell, but it's still considered the "king of the fruits" after all. But one thing is for sure, from fighting cancer, improving sleep, helping digestion and fertility, it has many health benefits that your body will thank you for.
Dine at the Kampot Night Market
For your last stop for the day, head to Kampot Night Market. Apart from the bargain bazaars, people also come here for the amusement park and cheap street food. There are various stalls that sell local food, like pineapple fried rice, fried noodles with beef, and shaved ice with fruits and cream.
Day 2 in Kampot, Cambodia
On Day 2, step out of Kampot and see more of its rural areas. You can spend your day in two ways. If you are short on time but want to see a lot of Cambodia, you can book a full-day tour with Cambotours. They offer a Full-Day Tour of the Countryside and the Rabbit Island. On this tour, you will be picked up at your hotel at around 8:30 AM. Then, you will head to Phnom Chnouk Cave (a pre-Angkorian temple cave), Pepper Farm, Kep Beach and Rabbit Island and, finally, Salt Field. In the tour fee, they already include transportations (bus and boat), lunch, and the entrance fee to the cave. This is highly recommended for those who want to be saved from the hassle of booking and reservation, and just freely enjoy the tour.
But if you want a more laid back getaway, you can just stay in Kep Beach for a few hours and enjoy a day like this:
Have an Early Breakfast at Epic Arts Cafe
At 7 AM head to Epic Arts Cafe for breakfast. Epic Arts is one of the sought-after restaurants in the city. They serve an all-day breakfast menu that has vegetarian, vegan, and gluten-free variants. But what sets this restaurant apart is that they give opportunities for the handicapped members of the society, hence this place is lauded as a disability-inclusive workplace.
While you're there, make sure to drop by the gallery on the second floor to purchase some of the pieces made by their students and other guest artists. A huge percentage of the proceeds helps fund the education of children with special needs in Kampot, as well as expand their reach to provide more disability-inclusive workplaces.

Take a Day trip to Kep Beach
Before the 1960s, Kep Beach was already a seaside destination. With its crescent-shaped coasts and fine sand beach, locals and tourists alike flock here for a quick getaway. However, during the wars, Kep beach was one of the heavily affected areas. In fact, you will see vintage shells and ruined villas around the area. But perhaps, these also add more character to the town that enticed more people to come by.
Normally, from Kampot, you can reach Kep Beach through a bus (US$3 per way), motorcycle taxi (US$4-6 per way), or a tuk-tuk (US$10 per way). The good thing about this is that you can haggle with the drivers and it will only take you around 40 minutes to an hour.
However, if you want a more scenic route. You can head to the riverside in front of Rikitikitavi Hotel and board the Crab Shuttle. They leave at 9 AM and arrive at Kep Beach at 11:20 AM. Then, they leave Kep Beach at 3 PM and arrive in Kampot before sunset. Also, it only costs US$10 per way and US$13.50 for a roundtrip ticket.
Enjoy Lunch at Kep Beach
One of Kep's upscale seafood restaurants, the Kimly Restaurant & Lodge gives you the freshest seafood dishes by the sea. They have an extensive menu of seafood variants that costs US$7 for a normal plate and US$10.50 for a larger plate for sharing. Some of the dishes are deep-fried crab in butter, crab Tom Yum soup, and fried crab, squid, and prawn with salt, lime, and chili. They also offer a variety of liquors to complete the celebratory mood.
Opt for a Fancy Lunch at The Sailing Club Restaurant
If you're looking for a fancier option to celebrate your first time in Kep, dine at The Sailing Club Restaurant instead. Set in a revived fisherman's cottage, this restaurant boasts a dining experience elevated by the idyllic view. Most of the dishes are of meat, seafood, and vegan variants of international cuisines made with the finest local ingredients. Their main menu ranges from US$8 for a vegan Pumpkin Tofu curry to US$22 for a Seafood Platter. Apart from these, they also have an extensive beverage list that includes non-alcoholic drinks and liquors.
Have Dinner at La Java Bleue Kampot
When you get back to Kampot at around 5 PM or 6 PM via Crab Shuttle, you can head to La Java Bleue Cafe & Bar for dinner. Located in a restored cream colonial building, this restaurant is one of the remarkable restaurants in the city. Aside from being a mid-range hotel that offers well-designed and cozy rooms, it also boasts lush plants and polished outdoor dining setting. It's definitely a perfect place to dine in from sunset to late at night. Primarily, they offer seafood dishes, vegetarian, and meat options with a fusion of French and Khmer cuisine. They also have an outstanding selection of international wine to seal your day.
Day 3 in Kampot, Cambodia
On your third day in Kampot, there is another place that you have to visit. It's quite far from the city but it's still a part of Kampot. Here, you will see more french colonial buildings as well as one of the two remarkable heritage parks in Cambodia.
Visit Bokor National Park
Bokor National Park is one of the two Cambodian ASEAN heritage parks. Located just an hour away from the city center, you can either take a minibus or ride a motorcycle to get to the park. Historically, it was constructed as a luxurious getaway from the Cambodian heat, but it was abandoned in the early 1900s. Today, tourists visit this park to see the eerie remnants of the colonial years of Cambodia. Some of the things you'll see in this park are the Black Palace, Lok Yeay Mao Monument, Temple of Five Boats, and an old Catholic church. You can also drop by the renovated lavish Bokor Hotel that now houses a monarchical-interior five-star hotel. Also, during the rainy season, you can see the majestic Povokvil Waterfalls.
There are various tour operators that will allow you to explore the park, some through a motorcycle tour (around US$20 per person) or a minibus tour (around US$13 per person). While a motorcycle tour gives you a more authentic local experience, tours on a minibus will include a sunset cruise at Kampong Bay River.
Cruise along the Kampong Bay River
If you join the minibus tour, you'll be given a voucher once you return to Kampot city center. This voucher will allow you to board the Vibola Boat at Kampong Bay River. But if you don't get a voucher but you still want to join the cruise. You can purchase your ticket from the vendors at the riverfront, near the Fish Market.
Docked on the riverfront, you will find these large and colorful boats waiting for you. Usually, these boats have a spacious two-story open-seating area. Also, most of the US$5 tickets already include a free beer or two. It starts cruising at 5 PM and sails until around 7 PM. On your way back, watch out for the small colorful fireflies that you'll see along the way.
Continue the night at bARACA
After taking a sip from the cruise, make sure to head to bARACA for their famous tapas partnered with some tangy gin. This cozy restaurant serves delectable tapas with a fusion of Asian and Mediterranean influences. They serve small plates of locally and internationally-picked ingredients. Their menu ranges from US$2 for a Hummus Pintxo to US$10 for a Mixed Plate.
Day 4 in Kampot, Cambodia
Make your last day more memorable by taking the time to relax and appreciate the laidback character of Kampot. Today, you will no longer take tours or walk around the streets. This time, you will just be relaxing and preparing for the long haul flight back home.
Join a Yoga class at Simple Things Cafe
Before having your sumptuous breakfast, stretch and relax at Simple Things Cafe first. On the cafe's second floor you will find a spacious and ventilated yoga studio. Their classes only cost US$5 and all levels are welcome. If you didn't bring your yoga mat, don't worry because they also provide them.
After your yoga practice, you can dine in at their bright and blissful cafe. Apart from the coffees and healthy smoothies, they also have the largest vegan and vegetarian menu in Kampot. Their menu ranges from US$3 for a Peanut Butter and Jam toast to US$5 for a bowl of Granola and Fruit.
Get a Massage at Jasmine Spa
Prep for your long haul flight by getting a relaxing massage at Jasmine Spa. Set in a traditional house on the other side of the river, Jasmine Spa offers professional massage services. Either your body is sore from sunburns or you just need to loosen those tight muscles, they have various choices for you.
Their massage services start at US$13 for an hour of hot oil massage that is suitable for mending fever. They also have Oil Herb Compress (US$18) for an hour and a half of massage that your tired muscles will thank you for.
After that relaxing massage, you're now ready for your flight back home.
Final Thoughts
As much as Kampot, Cambodia, appears to be a serene rural area, this sleepy city has its own charms that make it deserving to be on your must-visit places in Cambodia. It offers a lot of experiences and sites to see that you need to keep track of things you don't want to miss. Just like any other trip, planning ahead will always get you far.