Castles And Coastlines: Fun Day Trips From Cardiff, Wales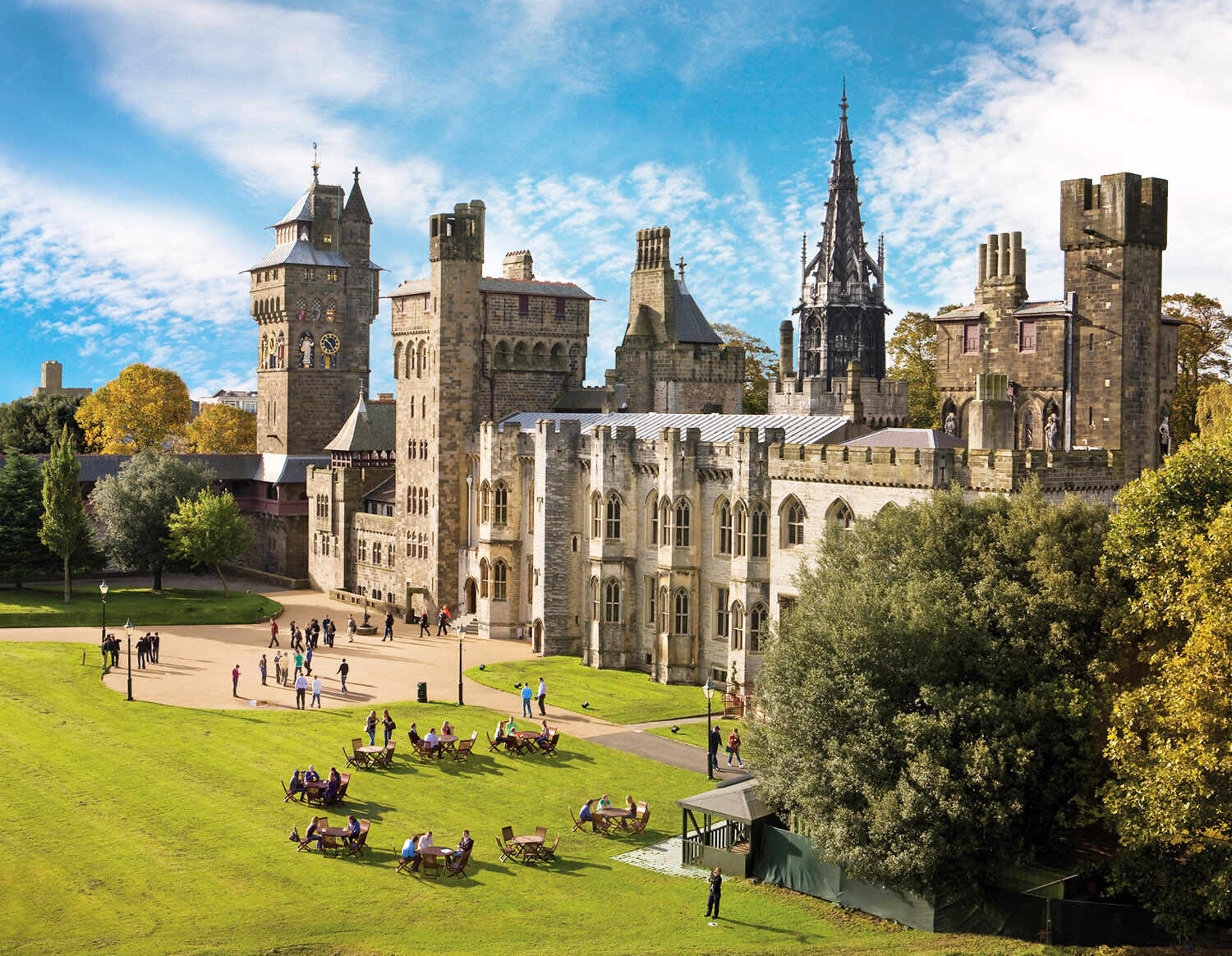 Introduction
Welcome to Cardiff, the capital city of Wales! Nestled on the southern coast of the country, Cardiff offers a perfect blend of rich history, stunning landscapes, and vibrant culture. While the city itself has plenty to offer, it also serves as an excellent base for exploring the surrounding areas, which are brimming with natural beauty, majestic castles, and picturesque coastlines.
From ancient fortresses to charming seaside towns, there are numerous day trips you can embark on from Cardiff to make the most of your Welsh adventure. Whether you're a history enthusiast, nature lover, or simply seeking a tranquil escape, there's something for everyone in the vicinity of Cardiff.
In this article, we'll take a closer look at some of the best day trips from Cardiff, highlighting the must-visit attractions and hidden gems that will leave you mesmerized. So, pack your bags, put on your walking shoes, and get ready to explore the fascinating wonders that Wales has to offer!
Caerphilly Castle
A visit to Caerphilly Castle is a journey back in time to the medieval era. Located just a short drive from Cardiff, this magnificent fortress is the largest castle in Wales and the second-largest in the entire United Kingdom. Built in the 13th century, Caerphilly Castle is a breathtaking example of defensive architecture, boasting towering walls, impressive towers, and a sprawling moat.
As you explore the castle grounds, you'll be awestruck by its sheer size and grandeur. Be sure to walk along the defensive walls for panoramic views of the surrounding countryside, and don't miss the Great Hall, where you can imagine the feasts and gatherings that once took place within its walls.
What sets Caerphilly Castle apart from others is its famous leaning tower. Known as the Leaning Tower of Pisa of Wales, this unique feature adds a touch of quirkiness to the castle's already captivating allure.
Caerphilly Castle frequently hosts special events and exhibitions, bringing its history to life through reenactments, medieval banquets, and interactive displays. It's a place that both history buffs and families can enjoy, with educational activities and guided tours available.
After exploring the castle, take a stroll through the charming town of Caerphilly, where you can grab a bite to eat at one of the local cafés and browse the shops for souvenirs. If your visit falls on a Saturday, be sure to check out the Caerphilly Farmers' Market for a taste of delicious local produce.
Caerphilly Castle is an unforgettable experience that allows you to immerse yourself in Welsh history and marvel at the impressive architectural feats of the past. It's a must-visit day trip from Cardiff that will leave you feeling awe-inspired and connected to the rich heritage of Wales.
Cardiff Bay
Located just a stone's throw away from the city center, Cardiff Bay is a vibrant waterfront district that offers a plethora of attractions and activities. Formerly the coal-exporting heart of the city, this area has undergone a remarkable transformation, becoming a hub of culture, entertainment, and relaxation.
One of the standout features of Cardiff Bay is its picturesque waterfront promenade. Take a leisurely stroll along the Bay Barrage, a sea defense system that spans across the mouth of the bay, and enjoy breathtaking views of the Bristol Channel. Stop by Mermaid Quay, a lively waterfront shopping and dining destination, where you can indulge in delicious cuisine at one of the many restaurants or cafes.
If you're interested in Welsh history and culture, don't miss the opportunity to explore the Wales Millennium Centre. This iconic arts venue is home to several performance spaces, where you can catch a variety of shows, including plays, musicals, and concerts. The exterior of the building, adorned with Welsh poetry, is a sight to behold.
For a dose of maritime history, visit the Norwegian Church, a historic building where famed writer Roald Dahl was once christened. Today, it serves as a cultural center, hosting various events and exhibitions throughout the year.
If you're traveling with family, the Cardiff Bay area has plenty to offer. Visit Techniquest, an interactive science center that will engage and entertain visitors of all ages with its hands-on exhibits. You can also hop aboard the Doctor Who Experience, where you can immerse yourself in the world of the famous British TV series and explore its iconic sets and props.
To enjoy the beauty of the bay from a different perspective, consider taking a boat tour. Cruises are available, providing an opportunity to learn about the history of the area and spot local wildlife.
With its vibrant atmosphere, stunning views, and diverse range of attractions, Cardiff Bay is a day trip destination that offers something for everyone. Whether you're interested in history, culture, or simply enjoying a relaxing day by the water, it's a must-visit spot that should not be missed during your visit to Cardiff.
St. Fagans National Museum of History
Immerse yourself in the living history of Wales at the St. Fagans National Museum of History. Located just outside of Cardiff, this open-air museum showcases the country's rich heritage through a collection of over 40 historic buildings, each one meticulously relocated from various parts of Wales.
As you wander through the museum's expansive grounds, you'll have the opportunity to explore buildings dating back centuries, including farmhouses, mills, chapels, and even a medieval castle. The museum brings these structures to life with costumed reenactors, who provide a glimpse into the past and share stories of the people who once inhabited these places.
One of the highlights of St. Fagans is the reconstructed Celtic village, where you can learn about Iron Age life and see traditional crafts being practiced. You can also visit the St. Fagans Castle, a grand manor house that offers a fascinating insight into the lives of the wealthy elite during the Victorian era.
Besides the historic buildings, the museum boasts beautiful gardens and parkland, perfect for a leisurely stroll and picnic. The surrounding woodland adds to the tranquility of the site, making it a peaceful retreat from the hustle and bustle of city life.
St. Fagans National Museum of History also hosts a variety of events and festivals throughout the year, from traditional music and dance performances to craft workshops and demonstrations. It's a place where you can truly immerse yourself in the culture and traditions of Wales.
Entrance to the museum is free, making it an accessible and affordable day trip option for visitors. Whether you're a history enthusiast, nature lover, or simply looking for a unique and educational experience, St. Fagans is a must-visit destination that will transport you back in time and leave you with a deeper appreciation for Welsh history and culture.
Brecon Beacons National Park
If you're a nature lover and enjoy outdoor adventures, a day trip to the Brecon Beacons National Park is an absolute must. Located just a short drive from Cardiff, this stunning national park offers breathtaking scenery, dramatic landscapes, and a wealth of outdoor activities.
The park is home to towering mountains, expansive moorlands, cascading waterfalls, and picturesque valleys. Whether you're an experienced hiker or just looking for a leisurely walk in nature, there are countless trails to explore, catering to all fitness levels and preferences. The summit of Pen y Fan, the highest peak in South Wales, offers spectacular panoramic views and is a popular challenge for avid hikers.
For those who prefer a more relaxing experience, pack a picnic and find a scenic spot along one of the many rivers or lakes within the park. You can unwind, soak in the tranquility, and admire the stunning natural beauty that surrounds you.
In addition to hiking and picnicking, the Brecon Beacons National Park is a paradise for outdoor enthusiasts of all kinds. You can go mountain biking along the numerous trails, horseback riding through the rolling hills, or even try your hand at rock climbing and abseiling on the park's rugged cliffs.
For history buffs, the park is dotted with ancient sites and landmarks, including ancient standing stones, hillforts, and the ruins of old castles. Don't miss the opportunity to visit Carreg Cennen Castle, perched on a limestone crag with panoramic views of the surrounding landscape.
Wildlife lovers will also be in for a treat, as the Brecon Beacons National Park is home to a diverse range of flora and fauna. Keep your eyes peeled for red kites, buzzards, and even the elusive peregrine falcon soaring overhead.
Before heading back to Cardiff, be sure to stop by one of the charming villages within the park, such as Brecon or Crickhowell, where you can find cozy pubs, quaint shops, and local crafts to take home as souvenirs.
A day trip to the Brecon Beacons National Park is a wonderful opportunity to connect with nature, rejuvenate your senses, and appreciate the raw beauty of the Welsh countryside. Whether you're seeking adventure or simply a peaceful escape, this national park has it all.
Barry Island
If you're looking for a classic seaside experience, look no further than Barry Island. Situated along the Bristol Channel, this charming destination is known for its beautiful sandy beaches, vibrant promenade, and nostalgic amusement park.
Barry Island has long been a popular holiday spot for locals and tourists alike, thanks to its picturesque coastline and fun-filled attractions. Take a stroll along the promenade, enjoy an ice cream cone, and breathe in the fresh sea air as you admire the stunning views.
The highlight of Barry Island is undoubtedly the Pleasure Park, an amusement park with a delightful mix of thrilling rides, family-friendly attractions, and classic fairground games. From roller coasters to carousels, there's something for everyone to enjoy. Don't forget to indulge in a traditional bag of fish and chips – a staple treat at any British seaside resort.
If you're a fan of the hit TV series Gavin and Stacey, you'll be excited to visit the iconic spots featured in the show. Take a photo at the Barry Island sign, stroll along Marco's, the fictional arcade, and reminisce about the hilarious and heartwarming moments from the series.
Barry Island isn't just about the beach and amusement park, though. If you're a nature lover, explore the stunning coastal paths that surround the area. From rugged cliffs to hidden coves, there's plenty to discover. Keep an eye out for seabirds and maybe even spot a seal basking in the sun.
For a bit of history, head to the Barry Island Railway Station, an Art Deco gem that has been beautifully preserved. It offers a glimpse into the past and is a testament to the island's rich railway heritage.
Whether you're seeking a fun-filled day at the amusement park, a relaxing stroll on the beach, or a trip down memory lane with Gavin and Stacey, Barry Island is a fantastic day trip option from Cardiff. It's a place where you can create lasting memories and experience the charm of a traditional British seaside holiday.
Penarth Pier
For a charming seaside escape just a short distance from Cardiff, head to Penarth Pier. This elegant Victorian pier is a true gem, offering stunning views of the Bristol Channel and a plethora of activities for visitors of all ages.
As you step onto Penarth Pier, you'll be transported back in time with its retro charm and vintage feel. Take a leisurely stroll along the wooden planks, breathe in the sea breeze, and soak in the panoramic vistas of the coastline.
At the end of the pier, you'll find a quaint pavilion that houses a café and restaurant. Enjoy a cup of tea or indulge in some delicious local seafood while overlooking the glistening waters. The pavilion also hosts live music events and art exhibitions, adding to the vibrant atmosphere of the pier.
If you're visiting with children, be sure to check out the Penarth Pier Pavilion Cinema. Situated within the pavilion, this small cinema screens a selection of independent and classic films, offering a unique and intimate movie-watching experience.
For those seeking a bit of nostalgia, take a ride on the Penarth Pier Tram. This restored electric tramcar dates back to the early 1900s and offers visitors a charming way to explore the length of the pier. It's a fun experience that adds to the vintage appeal of the location.
From Penarth Pier, you can also embark on a scenic coastal walk along the Wales Coast Path, which stretches for hundreds of miles. Enjoy stunning vistas, rugged cliffs, and hidden coves as you explore the natural beauty of the area.
After a leisurely stroll or an exciting tram ride, you can browse the boutique shops and independent galleries in Penarth town. From quirky clothing stores to contemporary art galleries, there's something for every taste.
Penarth Pier is not only a picturesque destination but also a place to unwind, relax, and rejuvenate. Whether you're looking for a romantic stroll along the pier, a fun-filled family day by the sea, or a peaceful escape from the city, Penarth Pier is the perfect spot for a memorable day trip.
Cardiff Castle
No visit to Cardiff would be complete without exploring the iconic Cardiff Castle. Situated in the heart of the city, this medieval fortress is a testament to the city's rich history and architectural grandeur.
The castle's origins date back to the 11th century, and over the centuries, it has undergone various transformations, resulting in a unique blend of architectural styles, from Romanesque to Gothic and Victorian. As you enter the castle grounds, you'll be immersed in a world of enchantment and wonder.
One of the most breathtaking features of Cardiff Castle is the stunning Clock Tower, which stands tall against the skyline. Ascend to the top for panoramic views of the city and the castle grounds, offering a unique perspective on both the historical and modern aspects of Cardiff.
Another highlight of the castle is the opulent interiors of the Main Keep and the magnificent Banqueting Hall. Marvel at the intricate craftsmanship, rich tapestries, and ornate ceilings as you step back in time and imagine the grandeur of medieval feasts and royal gatherings.
Be sure to explore the underground tunnels, known as the WWII Air Raid Shelter. Descend into the depths of the castle and discover what life was like for the citizens of Cardiff during World War II.
Beyond its historical significance, Cardiff Castle is also a hub of cultural events and performances. From outdoor concerts to theatre productions, there's always something happening within the castle walls. Check the castle's calendar to see if any events coincide with your visit.
After your castle explorations, take some time to relax in Bute Park, which surrounds the castle. This expansive parkland offers a peaceful respite from the hustle and bustle of the city, with lush greenery, meandering paths, and beautiful gardens to explore.
Whether you're a history enthusiast, an architecture lover, or simply seeking an immersive cultural experience, Cardiff Castle is a must-visit attraction that showcases the grandeur and heritage of the city. It's a place where the past comes alive, offering a glimpse into the fascinating history of Cardiff.
Porthcawl
If you're seeking a quintessential seaside town experience, look no further than Porthcawl. Located on the south coast of Wales, this charming town is a popular day trip destination from Cardiff, offering a delightful mix of sandy beaches, picturesque promenades, and traditional seaside attractions.
Porthcawl is renowned for its stunning beaches, which are perfect for sunbathing, building sandcastles, or taking a refreshing dip in the crystal-clear waters. Rest Bay and Trecco Bay are two of the most popular beaches in the area, catering to both families and water sports enthusiasts.
For the thrill-seekers, Porthcawl is a paradise for surfers, boasting some of the best waves in Wales. Whether you're a seasoned pro or a beginner looking to catch your first wave, there are surf schools and rental shops that can cater to your needs.
Stroll along the promenade, lined with colorful beach huts, and breathe in the fresh sea air as you take in the panoramic views of the Bristol Channel. Enjoy an ice cream cone, play classic arcade games, or try your luck on the traditional fairground rides that dot the coastline.
Porthcawl also offers plenty of opportunities for outdoor activities beyond the beach. Take a leisurely walk along the Wales Coast Path, which winds its way along the stunning coastline, providing breathtaking views of the rugged cliffs and beautiful landscapes.
If you're a golf enthusiast, Porthcawl boasts first-class golf courses. The Royal Porthcawl Golf Club is a championship golf club that has hosted numerous international tournaments.
For a taste of the town's maritime heritage, visit the Porthcawl Maritime Centre, where you can learn about the town's seafaring history and explore exhibits dedicated to the local fishing and lifeboat industries.
Porthcawl is also known for its lively events and festivals. The Porthcawl Elvis Festival, held annually in September, attracts fans from all over the world who come to celebrate the King of Rock 'n' Roll. The town also hosts various music and arts festivals throughout the year, showcasing local talent.
With its sandy beaches, captivating promenades, and nostalgic seaside charm, Porthcawl is a perfect day trip destination from Cardiff. Whether you're seeking relaxation, adventure, or a fun-filled day with the family, Porthcawl has something for everyone to enjoy.
Rhossili Bay
Prepare to be mesmerized by the breathtaking beauty of Rhossili Bay, located on the Gower Peninsula, just a short drive from Cardiff. Recognized as one of the most stunning beaches in the world, Rhossili Bay offers a picturesque coastal escape that will leave you in awe.
As you arrive at Rhossili Bay, you'll be greeted by a vast expanse of golden sand met by the crashing waves of the Atlantic Ocean. This three-mile-long stretch of beach is perfect for leisurely walks, picnics, and soaking up the sun. Whether you're looking to relax or take a dip in the sea, Rhossili Bay provides a serene setting that feels like a true coastal paradise.
One of the most iconic landmarks in the area is Worm's Head, a rocky outcrop that extends into the sea. During low tide, you can walk across the causeway to explore this unique land formation and witness its diverse wildlife and vibrant flora.
For those seeking adventure, Rhossili Bay is a haven for water sports enthusiasts. Try your hand at surfing, windsurfing, or kiteboarding in the invigorating Atlantic waves. Alternatively, take a guided sea kayaking tour to discover hidden coves and sea caves along the coast.
Don't miss the opportunity to hike the Rhossili Downs, which offer stunning panoramic views of the bay and surrounding countryside. Follow the coastal path to enjoy incredible vistas and witness the rugged natural beauty of the Gower Peninsula.
After exploring the beach and cliffs, take a moment to visit the quaint village of Rhossili. Discover charming cafes, traditional pubs, and local shops where you can find unique souvenirs and handmade crafts.
Rhossili Bay has also played a role in history, as evidenced by the remains of the Helvetia, a shipwreck that can still be seen on the beach. The village and bay were also inspiration for the poet Dylan Thomas, who spent time in the area and praised its beauty in his works.
Visiting Rhossili Bay is like stepping into a postcard-perfect scene. With its sweeping coastline, dramatic cliffs, and unspoiled natural beauty, it's no wonder that Rhossili Bay is a must-visit day trip destination from Cardiff.
Tintern Abbey
Step into the realm of medieval mystique with a visit to Tintern Abbey, located on the banks of the River Wye. This awe-inspiring Gothic ruin is a testament to the grandeur of the past and offers a captivating glimpse into Wales' rich history.
Tintern Abbey was founded in 1131 and is considered one of the greatest monastic ruins in Wales. As you approach the abbey, you'll be struck by its impressive stone arches, towering walls, and intricate carvings that have weathered the test of time.
As you explore the abbey's vast halls and tranquil cloisters, you can't help but feel a sense of reverence and awe. The intricate details of the architecture and the echo of history in the air transport you back to a time of monks, devotion, and spiritual contemplation.
Wander through the abbey's ruins and imagine the daily lives of the Cistercian monks who once called it home. Take a moment to pause in the beautiful, light-filled nave and appreciate the tranquil beauty that still remains amidst the crumbling stone.
The abbey's serene riverside setting adds to its enchanting ambiance. Take a stroll along the riverbank, admire the lush greenery that surrounds the abbey, and find a peaceful spot to sit and reflect on the beauty of the abbey and its surroundings.
Tintern Abbey has also been a source of inspiration for many artists and writers, including the renowned poet William Wordsworth, who penned his famous poem "Lines Written a Few Miles above Tintern Abbey" after an extended visit to the site.
For those interested in delving deeper into the abbey's history and significance, there is an on-site visitor center that provides informative displays and exhibits. The center offers insights into the daily life of the monks, the abbey's role in Welsh history, and the preservation efforts that have allowed visitors to experience its grandeur today.
A visit to Tintern Abbey is not just a trip to a historic site, but a journey into the past and an opportunity to connect with a rich heritage. It's a poignant reminder of the enduring power of architecture, spirituality, and the beauty that transcends the passage of time.
Conclusion
From exploring magnificent castles to basking in the beauty of coastal landscapes, the day trips from Cardiff offer a diverse range of experiences that will captivate and delight visitors. Whether you're seeking history, culture, outdoor adventures, or simply a peaceful escape, Wales has something for everyone.
Caerphilly Castle transports you back to the medieval era, with its grandeur and leaning tower, while Cardiff Bay offers a vibrant waterfront district filled with entertainment and cultural attractions. St. Fagans National Museum of History allows you to immerse yourself in Welsh heritage, showcasing historic buildings and bringing history to life.
The natural wonders of Brecon Beacons National Park and Rhossili Bay offer stunning landscapes, perfect for hiking, picnicking, and water sports. Barry Island brings nostalgia and traditional seaside fun, with its sandy beaches, amusement park, and coastal charm.
Penarth Pier combines elegance with coastal beauty, providing a tranquil spot for relaxation and scenic walks. And Tintern Abbey takes you on a journey into the past, with its Gothic ruins and serene riverside setting.
These day trips from Cardiff allow you to discover the captivating beauty, rich heritage, and diverse landscapes of Wales. Whether you're a history enthusiast, nature lover, or simply seeking new adventures, there's something for everyone to enjoy.
So, pack your bags, embark on these exciting day trips, and immerse yourself in the wonders of Wales. Whether you're a local or a visitor, these destinations will leave you with lasting memories and a deep appreciation for the beauty and history that Wales has to offer.