How To Stay At The Coolest Igloo In Zermatt, Switzerland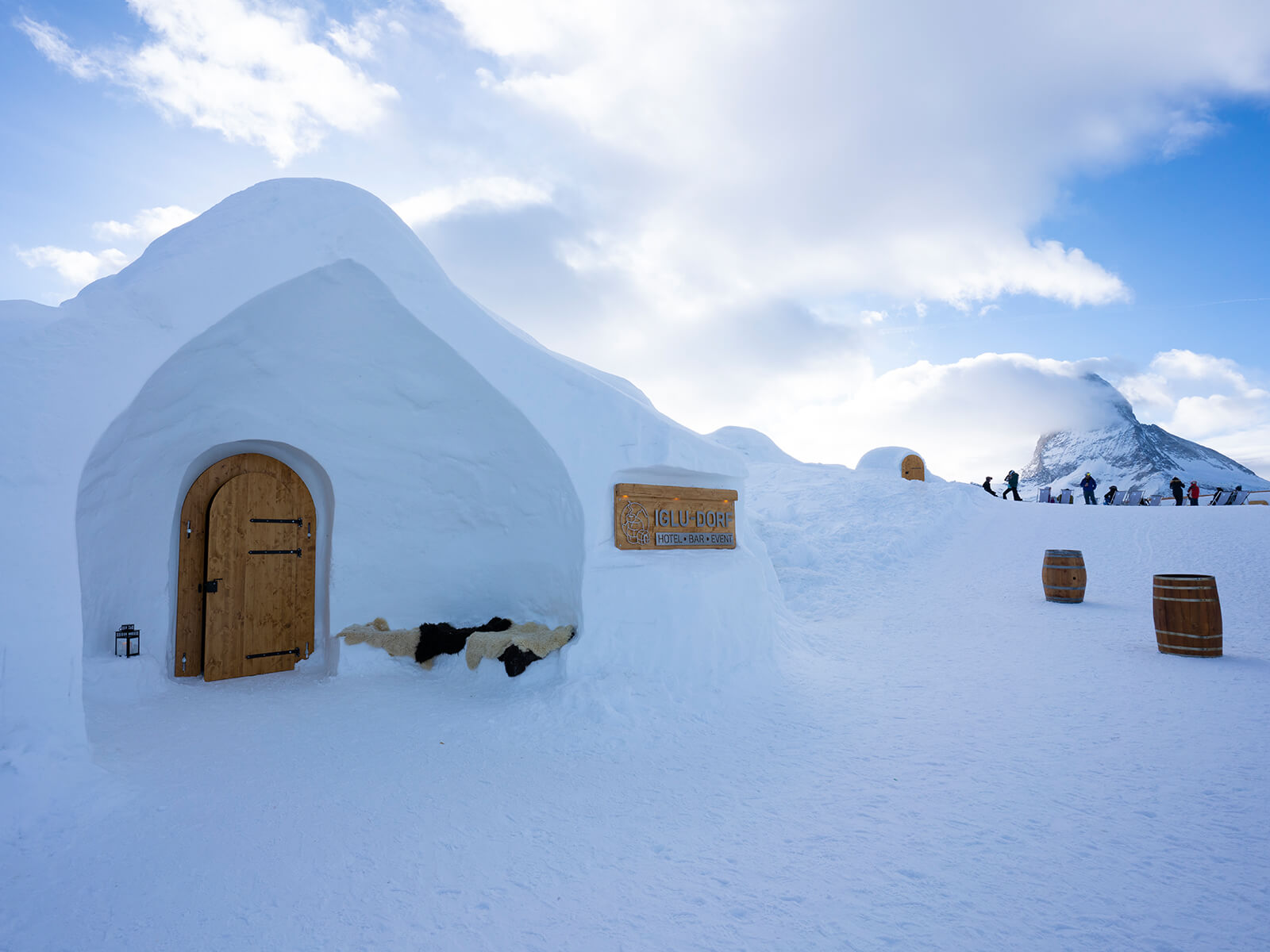 Introduction
Welcome to Zermatt, Switzerland, a picturesque alpine village nestled in the heart of the Swiss Alps. This charming destination is known for its breathtaking landscapes, charming chalets, and world-class ski resorts. But if you're looking for a truly unique and extraordinary experience, why not consider staying at the coolest igloo in Zermatt?
When most people think of igloos, they imagine freezing temperatures and basic accommodations. However, the coolest igloo in Zermatt offers a different kind of experience. Imagine snuggling up in a cozy igloo, surrounded by pristine snow-capped mountains, under a starry night sky. It's a once-in-a-lifetime opportunity to immerse yourself in the beauty of nature while enjoying modern comforts.
Whether you're a nature enthusiast, an adventure seeker, or simply seeking a romantic getaway, staying at the coolest igloo promises to be an unforgettable experience. From the moment you arrive, you'll be greeted by the magic and enchantment of this winter wonderland.
But how can you make sure you secure a reservation at the coolest igloo in Zermatt? What amenities and facilities can you expect during your stay? And what activities and attractions are there to explore in the surrounding area? In this article, we will delve into all the details you need to plan your perfect igloo adventure.
So, get ready to embark on a journey to the coolest igloo in Zermatt, where snowy dreams become a reality and memories are made that will last a lifetime.
Overview of Zermatt, Switzerland
Zermatt is a charming village located in the Swiss Alps, renowned for its breathtaking scenery and world-class skiing. Situated at the foot of the iconic Matterhorn, Zermatt attracts outdoor enthusiasts, nature lovers, and adventure seekers from all over the world.
One of the reasons Zermatt is so popular among travelers is its car-free environment. The village is only accessible by train, contributing to its tranquility and preserving its pristine natural beauty. As you wander through the cobblestone streets, you'll be greeted by traditional Swiss chalets, boutique shops, and delicious restaurants serving up delectable Swiss cuisine.
Of course, Zermatt's main allure lies in its alpine landscape. With over 360 kilometers of ski slopes, it is a paradise for skiers and snowboarders of all skill levels. The slopes cater to both beginners and advanced riders, ensuring everyone can savor the joy of gliding down the mountainside.
But Zermatt isn't just a winter destination; it offers something for every season. During the summer months, the mountains transform into a hiking and mountaineering paradise. Traverse the scenic trails, breathe in the fresh mountain air, and be rewarded with panoramic views that will take your breath away.
For those seeking an adrenaline rush, Zermatt offers a range of thrilling activities. Try paragliding over the snow-capped peaks, embark on a heli-skiing adventure, or test your skills at ice climbing. There's never a shortage of excitement in this alpine playground.
And when it's time to unwind, Zermatt doesn't disappoint. Indulge in a relaxing spa treatment, sip on a mulled wine by a roaring fireplace, or sample some of the finest Swiss chocolates at a local chocolatier.
With its stunning scenery, outdoor activities, and charming village charm, Zermatt truly is a destination that captivates the hearts of visitors year-round. And at the coolest igloo in Zermatt, you can immerse yourself in this magical setting and create memories that will last a lifetime.
The Coolest Igloo Experience
When it comes to staying at the coolest igloo in Zermatt, you can expect a truly one-of-a-kind experience that combines luxury and adventure. These extraordinary igloos are not your typical icy shelters; they are meticulously designed to provide comfort and style amidst the snowy wilderness.
Each igloo is constructed with precision and attention to detail, ensuring a cozy and warm atmosphere. Inside, you'll find a comfortable bed adorned with soft, plush bedding, offering a peaceful night's sleep after a day of exploring the Swiss Alps. The igloos are also equipped with heating systems to keep you warm, even in the coldest temperatures.
One of the highlights of staying at the coolest igloo is the opportunity to witness the mesmerizing starry night sky. As you lay in bed, you'll have a clear view of the celestial wonder above, unobstructed by city lights. It's a truly magical experience that will leave you in awe of nature's beauty.
Additionally, the igloos are equipped with large windows that provide breathtaking panoramic views of the surrounding mountains. Wake up to golden sunrises or watch the alpenglow paint the peaks in vibrant hues during sunset. The natural beauty that awaits you just outside your igloo is simply awe-inspiring.
But the coolest igloo experience goes beyond the comfortable accommodation. It offers a range of unique activities and experiences to enhance your stay. Venture out on a guided snowshoeing tour, go ice climbing on a frozen waterfall, or try your hand at dog sledding through snowy trails. These activities allow you to fully immerse yourself in the winter wonderland of Zermatt.
For those looking to relax and unwind, the coolest igloo also offers spa services. Indulge in a soothing massage or enjoy a rejuvenating hot tub session while surrounded by the tranquil beauty of the Alps. It's the perfect way to melt away the stresses of everyday life.
Whether you're seeking adventure or tranquility, the coolest igloo in Zermatt delivers an unforgettable experience. It combines the thrill of the outdoors with the comfort of modern amenities, allowing you to create memories that will last a lifetime.
Booking and Reservations
Booking a stay at the coolest igloo in Zermatt is a highly sought-after experience, so it's important to plan and make your reservations in advance. Here are some key details to help you secure your spot:
1. Research and Choose Your Dates: Start by researching the availability of the igloo and determining the dates that work best for your trip. Keep in mind that peak seasons, such as Christmas and New Year's, may have higher demand.
2. Contact the Igloo Provider: Reach out to the igloo provider directly to inquire about availability and make your reservation. They can provide you with specific details on pricing, availability, and any special packages or offers.
3. Consider Package Options: Some igloo accommodations offer package deals that include activities or meals. Consider these options to enhance your overall experience and make the most of your stay. It's worth exploring the various packages available to find the one that best suits your preferences.
4. Check Cancellation Policies: Understand the cancellation policies and any associated fees before finalizing your reservation. Circumstances may change, and it's always a good idea to have a clear understanding of the cancellation terms.
5. Secure Your Reservation: Once you have chosen your dates and confirmed availability, proceed with securing your reservation by providing the necessary details and making any required payment. Ensure that you receive a confirmation email or receipt for your records.
6. Finalize Travel Arrangements: With your igloo reservation secured, it's time to finalize your travel arrangements to Zermatt. Book your flights, train tickets, or arrange for transportation to ensure a smooth journey to your dream igloo getaway.
Remember, availability can be limited, especially during peak seasons, so it's advisable to book your igloo experience well in advance. By following these steps and planning ahead, you can guarantee a memorable and enchanting stay at the coolest igloo in Zermatt.
Igloo Amenities and Facilities
Contrary to popular belief, staying at the coolest igloo in Zermatt does not mean sacrificing comfort or modern amenities. These unique accommodations are designed to provide a cozy and luxurious experience amidst the snowy wilderness. Here are some of the amenities and facilities you can expect:
1. Comfortable Bedding: Inside the igloo, you'll find a comfortable bed adorned with soft, plush bedding. The cozy and warm environment ensures a good night's sleep, allowing you to wake up refreshed and ready to explore.
2. Heating Systems: The igloos are equipped with efficient heating systems to keep you warm and comfortable, even in the coldest temperatures. You can enjoy the beauty of the winter landscape without having to worry about feeling cold.
3. Ensuite Facilities: Some igloos may have ensuite bathrooms, providing you with the convenience and privacy of having a bathroom inside your accommodation. These facilities may include toilets, showers, and sinks.
4. Shared Facilities: In some cases, the coolest igloo experience may include access to shared facilities such as communal bathrooms, shower areas, and common areas. These spaces are typically well-maintained and designed with comfort in mind.
5. Outdoor Jacuzzis and Saunas: To truly relax and indulge, some igloo accommodations offer outdoor jacuzzis or saunas. Imagine soaking in a warm jacuzzi while surrounded by the snow-covered mountains or enjoying a sauna session to unwind after a day of adventure.
6. Dining Areas: Many igloo accommodations provide dedicated dining areas where you can enjoy your meals. These spaces are cozy and inviting, offering a unique atmosphere to savor your food while admiring the stunning views.
7. WiFi and Connectivity: While staying in the igloo, you can still stay connected with the outside world through WiFi access. This allows you to share your incredible experiences with friends and family or catch up on some work if needed.
It's important to note that the amenities and facilities offered may vary depending on the specific igloo accommodation you choose. Before making your reservation, it's recommended to inquire about the amenities and facilities that will be available during your stay.
Rest assured, the coolest igloo in Zermatt strives to provide a comfortable and unforgettable experience, offering modern amenities while immersing you in the unique beauty of the alpine landscape.
Activities and Experiences
When staying at the coolest igloo in Zermatt, you'll have a plethora of activities and experiences at your fingertips. From thrilling adventures to serene explorations, there is something for every type of traveler. Here are some of the activities and experiences you can enjoy during your stay:
1. Skiing and Snowboarding: Zermatt is famous for its world-class ski resorts, offering an extensive network of slopes for all skill levels. Whether you're a beginner or an experienced rider, hit the slopes and carve your way through the powdery snow, surrounded by stunning alpine scenery.
2. Snowshoeing and Winter Hiking: Explore the winter wonderland of Zermatt on foot with snowshoeing or winter hiking. Follow scenic trails that meander through snow-covered forests and open meadows, and immerse yourself in the peaceful serenity of the alpine landscape. Guided tours are available for those who want to learn more about the area's flora, fauna, and history.
3. Ice Climbing: For the more adventurous souls, Zermatt offers thrilling ice climbing experiences. Scale frozen waterfalls and icy cliffs under the guidance of experienced instructors. It's a unique and exhilarating activity that allows you to challenge yourself and admire the beauty of nature from a different perspective.
4. Heli-Skiing and Freeriding: Take your skiing or snowboarding experience to new heights with heli-skiing or freeriding. Board a helicopter and soar above the majestic peaks before being dropped off at untouched slopes. Enjoy the thrill of making fresh tracks in the powder, away from the crowds, and revel in the sense of freedom and adrenaline.
5. Dog Sledding: Embark on a magical dog sledding adventure through the snowy trails surrounding Zermatt. Let a team of enthusiastic and well-trained huskies take you on a breathtaking journey while you sit back and take in the stunning scenery. Feel the excitement and bond with the dogs as you glide over the snow-covered terrain.
6. Paragliding: Take to the skies and experience the thrill of paragliding in Zermatt. Soar above the picturesque landscape, taking in panoramic views of the snow-capped peaks and the quaint village below. It's an exhilarating activity that allows you to appreciate the beauty of the area from a bird's-eye perspective.
7. Spa and Wellness: After a day of adventure, unwind and rejuvenate in one of Zermatt's luxurious spas. Treat yourself to a soothing massage, relax in a hot tub with mountain views, or indulge in a sauna session to rejuvenate your body and mind.
These are just a few examples of the countless activities and experiences awaiting you during your stay at the coolest igloo in Zermatt. Whether you seek adrenaline-pumping adventures or serene moments in nature, there is no shortage of things to do in this captivating alpine destination.
Dining Options
When it comes to dining options at the coolest igloo in Zermatt, you can expect a range of culinary delights to satisfy your taste buds. From traditional Swiss fare to gourmet dining experiences, there is something to cater to every palate. Here are some dining options to consider during your stay:
1. On-Site Restaurants: Many igloo accommodations feature on-site restaurants that offer a variety of delectable dishes. Indulge in a gourmet meal prepared by talented chefs, showcasing the finest local and international ingredients. Enjoy a cozy and intimate dining experience while taking in the breathtaking views through panoramic windows.
2. Fondue Experiences: Switzerland is famous for its fondue, and Zermatt is no exception. Warm up with a traditional fondue experience, where you can dip bite-sized bread into melted Swiss cheeses or savor a fondue bourguignonne with tender meat cooked in bubbling oil. It's a fun and interactive dining experience that brings friends and family together.
3. Après-Ski Bars: After a day of skiing or snowboarding, unwind at one of Zermatt's lively après-ski bars. Sip on a well-deserved drink, mingle with fellow adventurers, and enjoy the lively atmosphere as you recount the day's adventures. These bars often offer a selection of drinks, snacks, and music to enhance the après-ski experience.
4. Mountain Restaurants: Take a break from the slopes and stop by one of Zermatt's charming mountain restaurants. These establishments offer a mix of Swiss and international cuisine along with mesmerizing views of the surrounding peaks. Savor hearty dishes such as rösti, mountain-style pasta, or traditional Swiss sausages while enjoying the alpine ambiance.
5. Traditional Swiss Cuisine: Indulge in the flavors of Switzerland by trying classic Swiss dishes in Zermatt's local restaurants. Sample raclette, a melted cheese dish served with boiled potatoes and pickles, or treat yourself to a hearty plate of Älplermagronen, a Swiss macaroni and cheese with potatoes, onions, and applesauce.
6. Private Dining Experiences: Some igloo accommodations offer the option of private dining experiences, allowing you to enjoy a romantic dinner for two or a special celebration in the privacy of your own igloo. Pamper your loved one with a candlelit dinner surrounded by the magic of the snowy landscape.
Throughout your igloo experience in Zermatt, you will have plenty of opportunities to savor the local flavors, indulge in Swiss delicacies, and enjoy memorable dining experiences. No matter your culinary preferences, Zermatt offers a range of dining options to satisfy your appetite and create unforgettable memories.
Nearby Attractions
While staying at the coolest igloo in Zermatt, you'll have access to a multitude of nearby attractions that are sure to enhance your experience. Here are some must-visit attractions to explore during your stay:
1. The Matterhorn: No visit to Zermatt is complete without marveling at the iconic Matterhorn, one of the most famous mountains in the world. Take a cable car or hike to the viewing platforms and witness the awe-inspiring beauty of this majestic peak up close. The Matterhorn dominates the landscape and offers breathtaking photo opportunities.
2. Gornergrat Railway: Hop aboard the Gornergrat Railway, one of the highest open-air cogwheel railways in Europe, and embark on a scenic journey to the Gornergrat summit. As you ascend, you'll be treated to stunning views of the surrounding peaks, glaciers, and the Matterhorn. Once at the top, you can enjoy panoramic vistas and indulge in a meal at the restaurant.
3. Glacier Paradise: Venture into the Glacier Paradise, located on the Klein Matterhorn. This magnificent glacier palace offers a fascinating insight into the world of ice. Explore ice sculptures, walk through ice tunnels, and discover the wonders of this frozen wonderland. Don't forget to take in the breathtaking views from the observation deck.
4. The Sunnegga Paradise: Immerse yourself in the beauty of the Sunnegga Paradise, a mountain area offering stunning scenery and numerous activities. Take the Sunnegga funicular and enjoy a leisurely hike, visit the lake, or take a dip in the refreshing water during the warmer months. Sunbathe on the sun terrace and take in the 360-degree views of the surrounding peaks.
5. Zermatt Village: Don't miss the opportunity to explore the charming village of Zermatt itself. Stroll through the car-free streets, visit the local shops selling Swiss watches and chocolates, and admire the traditional Swiss-style architecture. Sit at a café, soak in the alpine atmosphere, and watch the world go by.
6. Alpine Museums: For those interested in the history and culture of the region, there are several museums to visit. The Matterhorn Museum provides insights into the history of Zermatt and its relationship with the Matterhorn. The Zermatlantis Museum showcases the natural and cultural heritage of the region through exhibits and interactive displays.
7. Hiking and Nature Trails: Zermatt is a paradise for hikers, offering a vast network of trails that cater to all levels of fitness and experience. Embark on a hike to beautiful alpine lakes, through wildflower-filled meadows, or up to panoramic viewpoints. Enjoy the tranquility of nature and the stunning scenery that surrounds you.
These attractions are just a glimpse of what Zermatt and its surrounding area have to offer. Whether you're seeking natural wonders, cultural experiences, or thrilling adventures, there is no shortage of nearby attractions to explore during your stay at the coolest igloo in Zermatt.
Tips for Staying at the Coolest Igloo
Staying at the coolest igloo in Zermatt is a unique and enchanting experience. To make the most of your stay, here are some helpful tips to ensure a memorable and comfortable igloo adventure:
1. Dress in Layers: The temperatures can vary greatly in the mountains, so layering your clothing is essential. Start with a moisture-wicking base layer, add a warm mid-layer, and top it off with a waterproof and insulated outer layer. This way, you can easily adjust your clothing to stay comfortable throughout the day.
2. Don't Forget the Essentials: Bring items such as a hat, gloves, warm socks, and a good pair of snow boots. Additionally, pack sunscreen, lip balm, and sunglasses to protect yourself from the strong mountain sun. It's also useful to have a small backpack to carry any necessary items during your outdoor activities.
3. Embrace the Adventure: Staying in an igloo is a unique experience, so embrace the adventure and immerse yourself in the snowy wilderness. Take the opportunity to try new activities, such as snowshoeing or ice climbing, to fully appreciate the beauty of the surrounding nature.
4. Capture the Memories: Don't forget to bring a camera or smartphone to capture the breathtaking landscapes and magical moments. The igloo environment offers incredible photo opportunities, so make sure to preserve the memories of your unforgettable stay.
5. Prepare for Altitude: Zermatt is located at high elevation, so it's important to acclimate to the altitude. Stay hydrated, take it easy during the first few days to allow your body to adjust, and avoid excessive alcohol consumption. If necessary, consult with your healthcare provider before traveling to ensure a smooth transition to the mountain environment.
6. Plan Ahead for Meals: Check the dining options available at your igloo accommodation and plan your meals accordingly. Some accommodations may have on-site restaurants, while others may require you to venture out to nearby restaurants. It's also a good idea to book reservations in advance, especially during peak seasons, to secure your preferred dining experiences.
7. Respect the Environment: When staying in the midst of pristine nature, it's important to respect and preserve the environment. Follow the Leave No Trace principles, dispose of waste responsibly, and avoid disturbing the local wildlife. Let's all play a role in preserving the beauty of Zermatt for future generations to enjoy.
By following these tips, you can make the most of your stay at the coolest igloo in Zermatt. Prepare for the unique climate, embrace the adventure, and cherish the magical moments in one of the world's most breathtaking alpine destinations.
Conclusion
Staying at the coolest igloo in Zermatt is an extraordinary and unforgettable experience that combines luxury, adventure, and natural beauty. Nestled in the heart of the Swiss Alps, Zermatt offers a picturesque alpine setting that captivates the hearts of travelers from around the world.
From the moment you arrive, you'll be immersed in a winter wonderland. The igloos, designed with comfort and style in mind, provide a cozy and warm refuge amidst the snowy landscape. Snuggle up in a comfortable bed, gaze at the starry night sky, and wake up to panoramic views of snow-capped mountains. It's a true escape from the ordinary.
Zermatt offers an array of activities and experiences for every type of traveler. Hit the slopes for exhilarating skiing or snowboarding adventures, explore the tranquil winter trails on snowshoes, or venture into the frozen world of ice climbing. You can indulge in spa treatments, dine on gourmet cuisine, or simply bask in the beauty of nature.
But Zermatt is not just about the igloo experience. The village itself is a charming and enchanting destination, with its traditional Swiss chalets, inviting restaurants, and delightful shops. Take in the views of the iconic Matterhorn, ride the Gornergrat Railway to panoramic viewpoints, or explore the nearby attractions that showcase the region's rich history and culture.
As you plan your trip to the coolest igloo in Zermatt, remember to book your reservation in advance, pack appropriately for the alpine climate, and embrace the adventure that awaits you. Capture the memories and cherish the moments spent in this magical winter paradise.
In conclusion, allow yourself to be captivated by the beauty of Zermatt, Switzerland, and indulge in the extraordinary experience of staying at the coolest igloo. It's a journey that will awaken your senses, leave you with lasting memories, and ignite a deep appreciation for the wonders of nature.