Port Of Kotor Cruise Guide, Montenegro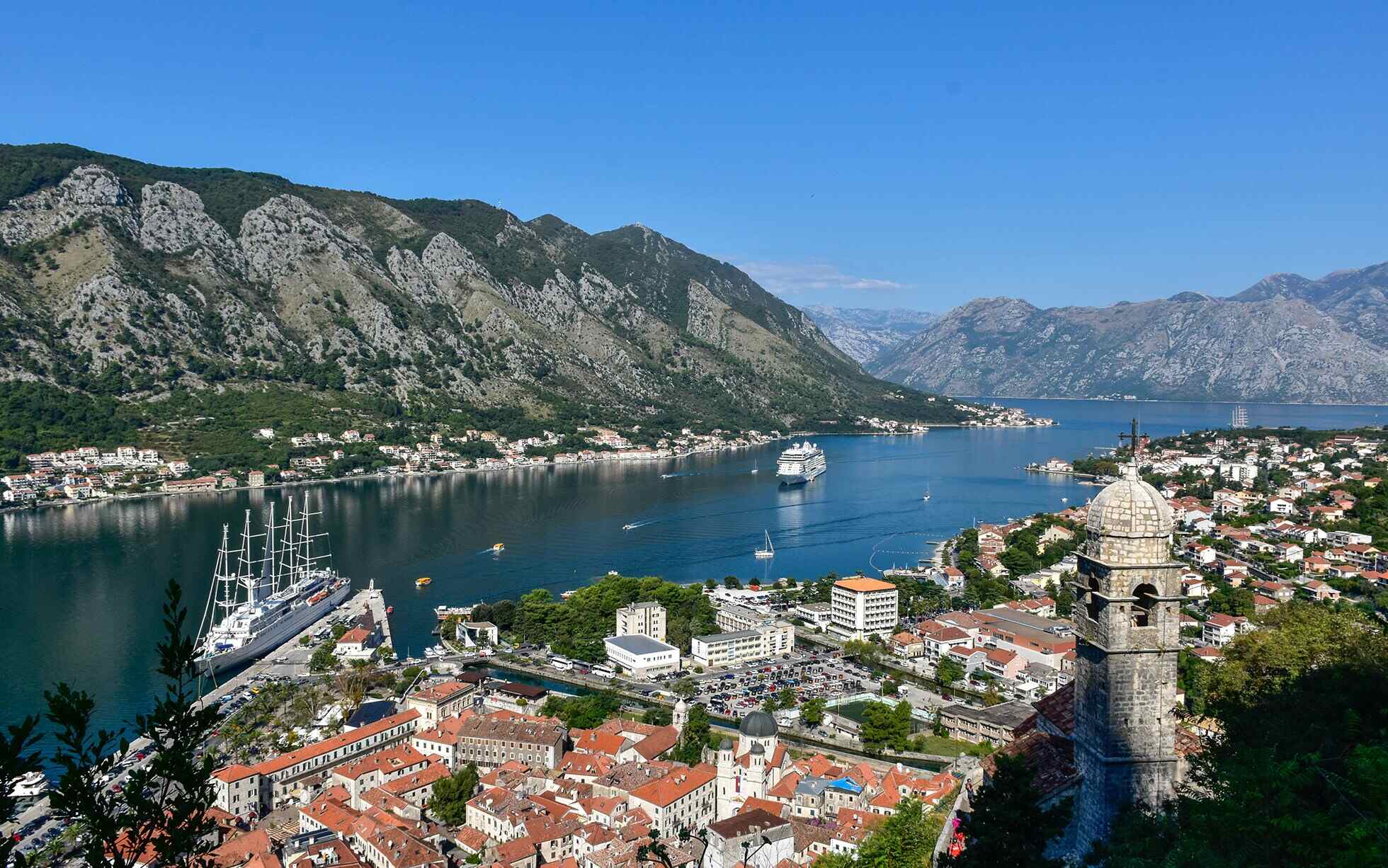 Overview of Port of Kotor
The Port of Kotor, located in Montenegro, is a hidden gem nestled between towering mountains and the shimmering waters of the Adriatic Sea. Known for its picturesque beauty and rich history, it has become a popular destination for cruise ships and travelers seeking a unique and authentic experience.
Kotor itself is a medieval town, characterized by its well-preserved city walls, cobblestone streets, and historic buildings. The Old Town, a UNESCO World Heritage site, is a maze of narrow alleyways, charming squares, and impressive architecture, offering visitors a glimpse into the town's fascinating past.
Arriving at the Port of Kotor, you'll be greeted by breathtaking views of the surrounding fjords, creating a sense of tranquility and natural beauty. The port is small but bustling, with ships docking just steps away from the heart of the Old Town, making it convenient for travelers to explore and immerse themselves in the local culture.
With its strategic location on the Adriatic coast, the Port of Kotor has been an important trading hub for centuries. Today, it serves as a gateway to Montenegro's stunning landscapes, charming coastal towns, and vibrant cultural heritage.
Whether you're a history buff, nature lover, or simply looking for a relaxing escape, the Port of Kotor offers a diverse range of activities and attractions to suit every interest. From exploring ancient fortresses and hiking through scenic trails to savoring delicious local cuisine and soaking up the Mediterranean sun, there is something for everyone.
As you navigate this article, we will guide you through the various aspects of the Port of Kotor, including tips on getting to the port, an overview of the cruise lines that visit, and suggestions on how to make the most of your time during your visit. So sit back, relax, and let us take you on a virtual journey to this hidden gem of the Adriatic.
Getting to the Port of Kotor
Getting to the Port of Kotor is a straightforward process, whether you are arriving by air, land, or sea. The region's main international airport, Tivat Airport, is located just a short distance away, making it a convenient option for travelers flying in from different parts of Europe.
If you prefer to travel by road, the Montenegrin coastline is well-connected to neighboring countries, with good road infrastructure and easily accessible highways. You can choose to rent a car or take a bus from major cities such as Dubrovnik or Podgorica, and enjoy the scenic drive along the breathtaking coastline to reach the port.
For those opting for a cruise experience, many major cruise lines include the Port of Kotor in their Mediterranean itineraries. Cruises often depart from popular ports like Venice, Rome, and Barcelona, allowing you to combine your visit to Kotor with other iconic destinations in the Mediterranean.
Once you arrive at the port, you'll find that it is conveniently located within walking distance of the Old Town of Kotor. The compact size of the port means that you won't have to worry about long transfer times or relying on transportation to explore the charming streets and landmarks of the town.
Additionally, the port offers various transportation options for those looking to venture further afield. Taxis and private transfers are readily available for day trips to nearby attractions like the beautiful Bay of Kotor or the stunning Lovcen National Park.
Overall, getting to the Port of Kotor is a seamless process, whether you are arriving by air, land, or sea. The well-connected transportation networks and close proximity to popular tourist areas make it a convenient and accessible destination for travelers from all over the world.
Cruise Lines at Port of Kotor
The Port of Kotor has become an increasingly popular destination for cruise ships, attracting visitors from all over the world. Numerous cruise lines include Kotor in their itineraries, allowing passengers to experience the beauty and charm of this historic town.
Among the major cruise lines that visit the Port of Kotor are MSC Cruises, Royal Caribbean, Norwegian Cruise Line, and Celebrity Cruises. These cruise lines often feature Kotor as part of their Mediterranean or Adriatic itineraries, allowing passengers to explore multiple destinations in the region.
MSC Cruises, a renowned Italian cruise line, offers a variety of itineraries that include Kotor. Passengers can disembark at the Port of Kotor and explore the town's medieval architecture, visit historic landmarks such as St. Tryphon's Cathedral, or take a leisurely stroll along the ancient city walls.
Royal Caribbean, another popular cruise line, includes Kotor as a stop on their Mediterranean cruises. Passengers can embark on shore excursions to discover the stunning Boka Bay, visit the UNESCO-listed town of Perast, or take a scenic drive to the top of Lovcen National Park for breathtaking views of the surrounding area.
Norwegian Cruise Line also features Kotor in its itineraries, offering passengers the opportunity to immerse themselves in the town's rich culture and history. From wandering through the charming streets of the Old Town to exploring the nearby coastal towns and picturesque landscapes, there is no shortage of activities to enjoy.
Celebrity Cruises, known for its luxurious and immersive experiences, allows passengers to experience Kotor in style. The port's close proximity to the Old Town makes it convenient for passengers to explore the town's many attractions, including the Maritime Museum or the Church of St. Luke.
These cruise lines, among others, make the Port of Kotor a highlight of their itineraries, recognizing the beauty and cultural significance it offers. Whether you prefer a large cruise ship or a more intimate luxury vessel, there are plenty of options to choose from when planning your visit to the Port of Kotor.
Port Facilities and Services
The Port of Kotor is equipped with a variety of facilities and services to ensure a comfortable and enjoyable experience for cruise passengers. Despite its small size, the port offers several amenities and conveniences to cater to the needs of visitors.
Upon arrival, passengers will find a well-organized and efficient disembarkation process. The port features a modern terminal building with facilities such as customs and immigration services, baggage handling, and information desks. Friendly staff members are also available to provide assistance and answer any queries.
For those who require transportation, there is a taxi rank conveniently located just outside the terminal building. Taxis are readily available to take passengers to their desired destinations, whether it be to explore Kotor's Old Town or embark on a shore excursion to nearby attractions.
In terms of passenger amenities, the Port of Kotor has a range of shops and boutiques offering local products, souvenirs, and essentials. You can browse through shops to find unique Montenegrin handicrafts, traditional textiles, or even a bottle of local wine to take home as a memento.
When it comes to dining options, the port offers a selection of cafes and restaurants where you can indulge in local cuisine or grab a quick bite to eat. From sampling fresh seafood to savoring traditional Montenegrin delicacies, there are plenty of culinary delights to satisfy your taste buds.
For those looking to access the internet or stay connected with loved ones, Wi-Fi is available within the port area. This allows passengers to share their memorable moments and keep up with their online needs while exploring the captivating town of Kotor.
Furthermore, the port is renowned for its strict safety and security measures to ensure the well-being of all visitors. From well-trained security personnel to comprehensive surveillance systems, the Port of Kotor prioritizes the safety and comfort of its passengers, providing peace of mind while exploring the town and its surroundings.
Overall, the Port of Kotor is well-equipped with necessary facilities and services to enhance the cruise experience for passengers. Its efficient operations, convenient terminal facilities, and a range of amenities make it a welcoming and comfortable port of call for travelers visiting this charming corner of Montenegro.
Exploring Kotor Old Town
One of the main highlights of visiting the Port of Kotor is the opportunity to explore the enchanting Kotor Old Town. Stepping into this UNESCO World Heritage site is like stepping back in time, as you wander through its narrow alleys, admire its well-preserved medieval architecture, and soak up its unique atmosphere.
Kotor Old Town is a maze of winding streets and picturesque squares, surrounded by ancient city walls that provide panoramic views of the town and its breathtaking surroundings. As you explore the town on foot, you'll come across historic landmarks such as St. Tryphon's Cathedral, a stunning Romanesque church that dates back to the 12th century.
The town's charming squares, like the main square of Trg od Oružja, are great places to take a break and soak in the local ambiance. Here, you can relax at one of the outdoor cafes, indulge in some people-watching, or simply admire the well-preserved facades of the surrounding buildings.
One of the most iconic features of Kotor is its ancient city walls. Embarking on a hike up to the walls is a must-do activity, as it rewards you with breathtaking views of the town and the picturesque Bay of Kotor. The climb to the top may be challenging, but the views are well worth the effort.
As you wander through the streets, you will discover an array of shops, boutiques, and art galleries, where you can find unique souvenirs, traditional handcrafted items, and local artworks. Whether you're looking for a memento to take home or simply enjoy browsing through unique creations, Kotor Old Town offers plenty of shopping opportunities.
Food lovers will also find themselves spoiled for choice in Kotor Old Town. The town is dotted with restaurants, cafes, and bakeries, offering a variety of local and international cuisines. Don't miss the chance to try traditional Montenegrin dishes such as cevapi (grilled minced meat) or seafood delicacies sourced directly from the Adriatic.
To delve deeper into Kotor's rich cultural heritage, take the time to visit the Maritime Museum, housed in the impressive Grgurina Palace. The museum showcases the maritime history of the region, displaying artifacts, models of ships, and exhibits on the town's role as a trading hub throughout history.
Whether you choose to explore the narrow streets, hike up to the city walls, indulge in local cuisine, or immerse yourself in the town's history, Kotor Old Town offers a captivating experience that will leave you with lasting memories of this remarkable place.
Optional Shore Excursions
While exploring the captivating town of Kotor is a must-do, the Port of Kotor also serves as a gateway to several exciting shore excursions that allow you to further explore the beauty and cultural richness of Montenegro.
One popular option is to take a boat tour of the stunning Bay of Kotor, often referred to as Boka Bay. This fjord-like bay is surrounded by dramatic mountains and dotted with charming coastal towns. A boat tour allows you to admire the breathtaking landscapes, visit picturesque villages like Perast, with its famous Our Lady of the Rocks islet, and even take a refreshing swim in the crystal-clear waters.
If you're a nature enthusiast, a trip to the nearby Lovcen National Park is highly recommended. This national park encompasses rugged mountain peaks, dense forests, and magnificent viewpoints. A visit to the Njegos Mausoleum, located at the summit of Mount Lovcen, offers panoramic views of the surrounding area and the chance to learn about the life and legacy of Montenegro's renowned poet and philosopher, Petar II Petrovic-Njegos.
For those seeking more adventure, a hike along the Vrmac Ridge provides an exhilarating experience. This trail offers panoramic views of the Bay of Kotor and the Adriatic Sea, as you trek through scenic landscapes and enjoy the tranquility of nature.
If you're interested in history and medieval architecture, a visit to the fortified town of Budva is a great choice. Budva, known as the "Montenegrin Miami," offers a mix of history and seaside charm with its narrow streets, Venetian walls, and beautiful beaches.
If time allows, you may also consider a day trip to the enchanting Skadar Lake National Park, known for its diverse ecosystem and picturesque landscapes. Here, you can take a boat ride along the lake, spot unique bird species, and visit ancient monasteries nestled in peaceful surroundings.
These are just a few examples of the optional shore excursions available from the Port of Kotor. Whether you're interested in nature, history, or simply exploring the stunning landscapes of Montenegro, there are plenty of options to choose from to make your visit even more memorable.
Best Local Cuisine and Restaurants
When visiting the Port of Kotor, one thing you absolutely cannot miss is the opportunity to indulge in the delicious local cuisine. Montenegrin food is known for its rich flavors, fresh ingredients, and influences from neighboring countries. From hearty meat dishes to delectable seafood, there is something to satisfy every palate.
For a true gastronomic experience, be sure to try traditional Montenegrin specialties such as cevapi, a dish of grilled minced meat served with traditional bread and onions. Another must-try is Njeguski prsut, a smoked cured ham that is a true delicacy. Pair these dishes with locally produced cheeses, such as Njegusi cheese, for a delightful combination of flavors.
Seafood lovers will find themselves in paradise when dining in Kotor. Fresh fish and seafood are abundant in the region, with dishes like grilled or roasted fish, calamari, and black risotto being popular choices. These dishes are often accompanied by a glass of local white wine, such as Vranac or Krstac, for a complete sensory experience.
When it comes to restaurants in Kotor, there are numerous options to choose from, ranging from cozy family-run eateries to upscale establishments. Don't be afraid to venture off the beaten path and explore the narrow streets of the Old Town to discover hidden gems.
One highly recommended restaurant is Konoba Scala Santa, located just outside the city walls. This charming restaurant offers a traditional Montenegrin dining experience with a menu featuring dishes made with locally sourced ingredients.
Another popular choice is Tanjga restaurant, which boasts a picturesque location right on the waterfront. Here, you can savor delicious seafood dishes while enjoying beautiful views of the bay and the passing boats.
For a combination of mouthwatering food and stunning ambiance, visit Galion Restaurant. It is situated within a historic fort overlooking the bay, providing a unique dining experience that perfectly complements the delicious Mediterranean cuisine served here.
When dining in Kotor, be sure to also indulge in the local pastries and desserts. Try the traditional desserts such as Krempita, a creamy custard slice, and Palačinke, thin pancakes filled with various sweet or savory fillings.
Whether you're in search of authentic Montenegrin cuisine or interested in tasting a variety of Mediterranean flavors, Kotor offers an array of dining options that will leave you satisfied and eager to explore more of the local culinary delights.
Shopping at Port of Kotor
Shopping at the Port of Kotor is a delightful experience, offering visitors the opportunity to find unique souvenirs, local crafts, and traditional products. The narrow streets of Kotor Old Town are lined with a variety of shops, boutiques, and market stalls, providing ample opportunities to discover a treasure to take home.
One of the most popular items to purchase in Kotor is the traditional Montenegrin handicrafts. These include handwoven textiles, embroidered clothing, and intricate lacework. You can find these beautiful creations in small boutiques and market stalls, allowing you to bring a piece of Montenegrin craftsmanship home with you.
Ceramics and pottery are also popular choices among visitors. Look out for intricately painted plates, bowls, and vases that showcase the region's unique artistic style. With their vibrant colors and traditional motifs, these pieces make for eye-catching and meaningful souvenirs.
Food enthusiasts will enjoy exploring the local markets where you can find a variety of Montenegrin delicacies. Visit the Green Market in Kotor, located just outside the Old Town walls, to sample and purchase fresh fruits, vegetables, olives, cheeses, and honey. These local products make for delicious gifts or a tasty reminder of your time in Montenegro.
Don't forget to browse the boutique wine shops, where you can find bottles of local wines produced in the surrounding vineyards. Montenegro is known for its excellent wine production, and a bottle of Vranac or Krstac makes for a perfect souvenir or a delightful addition to your own wine collection.
If you're looking for unique fashion pieces, Kotor offers a few clothing boutiques that feature local designers. These boutiques showcase stylish garments and accessories inspired by Montenegrin culture, blending traditional elements with contemporary designs.
When shopping in Kotor, it's important to remember that the Old Town is a pedestrian-only area, so you can explore at your own pace without worrying about traffic. Take your time to appreciate the charm of the narrow streets, enjoy the local ambiance, and discover hidden gems along the way.
With its wide range of shopping opportunities, from traditional handicrafts to local food products and fashion items, the Port of Kotor offers a delightful shopping experience for visitors seeking unique souvenirs and gifts.
Local Customs and Etiquette
When visiting the Port of Kotor and the surrounding areas in Montenegro, it's important to be mindful of the local customs and etiquette to ensure a respectful and enjoyable experience. Understanding and embracing the local culture will enhance your interactions with the people and help you navigate the destination more smoothly.
Greetings: Montenegrins typically greet each other with a handshake, accompanied by direct eye contact and a warm smile. When meeting someone for the first time, it is customary to address them using their title and last name, followed by "gospodin" (Mr.) or "gospoda" (Mrs.) to show respect.
Dress Code: While the Port of Kotor and its surrounding areas are generally relaxed when it comes to dress code, it's advisable to dress modestly when visiting religious sites or more formal establishments. Both men and women should cover their shoulders and avoid wearing revealing clothing in such places.
Punctuality and Respect: It is considered polite to be punctual for appointments and meetings, as it shows respect for the other person's time. It's also important to be courteous and polite when interacting with locals, using "molim" (please) and "hvala" (thank you) to express gratitude.
Table Manners: When dining in Montenegro, it is customary to wait for the host to start eating before you begin. It is also considered polite to keep your hands visible on top of the table while eating and to finish everything on your plate as a sign of appreciation for the food.
Social Interactions: Montenegrins are generally friendly and hospitable people. When invited to someone's home, it is customary to bring a small gift such as flowers, wine, or chocolates as a token of appreciation. It's also polite to remove your shoes before entering someone's home, unless otherwise instructed.
Respecting Religious Sites: Montenegro has a rich religious culture, and it is important to show respect when visiting places of worship. Dress modestly, speak softly, and follow any specific instructions or rules for visitors.
Tipping: Tipping is not mandatory in Montenegro, but it is appreciated for good service. If you are satisfied with the service you receive at restaurants, cafes, or hotels, leaving a small tip is a kind gesture.
Language: While English is widely spoken, especially in tourist areas, it can be helpful to learn a few basic Montenegrin phrases. Locals appreciate the effort and it can enhance your interactions and cultural experiences.
By being aware of and respecting the local customs and etiquette, you will not only leave a positive impression but also have a more fulfilling and authentic experience while visiting the Port of Kotor and Montenegro.
Must-See Attractions near Port of Kotor
While the Port of Kotor itself is a mesmerizing destination, there are several must-see attractions in the surrounding area that should not be missed during your visit. From stunning natural landscapes to historical sites, these attractions offer a diverse range of experiences that will enrich your journey in Montenegro.
Perast: Located just a short distance from Kotor, the charming town of Perast is a must-visit. This picturesque town is known for its well-preserved baroque architecture and its stunning setting by the Bay of Kotor. Don't miss the chance to take a boat ride to the nearby islets of Our Lady of the Rocks and St. George, both home to beautiful churches with fascinating stories.
Lovcen National Park: Nature lovers should not miss the opportunity to explore Lovcen National Park. Located just a short drive from Kotor, this national park is home to Mount Lovcen, which offers breathtaking views of the surrounding landscapes. Visit the Njegos Mausoleum at its peak to pay homage to the famous Montenegrin poet and philosopher, and take in the panoramic vistas.
Our Lady of the Rocks: Situated on a man-made islet in the Bay of Kotor, Our Lady of the Rocks is a unique attraction that shouldn't be missed. Legend has it that the islet was created by locals who laid stones here after finding an icon of the Madonna and Child on a rock in the sea. Explore the beautiful church and museum and learn about the fascinating history behind this captivating place.
Skadar Lake: A visit to Skadar Lake National Park is a true delight for nature enthusiasts. Located southeast of Kotor, this freshwater lake is the largest in the Balkans and home to over 270 bird species, making it a haven for bird watching. Take a boat tour on the lake, stroll along its shores, and explore the park's diverse wildlife and charming lakeside villages.
Budva: Just a short drive from the port, you'll find Budva, a coastal town known for its beautiful beaches and vibrant nightlife. Explore the well-preserved medieval Old Town, relax on the sandy beaches, or enjoy the lively atmosphere of the marina and promenade. Budva offers a perfect blend of history, sunshine, and entertainment.
These are just a few of the must-see attractions near the Port of Kotor. Whether you're interested in history, nature, or simply exploring the stunning landscapes of Montenegro, these nearby destinations provide wonderful opportunities to further immerse yourself in the beauty and culture of this remarkable region.
Tips for a Memorable Cruise Experience at Port of Kotor
Visiting the Port of Kotor on a cruise is an exciting opportunity to discover the beauty and charm of this historic town. To ensure a memorable experience, consider the following tips:
1. Plan your time wisely: Kotor Old Town is small but packed with attractions. Take a moment to research and prioritize the places and activities you'd like to explore during your visit. This will help you make the most of your time and ensure you don't miss any highlights.
2. Consider a guided tour: To make the most of your visit, consider joining a guided tour led by a local expert. This will provide you with valuable insights into the history, culture, and hidden gems of Kotor, enhancing your overall experience.
3. Climb the city walls early in the morning: The hike to the city walls can be demanding, especially during peak hours when cruise passengers are exploring. Consider starting your climb early in the morning to beat the crowds and enjoy a more peaceful and rewarding experience.
4. Stay hydrated and wear comfortable shoes: Exploring the cobblestone streets of Kotor Old Town can be tiring, so it's important to stay hydrated and wear comfortable shoes. This will ensure you can comfortably navigate the town and make the most of your visit.
5. Try the local cuisine: Don't miss the opportunity to sample the delicious local cuisine during your visit. Whether it's fresh seafood, traditional Montenegrin dishes, or delightful pastries, the local food will leave you with a memorable culinary experience.
6. Explore beyond the Old Town: While Kotor Old Town is the main highlight, consider venturing further afield to explore attractions such as Perast, Lovcen National Park, or Skadar Lake. These nearby destinations offer unique experiences and provide a deeper understanding of the region's natural and cultural heritage.
7. Respect the local customs: Montenegro has its own customs and traditions. Show respect by learning a few basic phrases in the local language, being mindful of dress codes in religious sites, and adhering to social norms and etiquette. This will demonstrate your appreciation for the local culture and contribute to a positive interaction with the locals.
8. Capture the moments: The Port of Kotor offers countless photo opportunities. From the breathtaking landscapes to the intricate details of the Old Town, make sure to bring a camera or smartphone to capture the memories and share them with loved ones.
9. Interact with the locals: Montenegrins are known for their warmth and hospitality. Take the time to engage with the locals, whether it's asking for recommendations, learning about their culture, or simply exchanging a friendly greeting. They will be delighted to share their love for their country and provide insider tips.
10. Embrace the moment: Above all, savor every moment of your cruise experience at the Port of Kotor. Immerse yourself in the beauty, history, and charm of this remarkable destination, creating memories that will last a lifetime.
Conclusion
The Port of Kotor in Montenegro is a hidden gem that offers a unique and memorable cruise experience. From its stunning natural landscapes to its well-preserved medieval Old Town, there are countless reasons why this destination is becoming increasingly popular among travelers.
From the moment you arrive at the port, you'll be captivated by the enchanting beauty of the surrounding fjords and the warm hospitality of the locals. Exploring the charming streets of Kotor Old Town, hiking up the city walls, and indulging in the delicious local cuisine are just a few of the experiences that await you.
Beyond the Old Town, there are a plethora of attractions near the Port of Kotor that are worth exploring. From the picturesque town of Perast to the rugged mountains of Lovcen National Park, each destination offers its own unique charm and enriches your understanding of the region's history and culture.
By respecting the local customs and etiquette, engaging with the friendly locals, and embracing the moment, you will create lasting memories of your cruise experience at the Port of Kotor.
Whether you're a history buff, nature enthusiast, or simply seeking a tranquil getaway, the Port of Kotor has something to offer every visitor. So, set sail and embark on a journey to this captivating destination, where ancient meets modern and breathtaking landscapes unfold at every turn.