The Ultimate 3-day Amsterdam Itinerary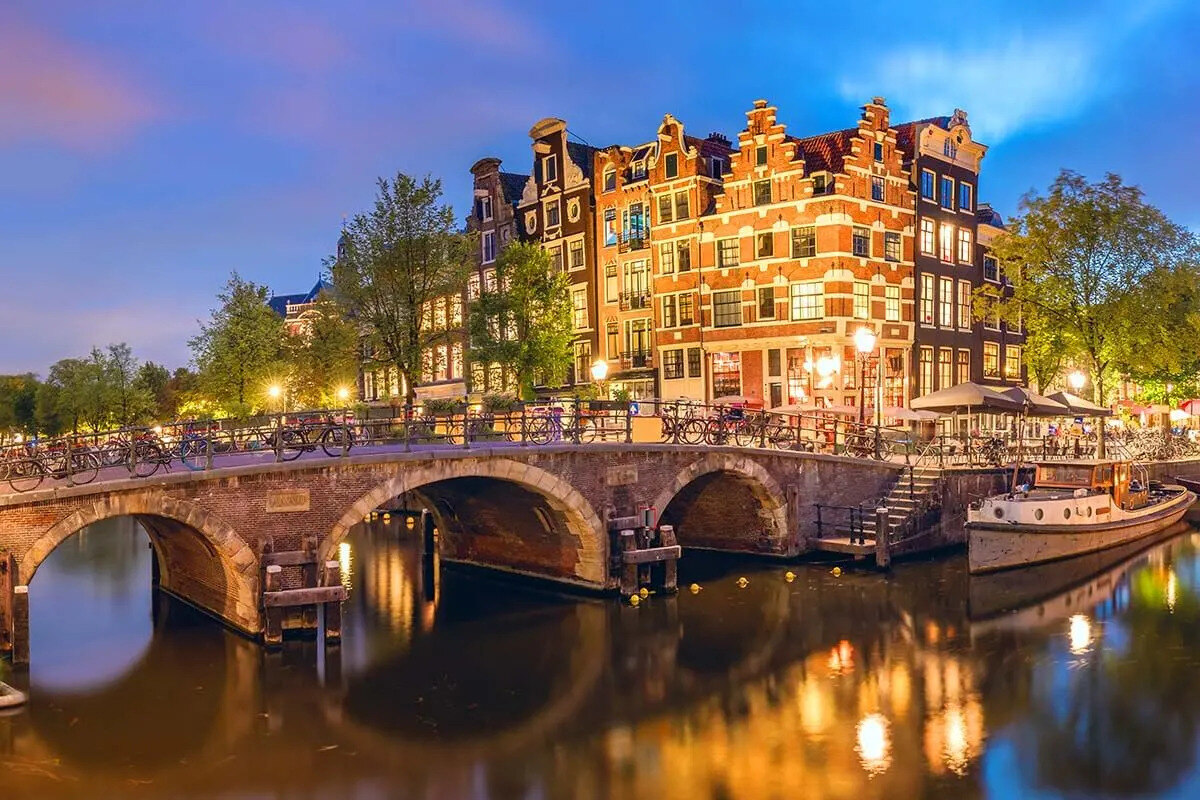 Introduction
Welcome to Amsterdam, the vibrant capital city of the Netherlands! With its picturesque canals, historic architecture, and abundant cultural offerings, Amsterdam is a must-visit destination for any traveler. Whether you're a history buff, an art enthusiast, or simply looking to indulge in delicious food and drink, this city has something for everyone.
In this article, we've curated the ultimate 3-day Amsterdam itinerary to help you make the most of your visit. From exploring the charming neighborhoods of the historic center to discovering iconic landmarks and immersing yourself in the rich cultural heritage of the city, this itinerary is designed to provide a comprehensive experience.
Amsterdam is known for its extensive network of canals, earning it the title of "Venice of the North." These canals serve as the backbone of the city and offer a scenic backdrop for your exploration. Additionally, Amsterdam is home to world-class museums, including the famous Rijksmuseum and the Van Gogh Museum, which house invaluable works of art.
The city is also known for its relaxed and tolerant atmosphere, making it a popular destination for those seeking a more laid-back and inclusive experience. You'll find a wide variety of cuisines, from traditional Dutch dishes to international delights, as well as trendy cafes and bars for you to unwind.
Please note that this itinerary is designed for a 3-day visit, but you can easily adapt it to suit your own preferences and available time. So, without further ado, let's dive into the first day of our Amsterdam adventure!
Day 1: Exploring the Historic Center
On your first day in Amsterdam, immerse yourself in the rich history and charm of the city by exploring its historic center. Start your day by visiting the iconic Dam Square, a bustling square that serves as the heart of the city. Here, you can admire the grand Royal Palace, which was originally built as a city hall in the 17th century.
From Dam Square, take a leisurely stroll through the narrow streets and picturesque canals of the Jordaan neighborhood. This charming area is known for its quaint houses, boutique shops, and cozy cafes. It's the perfect place to get lost and soak in the local atmosphere.
Next, make your way to the Anne Frank House, a powerful museum located in the house where Anne Frank and her family hid during World War II. Explore the secret annex and gain a deeper understanding of the Holocaust and Anne Frank's remarkable diary.
Afterward, head to the infamous Red Light District, a distinctive and daring part of the city. While it may be controversial, it's worth experiencing this unique neighborhood, known for its red-lit windows and coffee shops. Take a walk through the narrow alleys and immerse yourself in the vibrant atmosphere.
As the day draws to a close, make sure to visit the picturesque Bloemenmarkt, the world's only floating flower market. Stroll along the canal and admire the vibrant displays of tulips, daffodils, and other blooms. This is the perfect opportunity to pick up some souvenirs or beautiful fresh flowers to brighten up your accommodation.
In the evening, indulge in some local cuisine at a traditional Dutch restaurant. Try classic dishes like herring, bitterballen (deep-fried meatballs), or stroopwafels (syrup-filled waffles). Pair your meal with a locally brewed beer or a refreshing Dutch gin, known as jenever, for an authentic culinary experience.
After dinner, take a relaxing canal cruise to see the city from a different perspective. Gliding along the canals, you'll be treated to breathtaking views of Amsterdam's stunning architecture, bridges, and illuminated buildings. It's the perfect way to end your first day in the historic center.
As you explore Amsterdam's historic center, don't forget to take your time and appreciate the unique atmosphere and vibrant energy of the city. Stay tuned for the second day of our Amsterdam itinerary, where we'll discover more of the city's iconic landmarks!
Day 2: Icons of Amsterdam
Day two of our Amsterdam adventure is all about exploring the city's iconic landmarks. Get ready to immerse yourself in Amsterdam's rich cultural heritage and discover some of its most famous attractions.
Start your day by visiting the world-renowned Rijksmuseum. This grand museum houses an impressive collection of Dutch art and history, including masterpieces by Rembrandt, Vermeer, and Van Gogh. Take your time to admire the intricate details and learn about the stories behind each artwork.
After the museum, take a stroll through the Vondelpark, Amsterdam's most popular park. This green oasis offers a serene escape from the bustling city. Enjoy a leisurely walk, have a picnic, or rent a bike to explore its paths and ponds.
Next, make your way to the Van Gogh Museum, dedicated to the works of the famous Dutch artist, Vincent van Gogh. Marvel at the vibrant brushstrokes and expressive landscapes that define his unique style. Gain insight into Van Gogh's life and artistic journey through the museum's extensive collection.
For lunch, head to Albert Cuypmarkt, Amsterdam's largest outdoor market. Here you'll find a wide variety of street food stalls and local delicacies to satisfy your cravings. Indulge in a fresh stroopwafel or try some Dutch cheeses, while enjoying the lively atmosphere of the market.
After lunch, continue your exploration by visiting the iconic Anne Frank statue, located near the Westerkerk. This statue pays tribute to Anne Frank and stands as a symbol of hope, resilience, and the fight against discrimination. Take a moment to reflect on the impact of her diary and the importance of preserving history.
No visit to Amsterdam is complete without experiencing a canal boat tour. Hop aboard a traditional canal boat and embark on a leisurely cruise along the city's enchanting waterways. Admire the charming canal houses, bridges, and houseboats as you learn about Amsterdam's history and architecture from the knowledgeable guide.
In the evening, make your way to the lively Leidseplein square. This bustling area is lined with restaurants, bars, and clubs, offering a vibrant nightlife scene. Enjoy a delicious dinner at one of the many international eateries or catch a live performance at one of the theaters in the area.
As day two comes to a close, take a moment to marvel at the illuminated façade of the historic Royal Theater Carré. This stunning theater, located on the banks of the Amstel River, hosts a variety of shows ranging from theater performances to musical concerts.
With a day full of iconic landmarks, cultural experiences, and delicious food, day two of our Amsterdam itinerary is sure to leave you with unforgettable memories. Stay tuned for the third and final day of our adventure!
Day 3: Cultural Enrichment
Welcome to day three of our Amsterdam itinerary, where we'll immerse ourselves in the city's rich cultural offerings. Get ready for a day filled with art, history, and exploration!
Begin your day by visiting the iconic Jordaan district, known for its artistic heritage and charming streets. Start by exploring the picturesque Anne Frank House, a poignant reminder of the city's World War II history. Step into the secret annex where Anne Frank and her family hid, and gain a deeper understanding of their experiences during the war.
Next, head to the Museumplein, a square that houses several world-class museums. Start with the famous Van Gogh Museum, which houses the world's largest collection of Vincent van Gogh's works. Marvel at the vibrant colors and expressive brushstrokes that define his unique style.
After exploring the Van Gogh Museum, make your way to the nearby Stedelijk Museum, Amsterdam's premier contemporary art museum. From modern art installations to innovative design exhibits, this museum showcases the best of contemporary art from around the world.
For a cultural and historical experience, visit the Anne Frank House
After a morning of museum exploration, take a break and enjoy a leisurely lunch at one of the many charming cafes in the Museumkwartier area. Indulge in some delicious Dutch specialties such as bitterballen or Dutch pancakes, known as pannenkoeken.
After lunch, take a short tram ride to the Museum Het Rembrandthuis, the former residence of the legendary Dutch painter, Rembrandt van Rijn. Step inside his meticulously preserved home and art studio, and get a glimpse into the artist's life and creative process.
Continue your cultural journey by visiting the Hermitage Amsterdam, a branch of the famous Hermitage Museum in St. Petersburg, Russia. This museum showcases rotating exhibitions that highlight various aspects of Russian art and history.
In the late afternoon, take a stroll through the charming neighborhood of De Pijp. Known for its vibrant atmosphere and diverse culinary scene, this area is home to the vibrant Albert Cuypmarkt, where you can sample local treats and browse the stalls for souvenirs.
End your cultural day with a visit to the Royal Concertgebouw, one of the world's most renowned concert halls. If there's a performance scheduled, treat yourself to an evening of classical music or other live performances in this stunning venue.
As your cultural enrichment day comes to an end, reflect on the incredible art, history, and experiences you've encountered throughout your stay in Amsterdam. The city never fails to captivate visitors with its rich cultural offerings.
With day three complete, you've now explored the historic center, iconic landmarks, and indulged in cultural enrichment. Amsterdam has truly shown you the best of what it has to offer. We hope this itinerary has helped you make the most of your time in this vibrant city. Safe travels, and don't forget to cherish the memories!
Conclusion
As your time in Amsterdam comes to a close, you can reflect on the incredible experiences, rich history, and vibrant culture that you've encountered. This 3-day itinerary has provided you with a comprehensive and engaging exploration of Amsterdam's historic center, iconic landmarks, and cultural offerings.
From the charming canals and historic buildings to the world-class museums and diverse culinary scene, Amsterdam has truly captured your heart. The city's unique blend of history, art, and laid-back atmosphere creates an enchanting and unforgettable experience for every visitor.
Throughout your journey, you've had the chance to delve into the rich history of Amsterdam, visiting landmarks such as Dam Square, the Royal Palace, and the Anne Frank House. You've marveled at masterpieces by renowned artists in the Rijksmuseum and Van Gogh Museum, and immersed yourself in the vibrant atmosphere of the city's neighborhoods.
Amsterdam's cultural offerings have added depth and enrichment to your visit. Exploring the museums and art galleries, learning about the lives of Anne Frank and Vincent van Gogh, and experiencing the vibrant music and theater scene have all contributed to a truly memorable trip.
Lastly, Amsterdam's culinary scene has tantalized your taste buds, whether it was enjoying traditional Dutch dishes like herring and stroopwafels or indulging in international cuisine at the city's diverse eateries. The lively markets and charming cafes have provided a delightful backdrop for your culinary exploration.
As you bid farewell to Amsterdam, take with you the memories of exploring the historic center, admiring the city's iconic landmarks, and immersing yourself in its cultural offerings. Remember the smiles of the locals, the aroma of freshly brewed coffee, and the enchanting beauty of the canals.
Amsterdam is a city that beckons you to return, promising new discoveries and experiences with each visit. Whether it's delving deeper into its museums, discovering hidden neighborhoods, or simply taking the time to soak in the vibrant atmosphere, there will always be something new to explore.
So, until the next time you find yourself wandering alongside the canals of Amsterdam, cherish the memories you've made and carry the spirit of this remarkable city with you. Amsterdam has left an indelible mark on your heart, and its allure will continue to call you back.
Additional Tips and Suggestions
As you wrap up your Amsterdam adventure, here are some additional tips and suggestions to enhance your experience:
Consider purchasing an I amsterdam City Card, which offers free or discounted access to many attractions, as well as unlimited public transportation.
Make sure to pack comfortable shoes as you'll be doing a lot of walking, particularly in the historic center where cars are restricted.
Take advantage of the city's excellent public transportation system, including trams and bicycles, to easily navigate the city and reach your destinations.
It's common practice to greet locals with a friendly "Hallo" or "Goedemorgen" (good morning) when entering shops or establishments.
Be mindful of local customs and etiquette, such as keeping noise levels low and respecting designated smoking areas.
Try some Dutch delicacies like stroopwafels, haring (raw herring), or poffertjes (mini pancakes) from street vendors or local cafes.
Experience the city's vibrant nightlife by exploring the various bars, clubs, and live music venues in areas like Leidseplein and Rembrandtplein.
Take a day trip from Amsterdam to explore nearby attractions, such as the beautiful windmills of Zaanse Schans or the historic town of Haarlem.
Respect the local cycling culture and be aware of the bike lanes when crossing roads or walking along the streets.
Explore the lesser-known neighborhoods of Amsterdam, such as De Pijp or Noord, to discover hidden gems and experience a different side of the city.
Remember to check the opening hours and availability of attractions, as some may require pre-booking or have specific visiting times. It's always a good idea to plan your itinerary in advance while also leaving some room for spontaneity and discovery.
Lastly, don't forget to take the time to simply wander through the charming streets, relax in a canal-side cafe, or enjoy a picnic in one of the city's beautiful parks. Amsterdam is as much about the small moments as it is about the famous landmarks.
Enjoy your time in Amsterdam, and may your journey be filled with unforgettable experiences and delightful discoveries!